MLB.com Columnist
Mike Petriello
Tale of the tape: Which All-Star team is better?
AL has lead on the bases, but NL may be better in field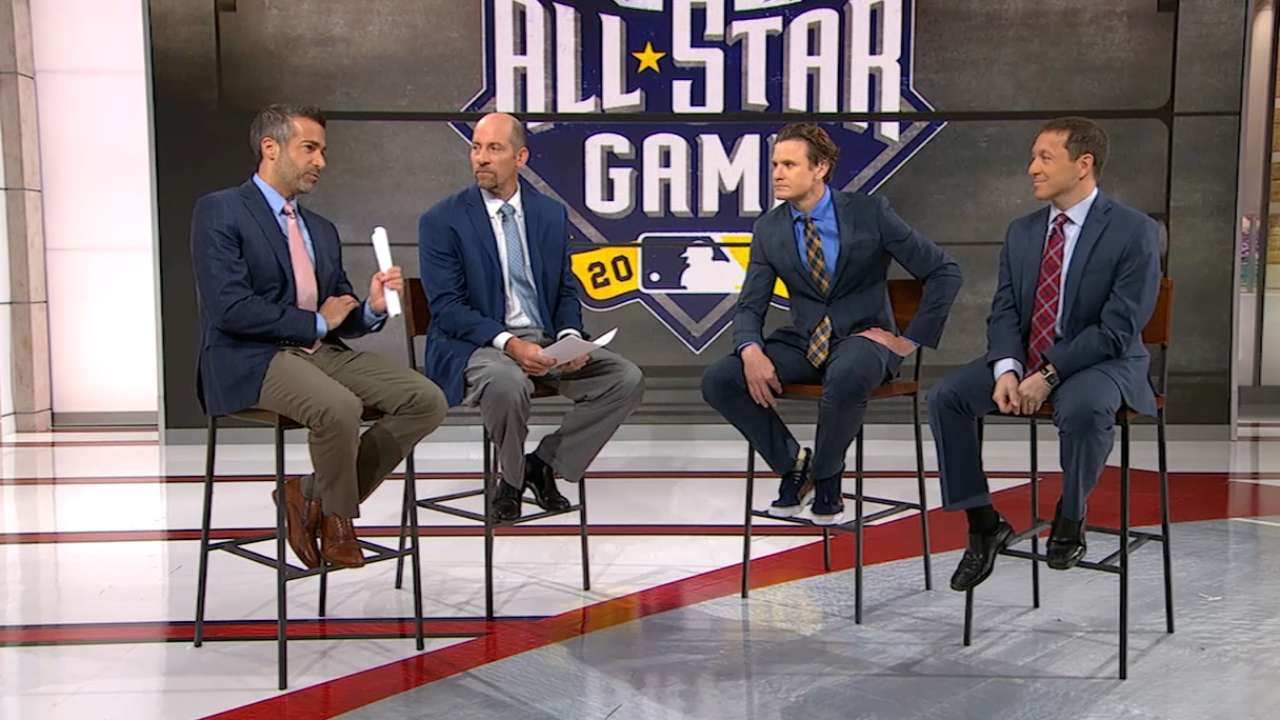 Which league has the best roster headed into the All-Star Game presented by MasterCard? Yes, the correct answer is actually "they're both incredibly full of talent, because there wasn't even room for stars like Gregory Polanco, Carlos Correa, Jose Quintana and Zack Greinke on the initial teams," but that's sort of the point: It's very, very even, perhaps moreso than it's been in years.
Still, someone's got to win and claim home-field advantage for the World Series when the leagues get together Tuesday (coverage begins 7:30 p.m. ET on FOX), so we whipped up some custom leaderboards to compare the rosters in a few important categories. Spoiler alert: It's close! Very close.
One note: Since we're looking at the teams we expect to see on Tuesday, we're using the rosters as we know them as of Friday afternoon, which means that the injured Matt Carpenter, Wade Davis, Marco Estrada and Clayton Kershaw aren't included, while replacements like Aledmys Diaz and Corey Kluber are. Obviously, further changes will likely come, though a small change here and there shouldn't impact too much.
PITCHING
Slight edge: National League
The American League's pitchers have combined for 857 innings of 2.50 ERA (3.02 Fielding Independent Pitching). That's quite good; it's roughly what Jacob deGrom has done this year. And yet … the NL is at 2.38 ERA/2.34 FIP over 1,060 innings, which is basically "Jake Arrieta, but better," and again, that's without the otherworldly contributions of Kershaw. It's fair to remember that NL pitchers have it slightly easier due to the lack of the designated hitter, but it goes without saying that the NL is far deeper in starting pitchers -- if you made a list of the Top 10 starters in baseball, you might have eight or nine NL players.
Interestingly, the AL slightly edges the NL in terms of pitch velocity, 93.8 mph to 93.2 mph. That seems somewhat surprising because the AL didn't take Aroldis Chapman (61.6 percent of the 100 mph-plus pitches in the Majors all by himself), did take Steven Wright, a knuckleballer who hasn't touched 90 mph all season long, and doesn't have Noah Syndergaard, baseball's hardest-throwing starter. Why? Because after Syndergaard -- who left Friday's Mets loss with "arm fatigue" -- the NL has only one pitcher above 95.5 (Jeurys Familia) while the AL has Dellin Betances, Craig Kimbrel and Kelvin Herrera all above 97.
While the strikeout percentage (28 for AL and 27.6 for NL) and average against (.204 for AL, .206 for NL) are nearly identical, there is a slight exit velocity advantage for the NL, 88.9 mph to 88 mph. The NL can in part thank Pittsburgh's Mark Melancon, who has the lowest exit velocity against of the 298 pitchers who have faced 200 batted balls over the past two years -- 85.3 mph.
HITTING
Edge: Too close to call
Though the loss of Carpenter, the NL's best hitter so far this season according to Weighted Runs Created Plus, will hurt, these two squads couldn't really be more even with the bat. No, really: Heading into Thursday's games, the NL had 315 home runs. The AL had… 315 home runs. (Fortunately for the AL, this does not include the two home runs apiece from Syndergaard, Madison Bumgarner or Arrieta.)
Obviously, there's more to hitting than just homers -- outside of the Home Run Derby, anyway -- but when you compare each league's triple-slash lines, the result is similar. The AL is hitting .305/.369/.530, roughly the same line as Victor Martinez. The NL is hitting .295/.373/.525, almost exactly what Miguel Cabrera is. The best way to compare those lines is to use wRC+, an all-inclusive hitting stat that adjusts for park and sets 100 as "league average," and that tells the true story: AL 136, NL 135. Even the exit velocity (91.3 mph for AL, 90.7 mph for NL) is tight. There's no picking from these two offenses.
BASERUNNING
Big edge: AL
So far, we've suggested the NL has a slight edge in pitching, and that hitting is too close to call. Here's where the AL can shine, however: on the bases. The AL has 131 stolen bases, again entering Thursday's games, and the NL has just 85.
Of course, we can do better than just raw stolen base totals. The AL has been caught only 24 times, giving it a solid 84.5 percent success rate, while the NL has been caught 46 times, giving it a relatively poor 64.8 percent success rate, and that's a big difference. Jose Altuve, for example, has been successful 22 of 25 times.
Why stop there, though? Life on the bases is about more than just steals; it's also about taking the extra base and being careful while doing so. FanGraphs' Baserunning stat does exactly that, in terms of runs above and below average, and puts the AL at 8.3, and the NL at 2.6. Wil Myers may actually be the best NL baserunner, but he can't top the likes of Altuve, Jackie Bradley, Mike Trout, Mookie Betts and Ian Desmond.
DEFENSE
Probable edge: NL
This one gets tricky, because as we know -- or should know -- even advanced defensive metrics like Defensive Runs Saved aren't fully reliable over portions of a season. They need at least a full season and preferably more, and while we're using Statcast™ data to improve upon that, it's not quite ready yet. So we'll acknowledge that and make do with what we have, and what we have for the moment is that DRS grades the NL (48 runs saved) much more highly than the AL (14 runs saved). That's in part because Nolan Arenado ranks as the best defender on either side and 39-year-old Carlos Beltran lags on the AL side, which both make sense, so take that for what it's worth.
Here's one thing we can measure with a little more security: outfield throwing arms. Looking at players who have racked up considerable outfield time (which on the NL side includes Kris Bryant and excludes Myers and Ben Zobrist), and using our "90th percentile" methodology to toss out non-competitive lobs, the AL comes out slightly ahead, with an average of 87.8 mph to 86.8 mph. That said, NL players Carlos Gonzalez (93.2 mph) and Bryce Harper (91.4 mph) lead the group -- Dexter Fowler's 81.6 mph trails -- and it could have been even better if Starling Marte, one of baseball's top five at 94.0 mph, won the Final Vote, which ultimately went to first baseman Brandon Belt.
We can do this behind the plate, too. There, the NL arms win out 80.6 mph to 78.9 mph, which is interesting because while the AL has the best arm of any of the six catchers in Salvador Perez, the three NL catchers then rank second, third and fourth ahead of Matt Wieters (78.9 mph) and Stephen Vogt (75.2 mph).
Speaking of catchers, the NL has an edge in pitch framing as well. According to Baseball Prospectus' latest numbers, Buster Posey has been baseball's best framer in 2016, saving the Giants 20 runs in framing alone. While Jonathan Lucroy, long considered an elite framer, has graded out as about neutral this year, Wilson Ramos has been +5 runs for Washington. Meanwhile, Wieters grades as neutral while Perez and Vogt are nearer the bottom, which is consistent with scouting reports on them.
So which team is better? Well, it's an impossible question, given that both teams are, by definition, full of stars. It's close, anyway. Real close. It wouldn't be the All-Star Game if it were any other way.
Mike Petriello is an analyst for MLB.com and the host of the Statcast podcast. He has previously written for ESPN Insider and FanGraphs. This story was not subject to the approval of Major League Baseball or its clubs.