Speedster Hamilton targets leadoff spot in Reds' lineup
Outfielder normally bats second or seventh, while Cozart usually tops Cincy's order
CHICAGO -- Reds center fielder Billy Hamilton still sees himself as a future leadoff hitter. While he easily has the speed to handle the role, he knows his bat will be the required proof that he belongs there.
Hamilton, 25, hungers for another chance to lead off. Cincinnati has utilized Zack Cozart there most of this season, while Hamilton often bats seventh or second. He batted second the past two games, a spot he prefers if he can't be at the very top.
"I hate hitting seventh," said Hamilton, who stole 57 bases in 2015. "It's my job to show that I deserve to be at the top of the lineup, I want to be at the top of the lineup. I need to be at the top of the lineup. I'm not a seven-hole hitter. It's just something I take as motivation for myself. I just keep working hard."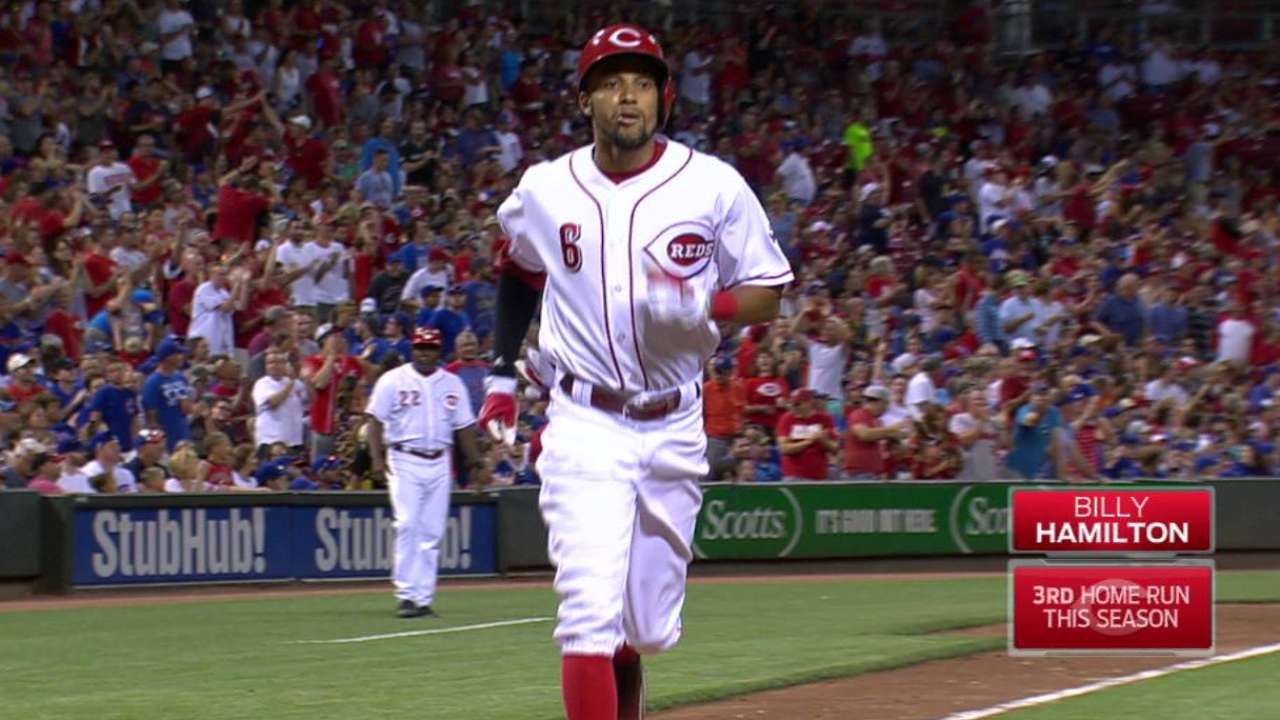 In a 20-game stretch from May 18-June 8, the switch-hitting Hamilton raised his batting average 60 points as he batted .329 with a .356 on-base percentage, nine steals and 12 runs scored.
One thing that slowed Hamilton down was misfortune. On June 8 vs. the Cardinals while trying to steal third base, his head banged on the dirt and he suffered a concussion that landed him on the seven-day disabled list. In the 19 games since his return, Hamilton is batting .169 with a .247 OBP. In 71 games overall, he's batting .240 with a .289 OBP and 22 steals.
Before the season started, Reds manager Bryan Price challenged Hamilton to earn his way back to the leadoff spot. After he got off to a slow start this year while batting ninth, Price and Hamilton had a conversation.
"Early in the year, Billy was creating an environment where the organization could consider maybe taking some playing time away from him because his batting average and on-base percentage were so low that even though he had the defense, the offense wasn't enough to consider him a long-term fixture in center field," Price said on Wednesday. "We spoke about it early in the year and you have to be a better offensive player to be considered an everyday player moving forward. He's taken that challenge and run with it."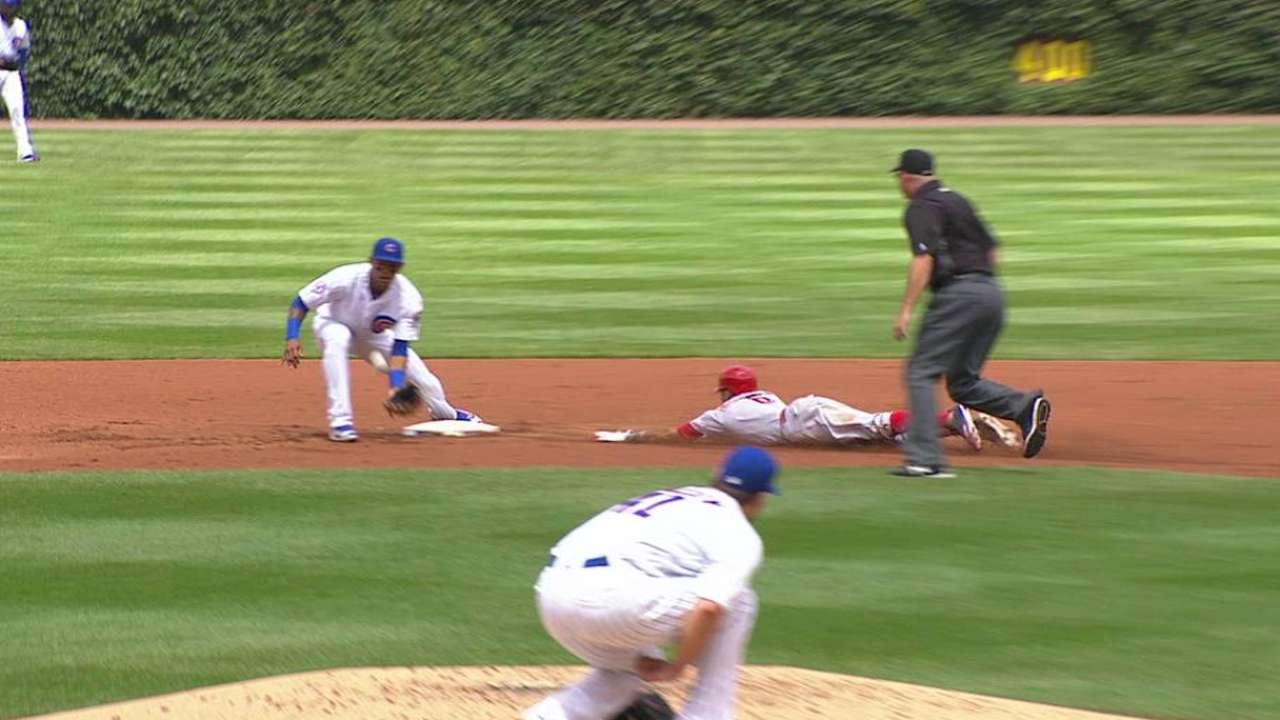 Despite the recent numbers, Price is pleased with what Hamilton has done, but he is in no rush to replace Cozart at the top.
"I like what he's doing too much hitting second and seventh to think about moving him to the leadoff spot with what Zack has been doing for us in the leadoff spot," Price said. "We're beginning to see something that we envisioned when he made the club in 2014."
On Tuesday, during a 9-5 win over the Cubs, Hamilton reached base three times with two hits and two runs scored. That included the game's first run, when Hamilton amazed once again by scoring from second base on a passed ball.
"I feel like as a hitter, I've been told I can't hit," said Hamilton, who batted .226 with a .274 OBP in 2015. "I'm proving that each and every day, I'm working hard. My numbers are not where I want them to be right now. But I feel like the progress I've made so far this year has been good for me. I have to keep going."
Mark Sheldon has covered the Reds for MLB.com since 2006, and previously covered the Twins from 2001-05. Follow him on Twitter @m_sheldon and Facebook and listen to his podcast. This story was not subject to the approval of Major League Baseball or its clubs.