Santiago's 7 strong lead Angels to series win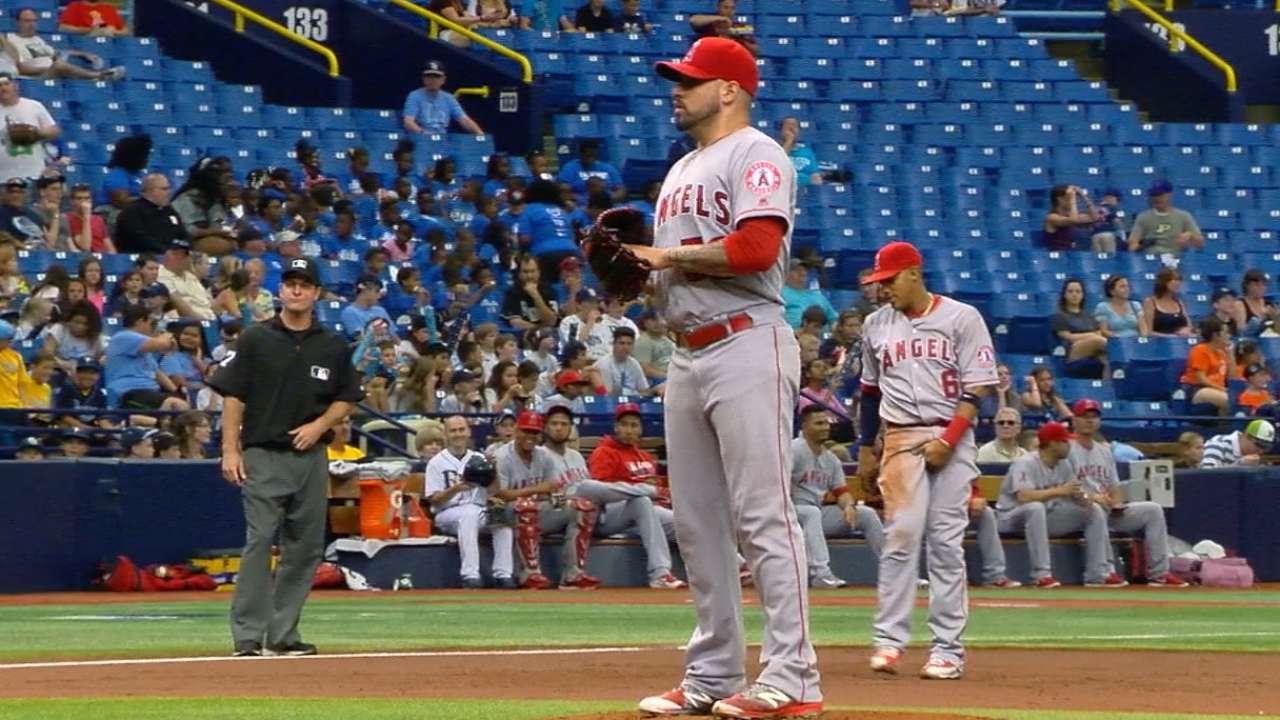 ST. PETERSBURG -- The Angels' season may be turning in the right direction, immediately before the All-Star break. On Thursday afternoon, they got seven scoreless innings from Hector Santiago and a balanced performance from their offense to capture a 5-1 victory over the spiraling Rays at Tropicana Field, giving them a three-game winning streak for the first time since the middle of May.
The Rays, meanwhile, have dropped 19 of 22.
"Over this road trip, we've been pretty good -- pitching-wise and offensively," Santiago said, his team improving to 36-50. "All around, we're clicking. We're bunting, moving guys over, doing a lot of good things offensively. So, yeah, right now we're clicking as a team all the way around. We're throwing the ball well, and we're putting up runs on the board."
• Cast your Esurance Final Vote for Longo
Santiago worked around four walks and three hits while keeping Tampa Bay scoreless through the first seven innings, striking out nine batters and lowering his ERA to 4.58.
Blake Snell held the Angels scoreless through the first five frames, but he allowed two runs to score in the sixth on a single by Albert Pujols and a groundout by C.J. Cron, which resulted in a throwing error by Rays second baseman Logan Forsythe after Pujols accidentally ran into his throwing lane.
"This is one of my better games," Snell said of his performance. "I felt really good with [my fastball]. I felt like I commanded it well and set up my offspeed. I'm happy; it's fun. I had a game where I felt where I was in command."
• Cash: 7 K's showcase 'best of Blake Snell'
Cron delivered a sacrifice fly and Mike Trout stole home in the eighth, and Yunel Escobar knocked in a run in the ninth to give him three hits in the game.
MOMENTS THAT MATTERED
Leaving them stranded: For the second straight time, Santiago worked around four walks and did not allow an earned run. The 28-year-old left-hander has gone 15 consecutive innings without allowing an earned run, despite putting 17 runners on base during that time. The Rays put two runners on in two of the first three innings but were unable to score.
"There was a couple weeks there when they weren't getting stranded," Santiago said. "... I feel really comfortable from the stretch. I've been saying that for the last four or five starts. I feel like when I get from the stretch I have a great mindset, positive mindset. I'm not worried about who's on base. I just want to throw strikes and pound the zone."
It's Miller Time: The Rays' offense was few and far between on Thursday. But Brad Miller did connect on his 13th home run of the season, a bullseye to dead center in the eighth inning. His 13th home run before the All-Star break is the most by a Rays shortstop. The record for homers by a Rays shortstop for a season is 15, by Asdrubal Cabrera last year.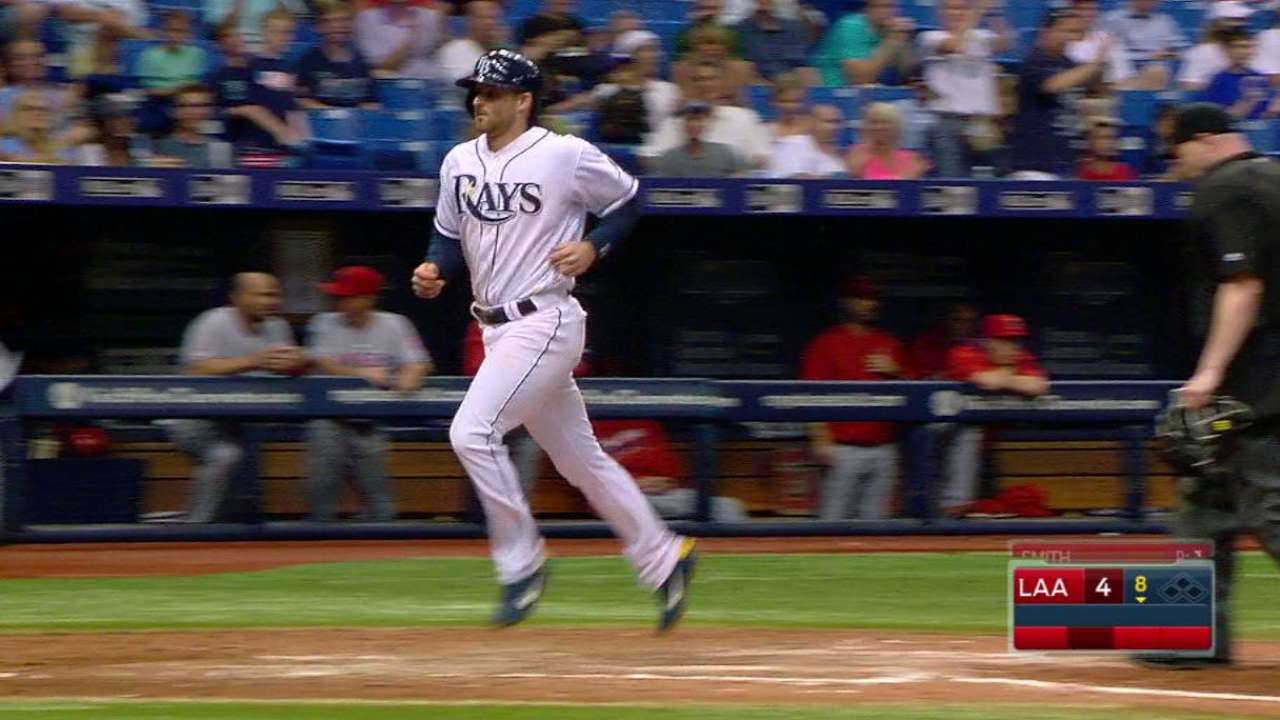 Pesky Esky: Escobar, who spent the 2013 and '14 seasons with the Rays, went 3-for-5 to increase his hitting streak to a career-high-tying 12 games and put his batting average at .327, tops among Major League third basemen. The 33-year-old is batting .350 (70-for-200) since May 3. More >
"We knew he was a good hitter," Angels manager Mike Scioscia said. "Last year he really broke through, and he's just following it up right now. He really controls the zone very well, low strikeout, gets on base, he uses the whole field. All the positives that you look for in the batter's box. And this guy has really good hands. As he gets more acclimated to third base, he'll play a little tighter even."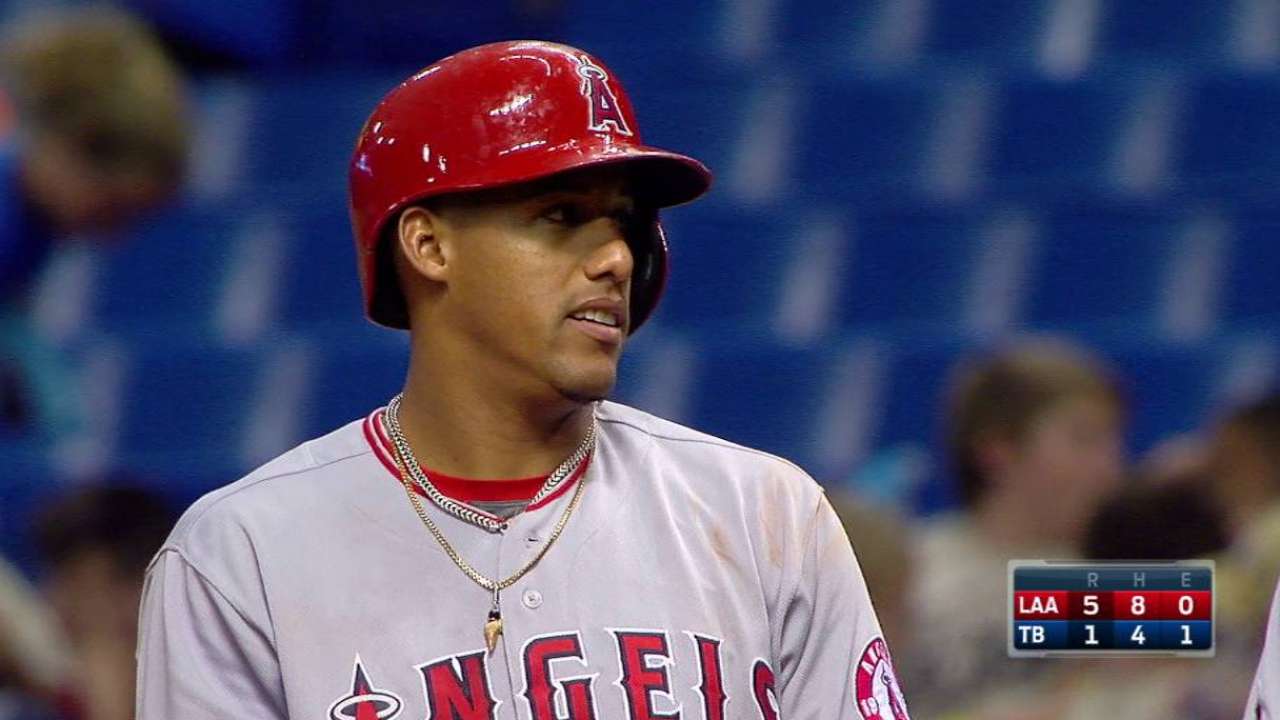 Pro debut: Dylan Floro made his first Major League appearance on Thursday, throwing 1 1/3 innings and allowing one run. He let two inherited runners score in the eighth inning after facing Pujols as his first opponent. He got the first two outs of the ninth before back-to-back hits from Andrelton Simmons and Escobar. More >
"I'm excited for him to get out there. Every big league debut is special," Rays manager Kevin Cash said. "He definitely came in and attacked the zone."
QUOTABLE
"We're playing well right now. It's just a matter of whether we can make the second half ours. Go on a run. ... If we can get a run and somehow conquer a 17-game deficit in a matter of three months, that would be great. But I don't know. Anything's possible, right? You didn't expect seven scoreless from me, so, anything's possible." -- Santiago, on the daunting hole the Angels face
"I think we've been very honest with that we are frustrated. We're not pleased with the way things are going. The only way you get out of that is to start winning some ballgames." -- Cash, on his team's prolonged struggles
UNDER REVIEW
The Rays challenged a call in the sixth, contending that Pujols interfered with Forsythe's errant throw to first. On a double-play ball that would have ended the inning, Pujols didn't slide, and Forsythe threw the ball over him and well high of first base. A run scored to make it 2-0, and it was confirmed on review that Pujols didn't interfere.
"He did not violate the slide rule at all," crew chief Dana DeMuth told a pool reporter after the game. "He didn't do anything [with] intent to break up the double play, and the ball was already released when he was past the bag."
Said Pujols: "I was running. I think it would've been worse if I would've slid right there, because I could've hurt him. I tried to avoid him, and that's what I told him in the ninth inning when I was on base."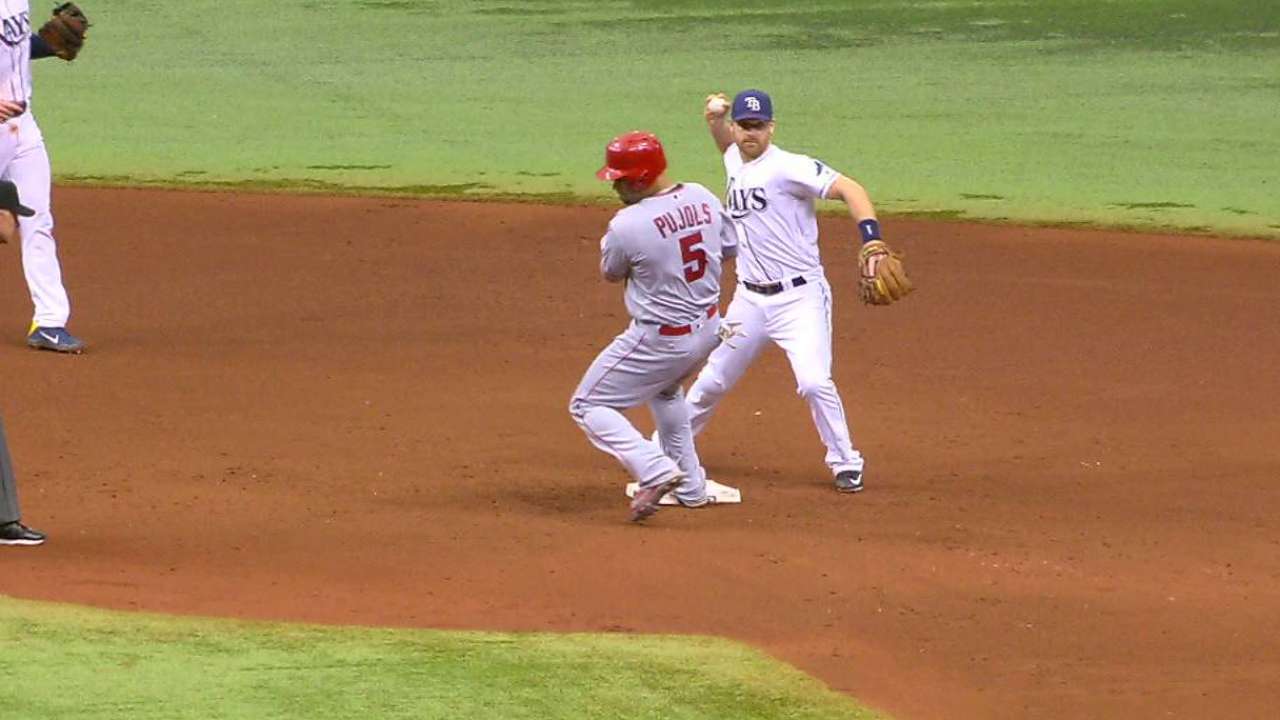 FOR THE HIGHLIGHT REELS
The Angels scored their second run of the eighth and their fourth of the game by pulling off a double steal with Trout and Pujols. Pujols broke for second, prompting a throw from catcher Hank Conger. Miller cut it off, but never threw home, allowing Trout to score and Pujols to take second. It was Trout's 15th stolen base this season -- putting him on pace for 28, his highest total since 2013 -- and the first steal of home in his career.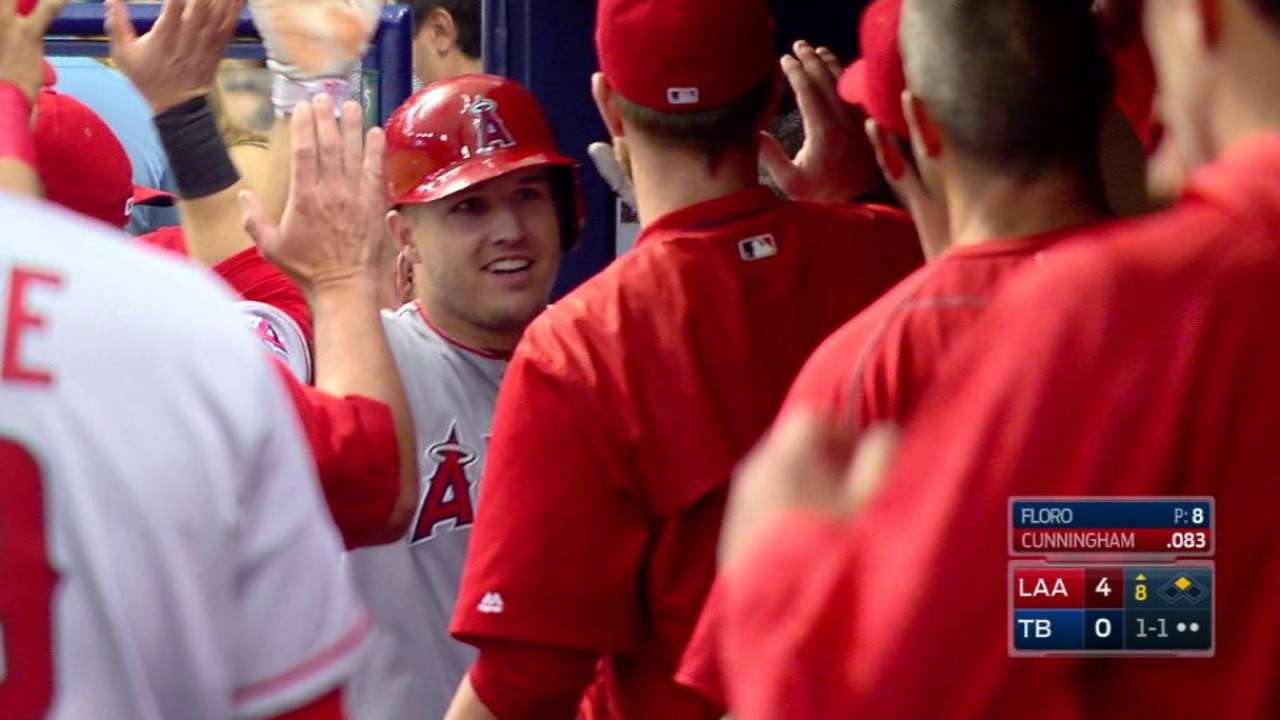 WHAT'S NEXT
Angels: The Angels finish off the first half with a three-game series at Baltimore, starting with a 4:05 p.m. PT first pitch on Friday. Matt Shoemaker (3-9, 4.40 ERA) takes the ball for the Angels. The 29-year-old right-hander had a 1.32 ERA over a four-start stretch from June 11-27, but he was charged with five earned runs with two outs in the fifth inning at Fenway Park on Sunday.
Rays: Chris Archer (4-11, 4.50 ERA) is coming off one of his best starts of the season when he allowed no runs over 5 2/3 innings and had 10 strikeouts. He leads the Majors with 11 losses, but showed signs of turning the corner and hopes to continue that against the Red Sox at 7:10 p.m. ET on Friday at Fenway Park.
Watch every out-of-market regular-season game live on MLB.TV.
Sam Blum is a reporter for MLB.com based in St. Petersburg.

Alden Gonzalez has covered the Angels for MLB.com since 2012. Follow him on Twitter and Facebook, and listen to his podcast.

This story was not subject to the approval of Major League Baseball or its clubs.