MLB.com Columnist
Jim Callis
Inbox: Who are most interesting prospects in Futures Game?
Jim Callis answers fans' questions about baseball's future stars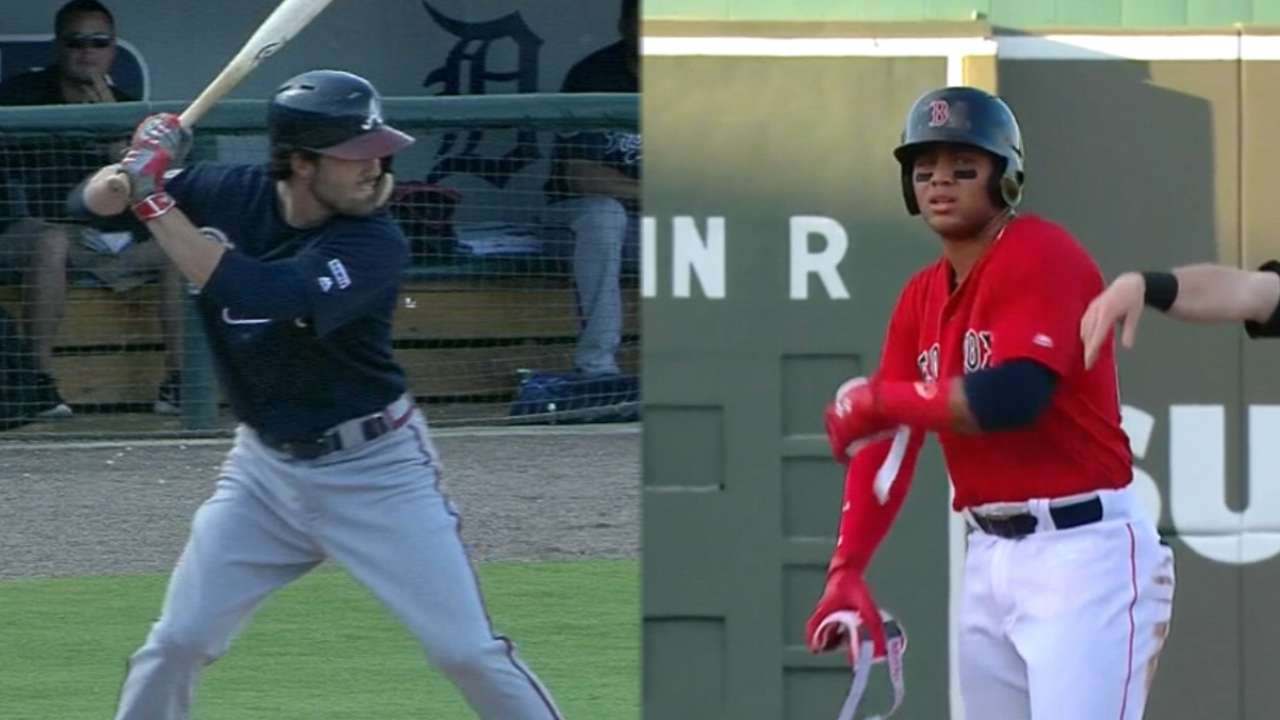 We're closing in on one of the highlights of the year for prospect watchers. The 18th annual SiriusXM All-Star Futures Game will be played Sunday at Petco Park and broadcast live (7 p.m. ET/4 p.m. PT) on MLB Network.
As you would suspect, we have all kinds of Futures Game preview material at MLBPipeline.com, including updated rosters and scouting reports. Baseball's biggest prospect showcase is just one reason that July is one of our busiest months of the year.
We're also covering Draft signings (the deadline is July 15), international signings (the new period opened Saturday), big league callups and Minor League happenings. And to answer a question I get asked every day on Twitter, we're also busy revamping the overall Top 100 Prospects list and all of the organization Top 30 Prospects rankings on Prospect Watch. We'll reveal those a few days before the Aug. 1 non-waiver Trade Deadline.
@jimcallisMLB @MLBPipeline which prospect are you most interested to watch during this game

— #VoteCoreySeager (@Chewy714) July 7, 2016
I'm most excited about seeing players I haven't seen before, which eliminates a number of guys I've watched at the College World Series, the Arizona Fall League or in the Cactus League. (I somehow haven't been to the Grapefruit League in three years of Spring Trainings with MLBPipeline.) Given that criteria, here are the five Futures Gamers I'm most looking forward to checking out:
1. Yoan Moncada, 2B, Red Sox
Might rank as the game's best prospect when we update the Top 100.
2. Andrew Benintendi, OF, Red Sox
He and Moncada have some of the best all-around tools in the entire Minors.
3. Jeff Hoffman, RHP, Rockies
Has regained his deep, impressive repertoire after Tommy John surgery.
4. Eloy Jimenez, OF, Cubs
Possesses big raw power, hitting .332/.371/.530 in low Class A at age 19.
5. Amed Rosario, SS, Mets
Late addition to game is an all-around shortstop and Mets' top prospect.
Shortstop Jorge Mateo definitely would have made that list, but the Yankees handed him a two-week suspension for insubordination that knocked him out of the Futures Game.
@jimcallisMLB When the top 100 prospects is reevaluated, do you expect Kevin Maitan to break in? If so where?

— YoSoy Joey D. (@joeydivito) July 6, 2016
Ranked No. 1 on Jesse Sanchez's Top 30 International Prospects list, Kevin Maitan signed with the Braves for $4.25 million. A shortstop, he's considered the best international amateur since Miguel Sano and the best prospect from Venezuela since Miguel Cabrera.
I'm conservative when it comes to immediately ranking international amateurs, who are usually 16 when they sign and thus light years from the Majors. Maitan is an exception because he's a switch-hitter with true hitting ability and well-above-average raw power. He may wind up at third base, but he will have no trouble fitting there with his offensive profile, strong arm and solid athleticism.
I haven't started lining up players for the new Top 100 yet, and Jonathan Mayo and Mike Rosenbaum will have a say in the rankings as well, so I'm not sure exactly where Maitan will end up. I expect I'll put him somewhere in the middle of my personal list.
@jimcallisMLB @MLBPipeline @MLBDraft @MLB grade Padres intn'l draft. Worth the $?

— Rich Wittmann (@dvmin98) July 5, 2016
It will be several years before the Padres' 2016 international signees reach the big leagues, and longer than that before we truly know how good they will turn out to be. That said, San Diego has hauled in an impressive crop that includes six members of Jesse's Top 30: Dominican shortstop Luis Almanzar (No. 3, $4 million), Venezuelan shortstop Gabriel Arias (No. 5, $1.9 million), Dominican outfielder Jeisson Rosario (No. 9, $1.85 million), Dominican shortstop Jordy Barley (No. 15, $1 million), Venezuelan shortstop Justin Lopez (No. 27, $1.2 million) and Mexican outfielder Tirso Ornelas (No. 28, $1.5 million). Almanzar, Arias, Rosario and Ornelas stand out for their offensive potential, while Barley and Lopez are known more for their defense.
The best may be yet to come. MLB declared Cuban left-hander Adrian Morejon a free agent Thursday, and he is also expected to sign with the Padres. No. 2 and the top pitcher on the International Top 30, the 17-year-old already has a fastball that reaches the mid-90s and has good feel for his secondary pitches. San Diego also is the favorite to land 19-year-old Cuban outfielder Jorge Ona, who has yet to be cleared to sign.
Yankees third baseman Miguel Andujar has truly had a breakout year and I am very impressed with what he has shown offensively. How high do you believe his ceiling is?
-- Luke B., Ridgefield, N.J.
Andujar's cannon arm and plus raw power have intrigued me for a while, as has his ability to make second-half adjustments against older competition in each of the previous two seasons. His typical slow start didn't last as long in 2016, as he started raking by the end of April. Andujar earned a promotion from high Class A to Double-A a month ago, and he is hitting a combined .293/.345/.453 with 10 homers in 79 games between the two levels.
Andujar's upside is to hit for a decent average with 20-25 homers per season and solid defense at third base, which would make him an All-Star. If he doesn't reach his ceiling, his tools still give him a legitimate chance to become a big league regular. Andujar is still just 21, and he has made strides with his plate discipline in 2016.
Jim Callis is a reporter for MLB.com. Follow @jimcallisMLB on Twitter. This story was not subject to the approval of Major League Baseball or its clubs. This story was not subject to the approval of Major League Baseball or its clubs.