With simple tweak, Guerra vastly improves
Reliever has faced 91 batters without issuing a walk entering Thursday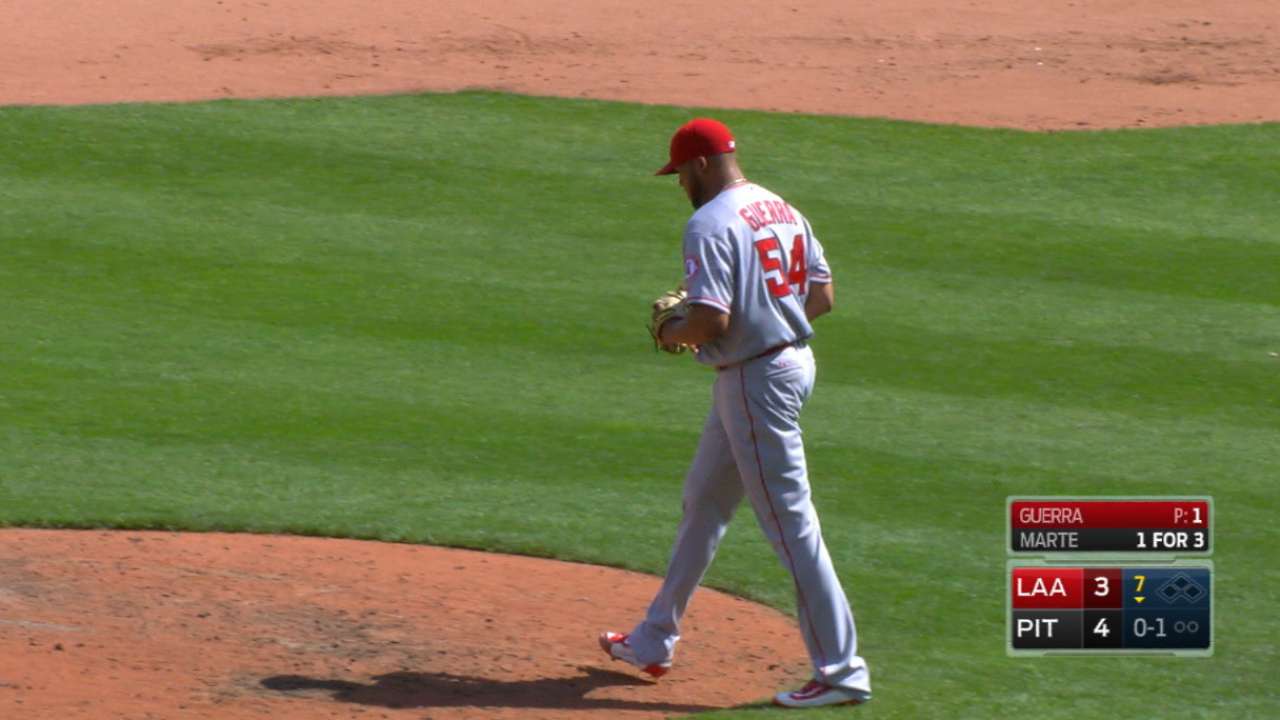 ST. PETERSBURG -- It was late in Spring Training and the Angels had decided that Deolis Guerra would not make their Opening Day roster. But they wanted him to remain with the organization, so that he could report to the Minor Leagues and make some necessary adjustments to his delivery. And they promised him that if he did, a spot would eventually open up for him in their bullpen.
Guerra has returned as an uber-effective strike-thrower, facing 91 batters entering play Thursday without issuing a single walk. The 27-year-old right-hander has posted a 2.22 ERA in 24 1/3 innings in the Major Leagues this year, giving up 18 hits and striking out 18 batters. His 16 appearances without a walk are a franchise record for a pitcher to start his Angels career.
It all changed with a quicker leg kick, which Angels manager Mike Scioscia said "created more energy in his delivery" and vastly improved the location of his pitches.
The Angels selected Guerra in the Rule 5 Draft and quickly realized that he was way too slow to the plate. He was 6-foot-5 with a high leg kick, so it took up to 1.7 seconds from the time he started his leg kick to the time the baseball reached the catcher's mitt. Major League baserunners feast on times like that.
So when his spring was over, and Guerra had given up seven runs in a 7 2/3-inning stretch, the Angels instructed him to accelerate his delivery. Guerra cleared waivers and returned to the club on a Minor League contract, then suffered appendicitis that knocked him out for basically all of April.
While coming back, he worked on a quicker leg kick but couldn't get on time. His arm couldn't catch up to his landing leg, so his location went awry. Then Kernan Ronan, who works with Major League pitchers rehabbing from injuries, told Guerra about elevating the placement of his hands, and suddenly everything was in sync.
"One simple change," Guerra said in Spanish. "It changed everything."
Alden Gonzalez has covered the Angels for MLB.com since 2012. Follow him on Twitter and Facebook, and listen to his podcast. This story was not subject to the approval of Major League Baseball or its clubs.