Diaz replaces Carpenter on NL All-Star roster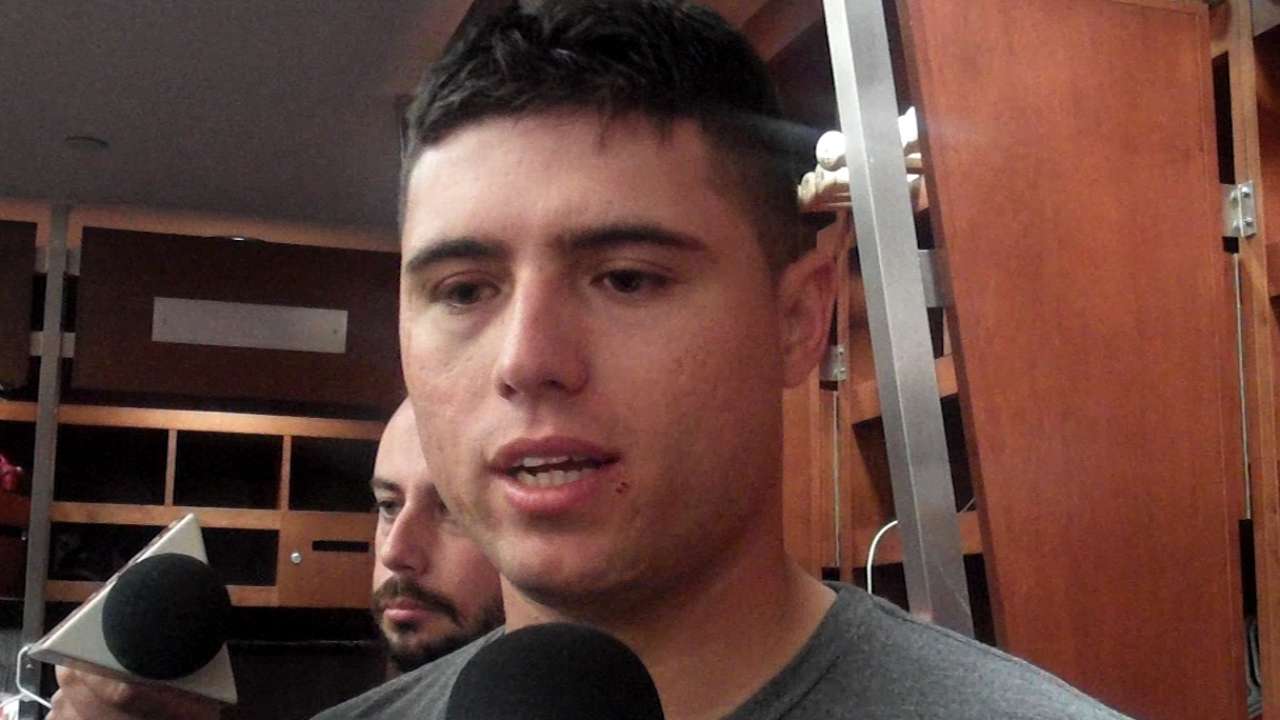 ST. LOUIS -- Aledmys Diaz, who couldn't even watch the Midsummer Classic as a child growing up in Cuba, now gets a chance to play in it.
The Cardinals' rookie shortstop will be part of the All-Star Game presented by MasterCard, having been named to the National League team on Thursday morning as a replacement for Matt Carpenter, who was placed on the 15-day disabled list with a right oblique strain. Mets manager Terry Collins was not required to replace Carpenter with one of the infielder's teammates, but the Cardinals lobbied for Diaz's inclusion since they otherwise would not have had an active player on the NL roster.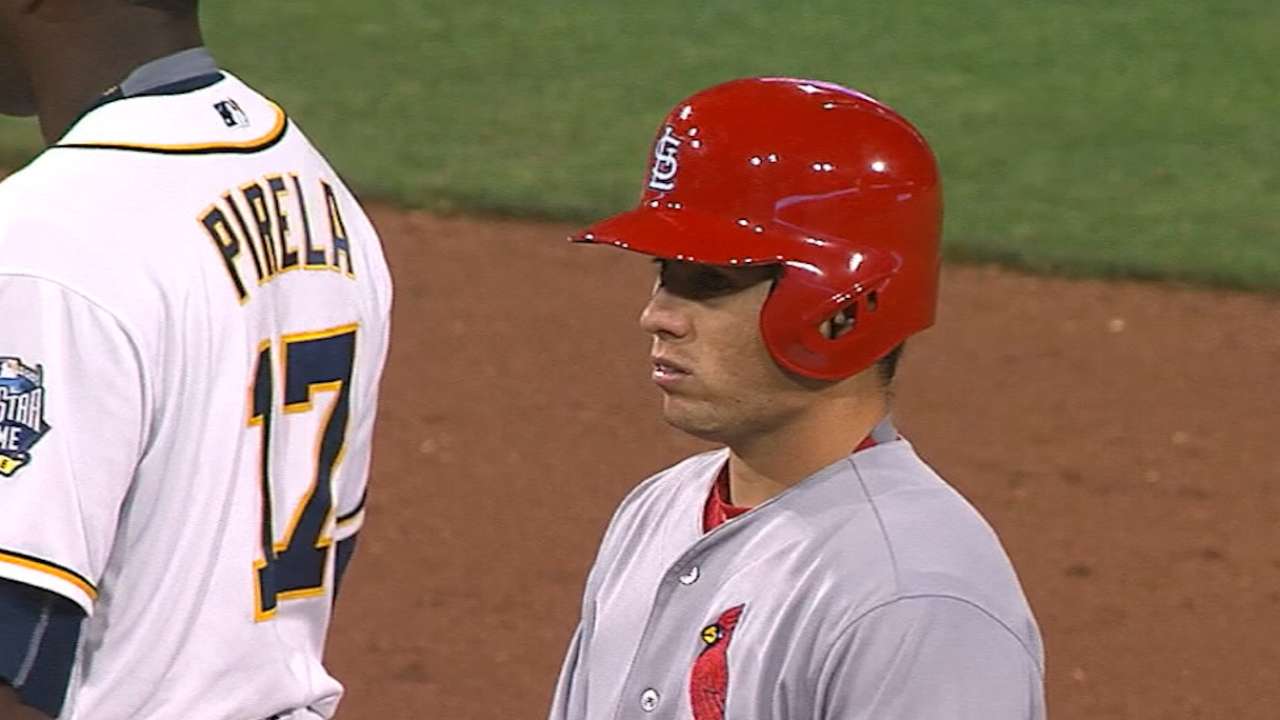 Collins agreed that Diaz was deserving, and the invitation was formally presented on Thursday.
• All-Star Game rosters | All-Star gear
"It's pretty exciting in my first year here for it to happen and to be a part of that game," Diaz said. "It's pretty exciting for me and my family."
• VOTE NOW: Esurance Final Vote
Manager Mike Matheny broke the news first to Carpenter, then to Diaz, before the team's series finale against the Pirates on Thursday afternoon.
"I mentioned that to Carp before Diaz knew, just to encourage him as well," Matheny explained. "We'd love to have him healthy still, but one of those benefits is that we'll give Aledmys the kind of recognition that he's due."
Carpenter is still expected to attend the the All-Star Game festivities in San Diego despite his injury.
Diaz, part of a promising crop of young shortstops rising through the game, joined the Cardinals on the second day of the season and seized the starting shortstop job in Jhonny Peralta's absence. He batted .423 in April and ranks fourth among rookies in franchise history with 89 first-half hits.
Entering Thursday, Diaz's .319 average led NL shortstops. He ranked second with a .534 slugging percentage and 54 runs scored. He is the first Cardinals rookie since Albert Pujols to make the All-Star team.
"It is remarkable," Matheny said. "Don't let anybody limit you. I'd say that's the story of Aledmys Diaz right now. He had that little chance, and he jumped in. He had a crack in the door and he kicked it and refused to let it shut. That's really how most people get the start in their career."
Diaz will be joined in San Diego by his parents, who will make the trip from their South Florida home. Diaz's wife, who is due to have the couple's first child next month, will be watching from home.
Diaz will be participating in a game he was first able to watch in 2013, almost a year after he arrived in Mexico following his defection from Cuba.
"It's pretty emotional," Diaz said. "The last three months have been crazy. A lot of things have happened."
Fans can vote for the 2016 Esurance MLB All-Star Game Final Vote until 4 p.m. ET on Friday. The winners, as chosen exclusively by online fan voting totals, will be announced during a Final Vote-themed telecast of "MLB Now" featuring commentary from political analyst Jeff Greenfield, live on MLB Network and MLB.com from 4-5 p.m. ET. MLB Network will provide extensive coverage across all of its studio programming during the Final Vote, including interviews with the candidates, frequent updates, heat maps indicating the cities where votes are being cast for each candidate, news on player and club campaigns and a running countdown clock leading up to the announcement.
Baseball fans have cast nearly 600 million online votes for Final Vote candidates since the program's inception in 2002. In addition to MLB.com and the official club websites, fans can use their mobile devices to cast votes at MLB.com/vote or via text message. To receive the ballot, text the word "VOTE" to 89269. To vote for a specific player, fans can text their choice to 89269. EXAMPLE: Text "A3" to vote for AL Player 3 or "N3" to vote for NL Player 3. Message and data rates may apply. Text "STOP" to end and "HELP" for information. Mobile voting in Canada also is available and fans should text their choices to 101010.
For the fifth consecutive year, the Final Vote will include social balloting, as Twitter support for the 10 candidates over the last six hours of balloting will count toward their vote totals. From 10 a.m.-4 p.m. ET on Friday, any tweet that includes a designated player hashtag will be tabulated as part of the official vote total used to determine the winners.
On Tuesday, July 12, starting at 7:30 p.m. ET, watch the 2016 All-Star Game presented by MasterCard live on FOX, and during the game visit MLB.com to submit your choice for the Ted Williams Most Valuable Player Award presented by Chevrolet via the 2016 MLB All-Star Game MVP Vote. The 87th All-Star Game, in San Diego, will be televised nationally by FOX, in Canada by Rogers Sportsnet and RDS, and worldwide by partners in more than 160 countries via MLB International's independent feed. ESPN Radio and ESPN Radio Deportes will provide national radio coverage of the All-Star Game. MLB.com, MLB Network and SiriusXM will also provide comprehensive All-Star Week coverage. For more information, please visit allstargame.com.
Nick Krueger is a reporter for MLB.com based in St. Louis.

Jenifer Langosch has covered the Cardinals for MLB.com since 2012, and previously covered the Pirates from 2007-11. Read her blog, follow her on Twitter, like her Facebook page and listen to her podcast.

This story was not subject to the approval of Major League Baseball or its clubs.