Floro surprised by Sandberg with callup news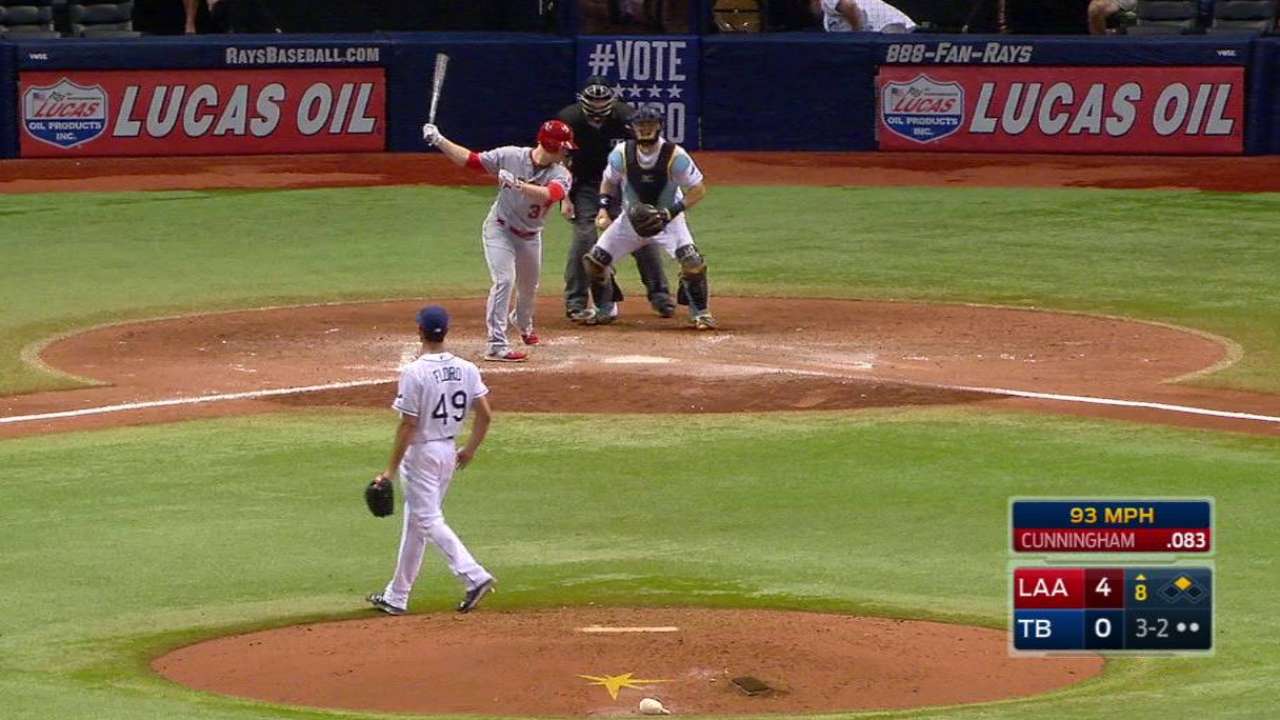 ST. PETERSBURG -- Dylan Floro was called up Wednesday, but he had a bit of a flight delay in his connection from Atlanta, and he didn't get to Tropicana Field until the second inning of that night's game. He made his Major League debut on Thursday, giving up one run and striking out two over 1 1/3 innings in a 5-1 loss to the Angels.
On Wednesday, Floro briefly stopped in the dugout to shake Kevin Cash's hand. Even though he walked around the clubhouse for 20 minutes after the game ended, he didn't get the chance to have an actual conversation.
"Putting my uniform on for the first time -- I've been working for the past four years to try and get to this moment," Floro said. "To finally have it is a pretty exciting moment."
It was just one crazy moment in a very crazy day for Floro, which started at a kids camp at his home ballpark at Triple-A Durham. Bulls manager Jared Sandberg was making a speech to the youngsters, with Floro and other players looking on. The skipper told them he had just received a call from the Rays, and that a major perk of his job was telling players they were getting called up.
Earlier today, Dylan Floro got the call to @RaysBaseball in a special way. pic.twitter.com/o5AOEPVCUC

— Durham Bulls (@DurhamBulls) July 6, 2016
Then Sandberg turned to Floro and told him he was the one going to St. Petersburg to make his Major League debut.
"I couldn't figure out what was happening in the middle of camp," said Floro who, mid-speech, was trying to figure out who Sandberg was talking about. "It was a pretty exciting moment."
Floro began his pro career as a reliever, pitching 30 innings for Class A Hudson Valley after the Rays drafted him in the 13th round in 2012. After three years in the rotation, he went back to the bullpen this year, and he has recorded seven saves and a 2.81 ERA in 48 innings for Durham.
The Rays view Floro as a player who throws strikes and can pitch multiple innings if needed. He became a reliever to help speed up his readiness to make the Major League roster, and on Wednesday, it paid dividends.
"It worked," Floro said. "It got me here. … I think it was a good choice."
Sam Blum is a reporter for MLB.com based in St. Petersburg. This story was not subject to the approval of Major League Baseball or its clubs.