MLB.com Columnist
Anthony Castrovince
Photo-finish #FinalVote? Tweet your vote now
Map shows intriguing trends in county breakdowns of support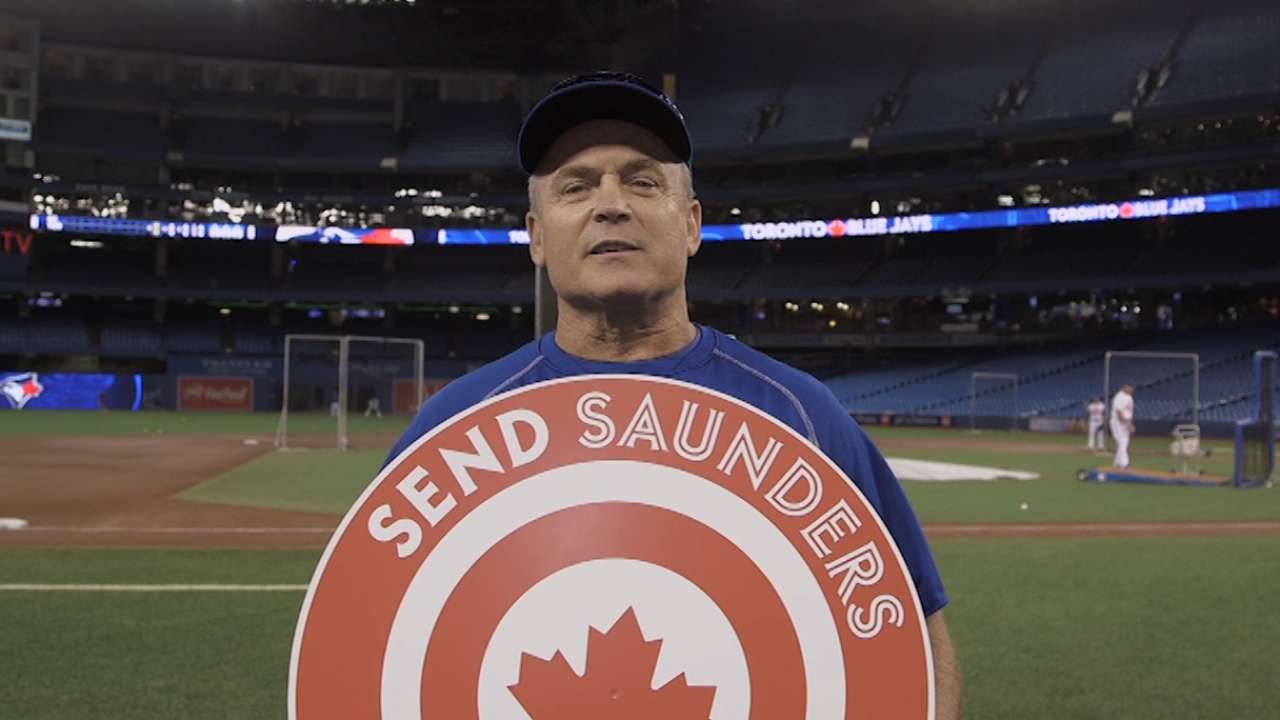 With a very strong push Thursday night, Giants first baseman Brandon Belt (#VoteBelt) has moved himself back into first place in what has become a wild National League race of fan balloting in the 2016 Esurance MLB All-Star Game Final Vote (#FinalVote), held exclusively on MLB.com and the individual club sites and now on Twitter until today's 4 p.m. ET completion. Blue Jays outfielder Michael Saunders (#VoteCaptainCanada) is vying to hold his lead in the American League from start to finish.
Pirates outfielder Starling Marte (#VoteMarte), who made his move earlier Thursday to take the lead in an NL race that is shaping up to be the closest finish ever, slipped to second place overnight. And with the Twitter world now involved in the polling proceedings, anything can happen in either league.
• Cast your Esurance Final Vote
Belt's vote total of nearly 8.5 million pushed him ahead of Marte. Trevor Story (#StoryTime) of the Rockies maintained his lead atop the mobile text ballot and sits in third place, ahead of Jake Lamb (#VoteLamb) of the D-backs and Ryan Braun (#VoteBraun) of the Brewers.
Saunders, a Canada native, has amassed more than 15 million votes in leading the race in the AL. With the Twitter vote, fans now have the opportunity to campaign and rally for the other four candidates chasing Saunders -- in order, mobile text leader George Springer (#VoteSpringer) of the Astros, Ian Kinsler (#VoteKinsler) of the Tigers, Dustin Pedroia (#VotePedey) of the Red Sox and Evan Longoria (#VoteLongo) of the Rays.
• Clubs get creative to get out the Final Vote
Take note of those hashtags. They will play a major role in the results.
Until 4 p.m. ET today, any tweet that includes a designated player hashtag will be tabulated as part of the official vote total used to determine the AL and NL winners. Voters also can use their mobile devices to cast ballots at MLB.com/vote or via text message. To receive the ballot, text the word "VOTE" to 89269. To vote for a specific player, fans can text the choice to 89269. Text "A1" to vote Kinsler, "A2" to vote Longoria, "A3" to vote Pedroia, "A4" to vote Saunders, "A5" to vote Springer, "N1" to vote Belt, "N2" to vote Braun, "N3" to vote Lamb, "N4" to vote Marte or "N5" to vote Story. Message and data rates may apply. Text "STOP" to end and "HELP" for information. Mobile voting in Canada also is available and fans should text their choices to 101010.
On the final day in which performance could potentially impact the voting, Marte didn't play in the Pirates' game in St. Louis on Wednesday (too busy campaigning, perhaps?), and Braun's Brewers, Belt's Giants, Lamb's D-backs and Pedroia's Red Sox were all idle.
Story made a statement in the Rockies' 11-2 win over the Phillies, hitting two home runs to give him 21, which ties the pre-All-Star break NL rookie record. Springer also had an early impact for the Astros, tripling to lead off the bottom of the first and scoring Houston's only run in a 3-1 loss to Oakland. Longoria went 0-for-4 in the Rays' 5-1 matinee loss to the Angels. And in Toronto, Kinsler and Saunders shared the field in a 5-4 Blue Jays win. Kinsler went 1-for-3, and Saunders singled and doubled in four at-bats, scoring three runs and driving in one.
Fans can look at the county-by-county breakdown using our interactive map, which shows where fans are being supported. As expected, each player is performing well in and around their home city. But here are a few interesting trends beyond that in each league.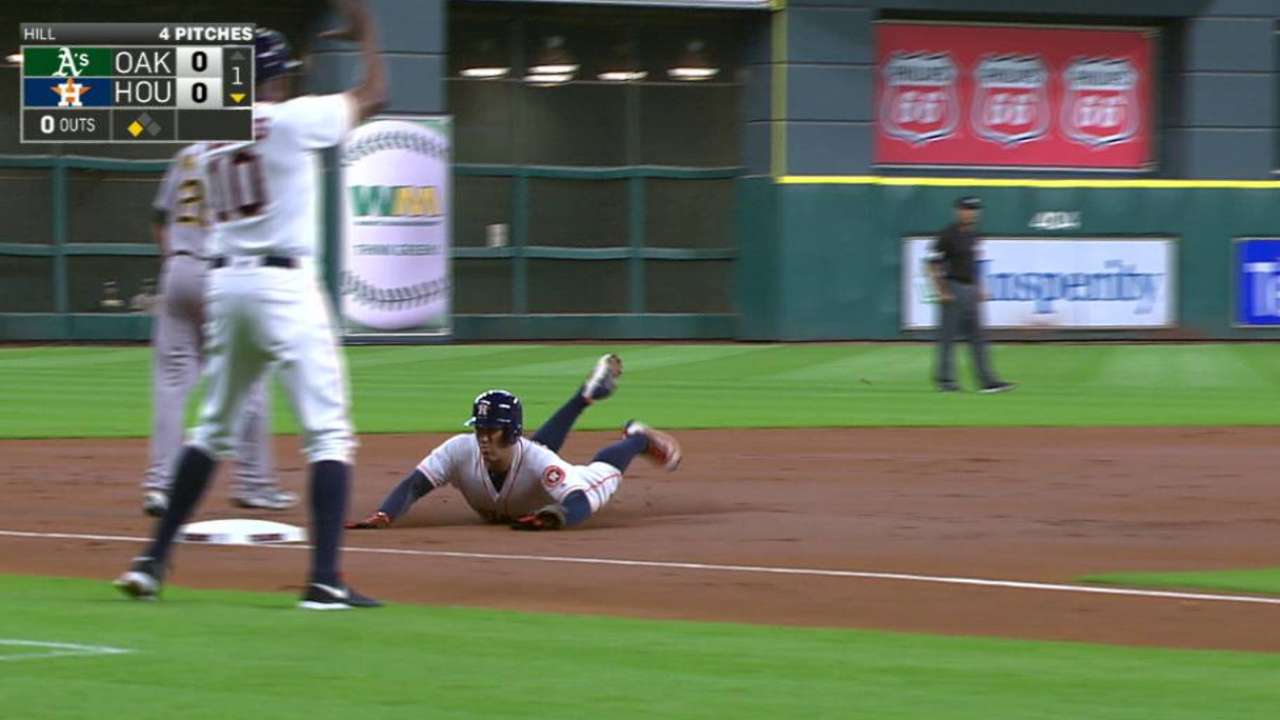 NL
• The map shows that Marte has solid support east of the Mississippi. In addition to Pennsylvania, he's also carrying the majority of counties in Indiana (where the Pirates' Triple-A club resides), Illinois, Kentucky, Tennessee, Michigan, Ohio, West Virginia, New York, New Jersey, Connecticut, Vermont, New Hampshire, Massachusetts, North and South Carolina and Florida (including Manatee County, where the Pirates spend their spring).
A message from the man himself @starlingmart#VOTEMARTE Text N4 to 89269 all day!https://t.co/5HoN7w6gyM

— #VOTEMARTE (@Pirates) July 7, 2016
• It's a battle for Texas, as Story is faring well in his native Dallas County and Belt is doing well in his native Nacogdoches County. Belt is also leading in Henderson County, which contains the mathematical midway mark between the home cities of Story and Belt. However, second place in Henderson belongs not to Story but to Lamb, who has the lead in the nearby counties of Navarro, Anderson and Cherokee. Lamb also has the lead in Houston and surrounding areas. Lamb is getting beat by Belt in his home state of Washington, but he's making his presence known in Texas.
• Belt is carrying every county in California. Braun is carrying every county in Wisconsin. Lamb is carrying every county in Arizona. The scant counties not throwing the bulk of their support at the player whose home games are in their state? In Pennsylvania, Marte leads everywhere but Wyoming and Pike counties, which have leaned toward Belt, and Monroe, which has sided with Story. In Colorado, it's a single county -- those rebels in Mineral -- backing Belt over Story.
Remember, #FinalVote is a marathon, and a sprint. TEXT N5 to 89269: https://t.co/XWILpkmbvu

Let's go! #StoryTime pic.twitter.com/LTiJ9VFFUX

— #StoryTime (@Rockies) July 7, 2016
AL
• Kinsler is carrying Michigan, leading in every single county of the Tigers' home turf. But he could use some help in his actual home state of Arizona. Kinsler, who grew up in Tucson, is carrying his home county of Pima, with just a 34.5 percent to 25 percent lead over Pedroia. And as was the case in his collegiate career, Kinsler is trailing Pedroia in Maricopa County, where Arizona State is. The two both showed up there in 2002 hoping to play shortstop. Pedroia got the job, and Kinsler wound up transferring to Missouri. Kinsler can at least take comfort that he's faring very well in Boone County, where Mizzou is located, garnering 54.7 percent of the vote there to Pedroia's 16 percent.
"A combo of freakish talent + character." - @JamesMcCann34

: Text A1 to 89269
: https://t.co/JrsIBfbC4ehttps://t.co/bChX3w6c6X

— #VoteKinsler (@tigers) July 7, 2016
• Given the number of New Englanders who infiltrate the Sunshine State, it would be difficult for Longoria to carry all of Florida. Sure enough, Pedroia has strong support on the southern tip. But there are two counties throwing their weight another way -- Springer leads in Walton County with more than half the vote there, and Kinsler is faring well in Okeechobee.
• Pedroia is dominating the Northeast and he's dominating his home state of California. But he's also got a commanding lead across Hawaii. See what happens when you win a World Series alongside Shane Victorino?
Fans can vote for the 2016 Esurance MLB All-Star Game Final Vote until 4 p.m. ET today. The winners, as chosen exclusively by online fan voting totals, will be announced during a Final Vote-themed telecast of "MLB Now" featuring commentary from political analyst Jeff Greenfield, live on MLB Network and MLB.com from 4-5 p.m. ET. MLB Network will provide extensive coverage across all of its studio programming during the Final Vote, including interviews with the candidates, frequent updates, heat maps indicating the cities where votes are being cast for each candidate, news on player and club campaigns and a running countdown clock leading up to the announcement.
Baseball fans have cast nearly 600 million online votes for Final Vote candidates since the program's inception in 2002. In addition to MLB.com and the official club websites, fans can use their mobile devices to cast votes at MLB.com/vote or via text message. To receive the ballot, text the word "VOTE" to 89269. To vote for a specific player, fans can text their choice to 89269. EXAMPLE: Text "A3" to vote for AL Player 3 or "N3" to vote for NL Player 3. Message and data rates may apply. Text "STOP" to end and "HELP" for information. Mobile voting in Canada also is available and fans should text their choices to 101010.
For the fifth consecutive year, the Final Vote includes social balloting, as Twitter support for the 10 candidates over the last six hours of balloting will count toward their vote totals. Until 4 p.m. ET today, any tweet that includes a designated player hashtag will be tabulated as part of the official vote total used to determine the winners.
On Tuesday, watch the 2016 All-Star Game presented by MasterCard live on FOX, and during the game visit MLB.com to submit your choice for the Ted Williams Most Valuable Player Award presented by Chevrolet via the 2016 MLB All-Star Game MVP Vote. The 87th All-Star Game, in San Diego, will be televised nationally by FOX, in Canada by Rogers Sportsnet and RDS, and worldwide by partners in more than 160 countries via MLB International's independent feed. ESPN Radio and ESPN Radio Deportes will provide national radio coverage of the All-Star Game. MLB.com, MLB Network and SiriusXM will also provide comprehensive All-Star Week coverage. For more information, please visit allstargame.com.
Anthony Castrovince has been a reporter for MLB.com since 2004. Read his columns and follow him on Twitter at @Castrovince. This story was not subject to the approval of Major League Baseball or its clubs.