Marlins appear poised to make second-half run
Hill confident that Gordon's return, potential additions will help Miami contend
MIAMI -- For all that went wrong on their 3-6 road trip, the Miami Marlins still find themselves right in the thick of the playoff races. The front office continues to survey the landscape prior to the Aug. 1 non-waiver Trade Deadline for possible pitching upgrades, and the organization firmly believes the core is in place to make a stretch run.
One reason for the optimism is the Marlins, now 44-41, have been above the .500 mark since the end of April, and they're doing so with Giancarlo Stanton having a down year, Dee Gordon serving an 80-game suspension and the rotation not collectively pitching deep into games.
Team president of baseball operations Michael Hill and his staff already swung one trade, acquiring All-Star reliever Fernando Rodney from the Padres. They're still searching for more possible deals for pitching help.
The challenge on the pitching market is a number of potential teams who may be willing to trade are waiting until the Trade Deadline before deciding their direction.
"With the additional Wild Card, there's more teams that still feel like they're in it," Hill said. "But we wanted to get out in front and improve this team. The Rodney deal gives us more depth in the bullpen and gives Donnie [Mattingly] more ability to shorten the game behind our rotation. But this gives us the rest of the month now to focus on improving the rotation."
There are some internal choices for the second half. Right-hander Jarred Cosart is in the Minor Leagues working his way back from a left oblique strain.
Also, veterans like Jeremy Guthrie and Cory Luebke, recently let go by the Pirates, are in the Marlins' system on Minor League deals. They could be close to ready by the end of the month.
"We're just trying to be as thorough as we can and give ourselves as many opportunities as we can to help this club," Hill said.
In their quest for a starting pitcher, the Marlins maintain they do not want to subtract players from their big league roster.
"We're looking to add to this team," Hill said. "We love the core. We love the peripheral pieces with this club. We're trying to find a way to just add to it."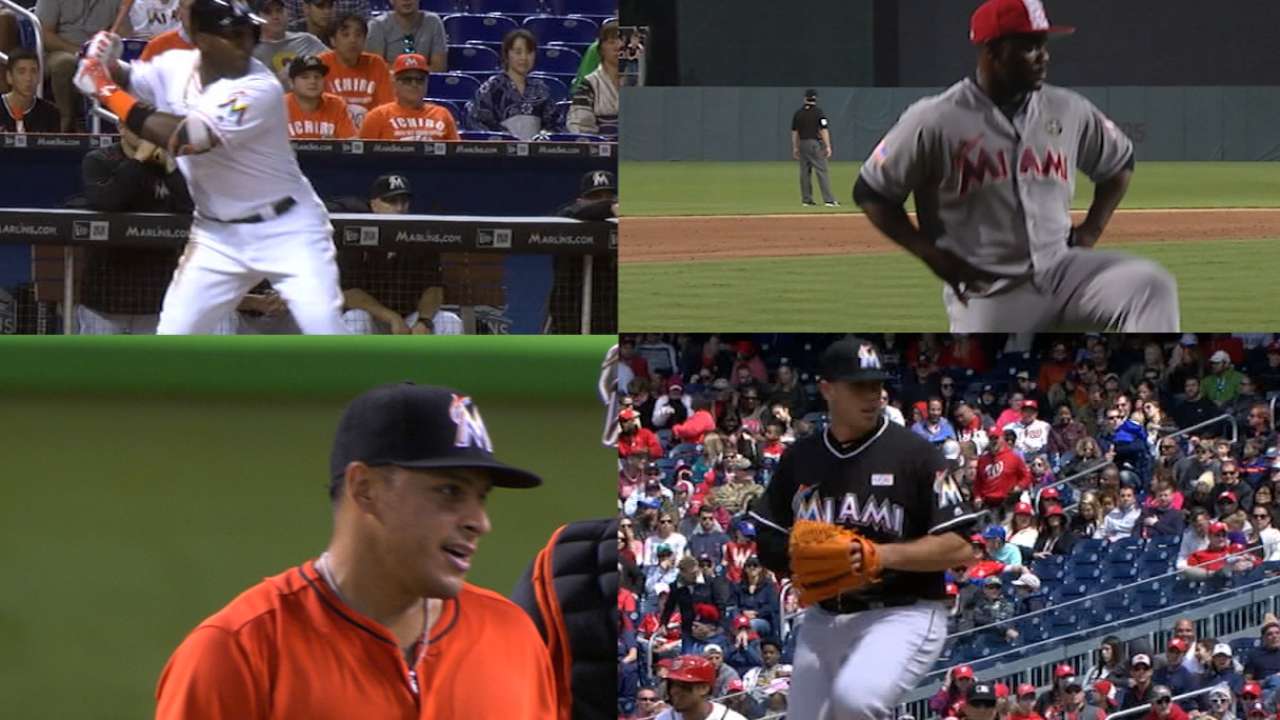 When it comes to position players, the Marlins are set. But they do expect to add Gordon. The 2015 National League batting champ is scheduled to return on July 28, after serving his 80-game suspension. In the meantime, Gordon is at Miami's complex in Jupiter, Fla., where he is getting into game shape.
Also, the Marlins have made it clear they are not looking to trade Gordon for a starting pitcher.
"That's an obvious question, given the fact he's been gone 80 games," Hill said. "The team has continued to play well in his absence and the fact he can't participate in the playoffs, but he's a big part of our club. We're going to be excited when we add him back, because we're going to be adding one of the most exciting young players in the game. He gives Donnie another weapon to help us win games."
Gordon has been playing in simulated games, and he's eligible to start playing in Minor League games on July 18, which is 10 days before he can return to the Marlins.
Despite the fact that Gordon has been out and Stanton -- who belted four home runs in two games against the Mets this week -- also has had a down season, the Marlins remain in contention.
"I think that's the other part: we haven't had Dee, and we haven't had Giancarlo as consistent as he can be," Hill said. "I think that's why we still think we're not playing our best baseball."
Joe Frisaro has covered the Marlins for MLB.com since 2002. He writes a blog, called The Fish Pond. Follow him on Twitter @JoeFrisaro and listen to his podcast. This story was not subject to the approval of Major League Baseball or its clubs.