MLB.com Columnist
Jim Callis
Top tools to be showcased in Futures Game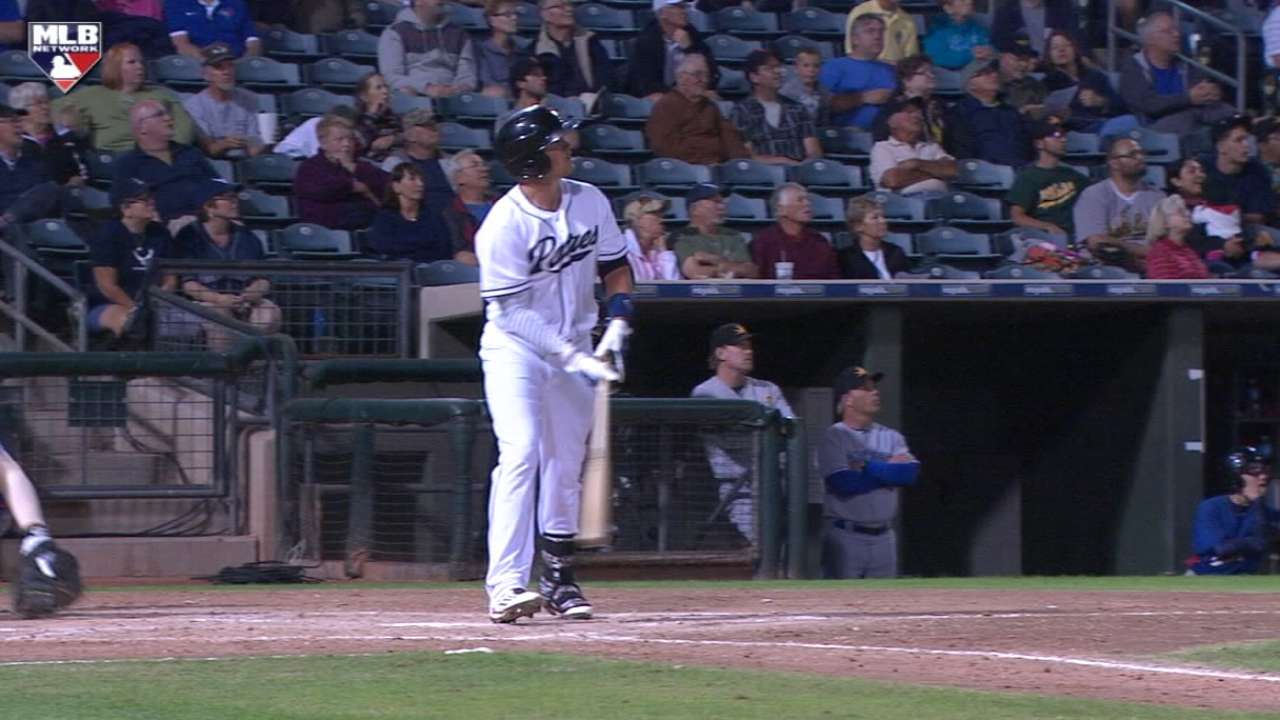 Many of the players with the best tools in the big leagues first displayed their talents to a national audience at the SiriusXM All-Star Futures Game. Pure hitters such as Miguel Cabrera and Paul Goldschmidt, sluggers like Bryce Harper and Giancarlo Stanton, speedsters such as Billy Hamilton and Mike Trout and pitchers with big-time stuff like Jose Fernandez and Clayton Kershaw all participated in the prospect showcase.
The 18th annual game will be part of the All-Star Game festivities again this year, broadcast live from Petco Park on MLB Network at 7 p.m. ET/4 p.m. PT on Sunday. Let's spotlight the players with the best individual tools on the U.S. and World squads.
Best hitter
U.S.: Alex Bregman, SS, Astros
The No. 2 overall pick in the 2015 Draft already has reached Triple-A Fresno -- and hit .400 with four homers in his first week there -- thanks to his lightning-fast right-handed swing and ability to manage the strike zone. He's a career .301/.392/.506 hitter, with more walks (73) than strikeouts (62) as a pro.
World: Yoan Moncada, 2B, Red Sox
Moncada cost the Red Sox $63 million in bonus money and a penalty for exceeding their international bonus pool, but he looks well worth it so far. He has hit .291/.395/.473 since signing, advancing to Double-A Portland while displaying outstanding bat speed and a propensity for hard contact from both sides of the plate.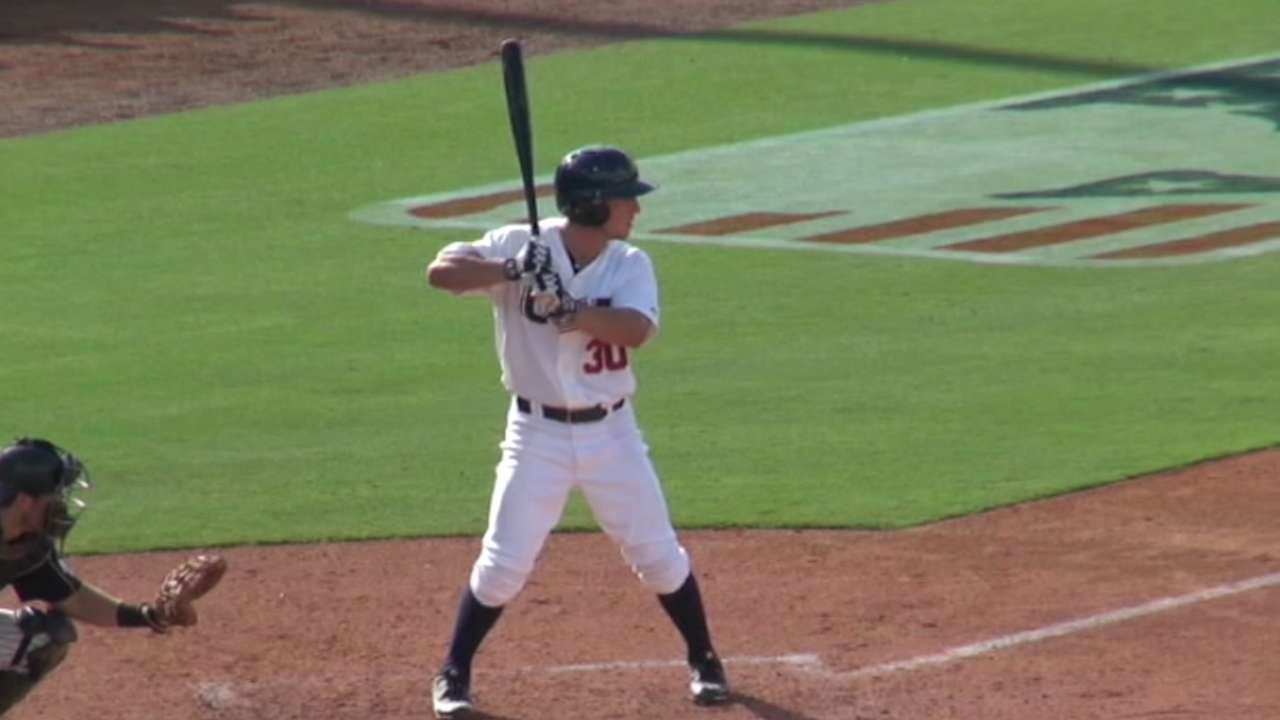 Best power hitter
U.S.: Hunter Renfroe, OF, Padres
Renfroe's power got him drafted 13th overall in 2013, and he has delivered at least 20 homers in each of his three full pro seasons, including 20 in 83 games this year to pace the Triple-A Pacific Coast League. He's big (6-foot-1, 220 pounds), strong and has a quick right-handed stroke.
World: Gary Sanchez, C, Yankees
Sanchez could be the next in a long line of power-hitting Yankees catchers. He combines bat speed, strength and loft in his right-handed swing, which have helped him to average 26 homers per 162 Minor League games.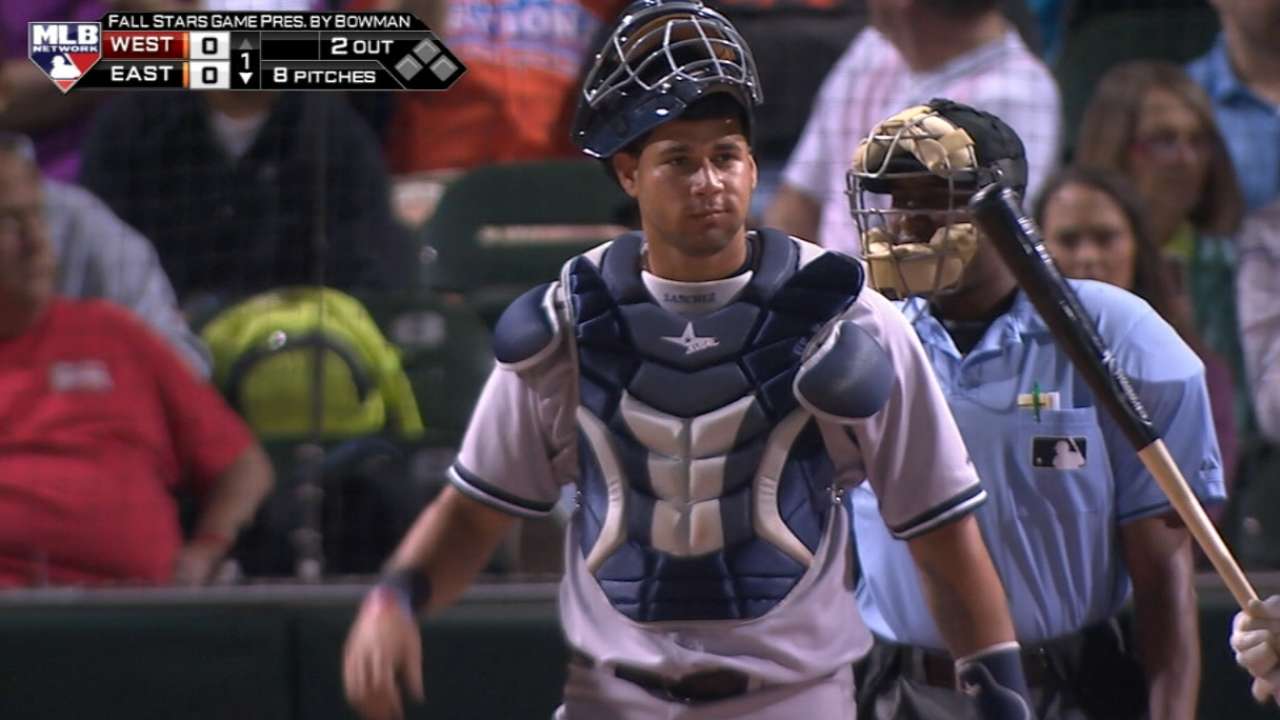 Fastest runner
U.S.: David Dahl, OF, Rockies
While there aren't any true blazers on the U.S. team, Dahl does have plus speed and some of the best all-around tools on the squad. His 16 steals this year are just six short of his career high with two months remaining, and he has 20-20 upside.
World: Moncada
Shortstop Jorge Mateo has top-of-the-line speed, but we won't see it in the Futures Game after the Yankees suspended him for two weeks for insubordination. Moncada is a 65 runner on the 20-80 scouting scale and leads the Minors with 39 steals in 47 attempts after going 49-for-52 last year.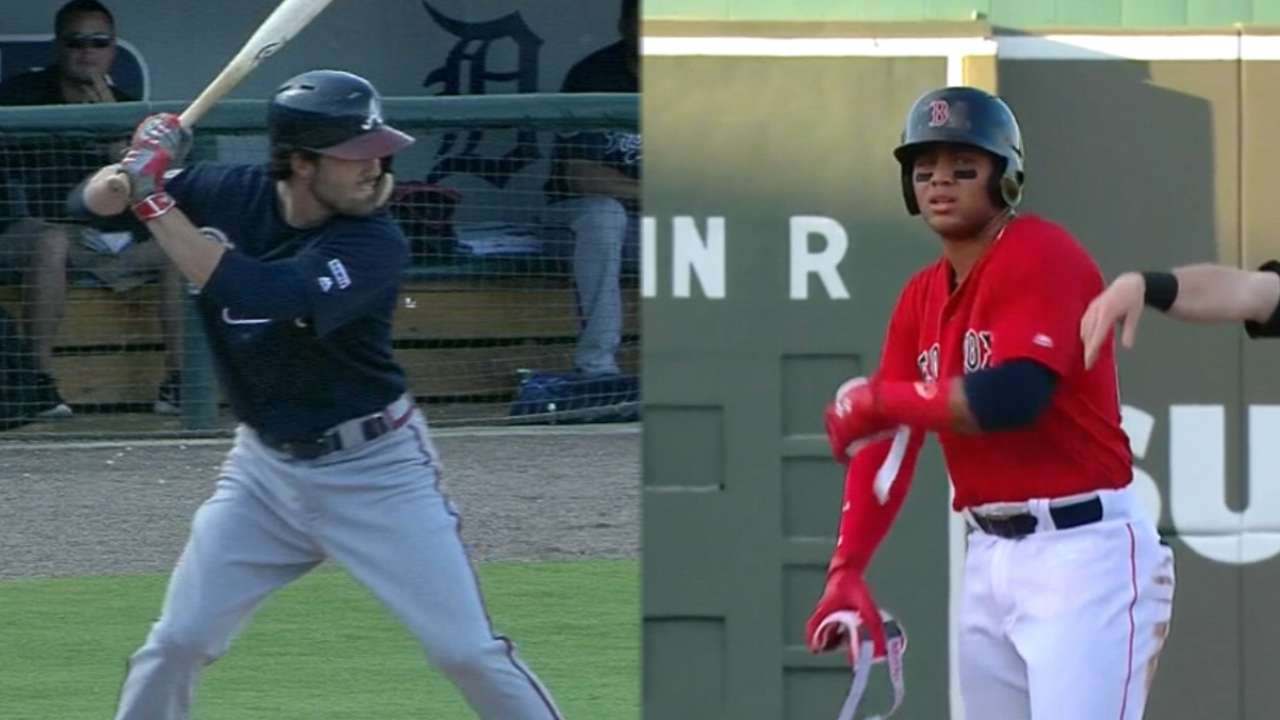 Best defender
U.S.: Dahl
Dahl edged Red Sox center fielder Andrew Benintendi as the fastest U.S. runner, and he does so for best U.S. defender as well. Dahl has plus range in center as well as solid arm strength that's uncommon at the position.
World: Manuel Margot, OF, Padres
Margot has similar speed to Moncada, and he uses it well in center field, where he covers a lot of ground. He has the range needed to patrol the spacious outfield at Petco Park.
Strongest arm
U.S.: Carson Kelly, C, Cardinals
Kelly attracted scouting attention as a high school pitcher with a low-90s fastball, but most teams preferred him as a position player. The Cardinals moved him from third base to catcher after his second pro season, and his plus arm helped him adapt quickly to his new position.
World: Francisco Mejia, C, Indians
Both Mejia and Sanchez have plus-plus raw arm strength, with the former getting the nod here because he's more consistently accurate with his throws. Mejia has thrown out 42 percent of basestealers this season.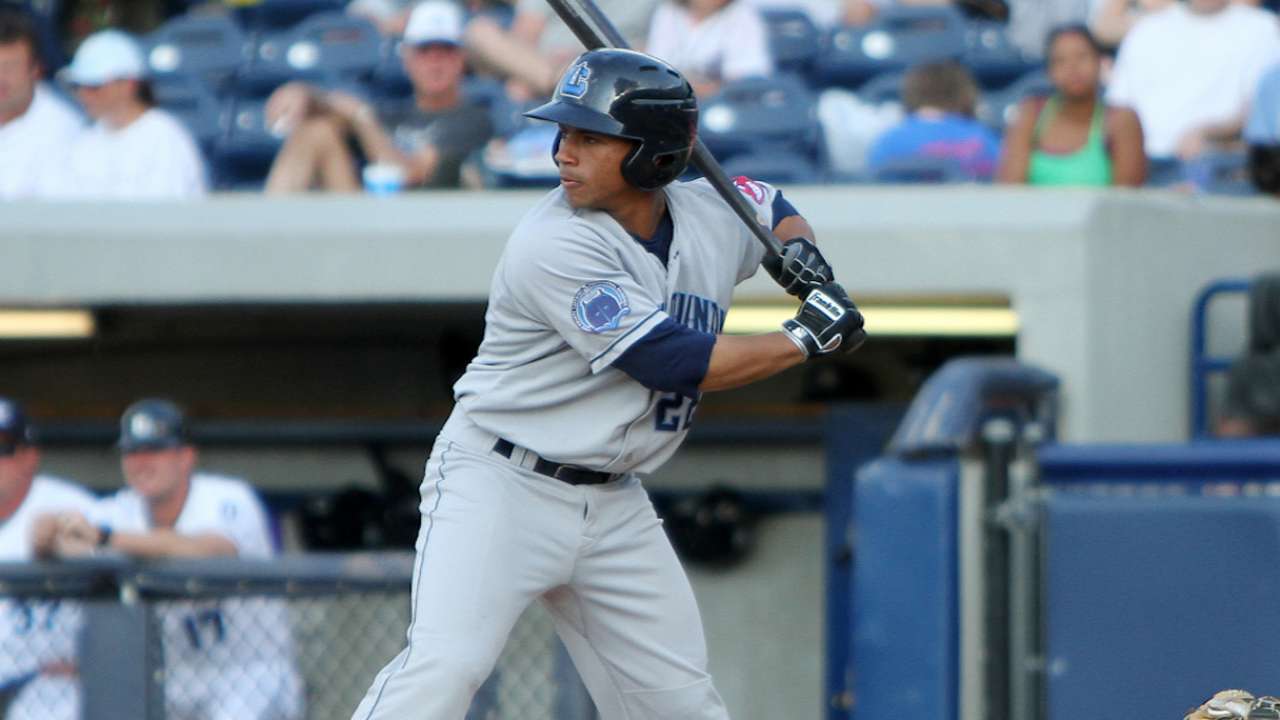 Best fastball
U.S.: J.T. Chargois, RHP, Twins
Chargois hit 98 mph while at Rice before the Twins drafted him in the second round in 2012, only to see him miss the next two years after blowing out his elbow and having Tommy John surgery. He has recovered to throw harder than ever, routinely reaching triple digits while averaging 11.9 strikeouts per nine innings this year with Triple-A Rochester.
World: Alex Reyes, RHP, Cardinals
Reyes is the best right-handed pitching prospect currently in the Minors, and his fastball is a major reason why. He can sit in the mid-90s and touch 100 mph as a starter, and he has fanned 13.3 per nine innings this season as the second-youngest starter (age 21) in the PCL.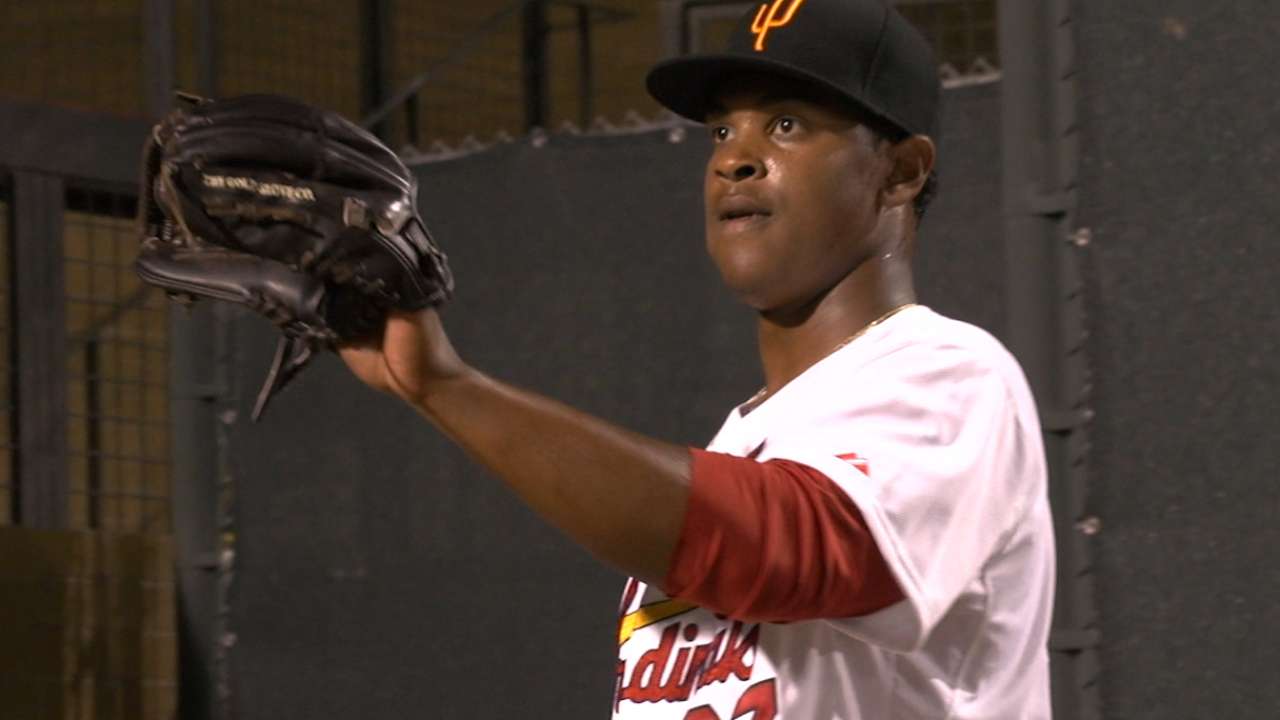 Best curveball
U.S.: Jeff Hoffman, RHP, Rockies
Hoffman might have the best all-around repertoire in the Futures Game, and scouts debate whether his fastball or curveball is his best pitch. Both are well above average, with his big-breaking bender giving hitters as many problems as his mid-90s sinker.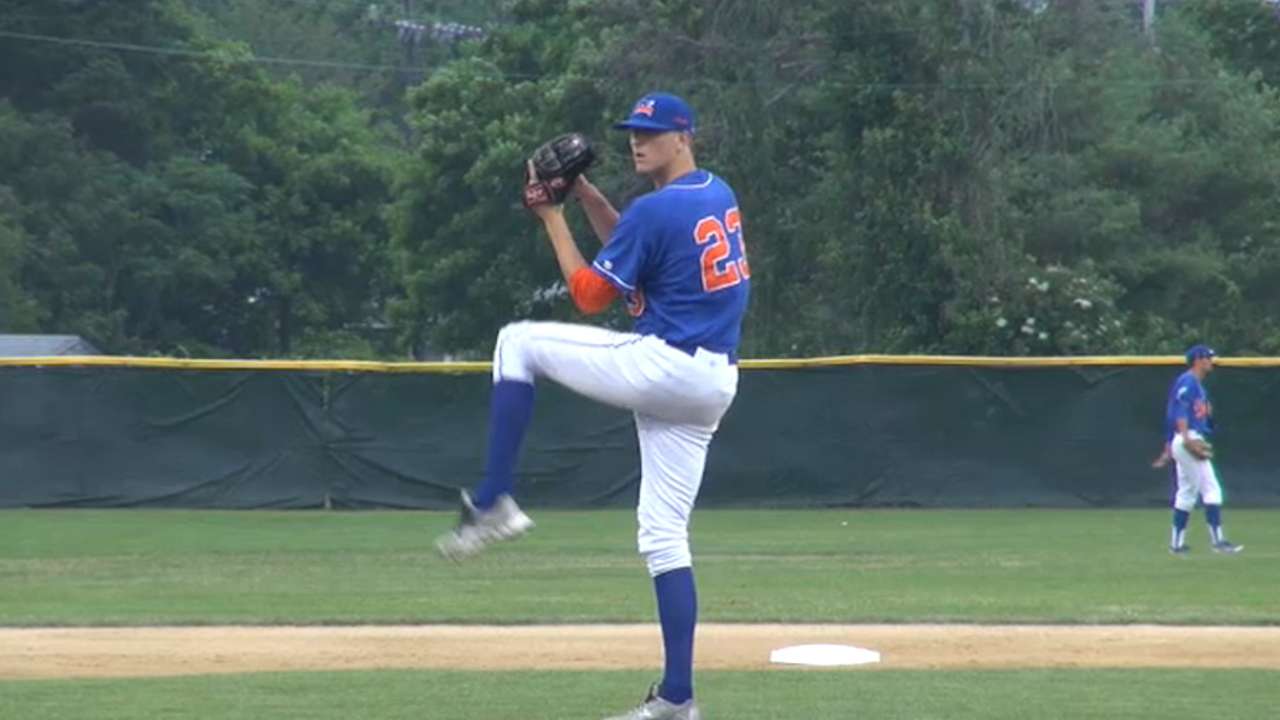 World: Reyes
Reyes' fastball is better than his curveball, but the latter can be a devastating hammer when he commands it. Though he still needs more polish, his pure stuff is so good that he could help the Cardinals right now, even if he can't always harness it.
Best slider
U.S.: Josh Hader, LHP, Brewers
Hader can run his fastball up to 98 mph, making it difficult for hitters to adjust to his sweeping slider. His crossfire delivery makes it tough on left-handers, and he can back-foot it against righties as well.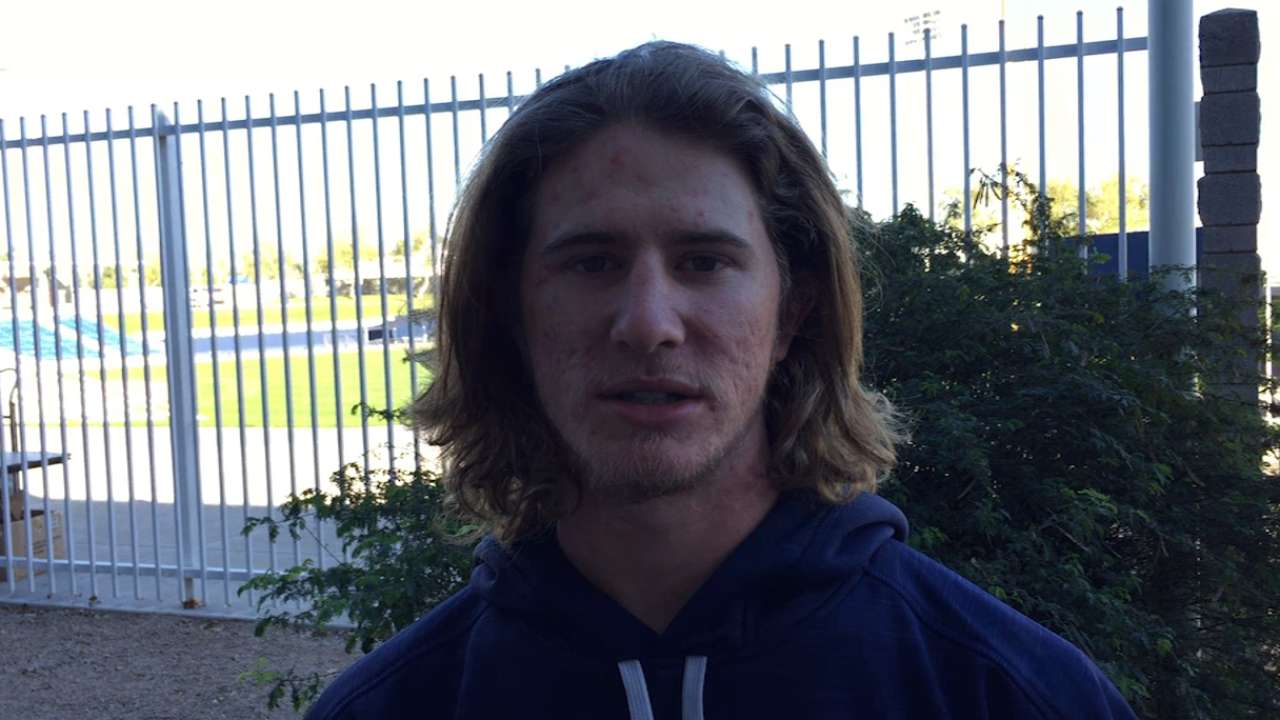 World: Joe Jimenez, RHP, Tigers
Signed as a free agent after going undrafted out of Puerto Rico in 2013, Jimenez has recorded a 1.28 ERA as a pro and a 0.28 mark this season. He can overmatch hitters with a mid-90s fastball and a hard slider with which he'll vary the speed and break.
Best changeup
U.S.: Nate Smith, LHP, Angels
A $12,000 senior sign as a 2013 eighth-rounder, Smith sped to Triple-A by the end of his second full pro season despite having just one better-than-average pitch. That's his changeup, which he locates well and uses as an equalizer against right-handers.
World: Jharel Cotton, RHP, Dodgers
In his quest to become the second U.S. Virgin Island-born pitcher to reach the Majors, Cotton is leading the PCL with 11.0 strikeouts per nine innings. He confounds hitters by mixing 92-96 mph four-seam fastballs up in the strike zone with lively changeups at the knees.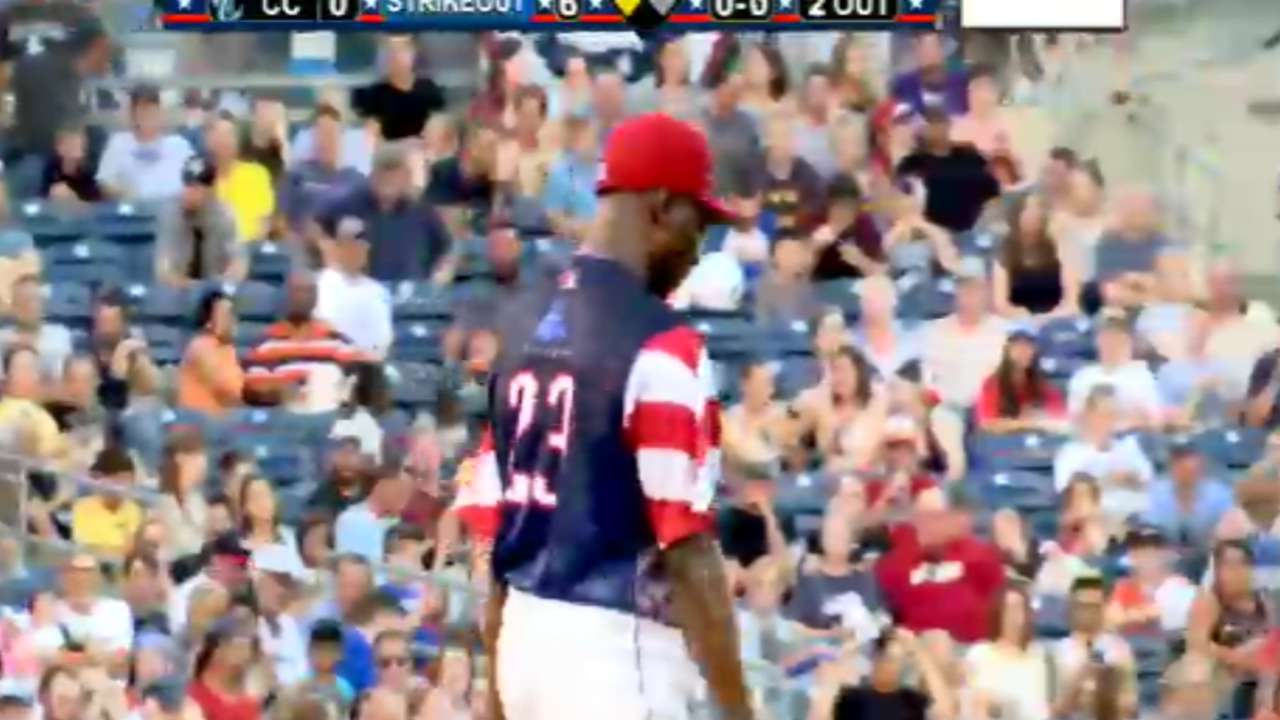 Best control
U.S.: Joe Musgrove, RHP, Astros
Musgrove posted a 99/8 K/BB ratio during a breakout 2015 season and has encored with a 71/9 mark so far this season. He repeats his clean delivery with ease, allowing him to pinpoint four pitches, the best of which is a 90-95 mph fastball with good movement.
World: Adalberto Mejia, LHP, Giants
Mejia's strike-throwing regressed in 2015, when he missed time because of shoulder tendinitis and a 50-game suspension for testing positive for stimulants, but his 83/22 K/BB ratio this year is his best since he came to the United States in 2012. He lacks a true plus pitch, but he can mix an effective fastball, slider and changeup, and also employ a curveball for show.
Jim Callis is a reporter for MLB.com. Follow @jimcallisMLB on Twitter and listen to him on the weekly Pipeline Podcast. This story was not subject to the approval of Major League Baseball or its clubs.