As Final Votes pour in, players make their cases
Belt and Marte, Saunders and Springer top two in each league after vigorous overnight voting action
Giants first baseman Brandon Belt temporarily lost his Day 1 lead Wednesday night, but he regained it, as he and Blue Jays outfielder and Canada native Michael Saunders continue to lead their respective league entering the second full day of balloting Thursday in the Esurance MLB All-Star Game Final Vote, held exclusively on MLB.com and the individual club sites.
Balloting continues in the Esurance MLB All-Star Game Final Vote, which allows fans to vote in one additional player to each league's All-Star Game roster through 4 p.m. ET on Friday.
While Pittsburgh's Starling Marte took the National League lead briefly several times, Belt has moved back into first place with a total of 4.6 million votes. Marte and Rockies rookie shortstop Trevor Story currently are in second and third, respectively, and only a few percentage points from taking the lead away from Belt. Creative campaigns supporting Jake Lamb of the D-backs and Ryan Braun of the Brewers have helped them make Day 2 pushes, just behind the top three spots.
Saunders has received 9.7 million votes in the American League race and continues to hold off the other four candidates in close races that have the players who are chasing him continuing to jockey for position. Ian Kinsler of the Tigers and Dustin Pedroia of the Red Sox swapped the third and fourth positions multiple times overnight with the Boston second baseman currently holding third behind Saunders' closest competitor, George Springer of the Astros. Kinsler looms close in fourth, ahead of Rays third baseman Evan Longoria.
• Latest Final Vote update reveals intriguing trends
Belt was 2-for-4 with two extra-base hits (a double and triple), two runs scored and an RBI in San Francisco's 5-1 win over the Rockies on Wednesday. Marte's Pirates won their seventh straight game Wednesday, vaulting past the Cardinals, 7-5, to claim second place in the NL Central.
Saunders backed up his votes with his bat in a big way on Wednesday, homering and driving in the go-ahead run for the Blue Jays in the eighth inning against the Royals, securing a 4-2 win.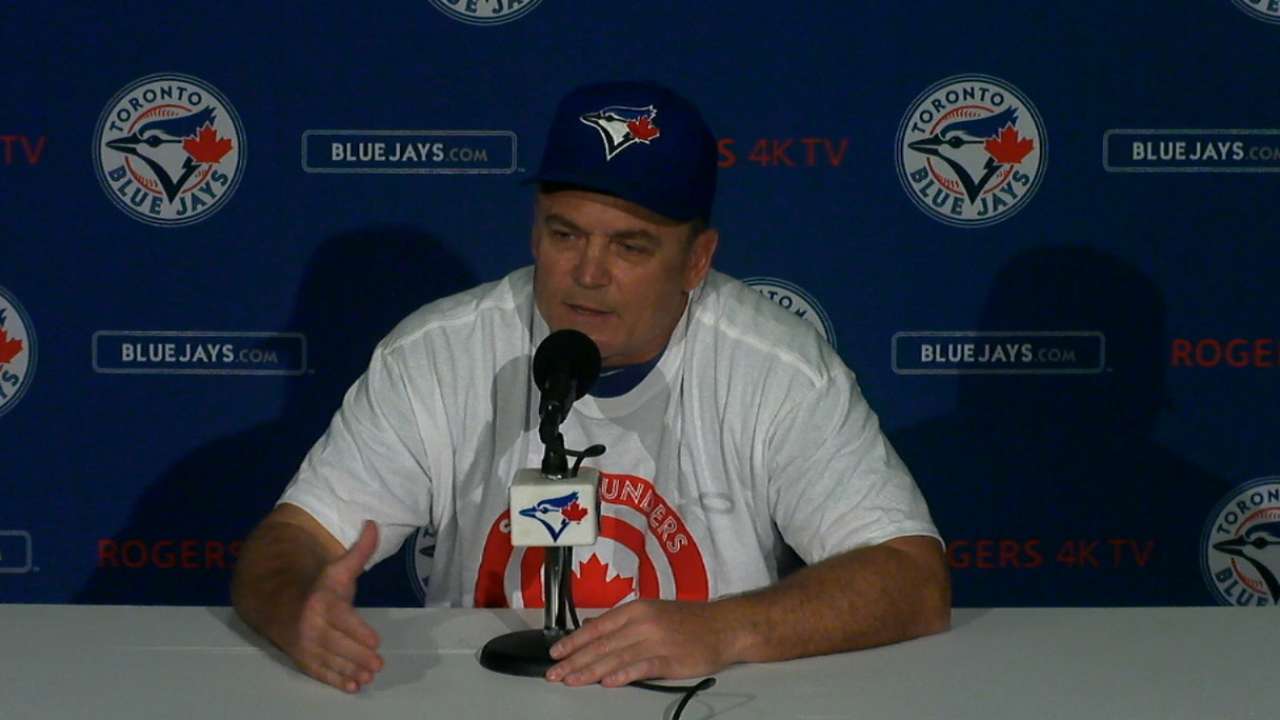 "First and foremost, what's important right now is that we get the wins and finish strong leading into the All-Star break," Saunders said. "Obviously the support that I've received, not only from the guys in the locker room and this organization, but fans all across Canada, words can't explain how grateful I am."
Springer also made some noise Wednesday, contributing at the plate as Houston completed a sweep of the Mariners with a 9-8 victory. Springer pushed his team-leading walk total to 46 and collected his 51st RBI, good for second on the club.
Lamb also made a statement Wednesday, hitting a two-run homer for the D-backs. As did Kinsler, who totaled three hits and three runs scored as his Tigers bested the division-rival Indians, 12-2. Kinsler's teammate, All-Star first baseman Miguel Cabrera, lobbied for his inclusion.
"We have to make a push," Cabrera said. "Kinsler, I think, is our best player in the lineup. He does everything to win games for us."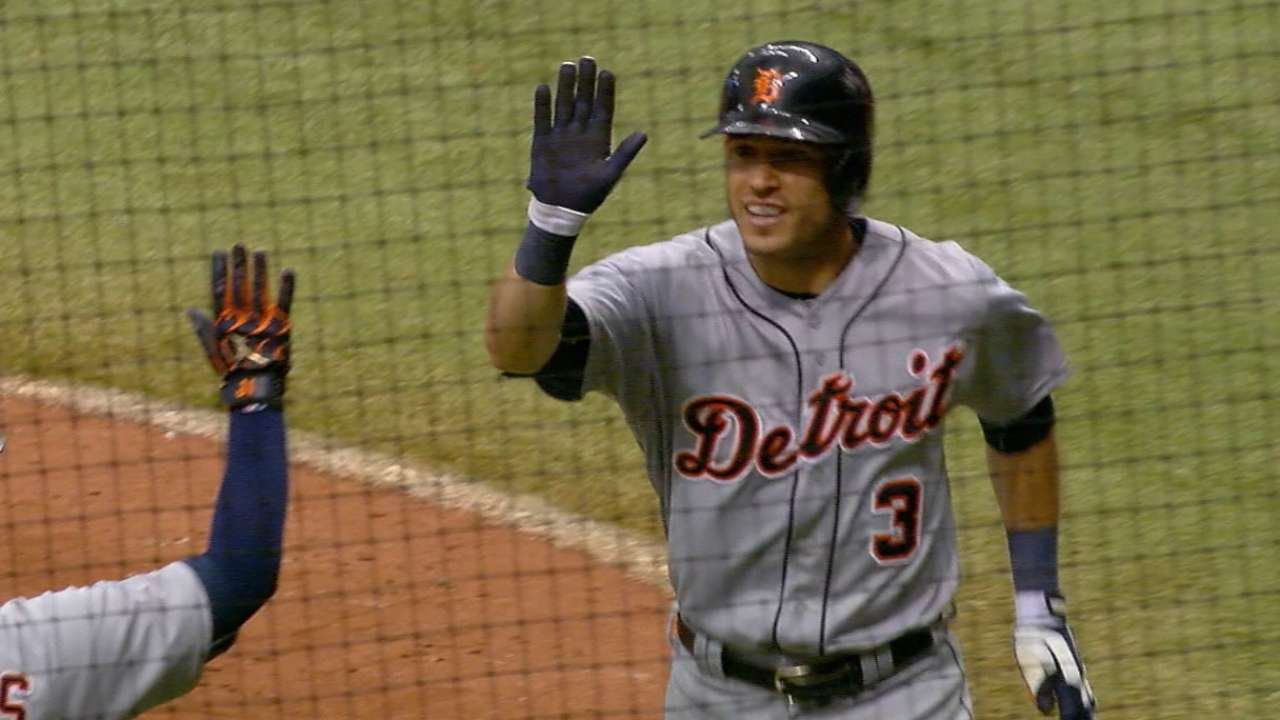 For Braun, Belt, Lamb and Pedroia, their All-Star fates are firmly in the hands of the fans. With their clubs off on Thursday, they won't have another opportunity to show they belong before voting ends Friday.
Saunders and Kinsler will go head-to-head Thursday as their clubs meet at Rogers Centre, where Saunders can potentially celebrate along with a home crowd after the results are announced during a Final Vote-themed telecast of "MLB Now" on MLB Network and MLB.com on Friday from 4-5 p.m. ET.
Marte, Springer and Story will each also have the opportunity to celebrate at their home ballparks. Marte and the Bucs have one more matchup with the Cardinals in St. Louis before returning home for a three-game series against the first-place Cubs. Springer's Astros host the A's for a four-game series, while Story's Rockies take on the Phillies at Coors Field through the weekend.
If Longoria claims the final AL spot, he'll have to wait to be cheered on by the Tampa Bay fans as the Rays will be in Boston for a brief road trip this weekend when the results are revealed.
Fans can vote for the 2016 Esurance MLB All-Star Game Final Vote until 4 p.m. ET on Friday. The winners, as chosen exclusively by online fan voting totals, will be announced during a Final Vote-themed telecast of "MLB Now" featuring commentary from political analyst Jeff Greenfield, live on MLB Network and MLB.com from 4-5 p.m. ET. MLB Network will provide extensive coverage across all of its studio programming during the Final Vote, including interviews with the candidates, frequent updates, heat maps indicating the cities where votes are being cast for each candidate, news on player and club campaigns and a running countdown clock leading up to the announcement.
Baseball fans have cast nearly 600 million online votes for Final Vote candidates since the program's inception in 2002. In addition to MLB.com and the official club websites, fans can use their mobile devices to cast votes at MLB.com/vote or via text message. To receive the ballot, text the word "VOTE" to 89269. To vote for a specific player, fans can text their choice to 89269. EXAMPLE: Text "A3" to vote for AL Player 3 or "N3" to vote for NL Player 3. Message and data rates may apply. Text "STOP" to end and "HELP" for information. Mobile voting in Canada also is available and fans should text their choices to 101010.
For the fifth consecutive year, the Final Vote will include social balloting, as Twitter support for the 10 candidates over the last six hours of balloting will count toward their vote totals. From 10 a.m.-4 p.m. ET on Friday, any tweet that includes a designated player hashtag will be tabulated as part of the official vote total used to determine the winners.
On Tuesday, July 12, watch the 2016 All-Star Game presented by MasterCard live on FOX, and during the game visit MLB.com to submit your choice for the Ted Williams Most Valuable Player Award presented by Chevrolet via the 2016 MLB All-Star Game MVP Vote. The 87th All-Star Game, in San Diego, will be televised nationally by FOX, in Canada by Rogers Sportsnet and RDS, and worldwide by partners in more than 160 countries via MLB International's independent feed. ESPN Radio and ESPN Radio Deportes will provide national radio coverage of the All-Star Game. MLB.com, MLB Network and SiriusXM will also provide comprehensive All-Star Week coverage. For more information, please visit allstargame.com.
Chad Thornburg is a reporter for MLB.com. This story was not subject to the approval of Major League Baseball or its clubs.