Gomez sparks Astros' roller-coaster win
Center fielder fuels Houston's fast start on three-hit night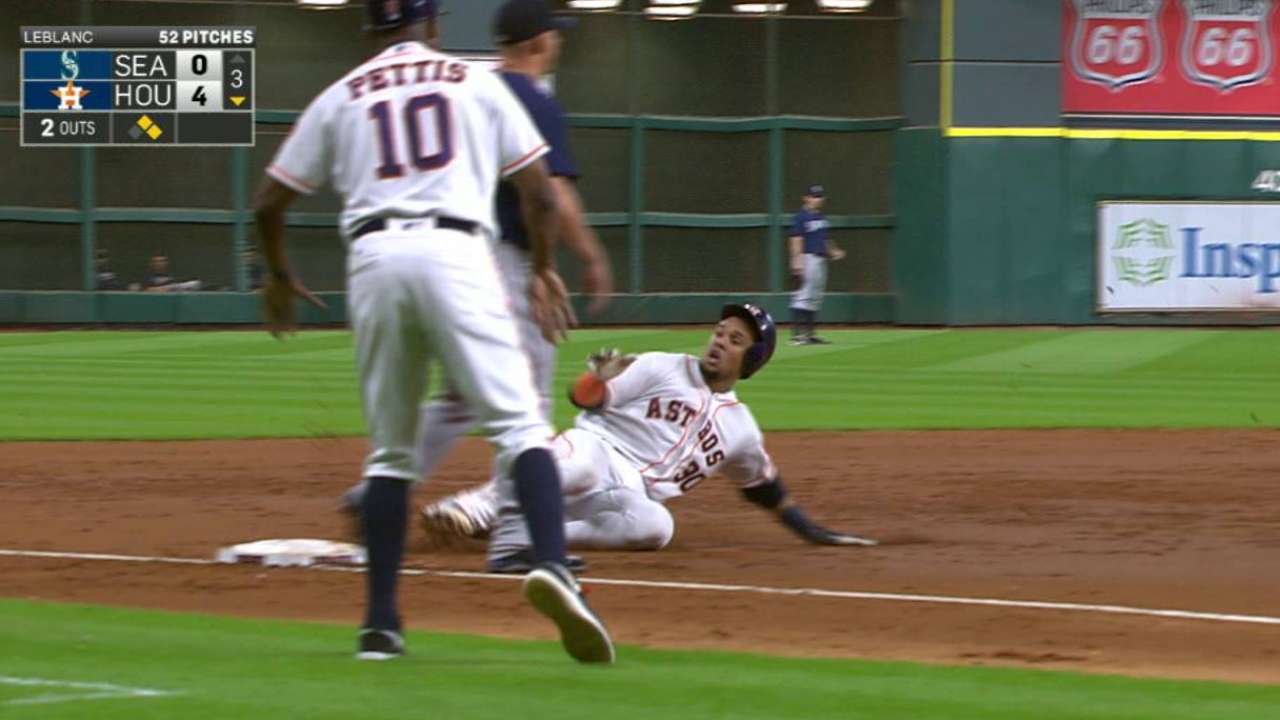 HOUSTON -- In a game that featured 22 hits and 17 runs, the Astros needed every bit of their hot start Wednesday night in a 9-8 victory over the Mariners at Minute Maid Park.
The Astros jumped out to a 5-0 lead early, scoring in each of the first three innings, with Carlos Correa, Carlos Gomez and Evan Gattis all hitting for extra bases.
"Some nights, the pitching staff picks us up from a position-player standpoint," Astros manager A.J. Hinch said. "Other nights the position players keep fighting until the end and score just enough to pick up the tough win."
• Cast your Esurance Final Vote for Springer
Correa accounted for the first score of the game, a first-inning RBI double, which brought home Luis Valbuena. Gomez followed it up with a two-run double, scoring Jose Altuve and Correa, and the Astros led 3-0 after the first inning.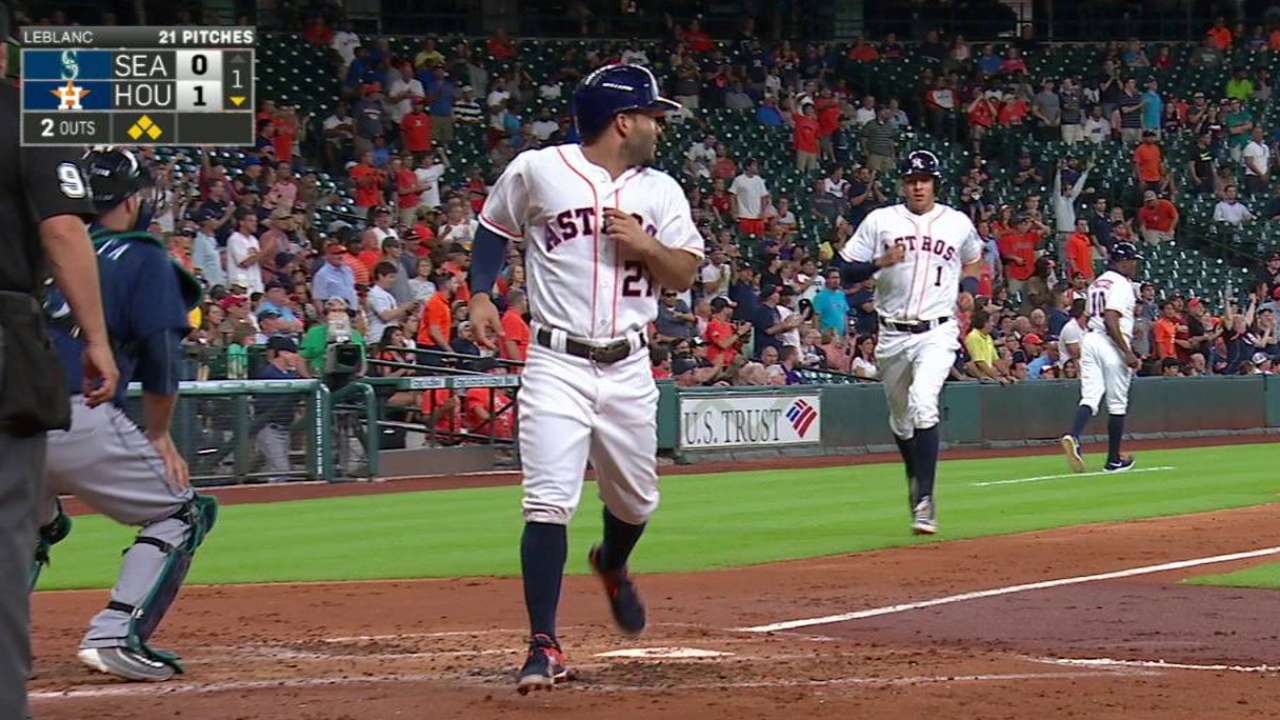 "The last couple of weeks, I've been putting good contact on the ball, good plate appearances," Gomez said. "Today I just found some holes. I just keep it positive and, more importantly, we [swept] the series."
Gattis had the team's only hit in the second inning, but he crushed it for a solo home run, his 13th dinger of the season.
In the third, Correa reached first on an error before Gomez blasted an RBI triple -- projected by Statcast™ at 435 feet -- into Tal's Hill. It was Gomez's first triple of the year and gave the Astros a 5-0 lead after three. It was the first time Gomez had a double and a triple in the same game since May 8, 2013, when he was with Milwaukee.
"He doesn't have an off button," Hinch said of Gomez.
The Astros needed every run they could get as the Mariners surged back to tie the game at 7 in the seventh. Fortunately for Houston, Valbuena blasted a two-run homer in the eighth to put Houston on top for good.
"We haven't had a game like this, that I can remember, where we jump out to a big lead, they have two really big innings to get back in it, and then us having the resiliency to win in the end," Hinch said. "It's a different way to win. I'm proud of our guys for how we stuck in the game."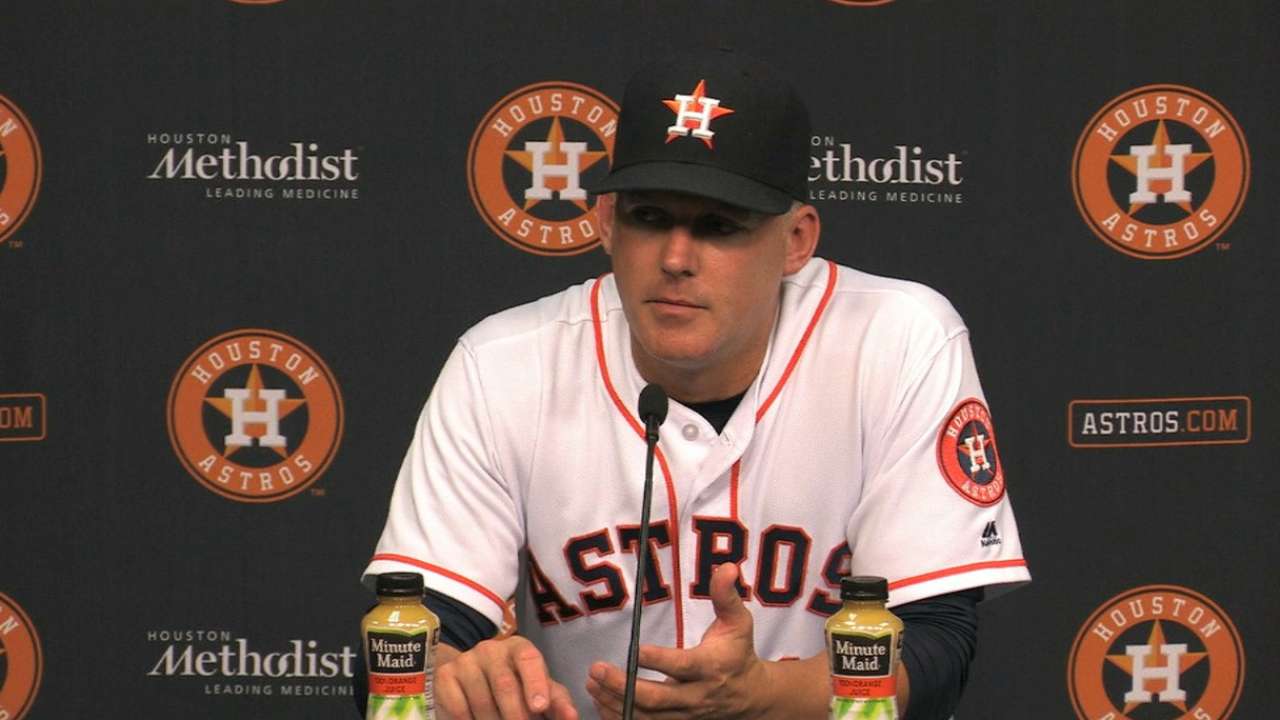 The win secured a series sweep over Seattle and was the Astros' ninth consecutive victory over an American League West opponent. It was also the sixth time in eight games that the Astros scored five or more runs in a game.
"We're putting the ball in play, and we have the big hit in every game," Gomez said. "That's what [we've been] the last month: really good."
Jordan Ray is a reporter for MLB.com based in Houston. This story was not subject to the approval of Major League Baseball or its clubs.