'Warrior' Weaver the constant for Angels
Veteran right-hander allows one run over six innings vs. Rays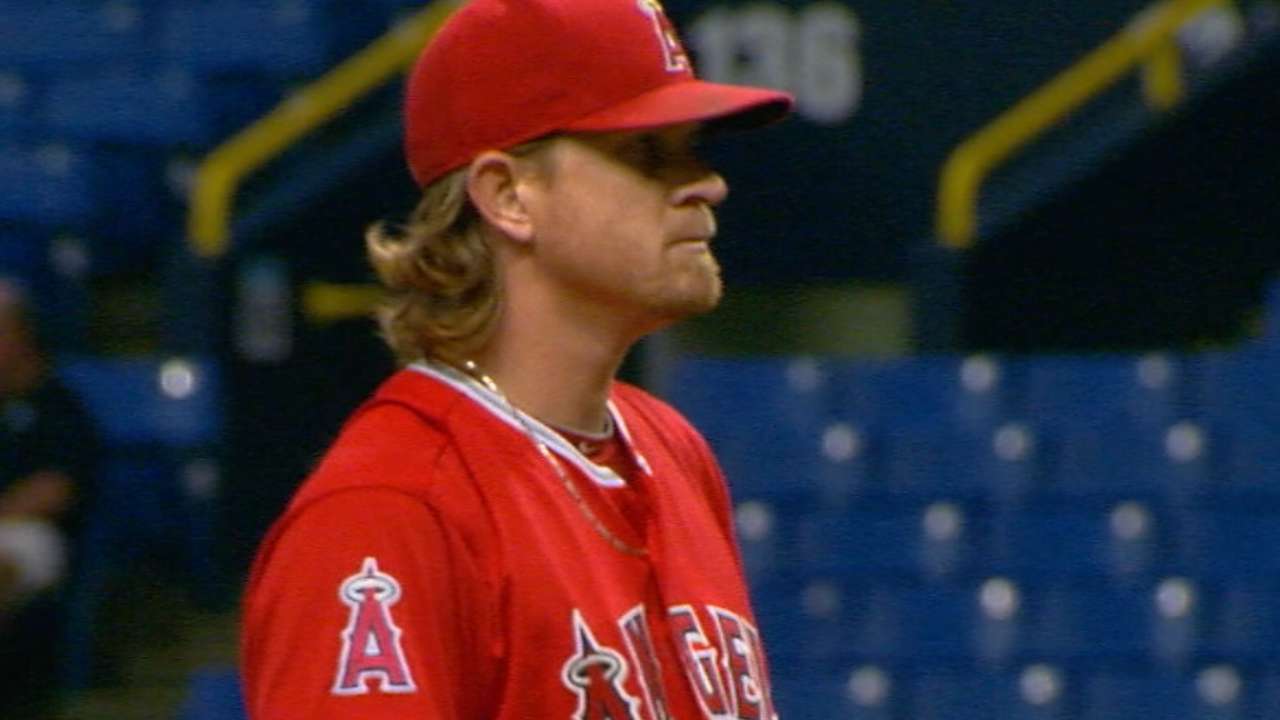 ST. PETERSBURG -- The season keeps dwindling, the losses keep piling up and the disabled list keeps growing. But there's Jered Weaver, still taking his turn, still throwing his fastball in the 80s, and sometimes, when it all breaks right, still reaching back for some of that old magic.
The 33-year-old right-hander pitched six innings of one-run ball at Tropicana Field on Wednesday night, leading the Angels to a 7-2 victory over the Rays that gave them back-to-back wins for the first time in 17 days.
He was later asked if it has been hard for him to keep his edge this season, because his ERA is 5.27 and the Angels are in last place.
• Cast your Esurance Final Vote
"Absolutely not," Weaver spat. "That's one of the worst questions I ever heard."
It's one aspect that has never really been debatable.
"Jered competes," said Mike Scioscia, the only Major League manager Weaver has ever had. "Just having that element inside of him lets him go out with whatever his tools are and try to win."
Scioscia said this might have been "the best stuff" Weaver has shown this season. He hit 85 mph a handful of times and at one point touched 86, enough to give Weaver the conviction to throw his fastball -- pitches 83 mph or above -- 28 percent of the time. But he said his stuff "felt the same as it has all the time. It's just a matter of locating and keeping those guys off balance."
That is what the first half has been about for Weaver, whose five-year, $85 million extension expires at season's end.
He's managed a team-leading eight quality starts, including a complete-game shutout of the A's with less than 100 pitches. But he has been unable to complete six innings on six occasions and has given up five or more runs five times. And leading up to his final start before the All-Star break, the Angels' longtime ace had endured a two-start stretch in which he yielded 10 runs in 10 innings.
Then Weaver (7-7) cruised through 18 outs against the Rays, giving up only a solo home run and four other baserunners while striking out five.
"I don't know if it's ever easy," Weaver said. "I'm just trying to locate pitches and keep those guys off balance."
One Angels pitcher (C.J. Wilson) will miss the entire season with shoulder issues, another (Andrew Heaney) required Tommy John surgery after making one start, another (Garrett Richards) may eventually undergo the same procedure, and another (Tyler Skaggs) is 23 months into a recovery from his own Tommy John surgery.
Weaver hasn't missed a start, despite dealing with neck issues throughout Spring Training, and at one point stating that "about 80 percent of the league wouldn't have been throwing with what I've been throwing the last couple years."
On Wednesday, he surpassed 100 innings, putting him on pace for 192.
"He's a warrior, man," Angels center fielder Mike Trout said. "We all see it as a teammate. A lot of guys would go on the DL to try to fix it, but he's out there grinding."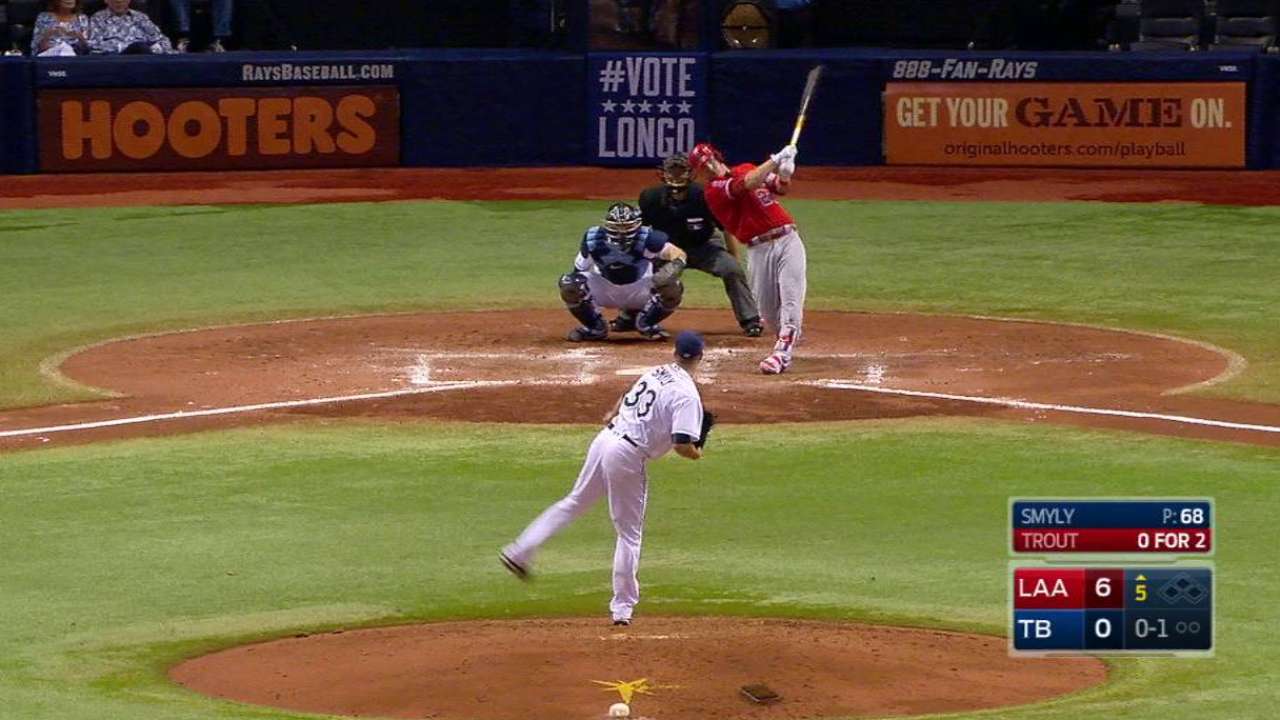 And because of that, Weaver and the Angels run a parallel course -- trying desperately to recapture past brilliance, but facing mortality and an uncertain future.
The Angels won two in a row for the first time since June 18-19. They're still 15 games below .500 and 17 1/2 games out of first in the American League West, in danger of being last in their division at the All-Star break for the first time since 1999, seven seasons before Weaver's rookie year.
"Obviously, you don't ever want to fall into a hole like this," Weaver said, "but as far as not competing as hard, that's not in my vocabulary."
Alden Gonzalez has covered the Angels for MLB.com since 2012. Follow him on Twitter and Facebook, and listen to his podcast. This story was not subject to the approval of Major League Baseball or its clubs.