Power surge no surprise to Padres' Schimpf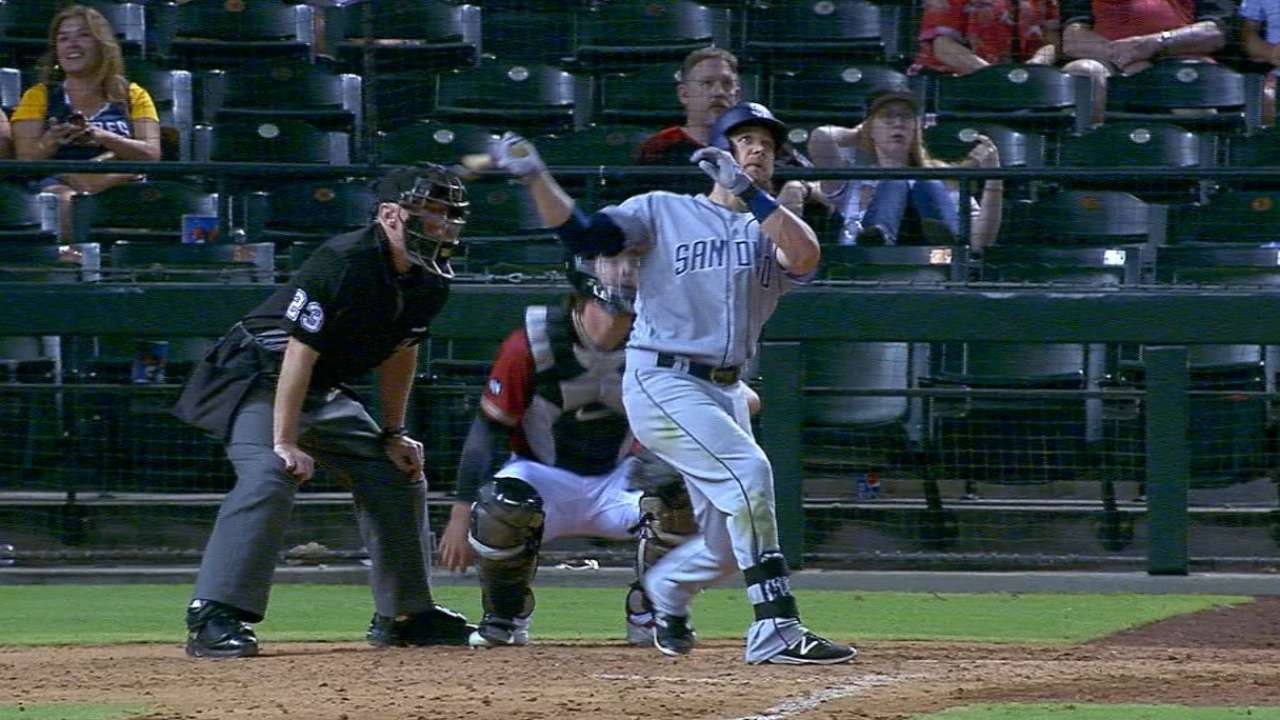 PHOENIX -- It took a couple weeks to fully settle in, but Ryan Schimpf is beginning to showcase the power that has been a part of his game for as long as he can remember.
Schimpf launched the go-ahead two-run home run in Wednesday night's 13-6 victory, turning on a grooved 2-0 fastball from D-backs starter Shelby Miller in the fifth. He tacked on another bomb in the ninth, giving Schimpf the first multi-homer game of his career.
In July alone, Schimpf has gone deep four times -- after struggling mightily in June. The home runs are certainly nothing new for the 28-year-old left-handed hitter, who has recorded at least 22 in each of the past five seasons in the Minor Leagues.
"I've been working and preparing for this moment from all the years I spent in the Minor Leagues, practicing and playing like I would be here at some point," Schimpf said. "That's just how I've always played. I'm definitely happy to be here and grateful for the opportunity to play with these guys."
Schimpf's 5-foot-9 frame doesn't tell the entire story. One glance at his violent-but-compact swing, and it's easy to see where he generates the torque to hit baseballs at 107 mph into the seats.
"He swings at good pitches," said Padres skipper Andy Green. "If he stays in the strike zone, he's going to be successful. ... He has a lot of power. It might not look like it in the package, but he has a lot of power."
Schimpf's first home run proved to be one of the game's decisive moments. Trailing 4-0 entering the top of the fifth, the Padres had plated three runs when Schimpf came to the plate with a runner on and one out.
Then, in the ninth, he put the exclamation point on a Padres victory with a solo homer for the team's 13th unanswered run.
"It's just something, [I've had since] I was little," Schimpf said of his power. "I really couldn't explain it. I don't know if it's because I always swung like that when I was little. But it's just something that's become a part of my game."
After parts of seven seasons in the Blue Jays Minor League system, Schimpf -- rather quietly -- signed with the Padres during the offseason. He spoke with Green before signing and said, "I could tell he had good character and that he'd be somebody good to play for."
Of course, Schimpf was presuming he'd get a shot at the big leagues. But he blew through the Pacific Coast League with Triple-A El Paso, hitting .355 with 15 homers and warranting a callup on June 14.
Schimpf struggled in June, batting just .103. But he's been a force in July, already. In his eyes, there isn't much that changed.
"Early on there were not many hits to show for it, but I felt comfortable," Schimpd said. "I was having some good at bats, just missing a few balls, probably chasing a couple out of the zone. I've just been working with [hitting coach Alan Zinter] on sticking with the approach."
AJ Cassavell is a reporter for MLB.com. Follow him on Twitter @ajcassavell. This story was not subject to the approval of Major League Baseball or its clubs.