Fitful end to a tough first half for Miller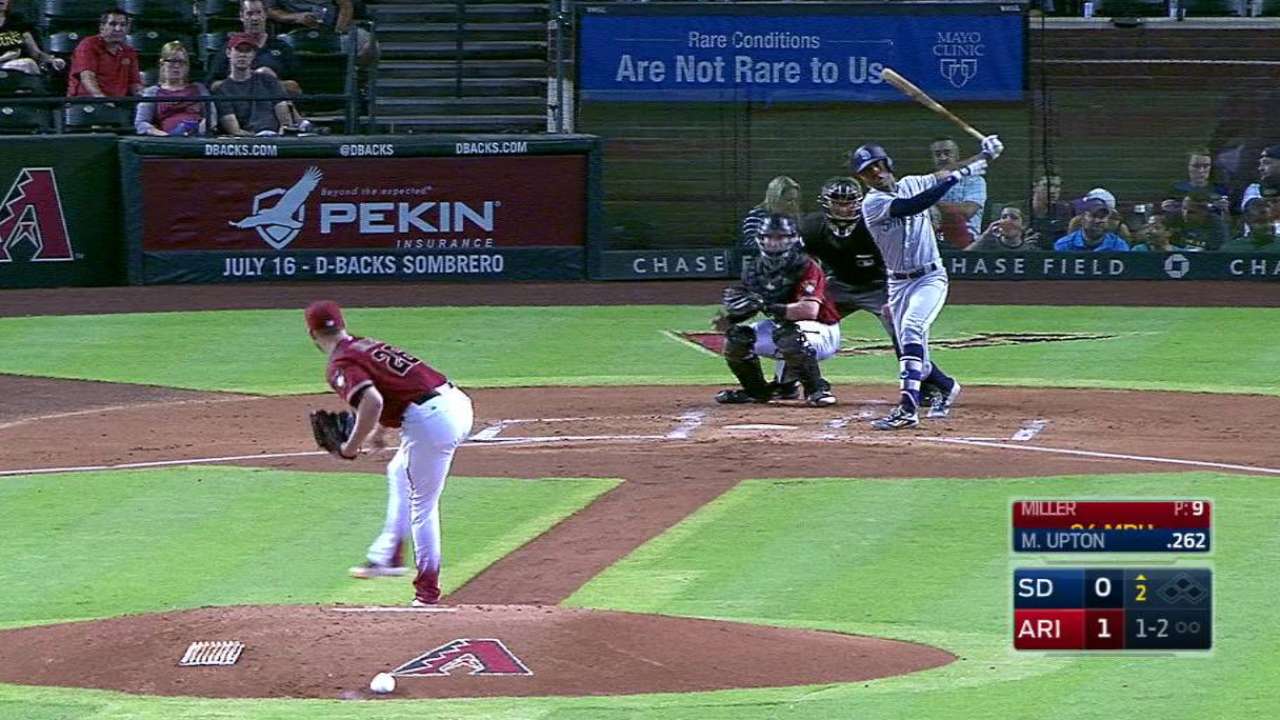 PHOENIX -- No matter how you look at it, Shelby Miller's first half was not good. It certainly wasn't what the D-backs expected when they acquired the pitcher this past offseason.
Wednesday's 13-6 loss to the Padres was just another poor outing in a season full of them. The-right-hander allowed six earned runs on seven hits in five innings, losing for the third straight start and for the eighth time in 10 outings.
"You never give in. We just have to keep working and keep pushing because you see how good he can be in those innings and we just need to get it deeper," D-backs manager Chip Hale said. "It would be different if he had never done it before at the big league level. He has had success at this level so we just have to find a way to get him better."
Miller is 2-9 with a 7.14 ERA in 14 starts. He has allowed multiple runs 13 times. He has allowed three or more 10 times. And he's given up six or more four times -- three of which have come in his last five starts.
In eight starts at Chase Field, Miller is 0-7 with a 7.50 ERA. When pitching on a regular four days of rest, he is 0-6 with a 7.90 ERA.
Miller hasn't been particularly great in any inning. He has a 3.75 ERA in the third inning, but none below 4.50 in any other inning (besides the seventh, which he has only reached once).
But Miller's worst inning, by far, has been the fourth. He gave up five runs in the fourth on Wednesday, allowing an RBI single to Yangervis Solarte, a two-run double to Melvin Upton Jr. and a two-run homer to Ryan Schimpf. That raised his fourth-inning ERA to 15.43.
"It's just how poorly I'm pitching," Miller said. "I was probably leaving some fastballs over the middle there, just not really making quality pitches at that point in the game. It just came back and kind of haunted me and it happened so quickly."
Miller was efficient in the first three innings, retiring nine of the 10 batters he faced -- a two-out single to Kemp in the first was his only blemish to that point. But he allowed six hits in the next two innings before being pinch-hit for in the bottom of the fifth after throwing 69 pitches.
Hale said Miller won't pitch for a Minor League affiliate between now and after the All-Star break. Miller said he would be open to making an appearance out of the bullpen this weekend in San Francisco.
But for the most part, Miller's first half is over. Even though he received a short break last month when he went on the disabled list with a sprained right index finger, another period of rest likely can't make the season any worse.
"It would definitely be nice right now to take a break a little bit," Miller said. "Hopefully I'll come back in the second half and turn this season around."
Jake Rill is a reporter for MLB.com based in Phoenix. This story was not subject to the approval of Major League Baseball or its clubs.