Before they were All-Stars: NL edition
Dig into the backgrounds of every player headed to the 2016 Midsummer Classic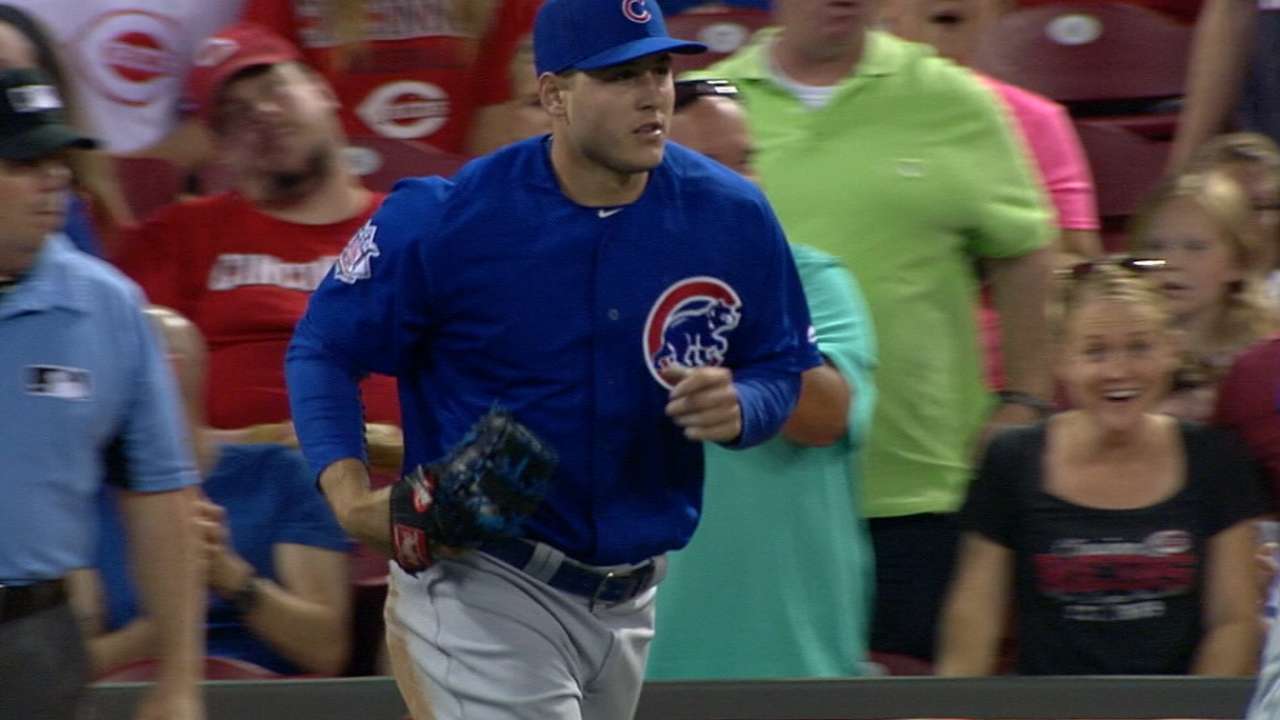 For some fans, the All-Star Game presented by MasterCard (tonight, 7:30 p.m. ET on FOX) is their first chance to familiarize themselves with players they don't see very often. Here's our attempt to give them a head start with the origins of every All-Star.
ARIZONA DIAMONDBACKS
Paul Goldschmidt, 1B
Born: Wilmington, Del.
HS: The Woodlands (Texas) HS
College: Texas State University
Minors: Missoula (R), Visalia (A+), Mobile (AA)
• As a kid, Goldschmidt didn't initially want to play baseball -- playing soccer instead -- and his parents had to convince him to go to his first tee-ball practice. Afterward, he told his mom, "I love baseball!"
• While growing up, Goldschmidt's favorite team was the Astros, and his favorite players were Jeff Bagwell and Craig Biggio.
• Goldschmidt was high school teammates with Kyle Drabek, and played against Brandon Belt in both high school and college.
• Before they were All-Stars: AL edition
ATLANTA BRAVES
Julio Teheran, P
Born: Cartagena, Colombia
Minors: Danville (R), Rome (A), Myrtle Beach (A+), Mississippi (AA), Gwinnett (AAA)
• Teheran was signed by his uncle and Braves scout Miguel Teheran, who also provided the Braves pitcher his first baseball glove and taught him how to play baseball.
• When he debuted with the Braves on May 7, 2011, Teheran was one of only 15 Colombians to appear in a Major League game.
• He watched Red Sox games on television in his native country, which fueled his desire to reach the big leagues.
Vamos Colombia !!!! ⚽️ #CopaAmerica

— Julio Teheran (@Julio_Teheran) June 23, 2016
CHICAGO CUBS
Jake Arrieta, P
Born: Farmington, Mo.
HS: Plano East (Texas) HS
Colleges: Texas Christian University, Weatherford College
Minors: Frederick (A+), Bowie (AA), Norfolk (AAA), Iowa (AAA)
• Arrieta picked up woodworking a few years ago, and he has since built a buffet table, a few end tables, an entryway table and a work bench. He also stained all the pieces himself.
• Arrieta won bronze with Team USA at the 2008 Summer Olympics in Beijing, when he was the only Class A level player on the roster.
• The first car he ever drove was a banana-yellow 1992 Geo Storm hatchback, which was passed down from his dad when he was 16 years old.
Kris Bryant, 3B/OF
Born: Las Vegas
HS: Bonanza HS (Las Vegas)
College: University of San Diego
Minors: AZL Cubs (R), Boise (SS), Daytona (A+), Tennessee (AA), Iowa (AAA)
• Bryant won the Golden Spikes Award as the top player in amateur baseball in 2013. He was a consensus first-team All-American that year at San Diego, leading the nation with 31 home runs and an .820 slugging percentage.
• Bryant often played against Bryce Harper while growing up in Las Vegas, and the two also played together at times. Both Vegas natives were awarded keys to the city last December.
• Bryant's father, Mike, was drafted by the Red Sox in the ninth round in 1980 and spent two seasons in the organization as a Class A outfielder, batting .204.
Big thank you to Mayor Goodman and the city of Las Vegas for this honor! Proud to be born&raised in this city!#702 pic.twitter.com/vN57rjyjMw

— Kris Bryant (@KrisBryant_23) December 18, 2015
Dexter Fowler, OF
Born: Atlanta
HS: Milton (Ga.) HS
Minors: Casper (R), Asheville (A), Modesto (A+), Tulsa (AA), Colorado Springs (AAA),
• Fowler won a bronze medal while playing for Team USA during the 2008 Summer Olympics in Beijing.
• Fowler's 15 triples for the Rockies in 2011 are a franchise record for Colorado.
• Fowler and his wife, Aliya, donated $1 for every new Twitter follower he received during the 2013 holiday season, to the "AND JUSTICE FOR ALL" civil legal-aid organization based in Utah.
Jon Lester, P
Born: Tacoma, Wash.
HS: Bellarmine Prep (Tacoma, Wash.)
Minors: GCL Red Sox (R), Augusta (A), Sarasota (A+), Portland (AA), Pawtucket (AAA)
• Lester was diagnosed with anaplastic large cell lymphoma (a form of non-Hodgkin's lymphoma) in 2006 at the age of 22. He underwent offseason chemotherapy treatments at Seattle's Fred Hutchinson Cancer Research Center and was able to make his big league starting debut with the Red Sox on June 23, 2007.
• He met his wife, Farrah Stone Johnson, in 2007 while making Minor League rehab starts with Class A Greenville. They have two sons together and established NVRQT in '11 to support children with cancer and cancer researchers.
• Lester graduated from Bellarmine Preparatory School in Tacoma, where he was a three-time MVP, a three-time All-Area selection and the Gatorade State Player of the Year for Washington in 2000.
Anthony Rizzo, 1B
Born: Fort Lauderdale, Fla.
HS: Stoneman-Douglas HS (Parkland, Fla.)
Minors: GCL Red Sox (R), Greenville (A-), Salem (A+), Portland (AA), Tucson (AAA), Iowa (AAA)
• Rizzo played several sports growing up, and that included hockey, despite the fact that he lived in Florida. He said he played defense in both roller and ice hockey.
• As a Florida native, he idolized Gary Sheffield, who played for the Marlins from 1993-98. At the time, Rizzo wore Sheffield's No. 10.
• Rizzo played for Team Italy in the 2013 World Baseball Classic. He was selected because his great-grandfather, Vito, was from Italy before coming to the U.S. in 1905.
Unbelievable moment for the @SDEagleBaseball team...bringing home the 1st state title in the school's history...way to go boys! #EaglePride

— Anthony Rizzo (@ARizzo44) May 21, 2016
Addison Russell, SS
Born: Pensacola, Fla.
HS: Pace HS (Milton, Fla.)
Minors: AZL Athletics (R), Vermont (A-), Burlington (A), Stockton (AA), Tennessee (AA), Midland (AA), Iowa (AAA)
• Russell wears No. 27 because his favorite football player was Eddie George. He wore that number from childhood through high school.
• Growing up, Russell idolized Hall of Fame shortstop Barry Larkin. He got to meet Larkin in Cincinnati during his second series as a big leaguer.
• Without hesitation, when asked about whom he'd like to meet, Russell says his favorite person to meet would be Bruce Lee.
Ben Zobrist, 2B
Born: Eureka, Ill.
HS: Eureka (Ill.) HS
Colleges: Olivet Nazarene (Ill.) University, Dallas Baptist University
Minors: Tri-City (A-), Lexington (A), Salem (A+), Vero Beach (A+), Corpus Christi (AA), Durham (AAA)
• Zobrist didn't plan to continue his baseball career beyond high school, when he caught no interest from pro scouts or college coaches. But his high school coach encouraged him to go to a tryout camp, which Zobrist spent $50 of his own money to attend. That led to an offer from Olivet Nazarene, an NAIA school.
• Zobrist has been inducted into Olivet's Athletics Hall of Fame, as well as the NAIA Hall of Fame.
• In 2005, he was the starting shortstop for Team USA at the World Cup in the Netherlands.
CINCINNATI REDS
Jay Bruce, OF
Born: Beaumont, Texas
HS: West Brook (Texas) HS
Minors: GCL Reds (R), Billings (R), Dayton (A), Sarasota (A+), Chattanooga (AA), Louisville (AAA)
• Bruce played in the All-Star Futures Game in 2007 for Team USA, which lost to the World Team -- which included Bruce's longtime Reds teammate Joey Votto -- 7-2.
• That same year, 2007, Bruce was named Baseball America's Minor League Player of the Year, after ascending from Class A Advanced all the way to Triple-A, where he hit .305 with 11 homers in 50 games.
• When Bruce debuted in the Majors in May 2008 at age 21, he reached base safely in his first six career plate appearances, which was the longest such streak in the Major Leagues since 1977.
Adam Duvall, OF
Born: Louisville, Ky.
HS: Butler Traditional HS (Louisville)
College: Louisville
Minors: Salem-Keizer (A-), Augusta (A), San Jose (A+), Richmond (AA), Fresno (AAA), Louisville (AAA)
• Duvall led all Class A players with 30 home runs in 2012.
• In 2014, Duvall was named a Baseball America Triple-A All-Star.
• Duvall has a knack for homering in his first game with a new club, doing so with Triple-A Fresno, Sacramento and Louisville.
COLORADO ROCKIES
Nolan Arenado, 3B
Born: Newport Beach, Calif.
HS: El Toro HS (Lake Forest, Calif.)
Minors: Casper (R), Asheville (A-), Modesto (A+), Tulsa (AA), Colorado Springs (AAA)
• At El Toro High, Arenado played shortstop and catcher, helping his team to a California Interscholastic Federation (CIF) Southern Section championship. Both Arenado and former teammate Austin Romine, a catcher with the Yankees, had their numbers retired by the school in 2014.
• Arenado was committed to playing baseball at Arizona State before signing with the Rockies, who took him in the second round of the 2009 Draft.
• His younger brother, Jonah, was a 16th-round pick by the Giants out of El Toro High in 2013 and is now in his fourth season as a third baseman in their Minor League system.
Carlos Gonzalez, OF
Born: Maracaibo, Zulia, Venezuela
HS: Liceo Udon Perez (Venezuela) HS
Minors: Missoula (R), Yakima (A-), South Bend (A), Lancaster (A+), Tennessee (AA), Mobile (AA), Tuscon (AAA), Sacramento (AAA)
• Gonzalez grew up playing with former Rockies teammate and current Cubs infielder Jonathan Herrera. The 5-foot-9 Herrera was ironically much taller and stronger than the 6-foot-2 Gonzalez when they were younger.
• Gonzalez also grew up playing against Felix Hernandez and Rockies teammate Gerardo Parra in Venezuela.
• A key part of the trade package that sent Matt Holliday from the Rockies to the A's, Gonzalez had been named Oakland's top prospect by Baseball America in 2008.
LOS ANGELES DODGERS
Kenley Jansen, P
Born: Willemstad, Curacao
Minors: Inland Empire (A+), Chattanooga (AA)
• Jansen began his professional career as a catcher and transitioned to pitching in 2009 with the Inland Empire 66ers, the Dodgers' Class A Advanced affiliate at the time.
• He was the starting catcher for the Netherlands in the 2009 World Baseball Classic.
• Jansen was diagnosed with an irregular heartbeat in 2011 and had surgery in '12 which cauterized an abnormal tissue in his left atrium.
Clayton Kershaw, P
Born: Dallas
HS: Highland Park (Texas) HS
Minors: GCL Dodgers (R), Great Lakes (A-), Jacksonville (AA)
• Kershaw played football for Dallas powerhouse Highland Park High School and was the center for quarterback Matthew Stafford, who starts for the NFL's Detroit Lions.
• He pitched an all-strikeout perfect game during a high school playoff game in 2006, the same year he was selected by USA Today as the High School Baseball Player of the Year and tabbed as the Gatorade National Player of the Year for baseball.
• He wears No. 22 in honor of former Texas Rangers first baseman Will Clark, who was one of Kershaw's favorite players growing up.
Corey Seager, SS
Born: Charlotte, N.C.
HS: Northwest Cabarrus HS (Concord, N.C.)
Minors: Ogden (R), Great Lakes (A), Rancho Cucamonga (A+), Chattanooga (AA), Tulsa (AA), Oklahoma City (AAA)
• Seager was named the Gatorade High School Player of the Year for 2012 in North Carolina.
• Seager was also a co-captain of the USA Baseball 16U National Team in 2010. He helped the team win a gold medal at the Pan-American Games in Mexico.
• In 2014, Seager was named the Dodgers Branch Rickey Minor League Co-Player of the Year. The same year, he played for the U.S. in the SiriusXM All-Star Futures Game.
MIAMI MARLINS
Jose Fernandez, P
Born: Santa Clara, Cuba
HS: Braulio Alonso HS (Tampa, Fla.)
Minors: GCL Marlins (R), Jamestown (A-), Greensboro (A), Jupiter (A+)
• Fernandez defected from Cuba to the United States in 2008 after three failed attempts, each of which resulted in a prison term.
• He pitched two no-hitters in high school and considered signing a college scholarship with the University of South Florida before ultimately being picked 14th overall by the Marlins in the 2011 Draft.
• He would flip tires and chop down trees as part of his training program as a 15-year-old.
Marcell Ozuna, OF
Born: Santo Domingo, Distrito Nacional, Dominican Republic
Minors: GCL Marlins (R), Jamestown (A-), Greensboro (A), Jupiter (A+), Jacksonville (AA)
• Ozuna was a Florida State League All-Star in 2012 while playing at Class A Jupiter, leading the league in home runs, RBIs and total bases.
• Also in 2012 with Class A Jupiter, Ozuna won a Minor League Gold Glove Award.
• Before being recalled for his Major League debut on April 30, 2013, Ozuna hit five homers over his final six games for Double-A Jacksonville.
A.J. Ramos, P
Born: Lubbock, Texas
HS: Estacado HS (Lubbock, Texas)
College: Texas Tech University
Minors: Jamestown (A-), Greensboro (A), Jupiter (A+), Jacksonville (AA)
• In 2005, he became the first true freshman in Texas Tech history to start a Big 12 Conference game, doing so against the defending national champion Texas Longhorns.
• Ramos initially signed with New Mexico Junior College before receiving an offer from Texas Tech.
• During the offseason, Ramos shares a place in West Hollywood, Calif., with Giancarlo Stanton and Ricky Nolasco.
Fernando Rodney, P
Born: Santo Domingo, Dominican Republic
HS: Liceo Sol Ana Nolan (Dominican Republic) HS
Minors: GCL Tigers (R), West Michigan (A), Lakelaand (A+), Erie (AA), Toledo (AAA)
• He's known to pretend to shoot a bow and arrow toward the sky after converting a save.
• Rodney was part of the 2006 Tigers team that won the American League pennant.
• He pitched for the Dominican Republic in the World Baseball Classic in 2006 and '13 and coverted seven saves in the last installment.
MILWAUKEE BREWERS
Jonathan Lucroy, C
Born: Eustis, Fla.
HS: Umatilla (Fla.) HS
College: University of Louisiana at Lafayette
Minors: Helena (R), West Virginia (A-), Brevard County (A+), Huntsville (AA), Nashville (AAA)
• Lucroy started playing baseball when he was 7 years old. He became a catcher at age 12, because "no one else could do it, so my dad made me do it."
• In college, Lucroy was beaned in the head by a pitch, got knocked out and still has the scar on his left temple.
• Lucroy met his wife in college, but they didn't start dating until he was in the Minors (Double-A). He didn't know her last name until she found him on Facebook.
NEW YORK METS
Yoenis Cespedes, OF
Born: Campechuela, Granma, Cuba
Minors: Sacramento (AAA)
• Cespedes' mother, Estela, was a pitcher for Cuba at the 2000 Summer Olympics in Sydney, Australia.
• Cespedes hit 177 home runs in eight seasons (2003-10) for Granma in Cuba's Serie Nacional before signing with the Oakland Athletics.
• Cespedes' hobbies include fishing, golfing and spending time on his farm.
Bartolo Colon, P
Born: Altamira, Dominican Republic
HS: Puerto Plata Escuela (Dominican Republic)
Minors: Burlington (R), Kinston (A+), Canton-Akron (AA), Buffalo (AAA)
• Growing up in the Dominican Republic, Colon had a pet donkey named Pancho, whom Bartolo has credited for helping him learn the value of hard work.
• Tony Arnold, Colon's pitching coach in Class A, has said that Bartolo used to tell him what velocity he was going to pitch at, then sit there all game. When Indians general manager John Hart came to a game, Colon threw every pitch 98 mph until he was rained out.
• During the offseason, Colon plays slow-pitch softball with the Brewers' Wily Peralta, the Cubs' Joel Peralta and the Mariners' Nelson Cruz.
Jeurys Familia, P
Born: Santo Domingo, Dominican Republic
Minors: GCL Mets (R), Savannah (A), St. Lucie (A+), Binghamton (AA), Buffalo (AAA)
• Familia had never spent a single day away from either his mother or father before coming to America.
• Familia grew up playing basketball and decided to take up baseball when his friends stopped showing up to the basketball courts and instead played on the baseball fields.
• He made 111 Minor League starts and one MLB start before converting to a reliever in 2012.
Noah Syndergaard, P
Born: Mansfield, Texas
HS: Mansfield Legacy (Texas) HS
Minors: GCL Blue Jays (R), Vancouver (A-), Lansing (A), St. Lucie (A+), Binghamton (AA), Las Vegas (AAA)
• As a high school senior, Syndergaard pitched two no-hitters and hit a grand slam in the playoffs.
• He was 10 pounds at birth, and in high school, he ate two peanut butter and jelly sandwiches and a glass of milk every night before bed to put on weight and get stronger.
• Syndergaard had never been away from home for more than three days before being selected by the Blue Jays 38th overall in the 2010 MLB Draft.
PHILADELPHIA PHILLES
Odubel Herrera, OF
Born: San Jose, Anzoategul, Venezuela
Minors: AZL Rangers (R), Spokane (A-), Hickory (A), Myrtle Beach (A+), Frisco (AA)
• Herrera was a standout in volleyball during prep school.
• In 2014, Herrera won the Texas League batting title (.321) while playing for Double-A Frisco.
• Herrera's first Major League hit and RBI came on a walk-off double on April 11, 2015, vs. the Nationals.
PITTSBURGH PIRATES
Starling Marte, OF
Born: Santo Domingo, Dominican Republic
Minors: GCL Pirates (R), West Virginia (A), Lynchburg (A+), Bradenton (A+), Altoona (AA), Indianapolis (AAA)
• Marte's first career MLB All-Star Game comes five years after he represented the Pirates on the World Team at the 2011 All-Star Futures Game, although the World Team lost, 6-4, to Team USA.
• Playing in the Minors for Double-A Altoona in 2011, Marte won the Eastern League batting title by hitting .332. He was named the league's Rookie of the Year.
• In his Major League debut in 2012, Marte became just the third Pirates player in franchise history to homer in his first career at-bat -- and he did it off Dallas Keuchel, no less.
Mark Melancon, P
Born: Wheat Ridge, Colo.
HS: Golden (Colo.) HS
College: University of Arizona
Minors: Staten Island (A-), Tampa (A+), Trenton (AA), Scranton/Wilkes-Barre (AAA)
• Melancon played baseball, and he was the starting quarterback on the football team at Golden High School in Colorado. He also lettered in basketball and was a member of the honor roll and National Honor Society.
• He participated in the MLB All-Star Series against the Japanese national team in November 2014.
• Melancon's college catcher was Nick Hundley, and his roommates were Daniel Schlereth and Jason Donald, who both have played in the Majors.
Let's go @UofA #Wildcats #Baseball@NCAACWS #CWS pic.twitter.com/sZkSiitPgz

— Mark Melancon (@Mark_Melancon_) June 19, 2016
ST. LOUIS CARDINALS
Matt Carpenter, 3B/2B
Born: Galveston, Texas
HS: Lawrence E. Elkins HS (Missouri City, Texas)
College: Texas Christian University
Minors: Batavia (A-), Quad Cities (A), Palm Beach (A+), Springfield (AA), Memphis (AAA)
• Carpenter's father, Rick, a former collegiate baseball player, became a high school coach, creating a powerhouse program at Elkins. Matt played on two of his dad's three state championship teams there, including the 2002 club that posted a 35-1 record and captured the USA Today Prep National Championship. The newspaper recognized Rick as its High School Baseball Coach of the Year.
• During his career at TCU, Carpenter underwent Tommy John surgery on his right elbow. While on a medical redshirt, he devoted himself to getting in better shape, dropping 40 pounds.
• Carpenter and Cubs pitcher Jake Arrieta were teammates at TCU and remained friends, with Arrieta serving as a groomsman in Carpenter's wedding.
It's always a great day to be a frog.. But this morning feels a little sweeter.#AlamoBowlChamps #tcucomeback

— Matt Carpenter (@MattCarp13) January 3, 2016
Aledmys Diaz, SS
Born: Santa Clara, Cuba
Minors: Palm Beach (A+), Springfield (AA), Memphis (AAA)
• He defected from Cuba in 2012 while playing for the Cuban National team in a tournament in the Netherlands.
• Before that, Diaz played five seasons in the Serie Nacional in Cuba for Los Naranjas de Villa Clara, debuting when he was 17 years old.
• Diaz played with current Mariners outfielder Leonys Martin and former big leaguer Dayan Viciedo with Los Naranjas.
SAN DIEGO PADRES
Wil Myers, 1B
Born: Thomasville, N.C.
HS: Wesleyan Christian Academy (High Point, N.C.)
Minors: Idaho Falls (R), Burlington (R), Burlington (A), Wilmington (A+), Northwest Arkansas (AA), Omaha (AAA), Durham (AAA)
• Myers was drafted as a catcher, but moved to the outfield after a season and a half behind the plate at the Class A and Class A Advanced levels.
• When Myers was 5 years old, the mayor of his hometown of Thomasville told Wil's father that his son would play in the Majors someday. The mayor didn't know he was talking to Myers' dad while at a tee-ball game.
• In 2012, Myers became the third player to be named Minor League Player of the Year by three different publications -- Baseball America, USA Today and Topps. The other two are Andruw Jones and Josh Beckett.
Drew Pomeranz, P
Born: Collierville, Tenn.
HS: Collierville (Tenn.) HS
College: University of Mississippi
Minors: Kinston (A+), Tulsa (AA), Akron (AA)
• Pomeranz pitched for Team USA in the 2011 All-Star Futures Game, which the U.S. won, 6-4, over the World Team.
• Pomeranz also starred for the U.S. Collegiate National Team in 2009, pitching Team USA to a win in the World Baseball Challenge championship game with a one-hitter against Germany.
• Pomeranz made his Major League debut on Sept. 11, 2011, the 10-year anniversary of the World Trade Center attacks. He beat the Reds with five shutout innings.
SAN FRANCISCO GIANTS
Brandon Belt, 1B
Born: Nacogdoches, Texas
HS: Hudson (Texas) HS
Minors: San Jose (A+), Richmond (AA), Fresno (AAA)
• The moment Belt was told he had made the Major Leagues out of Spring Training in 2011 was recorded and shown by the Showtime documentary series "The Franchise." Manager Bruce Bochy told Belt in his office, "You did good, kid."
• In Belt's first career Major League at-bat, on Opening Day 2011, he hit an infield single off of Clayton Kershaw.
• His rookie season, Belt was nicknamed the "Baby Giraffe" by Giants announcer Duane Kuiper, based on how Belt looked tracking fly balls in left field. Later that year, the Bay Area Six Flags named a real baby giraffe after Belt.
Madison Bumgarner, P
Born: Hickory, N.C.
HS: South Caldwell HS (Hudson, N.C.)
Minors: Augusta (A-), San Jose (A+), Connecticut (AA), Fresno (AAA)
• He grew up just outside of Hickory in an area nicknamed "Bumtown," because of an abundance of residents with the surname Bumgarner who lived there for years after their ancestors arrived from Germany.
• He dated a girl named Madison Bumgarner in high school.
• Bumgarner pitched in the 2007 Aflac All American Classic in a game that featured fellow big leaguers Yasmani Grandal, DJ LeMahieu, Matt Harvey, Rick Porcello, Jason Heyward and Freddie Freeman.
Johnny Cueto, P
Born: San Pedro de Macoris, Dominican Republic
Minors: GCL Reds (R), Dayton (A), Sarasota (A+), Chattanooga (AA), Louisville (AAA)
• Cueto's mother, Maria Christina, sold clothing out of the family's three-bedroom house in San Pedro de Macoris, where he lived with his three brothers and sister.
• An outfielder growing up, Cueto began learning to pitch just before he turned 16 after a Little League coach told him his baseball future was on the mound.
• Cueto made a historic Major League debut on April 3, 2008, when he was perfect through five innings, becoming the first pitcher to strike out 10 and walk none in his debut.
El trío Dominicano.
The Dominican trio. pic.twitter.com/TLKqrBUqJ6

— Johnny Cueto (@JohnnyCueto) November 4, 2015
Buster Posey, C
Born: Leesburg, Ga.
HS: Lee County HS (Leesburg, Ga.)
College: Florida State University
Minors: AZL Giants (R), Salem-Keizer (SS), San Jose (A+), Fresno (AAA)
• Posey grew up on a 50-acre plot of land in Georgia with a front yard so large it became a makeshift baseball field. His father put up a backstop and sometimes used the yard for Little League practice when no other fields were available.
• When Posey was 9 years old, he wrote a poem about being a professional baseball player and watching a ball sail over the fence.
• Posey married his high school sweetheart, Kristen, in their hometown of Leesburg in 2009. The recessional song following the ceremony was "Take Me Out to the Ball Game.''
Best of luck to @fsu_baseball in the opener of their regionals today. #noles https://t.co/rkkwnE9FlC

— Buster Posey (@BusterPosey) June 3, 2016
WASHINGTON NATIONALS
Bryce Harper, OF
Born: Las Vegas
HS: Las Vegas HS
College: College of Southern Nevada
Minors: Hagerstown (A-), Potomac (A+), Harrisburg (AA), Syracuse (AAA)
• Harper is one year older than Rangers prospect Joey Gallo, and the two played on the same Little League team when Gallo was 8 and Harper was 9.
• Harper left high school after his sophomore year, earned his GED and sought out better competition at the junior college level.
• At Southern Nevada, Harper played with his older brother, Bryan, who later transferred to the University of South Carolina before the Nationals took him in the 30th round of the 2011 Draft. Bryan, a left-handed pitcher, is a reliever with the Nats' Triple-A Syracuse affiliate.
Daniel Murphy, 2B
Born: Jacksonville, Fla.
HS: Englewood (Fla.) Senior HS
College: Jacksonville University
Minors: GCL Mets (R), Kingsport (R), Brooklyn (A-), St. Lucie (A+), Binghamton (AA), New Orleans (AAA)
• Growing up, Murphy's favorite player was Hall of Famer Tony Gwynn because of the Padres star's prowess as a contact hitter.
• Jacksonville was the only four-year school to offer Murphy a scholarship, and he went on to become the Atlantic Sun Conference Player of the Year in 2006, before the Mets took him in the 13th round of the Draft.
• Murphy's younger brother, Jonathan, also played at Jacksonville and was selected by the Twins in the 19th round of the 2012 Draft. Jonathan played in Minnesota's farm system as an outfielder for three seasons.
Wilson Ramos, C
Born: Valencia, Carabobo, Venezuela
HS: U.E. Santa Ines (Venezuela) HS
Minors: GCL Twins (R), Beloit (A), Fort Myers (A+), New Britain (AA), Rochester (AAA), Syracuse (AAA)
• Ramos was named the Best Defensive Catcher in the Florida State League by Baseball America in 2008.
• In May 2010, Ramos made his Major League debut with the Twins and became the first player in 68 years to have seven hits over his first two games.
• Ramos became the first catcher in Major League history to catch three no-hitters in a 162-game span from 2014-15 (Jordan Zimmermann in 2014, two by Max Scherzer in 2015).
Max Scherzer, P
Born: St. Louis, Mo.
HS: Parkway Central (Mo.) HS
College: University of Missouri
Minors: Visalia (A+), Mobile (AA), Tucson (AAA)
• Scherzer was the first first-round Draft pick from the University of Missouri, and he is a member of the school's Intercollegiate Athletics Hall of Fame.
• Even though Scherzer was drafted by the D-backs in 2007, he first signed with Fort Worth of the American Association, due to contract disagreements. Pitching independent-league baseball, Scherzer dominated -- in 16 innings, he allowed just one earned run and struck out 25.
• Scherzer was originally drafted out of high school in the 43rd round by the Cardinals in 2003, with the No. 1,291 overall pick. On the MLB.com Draft Tracker entry for "Maxwell Scherzer," the scouting report read, "Fringe-type RHP. Competes well. Some interest in pro ball."
Stephen Strasburg, P
Born: San Diego
HS: West Hills HS (Santee, Calif.)
College: San Diego State University
Minors: Hagerstown (A), Potomac (A+), Harrisburg (AA), Syracuse (AAA)
• Strasburg won the bronze with Team USA at the 2008 Summer Olympics in Beijing and was named the Team USA Athlete of the Year.
• He played for coach Tony Gwynn at San Diego State and earned the Golden Spikes Award and Dick Howser Trophy with the Aztecs in 2009 before he was drafted No. 1 overall by the Nationals.
• Strasburg pitched for Torrington in the New England Collegiate Baseball League in 2007 and was named the Top Pro Prospect and Top Reliever.