Valbuena's HR lifts Astros to sweep of Mariners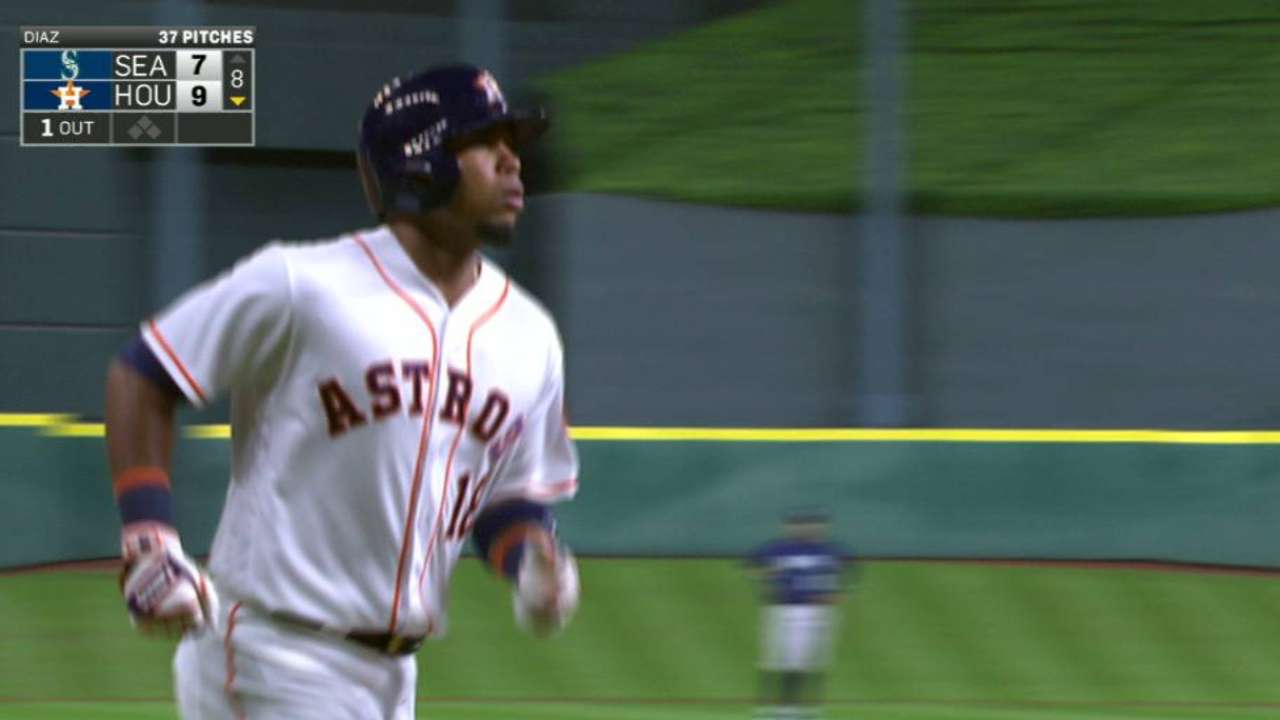 HOUSTON -- Luis Valbuena ripped a go-ahead two-run homer off rookie reliever Edwin Diaz in the eighth inning Wednesday as the surging Astros swept a three-game series against the Mariners with a 9-8 victory at Minute Maid Park. The Astros have now won seven of their last eight series and their last nine games against division opponents.
"We haven't had a game like this, that I can remember, where we jump out to a big lead, they have two really big innings to get back in it, and then us having the resiliency to win in the end," Astros manager A.J. Hinch said. "It's a different way to win. I'm proud of our guys for how we stuck in the game."
Carlos Gomez had three hits and three RBIs and Evan Gattis added a solo homer as Houston moved within 6 1/2 games of first-place Texas in the American League West. The Astros are 16-4 in their last 20 games and a Major League-best 29-11 since May 23.
"Even early in the season, we never [felt] disappointed," Gomez said. "We have that positive [energy], and we know that we have a really good team to compete and have a really good season."
The Mariners hit four home runs, including a three-run shot by Seth Smith in the seventh that tied the game at 7, before the Astros answered with a double by Jason Castro and Valbuena's 11th homer of the season. Valbuena now has 11 homers in 132 at-bats against the Mariners and 69 in 2,348 at-bats against the rest of MLB.
"[Diaz] had a couple strikes on Valbuena and got the ball down and in," Mariners manager Scott Servais said. "He didn't want to go there. That wasn't by design, but it happens. He yanked it in there and give [Valbuena] credit, he hit it out of the ballpark. We lived by the home run tonight, and we got burned by it."
Both starters had short nights, with Astros right-hander Mike Fiers giving up five hits and four runs -- all on a trio of homers in the fourth by Robinson Cano, Kyle Seager and Dae-Ho Lee -- in 3 1/3 innings. Cano added an RBI double in the ninth to cut the lead to 9-8 before Luke Gregerson struck out Lee with the bases loaded to record the save.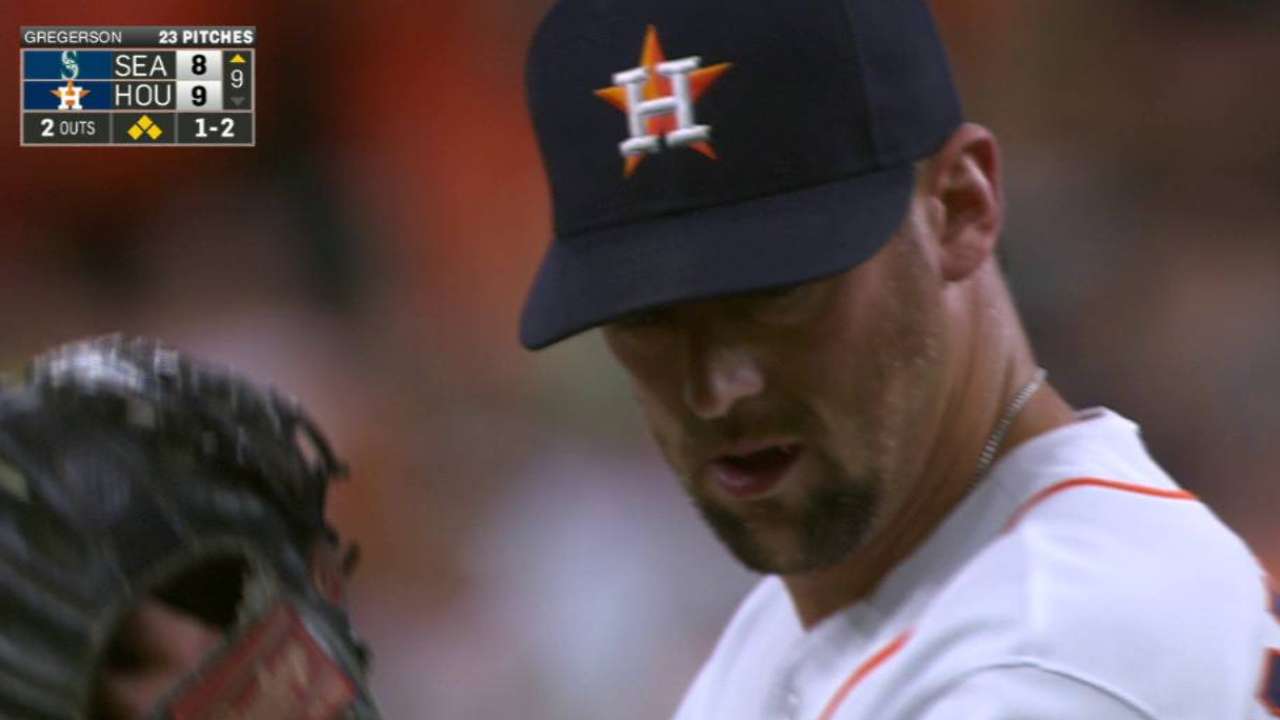 Mariners southpaw Wade LeBlanc, in his third start since being acquired from the Blue Jays, had his first rough go as he surrendered six hits and five runs (four earned) in 3 1/3 innings. His ERA climbed from 1.50 to 3.52. The Mariners lost their ninth straight road game in falling to 43-42, and are three behind the second-place Astros in the AL West after entering the series tied.
"Today was just one of those days where nothing was really working and they weren't missing anything," LeBlanc said. "They didn't really hit anything soft. It's frustrating because our offense showed up, but I didn't do my part."
MOMENTS THAT MATTERED
Hot start: The Astros came out of the gate swinging it well, scoring in each of the first three innings. During that stretch, the team had five hits, including two RBI doubles, an RBI triple off Tal's Hill and a home run, and jumped out to a 5-0 lead. Gomez was especially potent, hitting a two-run double in the first and the triple in the third. More >
"Some nights, the pitching staff picks us up from a position-player standpoint," Hinch said. "Other nights the position players keep fighting until the end and score just enough to pick up the tough win."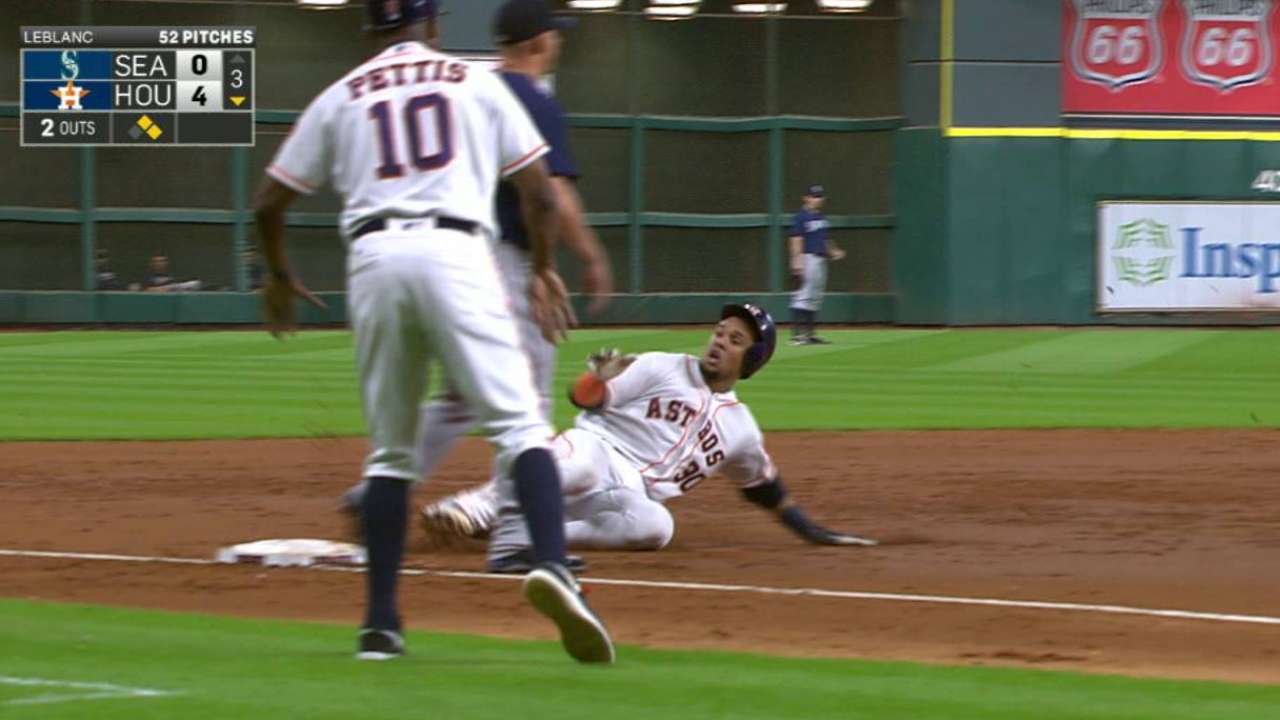 Cano joins exclusive club: Cano led off the Mariners' three-homer barrage against Fiers with his 20th of the season, a lined shot to right field. Cano's first homer since June 17 pushed him into rare company, as he's now one of just six second basemen in MLB history with seven seasons of 20-plus homers. The others? Jeff Kent did it 12 times, and Craig Biggio, Joe Gordon, Rogers Hornsby and Dan Uggla are tied for second with Cano. Six of Cano's home runs this year have come in 10 games against the Astros.
"If I hit 20 homers every year, that's something that is pretty special," Cano said. "I knew one day it was going to come. For me, it's just a matter of staying healthy." More >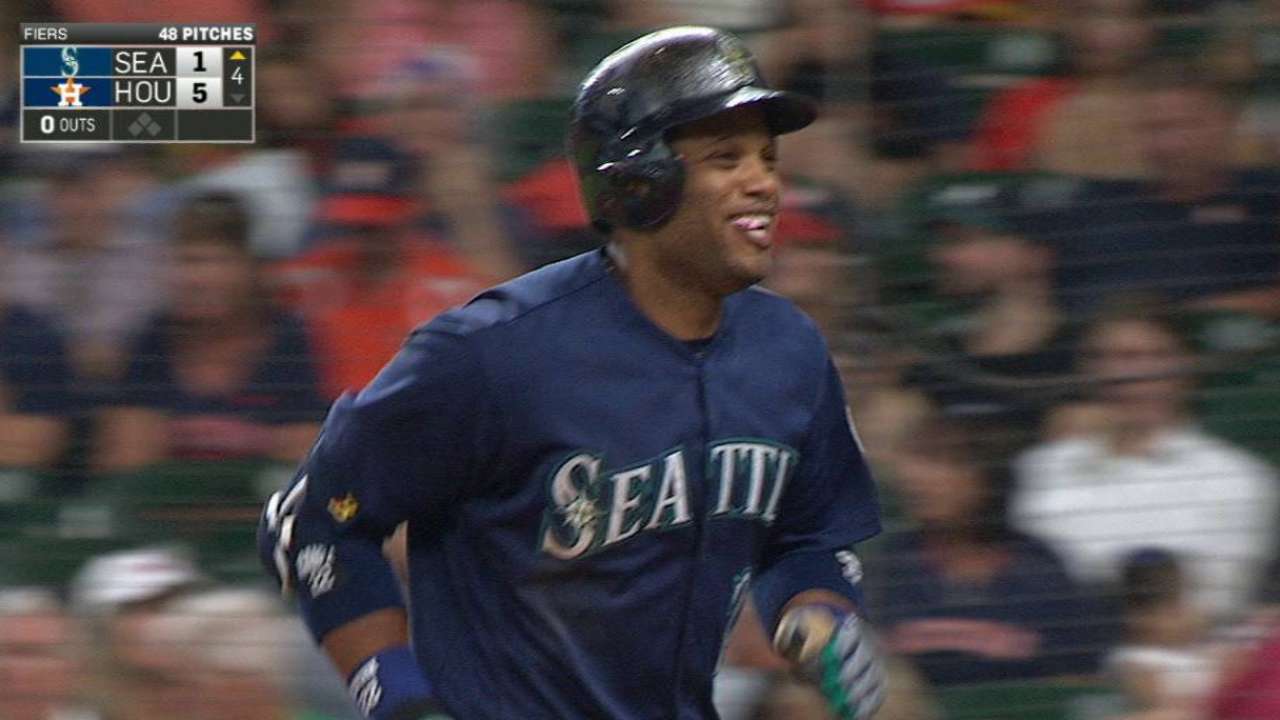 Fiers' struggles with lead again: Houston held a 5-0 lead after three innings, but Fiers had a nightmare of a fourth. The right-hander gave up a home run to three of the first four batters he faced, allowing the Mariners to cut the lead to 5-4. It's been a recurring problem for the pitcher, who entered Wednesday with the second-highest ERA on the team when leading (5.76).
"The few games where we've scored a lot, I've given up a lot of runs or not gone as far in the game," Fiers said. "I'm not changing anything. I'm not trying to change anything, if I am. I just need to be better."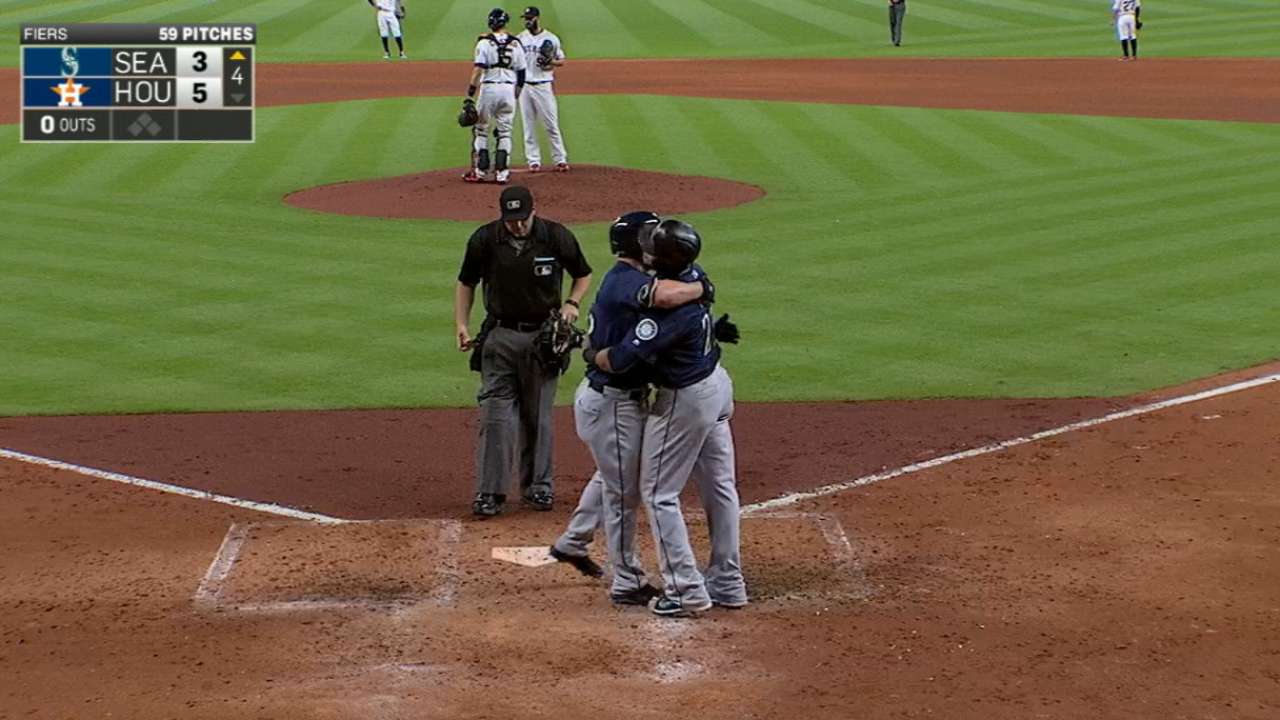 "It happened fast," Hinch said. "They hit a couple of good pitches for home runs. The walk to [Nelson Cruz] hurt, and it looked like [Fiers] started the scatter the ball a little bit. I didn't like the way the ball was coming out of his hand. It didn't feel like a good inning for him."
Seth's on a roll: Smith continued his recent hot streak for Seattle with the three-run opposite-field blast off reliever Michael Feliz after one-out singles by Ketel Marte and Leonys Martin. Smith has five homers in his past seven games to give him 11 on the year, one shy of his season total in 2015 and '14. The platoon outfielder batted .358 (19-for-53) over his past 16 games to hike his season average to .277.
"Huge hit against a guy that was throwing really hard," Servais said. "Feliz has been good for them, and those were good at-bats, Marte, Martin, Smitty hits a big oppo home run. It's not easy. The guy's got pretty good stuff out there."
SPRINGER ADDS TO ALL-STAR CANDIDACY
George Springer, a nominee for the Esurance All-Star Final Vote, added to his numbers in the win. The right fielder had an RBI single in the bottom of the sixth along with a walk in the fourth. Springer now has 51 RBIs, second-most on the Astros, to go along with his team-high 46 walks and team-high 19 homers. More >
• Cast your Esurance Final Vote for Springer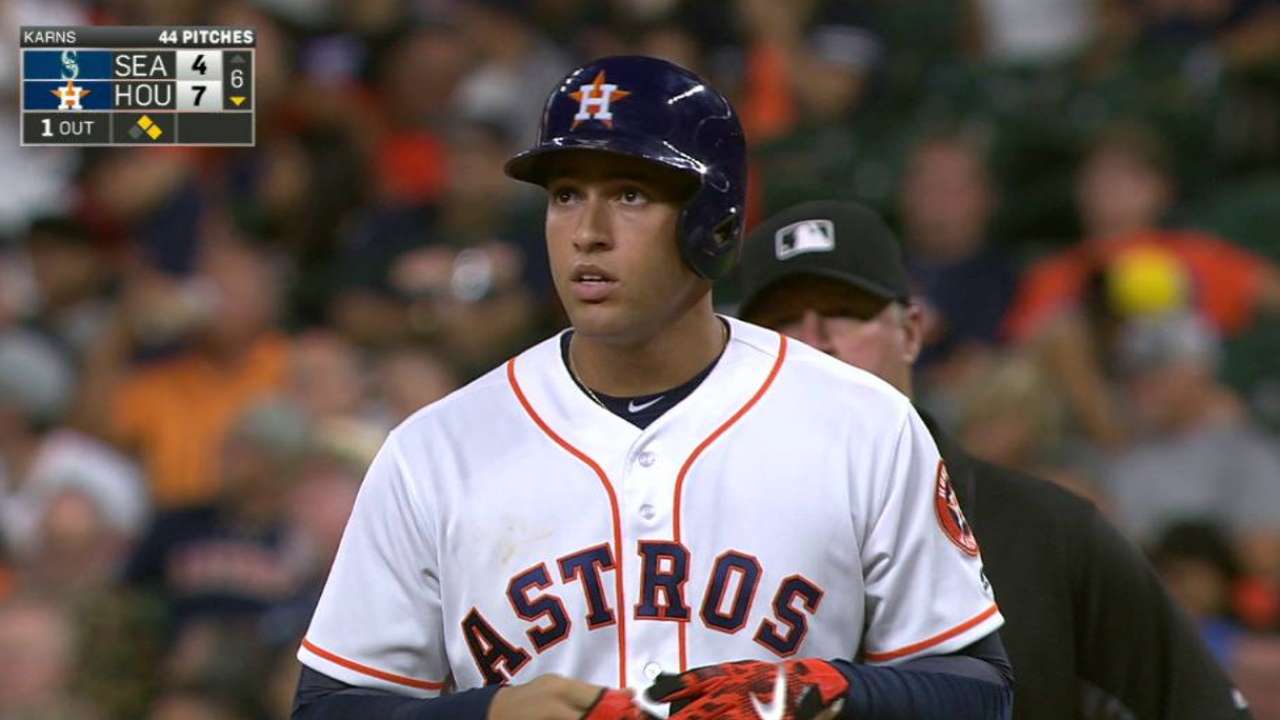 QUOTABLE
"I don't think we played particularly well here. They did. They played better than we did. For whatever reason, after finishing up strong on the homestand, we just didn't carry it over down here."-- Servais, whose team swept four games from Baltimore before getting swept by the Astros
SOUND SMART WITH YOUR FRIENDS
• Diaz struck out Colby Rasmus, the first batter he faced in the seventh, for his 11th straight out recorded via a strikeout. That broke Seattle's club record of 10 straight outs via the K by Hall of Famer Randy Johnson in 1997. Gomez grounded out to third in the next at-bat to end that streak.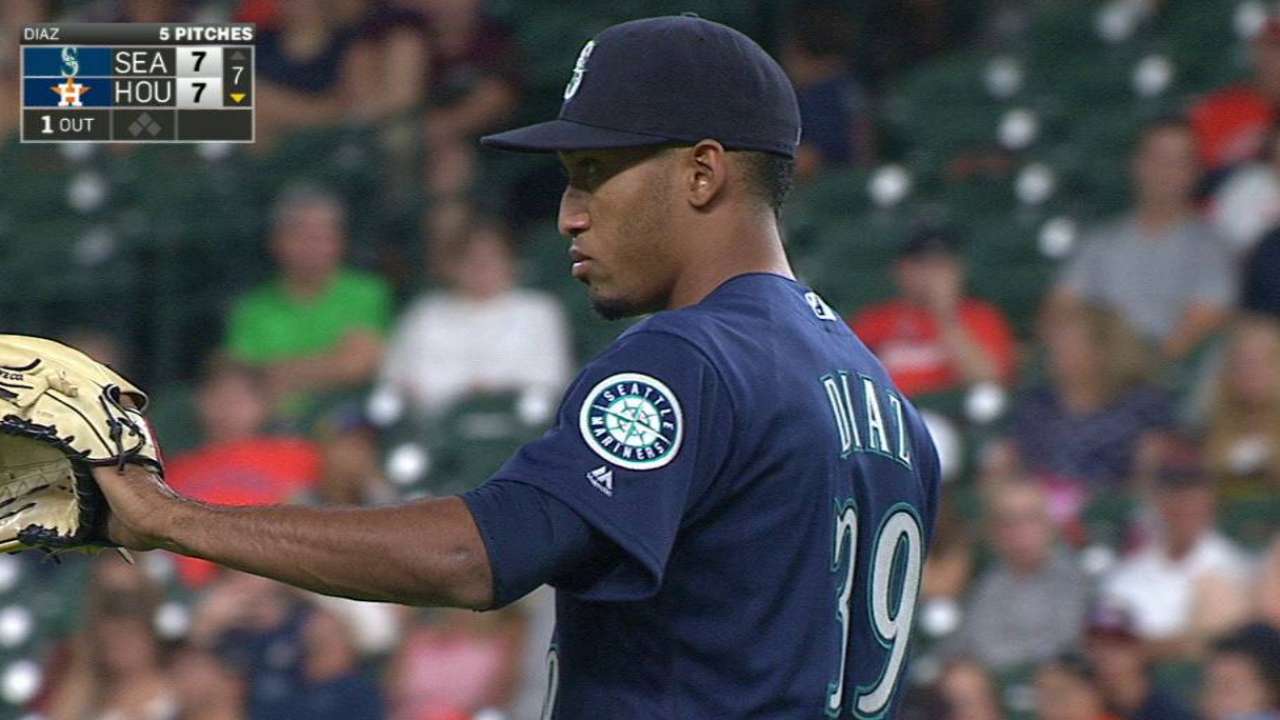 DEVO DOES WELL AGAIN
While most of the Astros' pitching staff struggled, Chris Devenski had another good day in relief. After Fiers gave up his four runs in the fourth, Devenski came in and turned the tide. The right-hander promptly induced a 3-6-1 double play to end the frame and allowed only one hit in 2 2/3 innings. Devenski entered Wednesday's game with a 1.02 ERA as a reliever, second-lowest on the team behind All-Star closer Will Harris (0.72 ERA).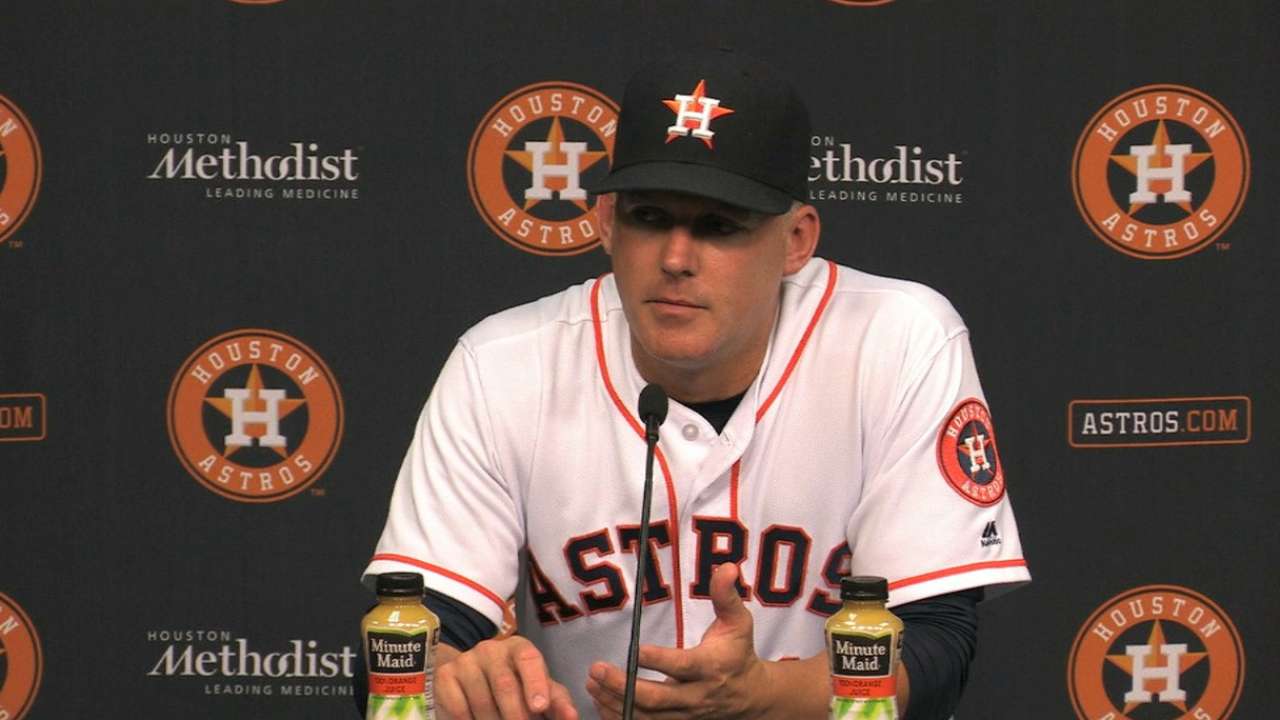 WHAT'S NEXT
Mariners: James Paxton (2-3, 4.24 ERA) makes his eighth start in place of Felix Hernandez in Thursday's 5:15 p.m. PT opener of a four-game series at Kansas City. The Royals saw plenty of Paxton in 2013 when he threw seven scoreless innings with 10 strikeouts in his fourth Major League start as a September callup.
Astros: Doug Fister (8-5, 3.66 ERA) will take the mound Thursday as the Astros play the Athletics at 7:10 p.m. CT from Minute Maid Park. It's the start of a four-game set, which is the last series for the Astros before the All-Star break. Fister is looking to bounce back from his second straight loss, while the Astros are looking to pick up their fifth straight win against the A's.
Watch every out-of-market regular-season game live on MLB.TV.
Greg Johns has covered the Mariners since 1997, and for MLB.com since 2011. Follow him on Twitter @GregJohnsMLB and listen to his podcast.

Jordan Ray is a reporter for MLB.com based in Houston and covered the Astros on Wednesday.

This story was not subject to the approval of Major League Baseball or its clubs.