All-Star or not, Pomeranz happy with 1st half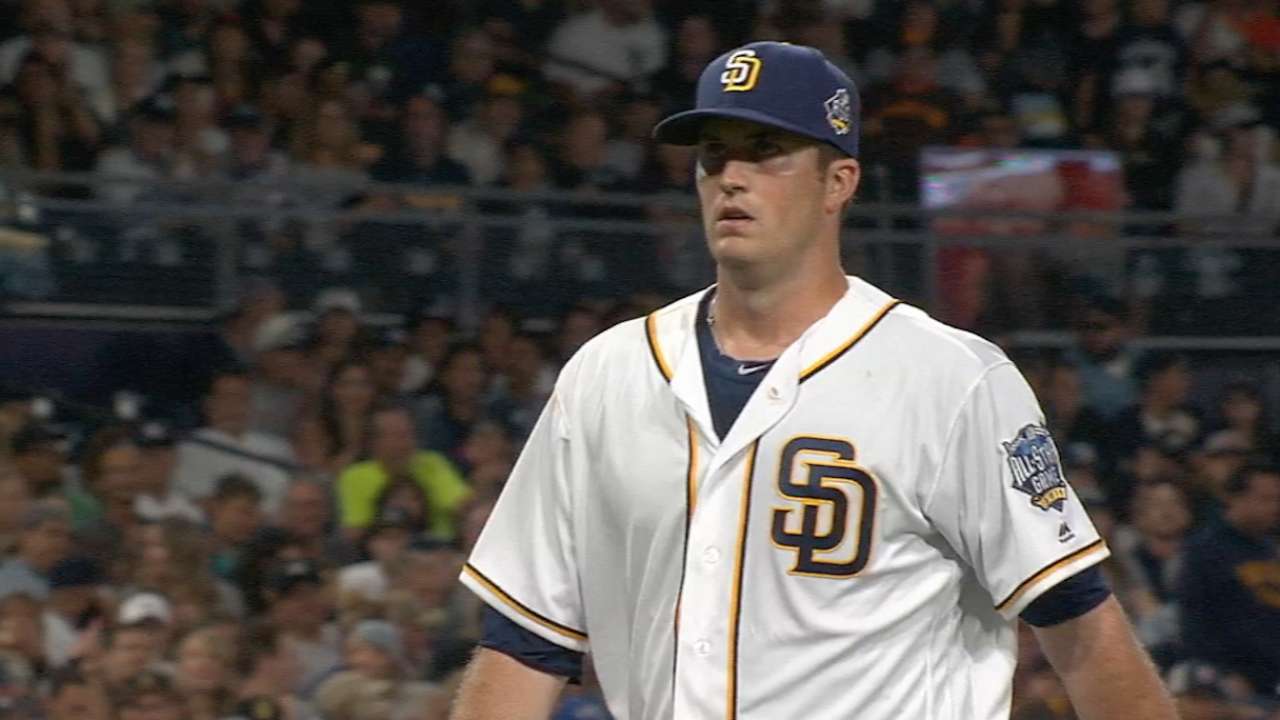 PHOENIX -- Whether or not he's named to the National League All-Star team -- and there's still plenty of time left -- Padres left-hander Drew Pomeranz has exceeded all expectations with his first half.
Consider this: Pomeranz didn't get his first Padres start until about a month into Spring Training. Entering the season many thought he was best suited for a role in the bullpen.
"I'm pretty happy with the way my year has gone, considering in Spring Training I was supposed to be in the bullpen," Pomeranz said. "I had to have a meeting with [manager] Andy [Green] just to get a chance to start. Things have worked out."
That's quite an understatement from Pomeranz, who sits eighth in the National League with a 2.65 ERA, 13th with a 1.09 WHIP and third with a .571 OPS-against. He makes his final start before the break on Friday when the Padres open a series in San Francisco.
Now, for that small matter of making the All-Star team. Pomeranz wasn't named on the original roster. But Dodgers left-hander Clayton Kershaw is currently on the disabled list, and a few other pitchers could start Sunday, potentially ruling them out for Tuesday's All-Star Game at Petco Park.
Pomeranz said he'd love to represent the hometown Padres, but he didn't feel any bitterness at being left off the initial roster.
"When it comes down to it, the guys who get selected are having better years than me," Pomeranz said. "There's really nothing to say about it. It's a very select few guys, that's what makes them All-Stars and elite guys. Those guys are having incredible years."
He might be selling himself a bit short, however. Pomeranz matches up well with the nine starting pitchers who were selected to the NL team. The one area in which he falls a bit short, however, is his won-loss record.
"I'm sure wins and losses come into play, and I'm 7-7, .500," Pomeranz said. "Those guys are winning more games. I haven't won a lot of games this past month, and we lost because of me, on my own. ... But those games are part of the season, and they're actually huge learning experiences for me as a pitcher."
Of course, Pomeranz has Green, a member of Terry Collins' National League coaching staff, in his corner.
"There are obviously a lot of very deserving starting pitchers in the National League," Green said. "I completely respect that. As guys drop out ... I think he's right in that next group. That doesn't mean anything, doesn't guarantee anything. But rest assured, if I'm near [Collins] and that opportunity arises, I'll tap him on the shoulder."
Of course, Pomeranz's renaissance season has come with a bit of a question mark hanging over it. His career high in innings came in 2012, when he threw 147 1/3 frames -- only 96 2/3 of which came in the big leagues.
But the Padres are entirely confident in Pomeranz's ability to handle an increased workload this year.
"There's been no hesitation taking the ball; there's been no issues between starts," Green said. "His body's felt great. His stuff is as strong now as it was early in the season. We pay attention to the signs, as the season progresses, but all signs point to: 'He's OK.'"
Pomeranz credits part of his turnaround for the Padres taking off his training wheels and letting him pitch deep into games this season. During his first stint as a starter, the Rockies toyed with an awkward four-man rotation, allowing their pitchers no more than 75 pitches.
With that in mind, Pomeranz has said he'd like to keep pitching through the entire season.
"It's definitely something we'd have to sit down and look at from all sides," Pomeranz said of potentially having his innings limited. "I think a lot of it will depend on how I feel at that point, too. Obviously, if I'm fatigued and tired, then I'm not going to pitch. But if I feel great, I'm going to be in there when I can."
AJ Cassavell is a reporter for MLB.com. Follow him on Twitter @ajcassavell. This story was not subject to the approval of Major League Baseball or its clubs.