MLB.com Columnist
Barry M. Bloom
O's look to add quality starter to powerful club
With Tillman leading struggling rotation, Duquette eyes move before Deadline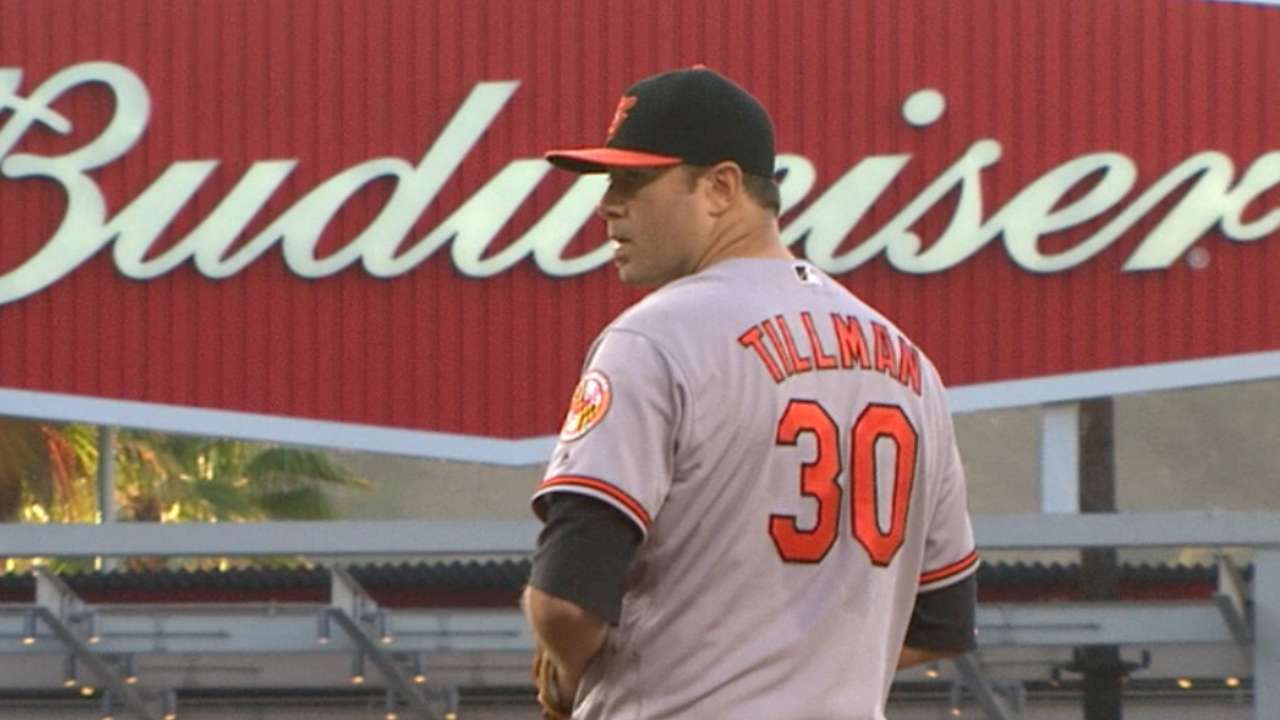 LOS ANGELES -- By almost every metric, the Orioles are having another terrific season and are poised to make a solid run at the postseason.
To that end, executive vice president of baseball operations Dan Duquette told MLB.com that he will try to add more frontline pitching to the first-place club before the non-waiver Trade Deadline hits on Aug. 1.
"Our starting pitching has been pretty inconsistent," Duquette said, his club outlasting the Dodgers, 6-4, on Wednesday in 14 innings behind nine innings of scoreless relief pitching. "More starting pitching has been a pretty constant, recurring theme. It's been a general theme for almost everybody, but more for us this year.
"We've been looking around. There's a lot of teams chasing a few pitchers, it looks like."
The Orioles' starters are 27th in the Majors and 14th in the American League with a 5.14 ERA. Baltimore is so short of starters that veteran manager Buck Showalter has yet to designate one for Friday night's opener of a three-game series against the Angels at Camden Yards.
"All options are open," Showalter said.
The start would normally belong to Ubaldo Jimenez, but the right-hander has been struggling of late, and he is 5-8 with a 6.95 ERA in 17 starts and one relief appearance. Jimenez was knocked around by the Mariners to the tune of six runs on six hits in 4 1/3 innings this past Sunday in a 9-4 loss on the road.
• O's pitching woes front and center in Seattle
The other choice is someone from the Minor League system. Neither Duquette nor Showalter were sure on Wednesday who that pitcher might be.
It won't be Tyler Wilson (4-6 with a 5.22 ERA), who was optioned back to the Minors and will miss a start.
"He did a pretty good job for us," Duquette said. "But he's being freshened up for the second half."
That question underscores Baltimore's limited rotation. Right now, it has three solid starters in Chris Tillman, Yovani Gallardo and Kevin Gausman. Jimenez is on the ropes and the Orioles are not using a fifth starter for the moment because of the spacing of off-days in the schedule. But that will have to change when they open after the break with 17 games in as many days from July 15-31.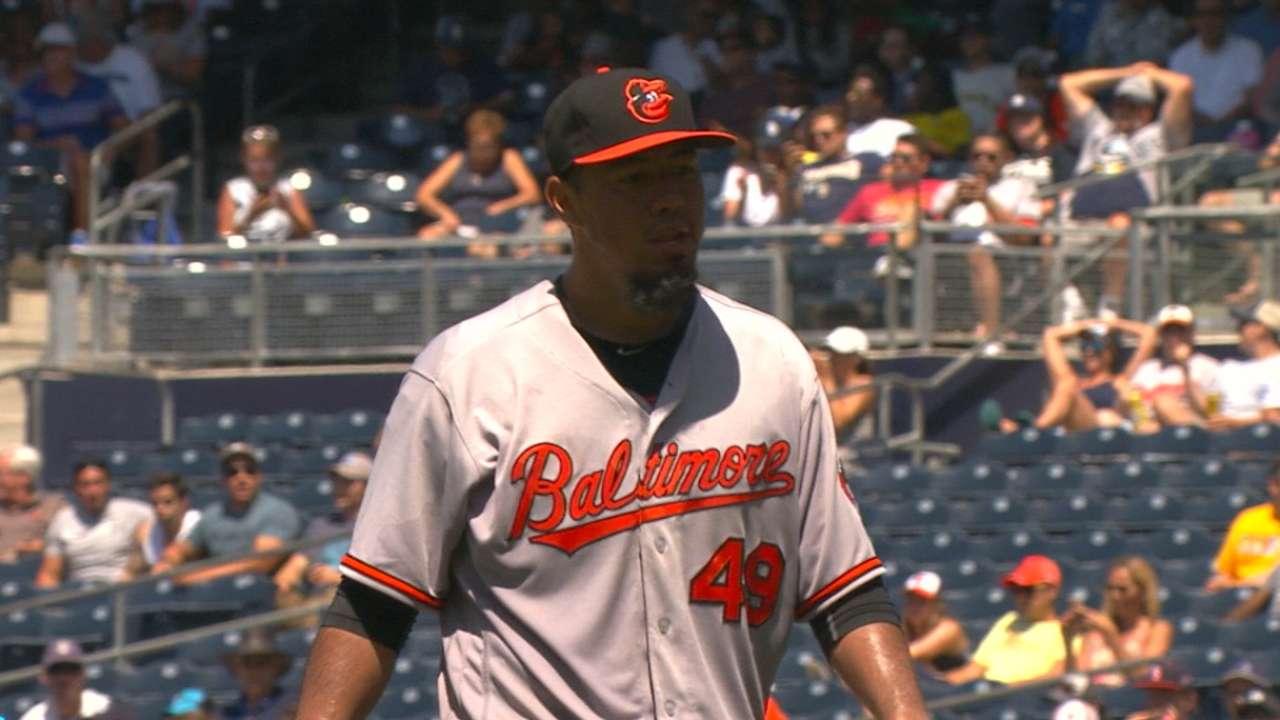 Tillman has 11 of the starters' 28 wins.
The O's also don't have a left-hander in the rotation, as they were unable to replace Wei-Yin Chen, who left for Miami as a free agent and signed a five-year, $80 million contract.
"He had four very good years for us," Duquette said of the Taiwanese pitcher who was 46-32 with a 3.72 ERA in his tenure with the Orioles.
No wonder Duquette is out there burning up the text messages, emails and even the phone lines. And the latter is real old school. He's looking for improvement from within and without.
"We're still looking for Gausman to step forward," Duquette said. "He's showing flashes of being a quality starter, but he hasn't been a winning pitcher yet. Just overall, we have to find a way to get some consistency from our starters to stabilize our club. So that's what we're looking at."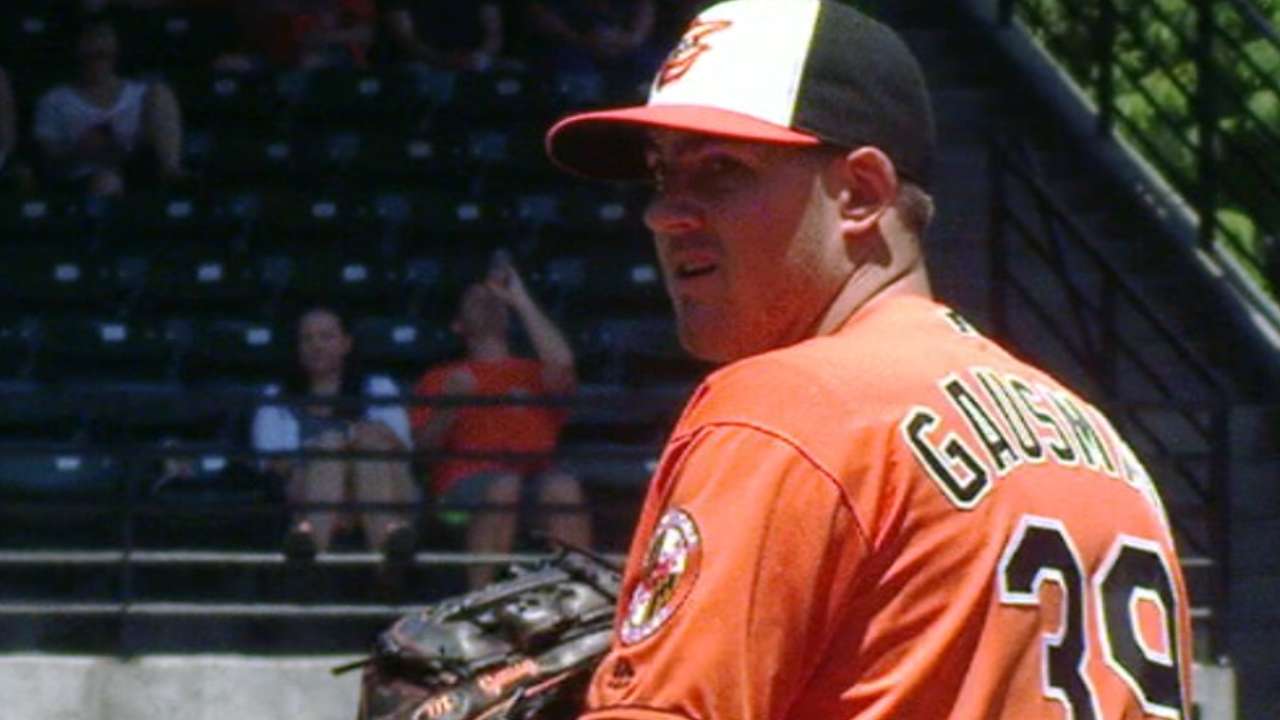 Gausman struggled through five innings and 95 pitches on Wednesday, allowing four runs on eight hits and left trailing, 4-3. He's 1-6 with a 4.15 ERA.
Despite the inconsistency on the hill, the Orioles have 49 wins and lead the AL East by 2 1/2 games over the Blue Jays and three over the Red Sox.
They are doing it with a lineup that is so solid that it leads the Majors with 131 home runs and set the record for the month of June with 56. The middle of the order alone -- Manny Machado, Chris Davis and Mark Trumbo -- have combined for 66 of those homers, including Trumbo's 25th and 26th on Wednesday.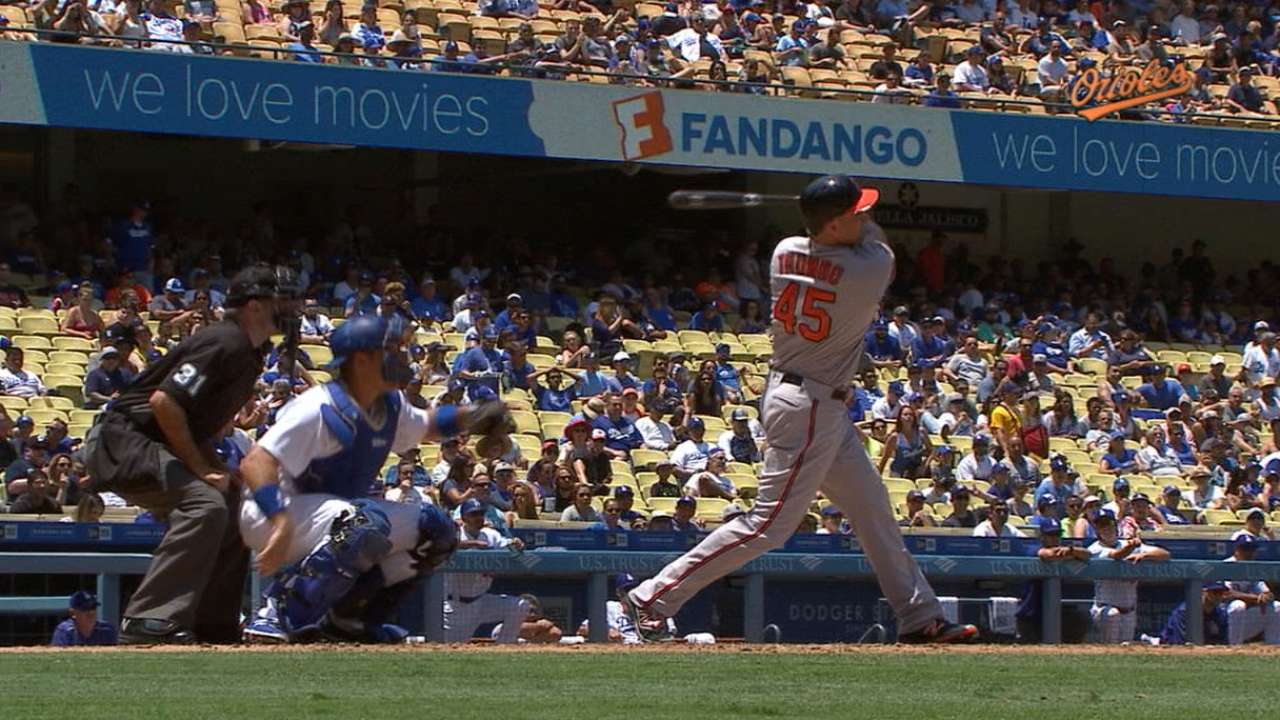 "It's nice to find a place where the comfort level is where it needs to be," said Trumbo, who will be playing for the AL along with Machado in the 2016 All-Star Game presented by MasterCard on Tuesday at Petco Park. "This is a unique lineup. It's the most powerful I've been around. We kind of feed off each other. It's a lot of fun."
The back end of the bullpen, Brad Brach and Zach Britton, are also All-Stars. Britton is 25-for-25 in save opportunities this year, and because of these two guys, the Orioles are 41-0 this season in games they've led going into the eighth inning.
The O's used five relievers, including Brach, on Wednesday before Britton came on in the 14th to finish it up.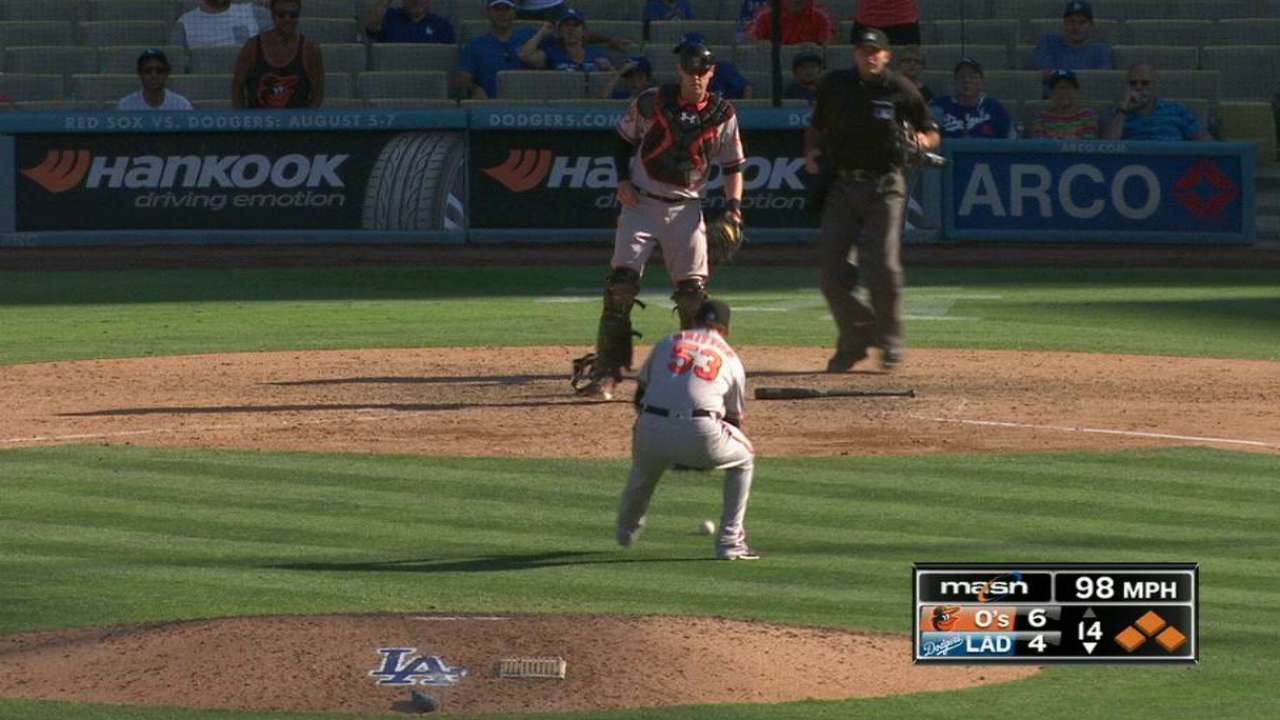 "They're very athletic -- they're big, they slug," said first-year Dodgers manager Dave Roberts, after watching the Orioles for three days. "It's one of those things that you see the eighth and the ninth innings with Brach and Britton, you want to manage to shorten the game. It's tough to get hits against those guys, let alone score runs."
Duquette, though, has been around long enough building clubs in Montreal, Boston and Baltimore that he never grows too comfortable with his product. Teams can always get better. He knows the top starters in the AL are elsewhere: David Price with the Red Sox, Chris Sale with the White Sox, Cole Hamels with the Rangers.
Duquette has Tillman, the only starter to win in the past seven games on this trip, but it isn't enough. The Orioles lost five of the seven.
"We're playing pretty well," Duquette said. "We score a lot of runs. The bullpen is pretty good. We defend it pretty good. We catch the ball well. Our starting pitching just needs to be a lot more consistent."
Duquette is working on that.
Barry M. Bloom is a national reporter for MLB.com and writes an MLBlog, Boomskie on Baseball. Follow @boomskie on Twitter. This story was not subject to the approval of Major League Baseball or its clubs.