Stroman turning corner in Blue Jays' rotation
Right-hander logs 8 solid innings to earn win against Royals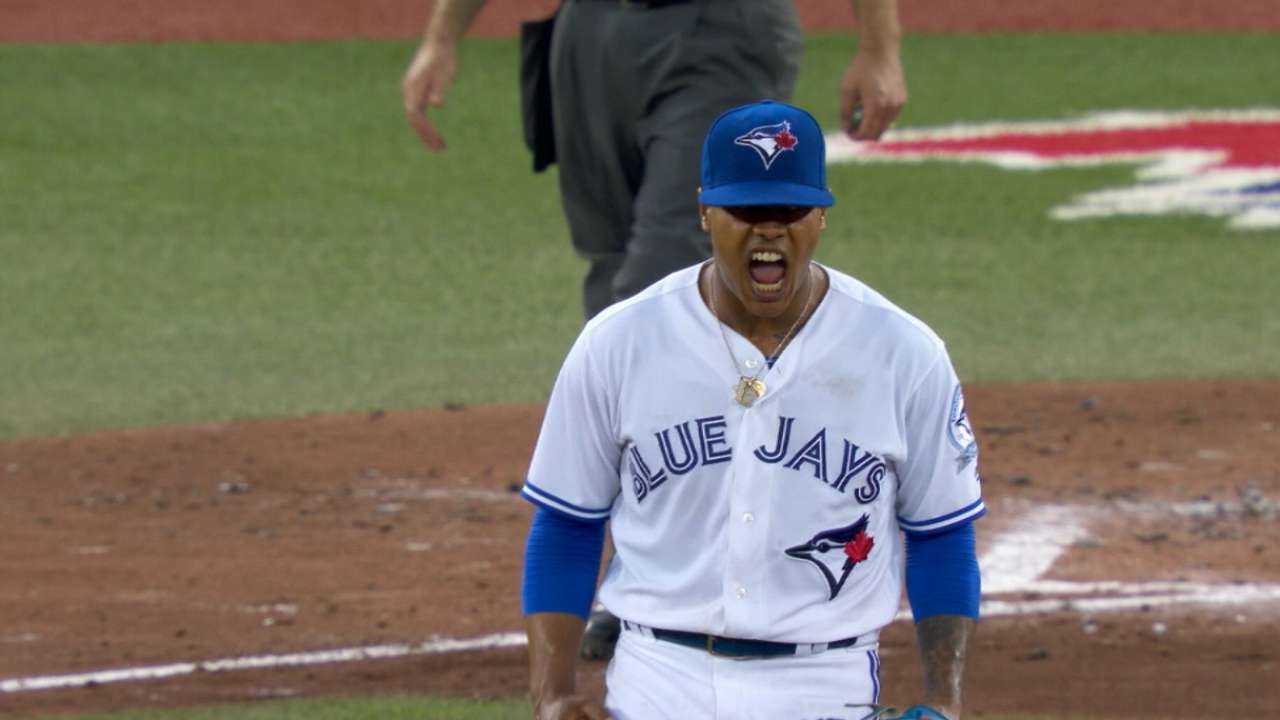 TORONTO -- Blue Jays starter Marcus Stroman was never going to completely turn things around overnight, but he certainly seems to be headed in the right direction.
Stroman's progress over the last couple of weeks was taken to another level in a 4-2 victory over the Royals on Wednesday night. He carried a perfect game into the sixth inning and scattered a total of four hits during eight innings of two-run ball.
The 25-year-old Stroman has been working hard behind the scenes to make a series of changes to his mechanics. The goal has been to make his breaking ball sharper, to keep his pitches down in the zone more consistently and to become less predictable. The right-hander did that and more against Kansas City.
"That was as good as you're ever going to see him," Blue Jays manager John Gibbons said. "He had everything working, really sharp. A really good breaking ball, you name it. He had starts where he struggled, but the last two or three have been really good. I know he feels good about that, that's what we've been looking for."
A few weeks ago, there was talk in some corners of the media and the Blue Jays fan base that Stroman should be sent to the Minor Leagues following his extended struggles on the mound. Toronto opted to take a more patient approach and it appears to be paying off.
Stroman has tossed back-to-back quality starts against the Indians and Royals. He has given up a total of three runs with 12 strikeouts over his previous 14 2/3 innings. Does that mean he's all the way back? Of course not, but it does seem like he's getting a lot closer.
"I felt like my lane going to the plate was really consistent all night," said Stroman, who lowered his ERA to 4.89. "That helped me stay down in the zone and also helped me mix in my other pitches. My slider, my cutter, was something that we were going with because it was consistent."
Stroman retired the first 15 Royals hitters, but there was some adversity in the sixth inning. Brett Eibner drew a leadoff walk and then came around to score when Alcides Escobar hit an RBI triple to left-center field.
Escobar's triple cut Toronto's lead to 2-1. With a runner on third and none out, it didn't look good for Stroman, but instead of wilting, he bounced back by inducing a pair of grounders and then striking out Whit Merrifield to escape the inning.
The outing could have gotten away from Stroman. Earlier this year, it might have, but not on Wednesday.
"That just tells me that my stuff is exactly where I need to be when I need to have it," Stroman said. "I feel like I'm able to dial it up when I need to and the more and more comfortable I become, the more and more confident I become with my delivery, I feel like all my pitches are becoming more consistent. I'm in a great place right now and just looking to keep that going into the second half."
Gregor Chisholm has covered the Blue Jays for MLB.com since 2011. Follow him on Twitter @gregorMLB and Facebook, and listen to his podcast. This story was not subject to the approval of Major League Baseball or its clubs.