Kennedy flashes 'A' stuff in loss to Blue Jays
Right-hander racks up 10 strikeouts, but bullpen struggles late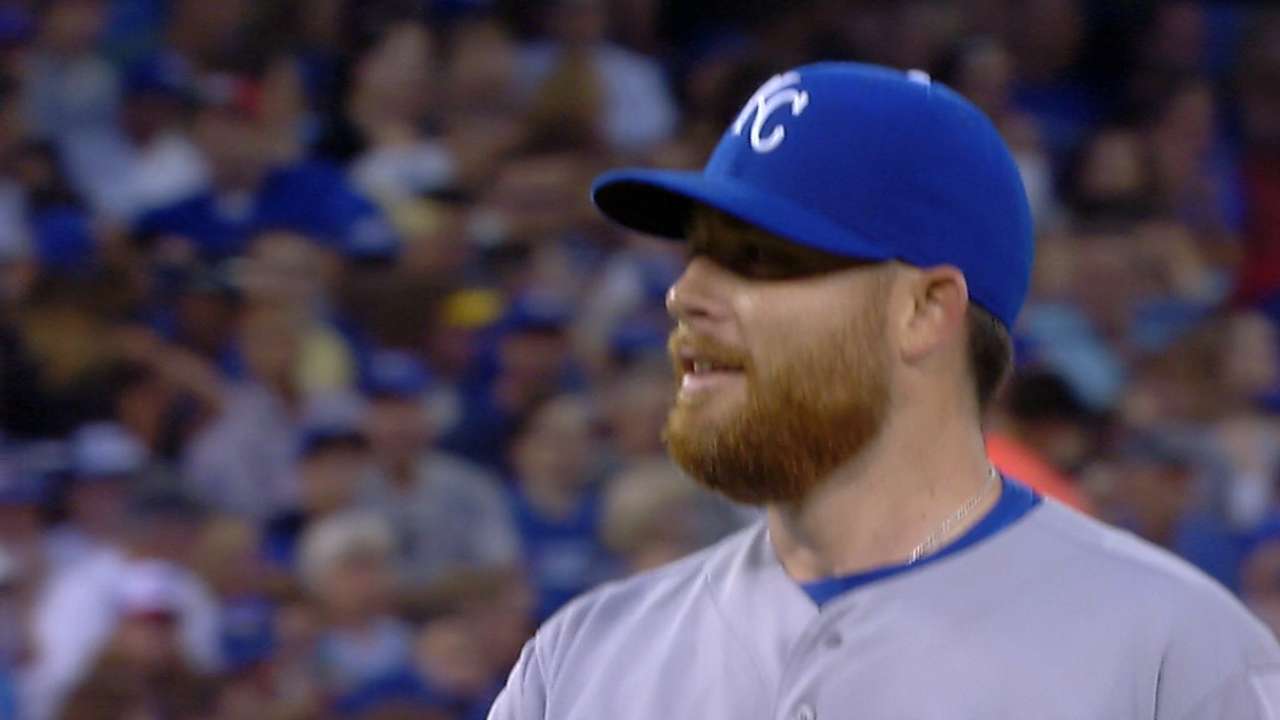 TORONTO -- All things considered, Royals right-hander Ian Kennedy will take his start on Wednesday night against the Blue Jays any day of the week.
Kennedy's line: six innings, four hits, two runs (two earned), one walk, 10 strikeouts. It wasn't good enough on this night in a 4-2 loss to the Blue Jays, who swept the three-game series.
"But with our bullpen," Kennedy said, "I'll take this one about any time. I felt good out there."
It was a rare night that the Royals' bullpen couldn't contain a 2-2 game. Kelvin Herrera gave up two runs in the eighth.
But Kennedy did his part to keep it close. The Jays had beat up the Royals' staff for 14 runs the first two nights.
"That was huge, to keep us in the game like that," manager Ned Yost said. "He gave us an opportunity to win late."
Kennedy's 10 strikeouts gave him 29 over his last three starts. He knew quickly on Wednesday that he had his "A" game.
"I was keeping the ball down," Kennedy said. "My slider was a little better than normal. Changeup was good overall.
"It's a tough lineup to try and navigate through, especially with [Josh] Donaldson and [Edwin] Encarnacion in the heart of it, and [Michael] Saunders playing so well, and [Troy] Tulowitzki hitting sixth -- he's usually an All-Star. It's tough to get through that."
One of the rare mistakes that Kennedy made was giving up a home run to Saunders on a 3-1 pitch.
"He did a pretty good job of hitting that one," Kennedy said. "I was trying to throw it inside. He's long and he can hit back off the plate and hook the ball. I thought I got it in on him, but he got enough of the barrel. The ball flies well here but ... he did a good job of hitting that.
"He was taking some good pitches. I gave him some good changeups that he took. He's seeing the ball pretty well."
Jeffrey Flanagan has covered the Royals since 1991, and for MLB.com since 2015. Follow him on Twitter @FlannyMLB. This story was not subject to the approval of Major League Baseball or its clubs.