Final Vote: Give Lamb a leg up; vote or tweet until 1 MST today
There was a real, live lamb roaming around the D-backs' dugout and clubhouse Wednesday afternoon, but that was not the most surprising thing that happened as Jake Lamb's teammates lobbied for him to become an All-Star via the Esurance MLB All-Star Game Final Vote.
That was reserved for first baseman Paul Goldschmidt's decision to open a Twitter account for the first time as a way of trying to get people to vote for Lamb.
Lamb needs all the help he can get, as he remained steady at fourth in the latest round of results released Friday morning, trailing San Francisco's Brandon Belt, Pittsburgh's Starling Marte and Colorado's Trevor Story. Lamb is ahead of Milwaukee's Ryan Braun.
Fans can vote for Lamb (#VoteLamb) in the 2016 Esurance MLB All-Star Game Final Vote until 1 p.m. MST today. For the fifth consecutive year, the Final Vote will include social balloting, as Twitter support for the 10 candidates over the last six hours of balloting will count toward their vote totals. Until 1 p.m, MST, any tweet that includes a designated player hashtag will be tabulated as part of the official vote total used to determine the winners.
Meanwhile, Goldschmidt, who has long said he would never open a social media account, announced his arrival on Twitter by posting a video that urged fans to vote for Lamb.
"It's just for a short amount of time," Goldschmidt said of his account. "Trying to get the fans voting for Jake. We'll hopefully get on there and try to do it to the best of my ability -- which is pretty terrible -- but hopefully give the fans the behind-the-scenes look of something that we're doing, and hopefully encourage some people to vote for Jake.
"He's definitely a deserving candidate for the All-Star Game, but it is going to be short-lived. Once this weekend's over, I'm going back to my normal self."
#VoteLamb pic.twitter.com/20f7F4c5iS

- Paul Goldschmidt (@PGoldschmidt_44) July 6, 2016
Goldschmidt, who was voted by the players onto the NL team, also gave an MLB Network interview to stump for Lamb, and he was joined by a lamb from a nearby petting zoo.
"Really, really soft wool," Goldschmidt said. "It was kind of funny. But he seemed pretty calm, so it didn't seem like he was going to bite me or anything."
The lamb walked through the dugout -- leaving a few droppings in its path -- and then went into the D-backs' clubhouse.
Just your typical Wednesday in the @Dbacks clubhouse. #VoteLamb pic.twitter.com/5s6h60dmTN

- Paul Goldschmidt (@PGoldschmidt_44) July 6, 2016
"There's one in here every day," Lamb joked. "It's in my locker, you guys just haven't seen it. I try to keep it under wraps. Like I said, he'll be there in San Fran on Friday. I'm not sure what their lamb situation is over there, but we'll get it under control. We have great people here with the Diamondbacks, so I'll definitely have a lamb in San Fran."
Lamb walked the lamb around the clubhouse and then into the training room, where it met other players.
D-backs players wore T-shirts that said "Vote Lamb" on them for batting practice on the field. They were also planning on wearing them for Wednesday night's charter flight to San Francisco.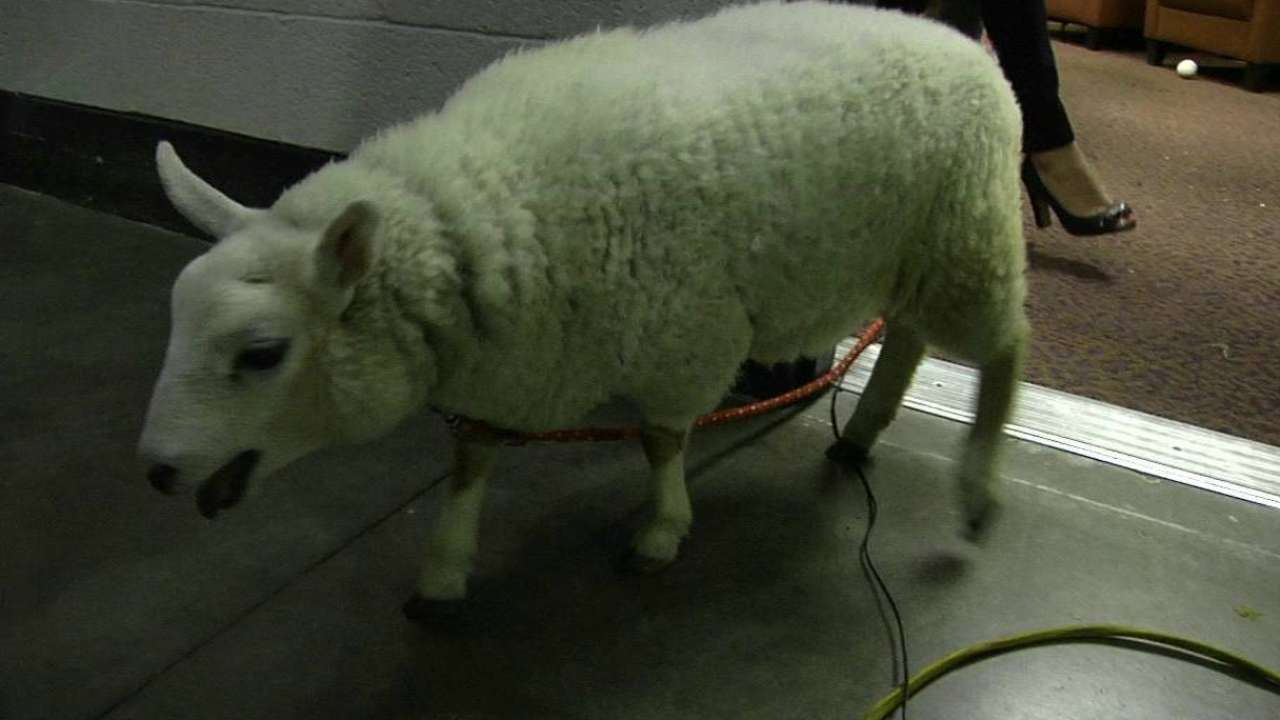 Lamb is also planning a live Twitter chat with fans from the flight.
"Pretty crazy," Lamb said of all the support. "[Tuesday] was obviously crazy finding out, but now I've got everyone texting me and reaching out on social media, trying to see all the tweets and Instagram posts. It's really cool, especially the support back home. There's a bunch of support here in Arizona, and I really appreciate that. Back in Seattle, everyone's pulling for me, so that's also really cool."
Lamb's roomates, infielder Phil Gosselin and pitcher Archie Bradley, filmed a spot on MLB.com to support him.
It's Jake...from the #Dbacks. #VoteLambhttps://t.co/K21fydDeU6

- #VoteLamb (@Dbacks) July 7, 2016
The winners, as chosen exclusively by online fan voting totals, will be announced during a Final Vote-themed telecast of "MLB Now" featuring commentary from political analyst Jeff Greenfield, live on MLB Network and MLB.com from 1-2 p.m. MST. MLB Network will provide extensive coverage across all of its studio programming during the Final Vote, including interviews with the candidates, frequent updates, heat maps indicating the cities where votes are being cast for each candidate, news on player and club campaigns and a running countdown clock leading up to the announcement.
Baseball fans have cast nearly 600 million online votes for Final Vote candidates since the program's inception in 2002. In addition to MLB.com and the official club websites, fans can use their mobile devices to cast votes at MLB.com/vote or via text message. To receive the ballot, text the word "VOTE" to 89269. To vote for a specific player, fans can text their choice to 89269. EXAMPLE: Text "A3" to vote for AL Player 3 or "N3" to vote for NL Player 3. Message and data rates may apply. Text "STOP" to end and "HELP" for information. Mobile voting in Canada also is available and fans should text their choices to 101010.
• Interactive All-Star Game rosters
On Tuesday, watch the 2016 All-Star Game presented by MasterCard live on FOX, with coverage beginning at 4:30 p.m. MST., and during the game visit MLB.com to submit your choice for the Ted Williams Most Valuable Player Award presented by Chevrolet via the 2016 MLB All-Star Game MVP Vote. The 87th All-Star Game, in San Diego, will be televised nationally by FOX, in Canada by Rogers Sportsnet and RDS, and worldwide by partners in more than 160 countries via MLB International's independent feed. ESPN Radio and ESPN Radio Deportes will provide national radio coverage of the All-Star Game. MLB.com, MLB Network and SiriusXM will also provide comprehensive All-Star Week coverage. For more information, please visit allstargame.com.
Steve Gilbert is a reporter for MLB.com. Follow him on Twitter @SteveGilbertMLB. This story was not subject to the approval of Major League Baseball or its clubs.