Grichuk returns with renewed confidence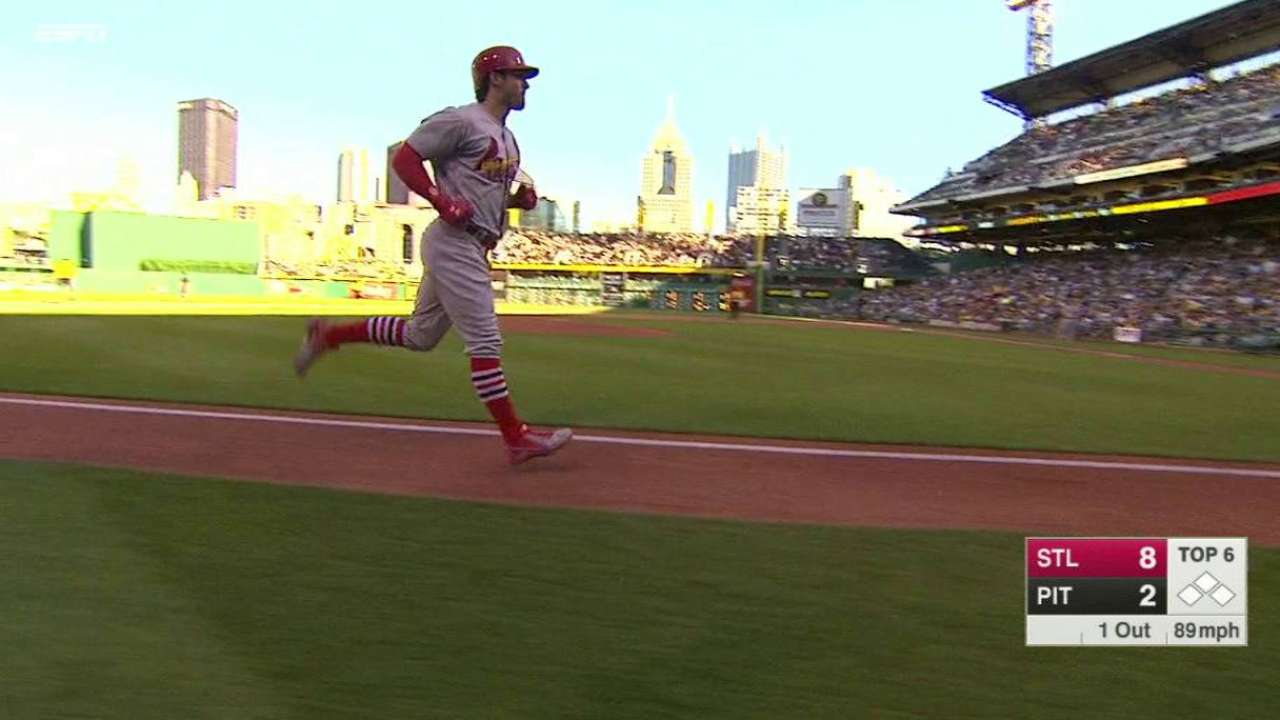 ST. LOUIS -- From looking merely at the stats from Randal Grichuk's 15-game stint in the Minors, a few observations can be made. He flaunted his power, delivered a handful of key RBI hits and struggled through some plate-discipline issues.
It was his behind-the-scenes work, however, that Grichuk believes was the most impactful.
An injury to Brandon Moss created an opportunity for Grichuk to return to St. Louis on Tuesday, and he brought with him a changed swing and fresh perspective. Getting out of his head was the first step in that transformation.
"Once I bought back into that and realized what type of player I was and some of the stuff I've already done in the game, I felt a little bit better and got a little hotter as I stopped thinking so much," Grichuk said. "I really focused on letting things go and being positive and confident."
What Grichuk left behind was a disappointing start to the season in which he hit .206/.276/.392 with 54 strikeouts in 204 at-bats. The lack of production led to decreased playing time and a situation where Grichuk often felt like he had to perform one day to ensure he'd play the next.
Going down to Triple-A, where he knew he'd be a daily fixture in the lineup, freed Grichuk of that pressure.
"It was definitely a tough spot being up here and not being able to play every day," Grichuk said. "Knowing that I was going to get in there the next day, that was huge, I think, for the mental side. Just play."
On the physical side, Grichuk worked extensively with Memphis hitting coach Mark Budaska. They reviewed video of his various hand and bat positions, which have changed numerous times over the last few years. While doing so, Budaska preached two principles: rhythm and timing.
They agreed that Grichuk maximized both using the setup and stance he employed in 2014. Grichuk adjusted his hand and bat position as a result, and, in his first opportunity to show off the old look in St. Louis on Tuesday, delivered a pinch-hit single.
"Whatever my role is here on out," Grichuk said, "hopefully I can put up some good at-bats and see what I can do."
Jenifer Langosch has covered the Cardinals for MLB.com since 2012, and previously covered the Pirates from 2007-11. Read her blog, follow her on Twitter, like her Facebook page and listen to her podcast. This story was not subject to the approval of Major League Baseball or its clubs.