MLB, Padres host All-Star Week in community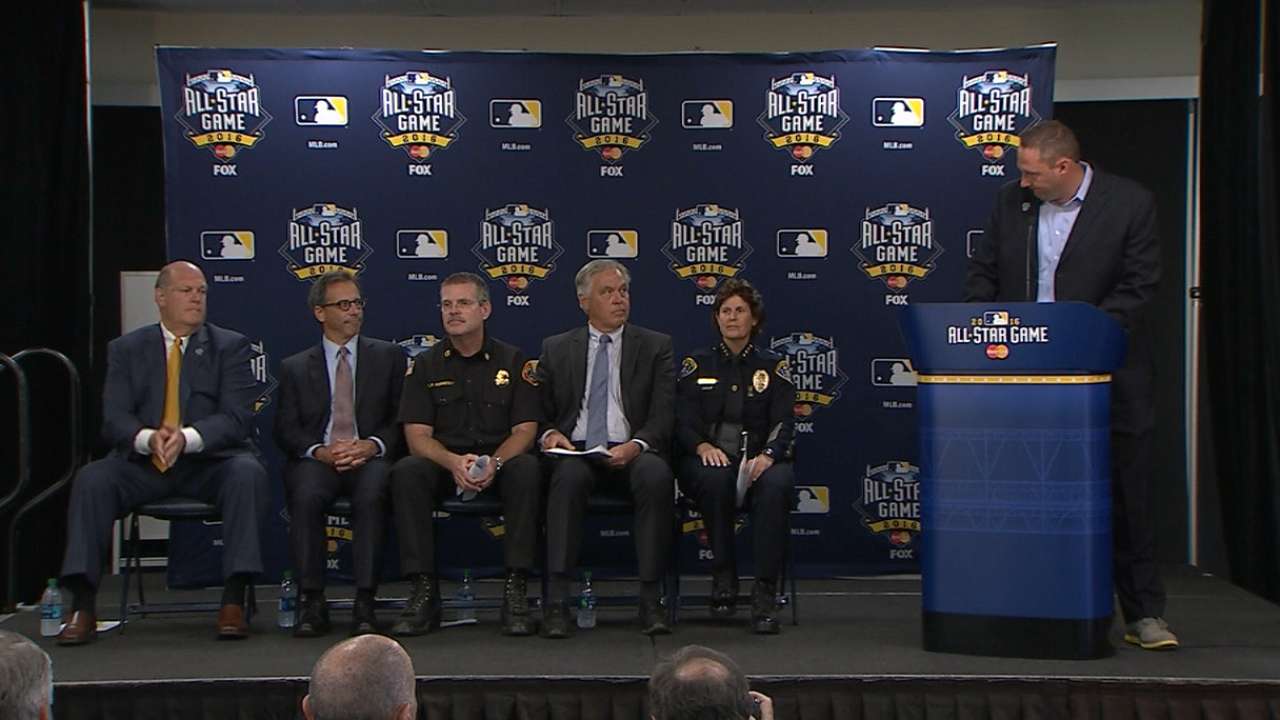 SAN DIEGO -- People around here are ready to experience the legendary rush of Major League Baseball's All-Star Week, and one of the best parts about hosting this summer spectacle is how it stays with you long after the last pitch is thrown on Tuesday.
Starting on Thursday and leading up to the 87th All-Star Game presented by MasterCard at Petco Park on Tuesday (FOX, 7:30 p.m. ET), MLB and the Padres will roll out an extensive All-Star Week Community & Youth Activities program that impacts two countries and leaves a lasting legacy including $5 million in donations to support Greater San Diego and nearby Tijuana, Mexico.
As a complement to the Midsummer celebration of baseball and the local Padres, the various All-Star Week events and project renovations seek to impact the lives of underserved and special needs youth, and place a focus on improving the health and well-being of local citizens.
You can expect to see a lot of Commissioner Rob Manfred around the region, as he will join Padres ownership in revealing four of the five casual and formal playing surfaces that are being refurbished for baseball and softball players. That will include the first softball-specific All-Star Legacy project, as well as a veterans reintegration center here in one of America's most renowned Navy towns, plus support for a school for children affected by homelessness.
A variety of Padres legends also will participate in the different All-Star community projects. Scotts and Chevrolet are among the MLB sponsors supporting various elements of this All-Star community effort.
Since 1997, MLB has donated more than $75 million in All-Star charitable contributions. MLB and the Padres have donated about $5 million this summer through MLB Charities and the Padres Foundation, a fund of the San Diego Foundation, toward these All-Star legacy projects and in support of national charitable initiatives. A portion of the funds will be raised from Gatorade All-Star Workout Day on Monday.
Here is a schedule highlighting MLB All-Star Community & Youth Activities during All-Star Week (all times PT):
THURSDAY
11 a.m.: Brady Family Teen Center Renovation, Boys & Girls Clubs of East County, La Mesa, Calif. This project will support a variety of refurbishments for the home to 100 youth per day. Included: upgraded lighting and the complete overhaul and upgrade of all furniture, updates to windows, renovations to the kitchen which supports the health and life skills.
6:30 p.m.: Opening Ceremonies of Play Ball Park and All-Star Youth Classic in San Diego. Located in front of the Hilton San Diego Bayfront, the 80,000-square-foot outdoor space will provide fun, engaging and educational activities for youth baseball and softball players and their families. Admission is free to participants.
FRIDAY
11 a.m.: MLB-Padres All-Star Center for Military and Veterans Reintegration at National Veterans Transition Services, Inc. in San Diego. MLB and the Padres will provide NVTS with better technology and a more efficiently-designed workspace to provide improved services, including resume writing, personal and professional transition assistance and evaluating and improving online presences.
3:30 p.m.: Special Stars Game at Petco Park. Children with special needs representing the Miracle League, Little League Challenger Division and PONY Champions League will play a game on the outfield grass.
SATURDAY
8 and 11 a.m.: Soul Pose MLB All-Star Yoga at Waterfront Park in San Diego. Participants of all ages and yoga skill levels can take part in one of two 60-minute yoga parties that incorporate music, body paint, bubbles and more. Registration and event information is available at AllStarGame.com/yoga. As part of MLB and USA Baseball's Play Ball initiative, net proceeds will benefit B&GC of Greater San Diego.
8:30 a.m.: T-Mobile Jr. Home Run Derby National Finals at Petco Park. This competition started in March, and the Finals will include 16 competitors, with eight participants in each age division (12u & 14u) who won their respective regional championships.
Noon: MLB-Padres All-Star Field Dedication at San Pasqual Academy in Escondido, Calif. San Pasqual Academy is a first-in-the-nation residential education campus for boys and girls, ages 12-18 -- designed specifically to meet the needs of foster teens. The softball field needs significant improvements due to consistent flooding each time it rains. It's the first softball-specific project in All-Star Legacy history.
2 p.m.: MLB-Padres All-Star Diamond Dedication at Conrad Prebys Escondido Branch of Boys & Girls Clubs of Greater San Diego in Escondido. It's the 75th anniversary of this facility, and funding will re-purpose an existing parking lot and greenspace into a multi-purpose baseball diamond complete with moveable fences and a large shade structure.
5 p.m.: Make-A-Wish Welcome Reception at Hilton Bayfront. MLB, through Make-A-Wish, is hosting five young people battling life-threatening illnesses and their families as honored guests during All-Star Week.
SUNDAY
7 a.m.: The Color Run MLB All-Star 5K presented by Nike at Waterfront Park. Visit AllStarGame.com/run to register and find more information. This will also benefit the B&GC of Greater San Diego.
11 a.m.: Scotts Field Refurbishment Dedication at Mountain View Park in San Diego. Making it safe for widespread usage, field work will include conditioning, grading and leveling of the infield and replacing the outfield sod, and much more.
1 p.m.: Starlight Fun Center Donation at Rady Children's Hospital in San Diego.
MONDAY
9:30 a.m.: MLB-Padres All-Star Complex Dedication at Club de Niños y Niñas de Mexico in Tijuana. For the first time in Midsummer Classic history, MLB All-Star Community Legacy efforts will include a cross-border, international project. Planned renovations at the facility include the conversion of a nearly 16,000-square-foot basketball court into a multi-use recreation area featuring a kickball/Wiffle ball field, and much more. The club, which opened in 2008 and serves 750 children daily from low-income neighborhoods, was the first B&GC in Mexico.
Noon: MLB-Padres All-Star Complex Field Dedication at Jackie Robinson YMCA in San Diego. This project supports the development of the youth baseball/softball and T-ball fields and outdoor recreational area in conjunction with the complete rebuild of the existing complex.
Noon: Scotts MLB Pitch, Hit & Run Finals at Petco Park. The list of 24 Finals competitors includes the top three baseball and softball participants from four age divisions (7-8, 9-10, 11-12 and 13-14).
TUESDAY
10 a.m.: MLB-Padres All-Star Launch Pointe at Monarch School in San Diego. The 7,000-square-foot space on the second floor of the existing building will be a flexible learning space with a focus on specific career pathways selected from growing employment sectors in San Diego. Monarch has served San Diego County for more than 25 years, beginning as a one-room education center in 1988 and evolving into a K-12 school offering a comprehensive program to 450 homeless students annually.
In-game: After the fifth inning, MLB and Stand Up To Cancer will ask all fans and viewers to stand and join on-field personnel in the now-traditional moment to remember those who have fought against cancer.
The schedule also includes pregame activities to honor special young fans who are receiving an All-Star experience through Make-A-Wish, MLB's Breaking Barriers program and Boys & Girls Clubs of America.
Mark Newman is enterprise editor of MLB.com. Read and join other baseball fans on his MLB.com community blog. This story was not subject to the approval of Major League Baseball or its clubs.