For Girardi, handling Tanaka a balancing act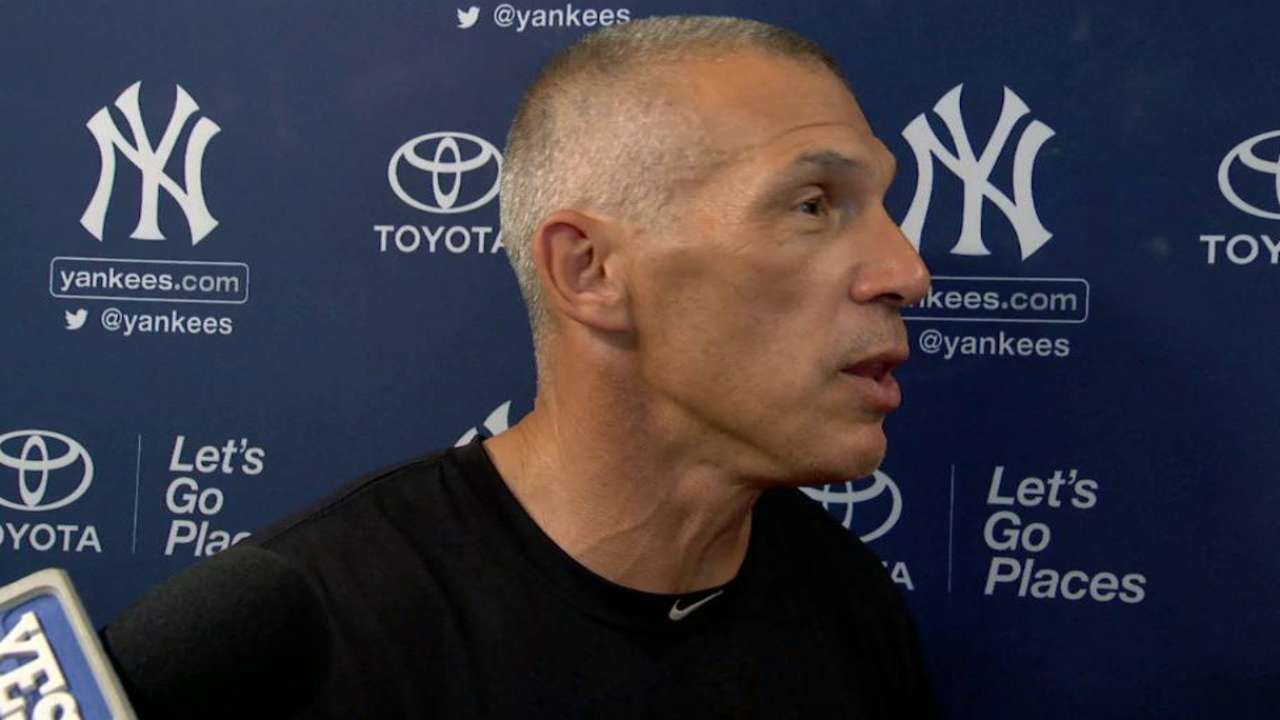 CHICAGO -- Joe Girardi's exasperated reaction to a familiar inquiry in the bowels of U.S. Cellular Field late on Tuesday spoke volumes, especially considering that his team had just posted a 9-0 victory over the White Sox.
Once and for all, the Yankees manager would like it put to rest: Yes, Masahiro Tanaka is a better pitcher if given an extra day between starts, but his team needs him to take the ball whenever his number is called.
"Can I cover this, please? This is a question that I answer every day," Girardi said. "I can't pitch him on the sixth day every time. I can't do it. You cannot. I don't have an extra guy to put in the bullpen. I know [the numbers are] different, but it's something that he has to adjust to."
Tanaka was in command of the White Sox on Tuesday, hurling 7 2/3 scoreless innings while scattering six hits. He issued a walk and struck out six, working with the advantage of an extra day to prepare following a June 29 start against the Rangers in New York.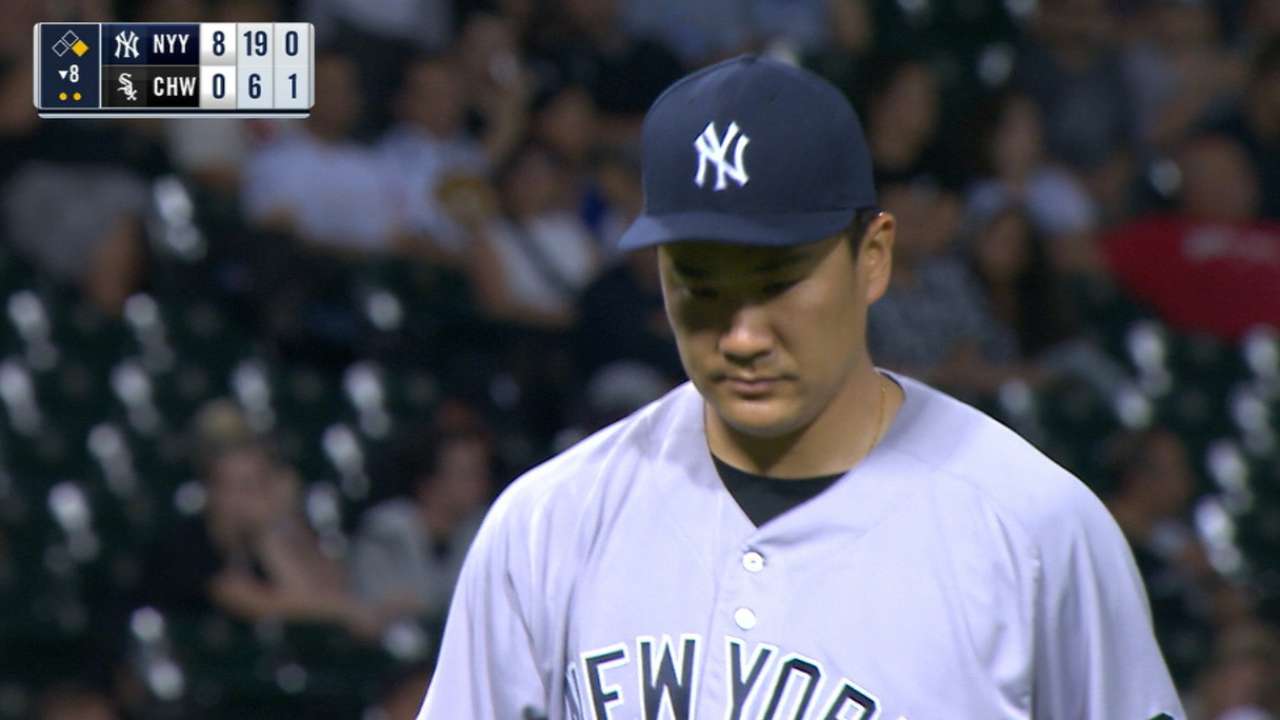 When the Yankees signed Tanaka to a seven-year, $155 million deal prior to the 2014 season, there was a lot of talk about how he might struggle adjusting to pitching every five days, as opposed to a schedule in Japan that saw him take the mound once a week.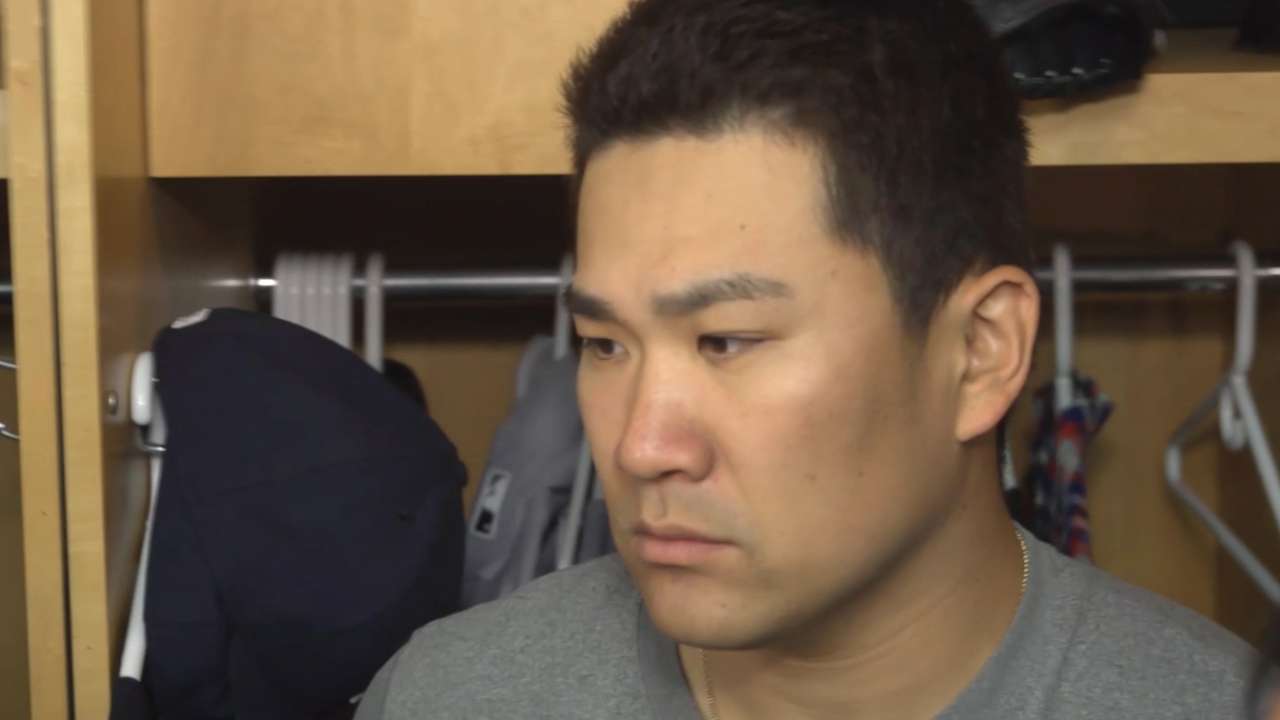 "I'm not really worried about that, to be honest," Tanaka said through an interpreter. "I prepare myself the best way I can and go out on the mound every time out. If you look at the previous year or two years ago, at times my numbers were better with only four days in between."
He's right. The interesting thing is, over Tanaka's first two seasons in the Majors, the "extra rest" stat hasn't been an absolute -- his ERA actually jumped to 3.51 on extra rest last season, compared with a 2.56 mark in five starts working on the fifth day.
This season, though, the difference has been drastic. In seven starts on regular rest, Tanaka is 1-3 with a 5.28 ERA, striking out 33 and walking eight in 44 1/3 innings while permitting a .276 opponents' average.
Given the extra day, he is 4-0 with a 1.05 ERA in seven starts, striking out 38 and walking five in 51 1/3 innings while permitting a .193 average. There have also been three starts with six days' rest; he is 1-0 with a 3.78 ERA in those.
"He's had a lot of good starts on regular rest," Girardi said. "I know he's better on extra days -- a lot of guys are -- but we go through this every time, and there's not a whole lot that I can do about it, because the schedule does not allow me to. When you play 20 days in a row, you can't do it.
"When you play 10 days in a row, you can't do it. We're in 17 days in a row. We brought up a starter, [Chad Green]. We put him in. We moved [starter Nathan Eovaldi] into the bullpen to try to handle it. But you can't do it every time. He's going to pitch a lot of times on normal rest."
Tanaka doesn't talk much about it anymore, but he is pitching with a partially torn ulnar collateral ligament and needed surgery to remove a bone spur from his right elbow last offseason. Because of that, extra rest is seen as a bonus, though Girardi doesn't believe fatigue is the issue.
That forces the Yankees into a balancing act in which they watch Tanaka's pitch count closely; with his next start set for Sunday against the Indians, Tanaka was lifted after 103 pitches on Tuesday despite the lopsided score, with the Yankees hoping to save him for a more competitive game.
"I think you've seen the average fastball [velocity] is the same," Girardi said. "I just think it's kind of worked out that way. He is used to pitching on longer rest. But he's also used to throwing a lot more pitches, too, so we manage his pitches and manage his bullpens. We do all those things, but we need him to throw on his turn."
Bryan Hoch has covered the Yankees for MLB.com since 2007. Follow him on Twitter @bryanhoch, on Facebook and read his MLBlog, Bombers Beat. This story was not subject to the approval of Major League Baseball or its clubs.