Stewart hopes to play through knee pain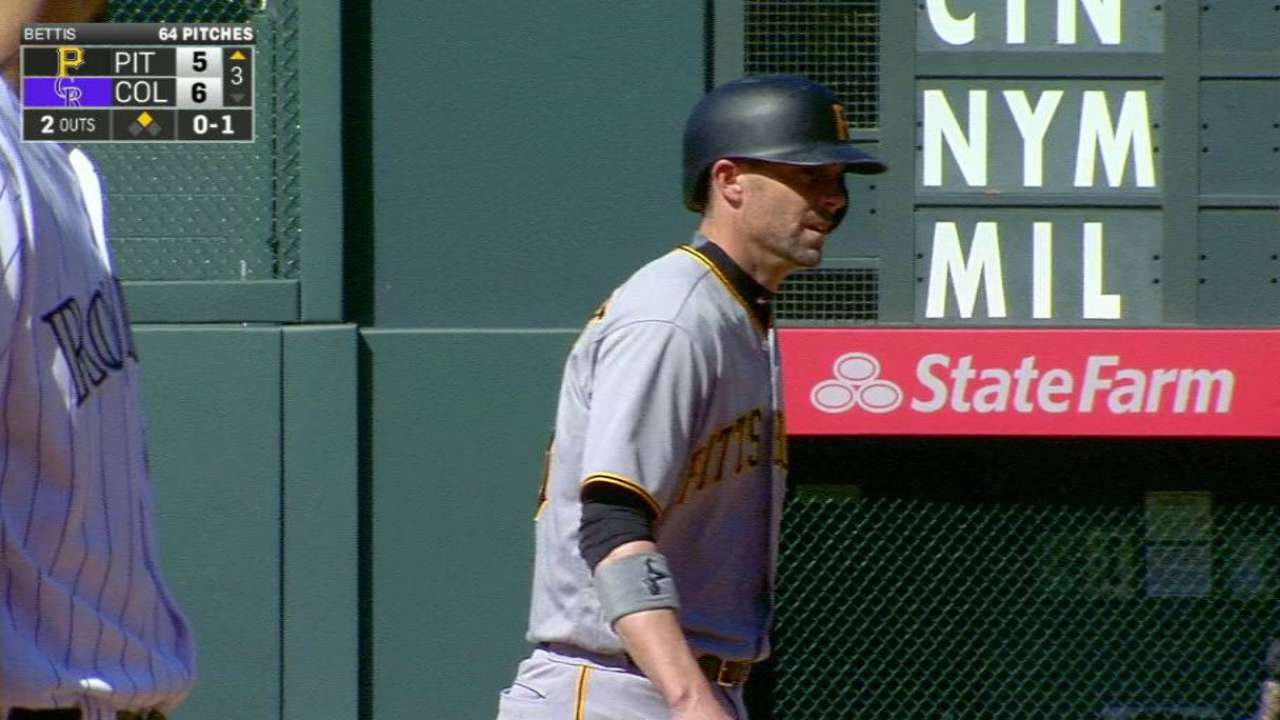 ST. LOUIS -- Dealing with degenerative "wear and tear" in his left knee, Pirates catcher Chris Stewart hopes to avoid surgery and play through the pain this season.
Stewart had an MRI exam on his knee after being placed on the 15-day disabled list Monday, head athletic trainer Todd Tomczyk said. The 34-year-old catcher had been slowed down for weeks by an achy knee, unable to play on a consistent basis.
"This most recent issue has caused us to take a little bit slower approach," Tomczyk said. "We're going to calm him down until after the All-Star break, we're going to reassess and then we're going to see if he can resume some baseball activities."
• Cast your Esurance Final Vote for Marte
Stewart's condition isn't necessarily a new injury, Tomczyk said, but a product of years spent crouching behind the plate.
"We feel that if he can't play through, surgery is an option," Tomczyk said. "We're trying to avoid that at all costs and postpone that until the end of the season."
Niese checks out
Left-hander Jonathon Niese left the team on Tuesday to have his left knee examined in Pittsburgh. Satisfied with the results of the exam, the Pirates still expect Niese to start Sunday at PNC Park.
"It showed what we expected," Tomczyk said. "Jon has had on-and-off left knee issues throughout his career. It's a very manageable issue right now."
Trainer's room
• Tomczyk reiterated what Jameson Taillon and manager Clint Hurdle said on Tuesday: Taillon was put on the disabled list with right shoulder fatigue as a proactive way to manage his innings and keep the right-hander healthy after two years spent recovering from injuries.
"This was about Jameson's future. This was about months and years, not days and weeks," Tomczyk said. "We feel this brief rest from competition will put him in a position to be successful in the second half."
• Gerrit Cole (right triceps strain) rejoined the club in St. Louis on Wednesday after making a rehab start with Triple-A Indianapolis on Tuesday night. Cole is expected to make another rehab start, likely on Sunday, after throwing a bullpen session Thursday.
• Ryan Vogelsong (multiple facial fractures) will also throw in the bullpen on Thursday. He is planning to come off the 60-day disabled list when eligible on July 23. To that end, he expects to begin a rehab assignment Sunday with Double-A Altoona.
• Catcher Francisco Cervelli (hamate bone surgery) will "increase the intensity of his swings" over the next few days, Tomczyk said, before the Pirates lay out a plan for the next phase of his recovery.
• Catching prospect Elias Diaz (right elbow surgery) remains on a rehab assignment with Class A Advanced Bradenton. He will work his way up to playing back-to-back games before catching a full nine innings.
Roster moves
• The Pirates optioned left-hander Steven Brault to Triple-A Indianapolis and called up reliever Kyle Lobstein on Wednesday. They will have to make another move on Thursday to make room for Tyler Glasnow.
• Catcher Jacob Stallings, designated for assignment on Tuesday, cleared waivers and was sent outright to Indianapolis.
Adam Berry has covered the Pirates for MLB.com since 2015. Follow him on Twitter at @adamdberry. This story was not subject to the approval of Major League Baseball or its clubs.