Robinson placed on DL with right ankle sprain
Switch-hitting Cunningham recalled from Triple-A
ST. PETERSBURG -- The Angels placed outfielder Shane Robinson on the 15-day disabled list with a sprained right ankle on Wednesday, calling up Todd Cunningham to take his place on the roster.
Robinson -- the starting left fielder against lefties and a late-game defensive replacement or pinch-runner -- took a fastball to his right foot in Tuesday's eventual 13-5 win over the Rays, then tweaked his ankle trying to retreat to first base coming off his secondary lead.
Robinson was batting .212/.325/.273 and the Angels don't know how long he'll be out.
"These things are tough to read," Angels manager Mike Scioscia said, "but obviously it's enough for the disabled list, so we'll just monitor it and see how much time it's going to take."
Cunningham, a switch-hitter, was batting .292/.387/.399 in 66 Triple-A games and is out of options, which means he'll have to clear waivers and accept an outright assignment in order for the Angels to eventually return him to the Minor Leagues.
Primary left fielder Daniel Nava also exited Tuesday's game early, getting removed in the middle of the sixth because of a flare-up of the tendinitis that plagued his left knee earlier this season.
Nava missed 18 games with patella tendinitis from April 15 to May 6, then another 28 because of a left groin strain from May 17 to June 17. But he believes his left knee has become manageable and said the flare-up was mainly a reaction to the unforgiving turf at Tropicana Field.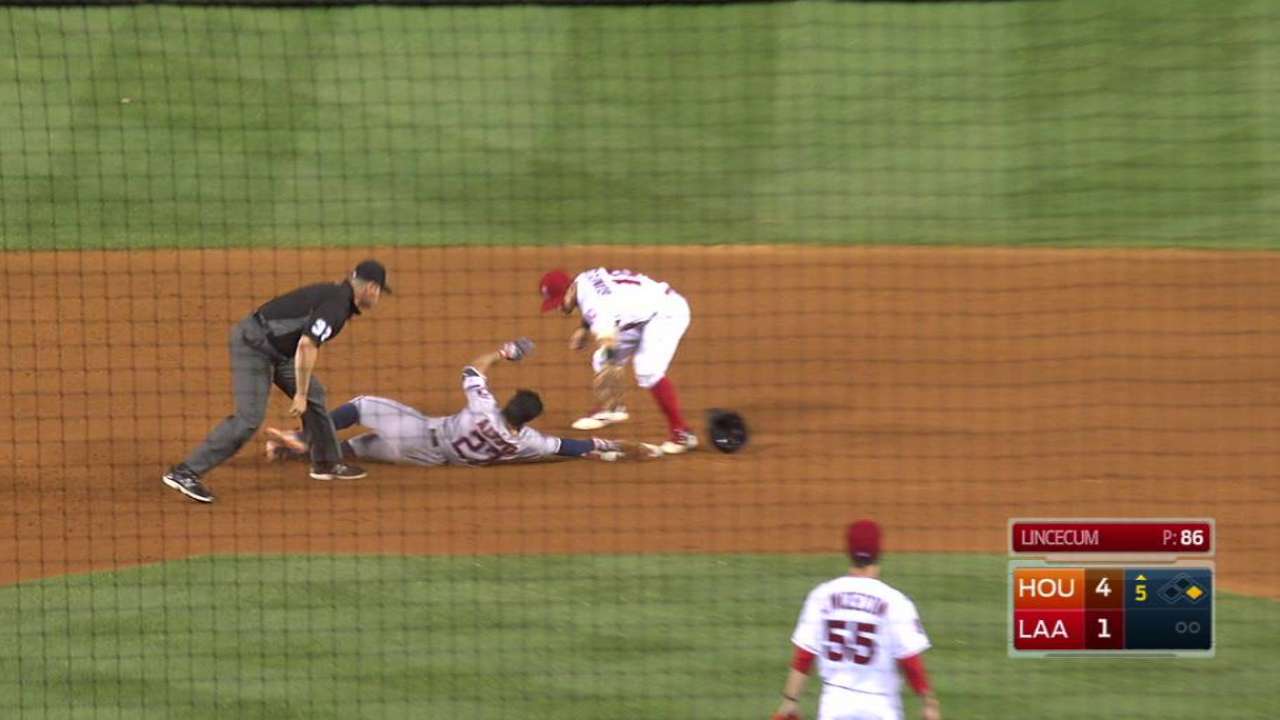 The Angels faced lefty Drew Smyly on Wednesday and then another lefty, Blake Snell, on Thursday, so Nava wouldn't have started anyway.
"I totally think it's manageable," Nava said. "If it wasn't manageable, I would not be active."
Worth noting
• Cory Rasmus, who has been on the disabled list twice because of a groin strain, will undergo surgery to repair a core injury in Philadelphia on Thursday. The surgery is similar to the one Rasmus had for a sports hernia last spring, but for a different side, Scioscia said. The initial timeline of last year's surgery was 6-8 weeks, but it wound up knocking him out for four months. Rasmus has a 5.40 ERA in 14 appearances.
• Scioscia said surgery "wasn't even discussed" with C.J. Wilson during Spring Training, when he first began having issues with his shoulder. Wilson said the surgery he will undergo -- tentatively next week -- carries a recovery time of three to four months, which means having it immediately could've allowed him to pitch this season.
"He felt so good in the offseason, felt so good in his preliminary bullpens that you really don't know if it's just a minor setback or something more serious," said Scioscia. "And actually, he got over that and got close to pitching. I think the course of action is correct. It just got to a point where he didn't feel it was anything he could maintain."
• Geovany Soto (right knee) and Cliff Pennington (left hamstring) remain on the mend. Pennington recently began running full speed, but Scioscia isn't sure when he'll begin a rehab assignment. Soto was scheduled to catch for Triple-A Salt Lake on Wednesday, after taking three days off due to soreness, and still has a chance to rejoin the team in Baltimore on Friday.
Alden Gonzalez has covered the Angels for MLB.com since 2012. Follow him on Twitter and Facebook, and listen to his podcast. This story was not subject to the approval of Major League Baseball or its clubs.