Sale in elite group with 5th straight ASG nod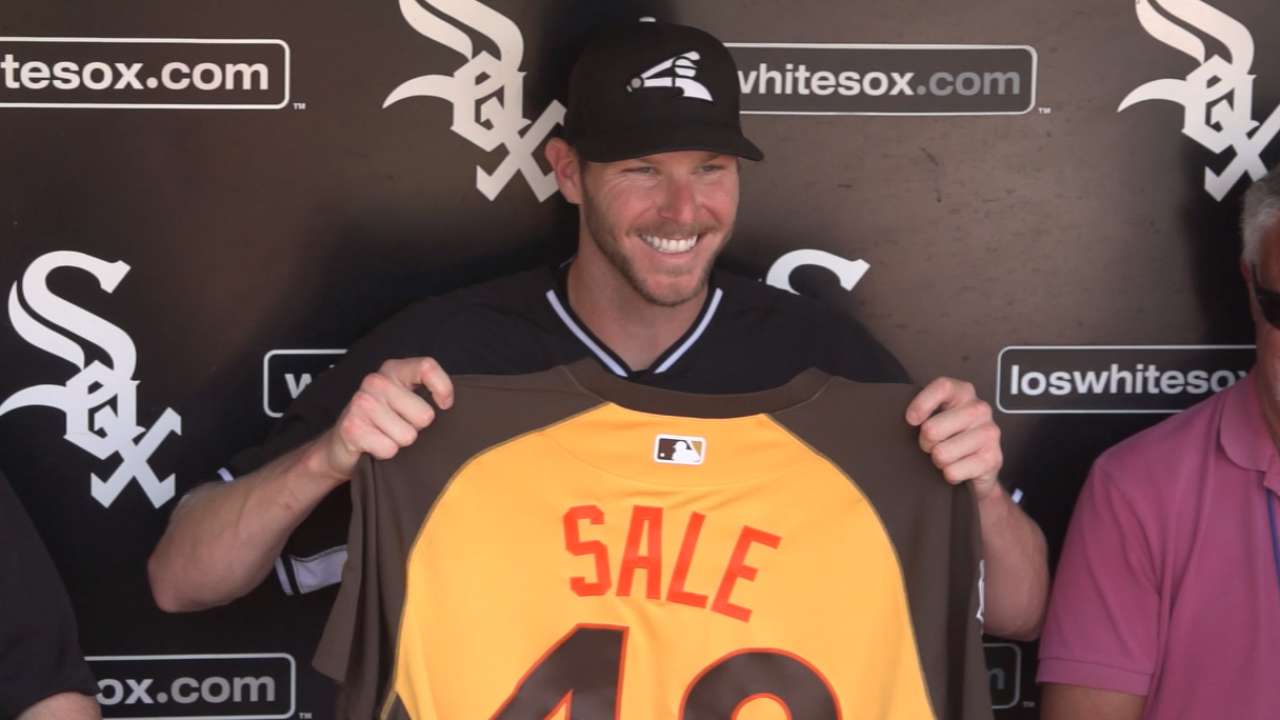 CHICAGO -- Chris Sale is thrilled to be an All-Star, whether it's his first selection or fifth straight, as is the case this season.
But this year's contest could have a little extra meaning for the lanky left-hander, who has a solid case to be chosen as the American League's starting pitcher for Tuesday's game at San Diego's Petco Park. Coverage begins at 6:30 p.m. CT on FOX.
"It would be awesome," said Sale prior to Wednesday's series finale with the Yankees. "I've always been there and seen the start of the game and just everything that goes into it. I would be thrilled to do that.
"I definitely appreciate this one as much as any. There's nothing like the first one. I truly believe that. But I'm definitely very appreciative of the time and what it is. It's a great time for everyone around Major League Baseball to get together and play a game. It's always fun. My family enjoys it. I enjoy having my family with me."
With a 14-2 record, 2.93 ERA and 0.983 WHIP, not to mention a 2.9 fWAR, Sale was as safe a bet as an All-Star selection as snow in Chicago in January. He plans on taking his parents, father-in-law, sister and son to celebrate being selected an All-Star in every year he has been a starter.
Sale joins left-hander Billy Pierce (1955-59) as the only pitchers in franchise history to make five straight AL All-Star teams. Per Elias, Frank Thomas (1993-97), Luis Aparicio (1958-62), Nellie Fox (1951- 61) and Pierce are the only other White Sox to be selected to five consecutive squads.
Clayton Kershaw (2011-16), Felix Hernandez (2011-15) and Justin Verlander (2009-13) are the other active pitchers to be selected to five consecutive All-Star teams. Lefty Gomez (7; 1933-39), Carl Hubbell (7; 1933-38), Sandy Koufax (6; 1961-66), Warren Spahn (6; 1949-54), Fernando Valenzuela (6; 1981-86), Lefty Grove (5; 1935-39), Kershaw and Pierce are the only other left-handers to be named to five straight.
"Those are things that I try not to pay too much attention to," Sale said. "I like to think I'm doing something right when I'm in the same sentence with those guys."
"He's a five-time All-Star, well deserved. I'm proud of him," White Sox pitching coach Don Cooper said. "I'd love to see him start the game; I'd love to see him only go one [inning] in the game."
Cooper is uncertain where Sale will be plugged into the rotation to begin the season's second half. Sale's first post-break start will be no earlier than the series finale in Anaheim on July 17, or it could come on the 18th or 19th in Seattle.
This year's transformation has painted Sale more as a mature pitcher rather than a hurler going max effort with every pitch. But when he takes the mound on July 12, against a National League lineup that will include five Cubs, "strikeout Sale" will return.
"I'm not going to reserve anything when I get in there," a smiling Sale said. "You've got a packed crowd, you're facing the best, so you better bring it."
"I've even asked him, 'What are you going to be going with?' And he said, 'I'm going to get after it,'" Cooper said. "Makes sense."
Fans can vote for the 2016 Esurance MLB All-Star Game Final Vote until 4 p.m. ET on Friday. The winners, as chosen exclusively by online fan voting totals, will be announced during a Final Vote-themed telecast of "MLB Now" featuring commentary from political analyst Jeff Greenfield, live on MLB Network and MLB.com from 4-5 p.m. ET. MLB Network will provide extensive coverage across all of its studio programming during the Final Vote, including interviews with the candidates, frequent updates, heat maps indicating the cities where votes are being cast for each candidate, news on player and club campaigns and a running countdown clock leading up to the announcement.
Baseball fans have cast nearly 600 million online votes for Final Vote candidates since the program's inception in 2002. In addition to MLB.com and the official club websites, fans can use their mobile devices to cast votes at MLB.com/vote or via text message. To receive the ballot, text the word "VOTE" to 89269. To vote for a specific player, fans can text their choice to 89269. EXAMPLE: Text "A3" to vote for AL Player 3 or "N3" to vote for NL Player 3. Message and data rates may apply. Text "STOP" to end and "HELP" for information. Mobile voting in Canada also is available and fans should text their choices to 101010.
For the fifth consecutive year, the Final Vote will include social balloting, as Twitter support for the 10 candidates over the last six hours of balloting will count toward their vote totals. From 10 a.m.-4 p.m. ET on Friday, any tweet that includes a designated player hashtag will be tabulated as part of the official vote total used to determine the winners.
On Tuesday, July 12, watch the 2016 All-Star Game presented by MasterCard live on FOX, and during the game visit MLB.com to submit your choice for the Ted Williams Most Valuable Player Award presented by Chevrolet via the 2016 MLB All-Star Game MVP Vote. The 87th All-Star Game, in San Diego, will be televised nationally by FOX, in Canada by Rogers Sportsnet and RDS, and worldwide by partners in more than 160 countries via MLB International's independent feed. ESPN Radio and ESPN Radio Deportes will provide national radio coverage of the All-Star Game. MLB.com, MLB Network and SiriusXM will also provide comprehensive All-Star Week coverage. For more information, please visit allstargame.com.
Scott Merkin has covered the White Sox for MLB.com since 2003. Read his blog, Merk's Works, follow him on Twitter @scottmerkin, on Facebook and listen to his podcast. This story was not subject to the approval of Major League Baseball or its clubs.