#VoteLongo needs rally in Final Vote stretch
Rays teaming with D-backs to push fellow third baseman Lamb; fans can show support on Twitter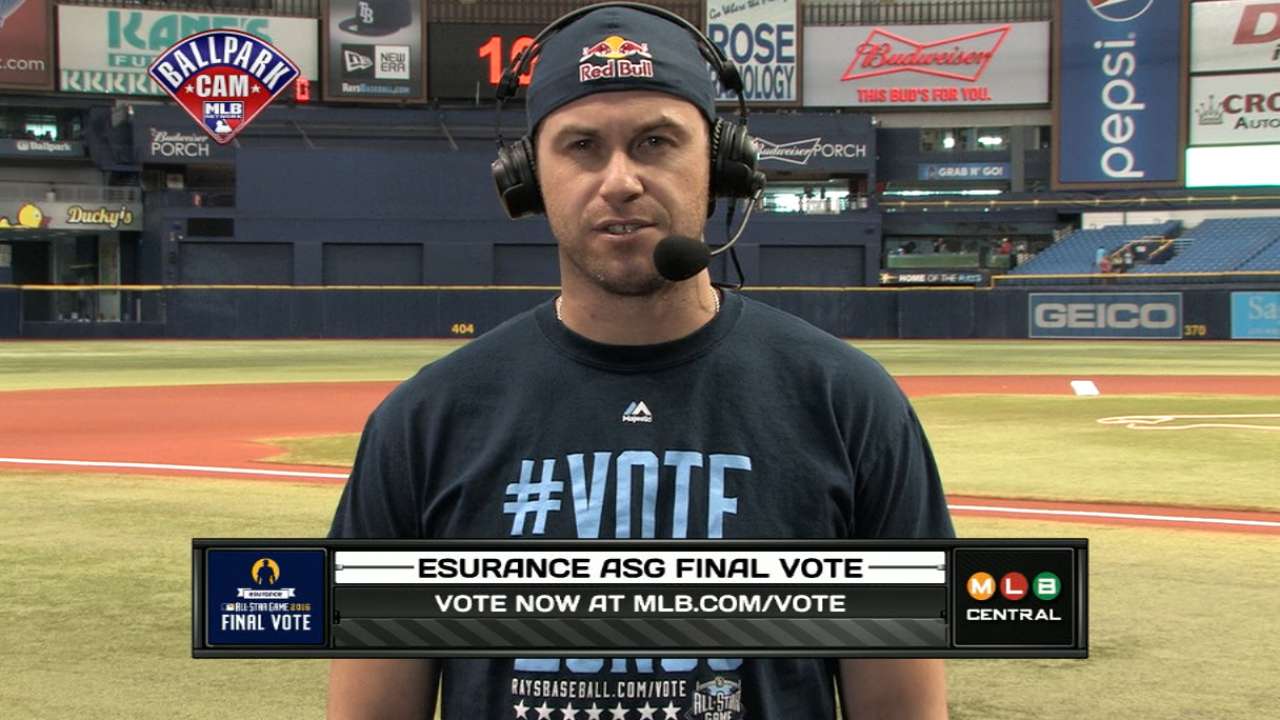 ST. PETERSBURG -- Evan Longoria is one of five American League players trying to reach the 2016 All-Star Game presented by MasterCard via the Esurance MLB All-Star Game Final Vote.
The Rays are promoting their third baseman with a #VoteLongoria T-shirt, with nearly every teammate having donned one around the clubhouse. Longoria has worn the shirt himself as well.
"This has been my home for nine years now, and the people here have been nothing short of family for me," Longoria said. "It's pretty cool to see them behind [me] and doing as much as they can to push the word out."
• Cast your Esurance Final Vote for Longoria
As the balloting stood on Friday morning, Longoria was fifth in the AL, with Toronto's Michael Saunders in the lead. Fans can cast their Final Vote ballots until 4 p.m. ET on Friday, and Twitter support now counts toward the tally.
On Wednesday night, Longoria went 3-for-4 and scored on a wild pitch in the eighth inning of a 7-2 loss by creatively avoiding a tag attempt by Angels catcher Jett Bandy. Longoria was initially called out, but the play was overturned on review. On Thursday, he slotted in at designated hitter and went 0-for-4 in a 5-1 loss to the Angels.
Though Longoria is doing well in Florida, much of the southern part of the state is monopolized by Pedroia. In Pinellas County, Fla., where the Rays play their home games, Longoria has amassed 92.3 percent of the vote. In Arizona, where the D-backs and Rays have teamed up for a Twitter campaign, Pedroia is still doing best among AL candidates.
Still, Longoria is making contingency plans if he's the one picked on Friday when the voting closes at 4 p.m. ET. The only thing that concerns him is finding someone to watch his family's dogs.
And the Rays will continue to do everything they can to get the word out. In addition to the shirts, which Tampa Bay manager Kevin Cash wore in front of television cameras on Wednesday, the Rays' Twitter account renamed itself #VoteLongo and partnered with the Arizona account to promote Longoria and D-backs third baseman Jake Lamb.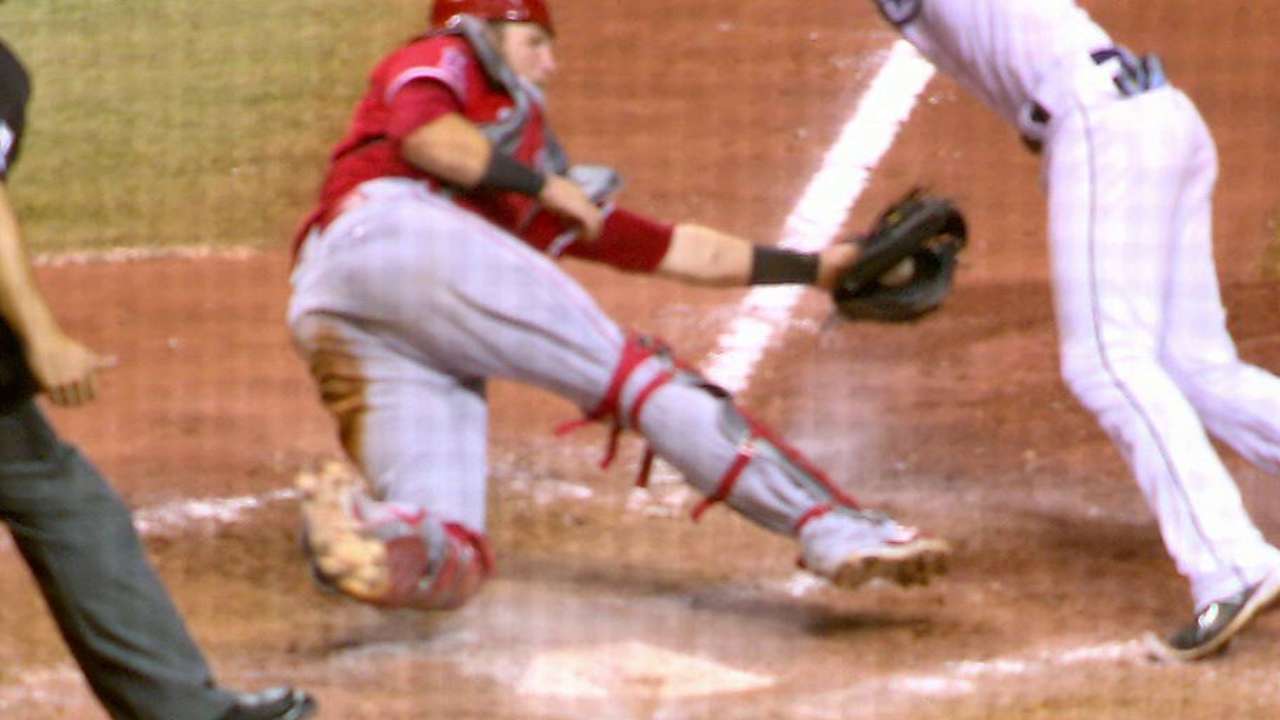 "I think there's a lot of people that are working really hard," Cash said. "Our entire PR department is really busting it for Evan Longoria. This is one thing that we can do to get out there and take batting practice and hopefully some cameras and fans see us in these shirts.
"It's an honor for Evan to be in that final five, but we want to do our part and get him to the All-Star Game."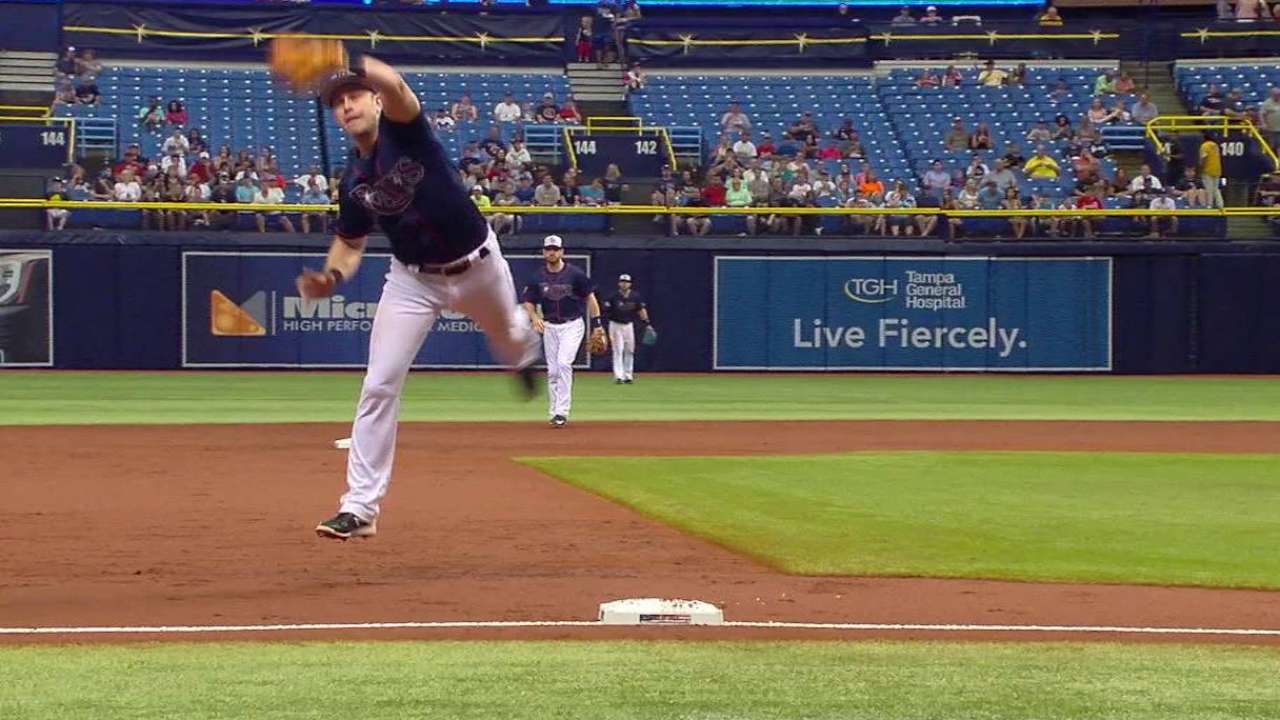 Fans can vote for the 2016 Esurance MLB All-Star Game Final Vote until 4 p.m. ET on Friday. The winners, as chosen exclusively by online fan voting totals, will be announced during a Final Vote-themed telecast of "MLB Now" featuring commentary from political analyst Jeff Greenfield, live on MLB Network and MLB.com from 4-5 p.m. ET. MLB Network will provide extensive coverage across all of its studio programming during the Final Vote, including interviews with the candidates, frequent updates, heat maps indicating the cities where votes are being cast for each candidate, news on player and club campaigns and a running countdown clock leading up to the announcement.
Baseball fans have cast nearly 600 million online votes for Final Vote candidates since the program's inception in 2002. In addition to MLB.com and the official club websites, fans can use their mobile devices to cast votes at MLB.com/vote or via text message. To receive the ballot, text the word "VOTE" to 89269. To vote for a specific player, fans can text their choice to 89269. EXAMPLE: Text "A3" to vote for AL Player 3 or "N3" to vote for NL Player 3. Message and data rates may apply. Text "STOP" to end and "HELP" for information. Mobile voting in Canada also is available and fans should text their choices to 101010.
For the fifth consecutive year, the Final Vote will include social balloting, as Twitter support for the 10 candidates over the last six hours of balloting will count toward their vote totals. From 10 a.m.-4 p.m. ET on Friday, any tweet that includes a designated player hashtag will be tabulated as part of the official vote total used to determine the winners.
On Tuesday, watch the 2016 All-Star Game presented by MasterCard live on FOX, and during the game visit MLB.com to submit your choice for the Ted Williams Most Valuable Player Award presented by Chevrolet via the 2016 MLB All-Star Game MVP Vote. The 87th All-Star Game, in San Diego, will be televised nationally by FOX, in Canada by Rogers Sportsnet and RDS, and worldwide by partners in more than 160 countries via MLB International's independent feed. ESPN Radio and ESPN Radio Deportes will provide national radio coverage of the All-Star Game. MLB.com, MLB Network and SiriusXM will also provide comprehensive All-Star Week coverage. For more information, please visit allstargame.com.
Sam Blum is a reporter for MLB.com based in St. Petersburg. This story was not subject to the approval of Major League Baseball or its clubs.