Santana impresses with sizzling start
With trade rumors swirling, righty throws 2-hit shutout vs. A's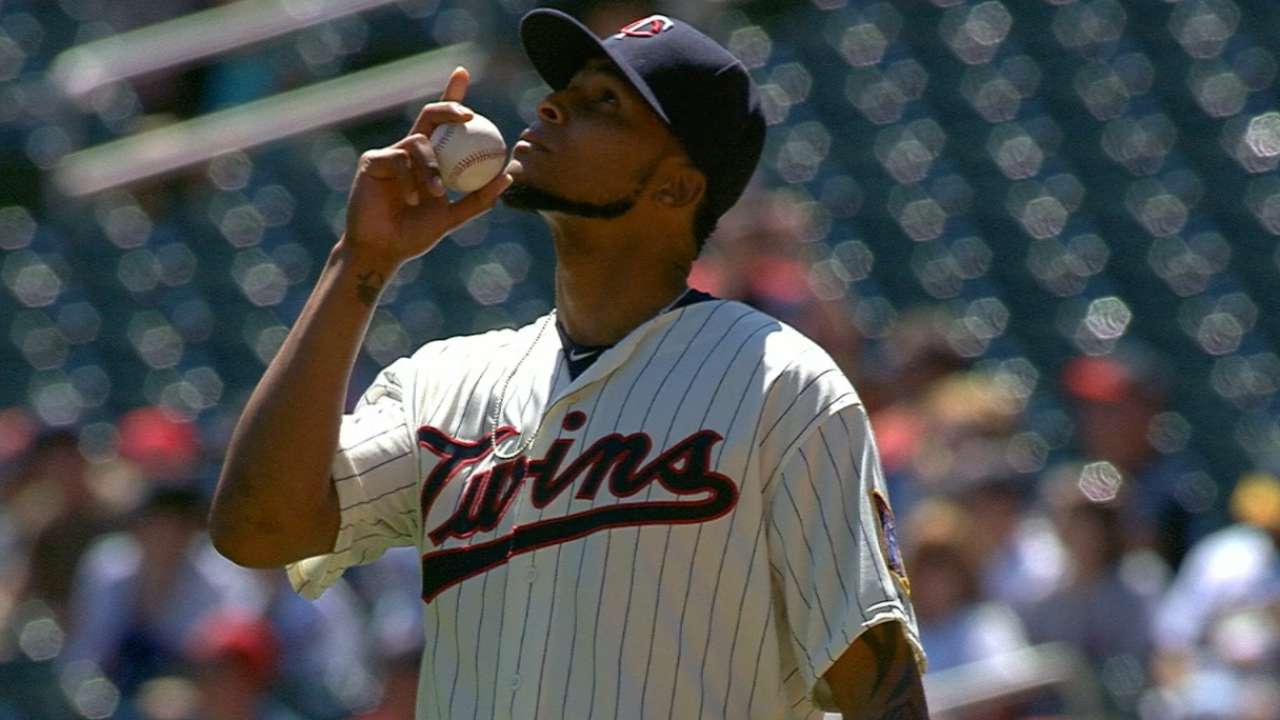 MINNEAPOLIS -- With trade murmurs surrounding Twins ace Ervin Santana starting to mount, several scouts were on hand at Target Field on Wednesday afternoon to evaluate the right-hander. He certainly gave them a lot to think about.
Santana only needed 100 pitches to navigate a two-hit shutout against the A's in a 4-0 Twins victory. He faced one batter over the minimum and retired his first 14 batters before finally yielding a hit, a fifth-inning double to Billy Butler.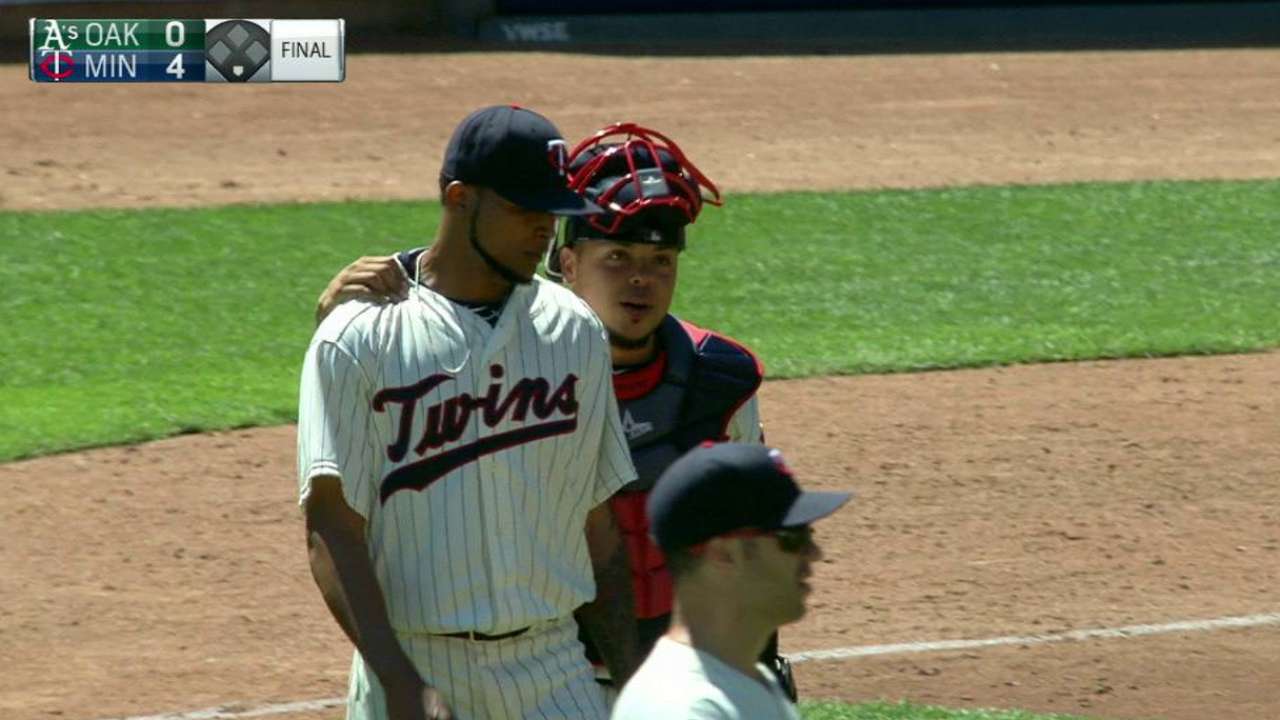 "You can't say enough about how Ervin threw the ball," Twins manager Paul Molitor said. "I thought he had a lot of trust in all of his pitches, he threw the slider early for strikes and he put a little more bite on it when he wanted to get a chase pitch. He was in control."
Santana struck out a season-high eight and didn't issue a walk in his first complete game and shutout since giving up two hits on June 16, 2012, when he was still with the Angels. It was the first complete-game shutout thrown by a Twins pitcher since Andrew Albers did it on Aug. 12, 2013.
According to Santana, the thought of a no-hitter or a shutout didn't even cross his mind when he was on the mound.
"Not at all," Santana said. "You never know against a team like that who's swinging, so I'm just trying to be patient and take it one pitch at a time. Everything was working very good, and I was on the same page with [catcher Juan] Centeno the whole game."
The veteran right-hander felt that his command was particularly strong on Wednesday, especially when behind in counts. And even in the 12th season of his Major League career, Santana is still finding ways to learn on the job, as he experimented with a new grip on his two-seamer that gave the pitch a little more bite.
"He didn't throw fastballs up in the zone, for one," said A's catcher Stephen Vogt, who singled in the eighth. "He was locating his fastball down at the knees and working his offspeed. When a pitcher has his stuff and you don't have very consistent at-bats against him, it's going to b very hard to win. He was very, very good today."
Although there was some concern from Molitor and the Twins' coaching staff about Santana's pitch count, especially coming off a season-high 117 pitches in his last start, his efficiency throughout the game essentially made it a non-factor.
"After about the sixth inning, I kept checking in, and he was good," Molitor said. "I didn't even want to get anybody up until I got a baserunner there in the ninth. He eliminated that problem as well. Just a dominant start by him."
Not only was Santana able to shut out the A's, but he was also able to shut out the trade rumors that are getting hotter by the minute following his fourth consecutive strong start.
"If you think about that, you're not going to do your job, so I just tried to stay out there and do my thing," Santana said. "That's why I don't read the newspaper or anything like that -- because I don't want to think about it. I just want to take it one day at a time."
Do-Hyoung Park is a reporter for MLB.com based in Minneapolis. This story was not subject to the approval of Major League Baseball or its clubs.