Cards' Pena hits DL; club brings up Rosario
ST. LOUIS -- Again bothered by discomfort in his left knee, catcher Brayan Pena returned to the 15-day disabled list on Wednesday, eight days after being activated from it. Taking his place on the Cardinals' roster will be catcher Alberto Rosario, whose contract was purchased from Triple-A Memphis.
The same knee that Pena had surgically repaired in April gave him problems on Tuesday, when Pena was making his second start of the season. He described feeling a "pop" while trying to block Mike Leake's sixth-inning pitch to Andrew McCutchen, which got past him for a passed ball. Pena later labored to make a throw to second base on a stolen-base attempt.
After the Cardinals' 5-2 loss to the Pirates, Pena alerted manager Mike Matheny to the discomfort. The Cardinals diagnosed Pena with left knee inflammation, though as of Wednesday afternoon they had not sent Pena out for another MRI exam.
"I tried to fight it and do everything it takes to get back," said Pena, who before this season hadn't been on the DL since 2008. "But at the same time, I'm not there. I realized that it was time for me to be put on hold and get back to zero and build from there. I'm very sad because I worked very hard to get back."
Pena said he plans to shut down for the next two weeks, after which time he will be reevaluated by the medical staff. Under that timetable, it's unlikely Pena would be back before at least August.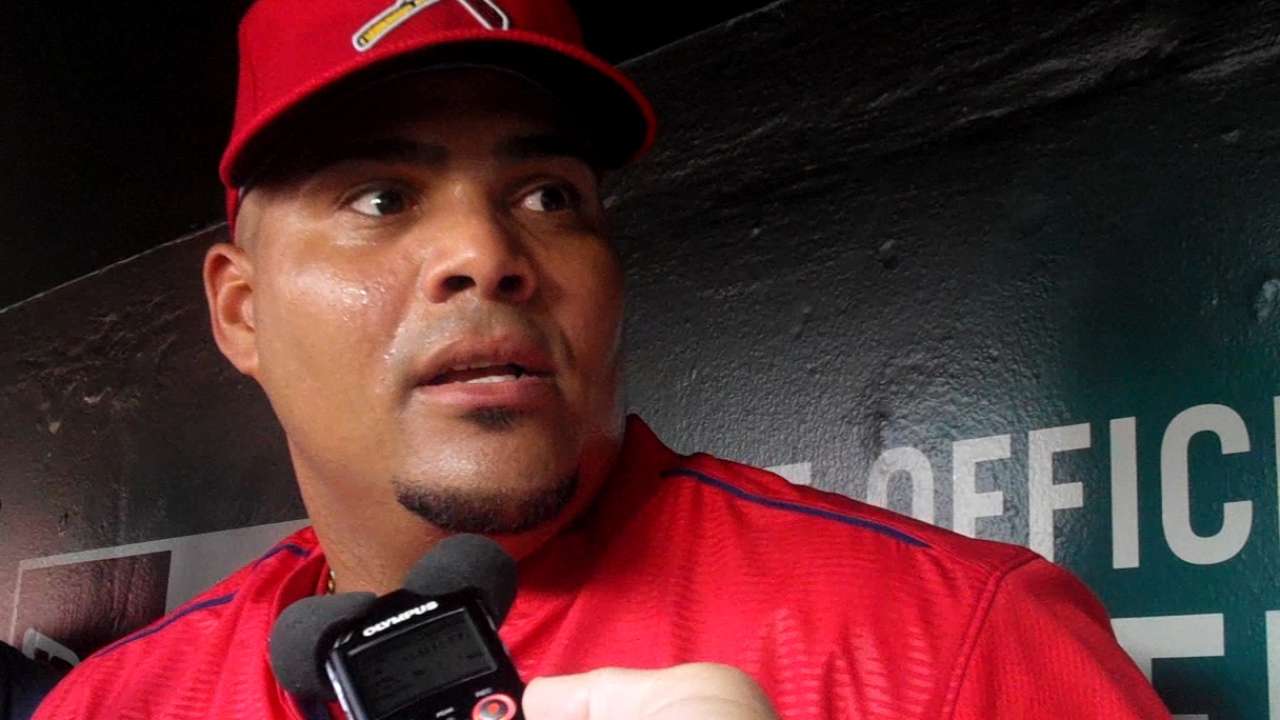 "I could see something wasn't feeling quite right," Matheny said. "The doctors are going to figure out what's the root cause here of the weakness and why he's not able to move like he needs to move. The goal is to get back to be able to do what he needs to do behind the plate. "
Pena missed 75 games while rehabbing from knee surgery, which became necessary after he injured himself slipping in a Spring Training dugout. He played 14 rehab games without issue before the Cardinals added him back onto their active roster.
To do so, the Cardinals cleared a spot by designating catcher Eric Fryer for assignment. Fryer was then claimed by the Pirates, which meant the Cardinals had to find a different replacement for Pena this time. And so they turn to Rosario, who spent 11 years in the Minors awaiting this first call-up.
Rosario, 29, was expected to arrive at Busch Stadium in time to be available for Wednesday's game. He hit .281/.333/.325 in 39 Triple-A games, but caught the organization's eye more for his defensive ability.
"That's a position where we put a high premium on the ability to catch and throw and handle the staff," Matheny said. "He's been having a good year offensively, so it will be a good opportunity for him to come in and help us out."
Worth noting
• With Brandon Moss on the 15-day disabled list until at least July 20, the Cardinals will consider using Matt Holliday at first base again from time to time. Moving Holliday to first could create starting opportunities for Randal Grichuk, Tommy Pham and Kolten Wong.
• Outfielder Harrison Bader, who had a standout first half with Double-A Springfield, was promoted to Triple-A on Wednesday. Bader, a third-round pick in the 2015 MLB Draft and the organization's 10th-ranked prospect on MLB Pipeline, hit .286 with 15 homers and a .491 slugging percentage in 73 games with Springfield.
Jenifer Langosch has covered the Cardinals for MLB.com since 2012, and previously covered the Pirates from 2007-11. Read her blog, follow her on Twitter, like her Facebook page and listen to her podcast. This story was not subject to the approval of Major League Baseball or its clubs.