MLB.com Columnist
Barry M. Bloom
Mr. Padre's midsummer legacy
Tony Gwynn cherished his status as a 15-time San Diego All-Star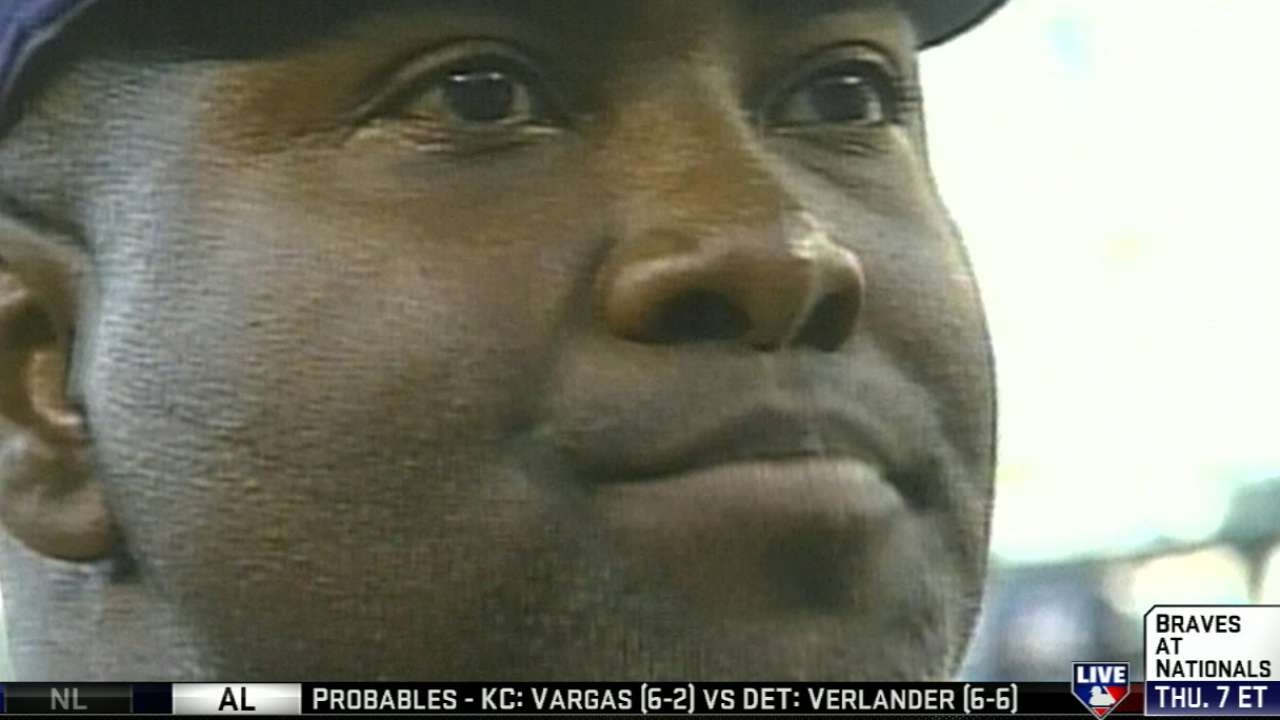 The late Tony Gwynn was named to National League All-Star teams 15 times during his 20-year Hall-of-Fame career, all of them with the Padres. But his absolute favorite was the 1992 contest played in San Diego at what was then called San Diego Jack Murphy Stadium in Mission Valley.
"I wanted to be the leader of the Padres contingent in our ballpark," Gwynn said years later. "It became all the more important when I heard that Ted [Williams] was going to be in attendance. I made sure I made it to the ballpark extra early for that Monday workout the day before the big game."
For Gwynn, the game wasn't the most memorable part of what was then a two-day festival of MLB's greatest stars; tops on his agenda was a highly anticipated meeting with San Diego son Williams the day before the main event. No. 19 didn't know it at the time, but his relationship with the Boston Red Sox legend would have a profound effect on the second half of his career and the last four of his eight NL batting titles, a record that he shares with Hall of Fame outfielder Honus Wagner.
Gwynn may have a street named for him outside Petco Park -- the ballpark's address is 19 Tony Gwynn Way -- and his statue stands beyond the center field fence in the Park at the Park, but he never played a game downtown. His career ended in 2001, three years before Petco opened. Instead, right field at The Murph, about nine miles inland of Petco, was Mr. Padre's home, and he won five Gold Gloves during his tenure there. He also swatted 3,141 career hits -- 2,378 of them singles -- from the time he came up on July 19, 1982, until he retired on Oct. 7, 2001. Gwynn played both the first and last games of his career in his own yard.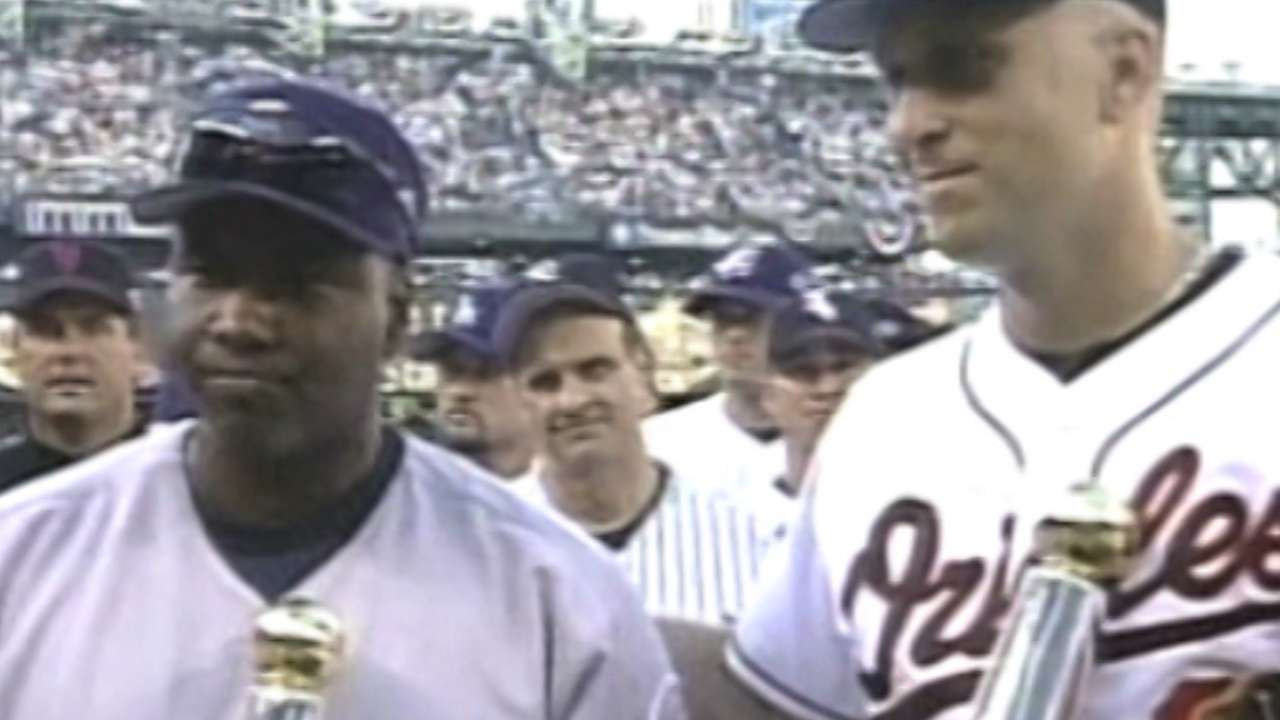 A Los Angeles native who was raised in Long Beach, Calif., Gwynn met his future wife, Alicia, in high school. He starred on the baseball diamond and the basketball court at San Diego State, beginning his reign in America's Finest City. Almost half of his Major League hits -- 1,544, to be exact -- were collected at The Murph.
But never was Gwynn prouder than on July 14, 1992, the day the stars gathered in San Diego for the second time. The first All-Star Game came to town in 1978, just when the youthful Gwynn embarked on San Diego's collegiate scene and long after he and his brothers frequented Dodgers games with their dad, sitting in the outfield pavilion. "We were regulars at Dodger Stadium," he said. "We watched everything, and that's how we learned."
Gwynn was one of three Friars in the starting lineup that day. He batted second, ahead of his close friend and soon-to-be division rival, Barry Bonds. Padres first baseman Fred McGriff hit behind Bonds, while catcher Benito Santiago hit eighth. Third baseman Gary Sheffield and shortstop Tony Fernandez started the game on the bench but each had two at-bats.
"I was thrilled to be playing in my home ballpark surrounded by our own San Diego fans," Gwynn said. "I worked hard to make that National League All-Star team."
Aside from the setting, the game was largely forgettable for Gwynn, as he went 0 for 2 with a walk. In fact, his .241 All-Star Game batting average was a far cry from his career mark of .338, the highest of anyone since Williams retired at .344 in 1960.
But Gwynn quickly made up for his hitless showing during the 1994 All-Star Game at Three Rivers Stadium in Pittsburgh. That Midsummer Classic came during his best season at the plate, as he was hitting .394 and poised to make a run at becoming the first .400 hitter since Williams hit .406 in 1941, when a players' strike ended the season in August. Just before the premature conclusion, Gwynn played all 10 innings of the NL's 8-7 win, going 2 for 5, knocking in two runs and scoring twice, including the game-winning run.
In the bottom of the 10th, Gwynn, who had an RBI double against David Cone earlier in that game, led off with one of his patented singles. Moises Alou was the next hitter, and Gwynn planned to end the game if Alou came through. Sure enough, Alou doubled into the left-center-field gap, and the ball skipped along the artificial turf and to the fence. Gwynn never stopped running, barely beating the relay throw from shortstop Cal Ripken Jr. and sliding just under the tag of catcher Ivan Rodriguez.
Before Gwynn became Mr. Padre, Williams was the original Mr. San Diego. He grew up in town, attended Hoover High School and even played the 1936-37 seasons for the Pacific Coast League Padres. From there, the spindly-legged kid attracted the attention of the Red Sox, for whom he played through 1960. In 1992 at The Murph, Williams' and Gwynn's paths first converged.
Gwynn spied Williams standing near the third base coach's box and shyly went over to introduce himself. The Splendid Splinter responded with a request to look at Gwynn's bat. Gwynn preferred to use a lighter, shorter bat at that point in his career, and Williams, who wielded a longer and heavier model during his playing days, poked some fun at him for it.
"I can't argue with the success you've had, but we used to pick our teeth with these," Williams said.
Gwynn, who was suffering through what would become a four-year drought after his first four batting titles, switched to a longer bat in 1993 to give himself better plate coverage. A year after his lumber conversion, Gwynn went on another tear, winning four more consecutive batting titles from 1994-97.
"Williams made me rethink my approach, and that was just the beginning," Gwynn said. "Ted definitely turned me into a better hitter. I've credited his philosophy for helping me hit that home run in the '98 World Series [in Game 1 at Yankee Stadium]. He made me realize that I had to turn on pitches on the inside corner."
But it wasn't until the winter of '94 that he learned another lesson from MLB's batting average king. It happened during an induction into the Hitters' Hall of Fame in Florida, which Williams founded. Gwynn was invited to take part in a panel discussion with Williams, who knew that Gwynn feasted on pitches out and over the plate, which he would deposit into the 5.5 hole -- the gap between the third baseman and shortstop on the left side of the infield. In fact, Gwynn made so much of a living smacking the ball there that he had those numerals inscribed on the tongues of his cleats. As only Williams could do, though, he challenged Gwynn that day to pull the ball and hit for more power.
"Let me tell you, son, when pitchers throw inside, Major League Baseball history is made -- it's made on that pitch," Williams told Gwynn.
Gwynn took the advice to heart. From 1997-99, he hit 43 of his career 136 homers. In '97 alone, he had careers highs of 17 HR and 119 RBI, the latter a record for a player who had not tallied as many before age 37.
By 1999, knee injuries were taking a toll on Gwynn's career. His final All-Star appearance came at Fenway Park that year but, once again, his greatest moment had little to do with the game.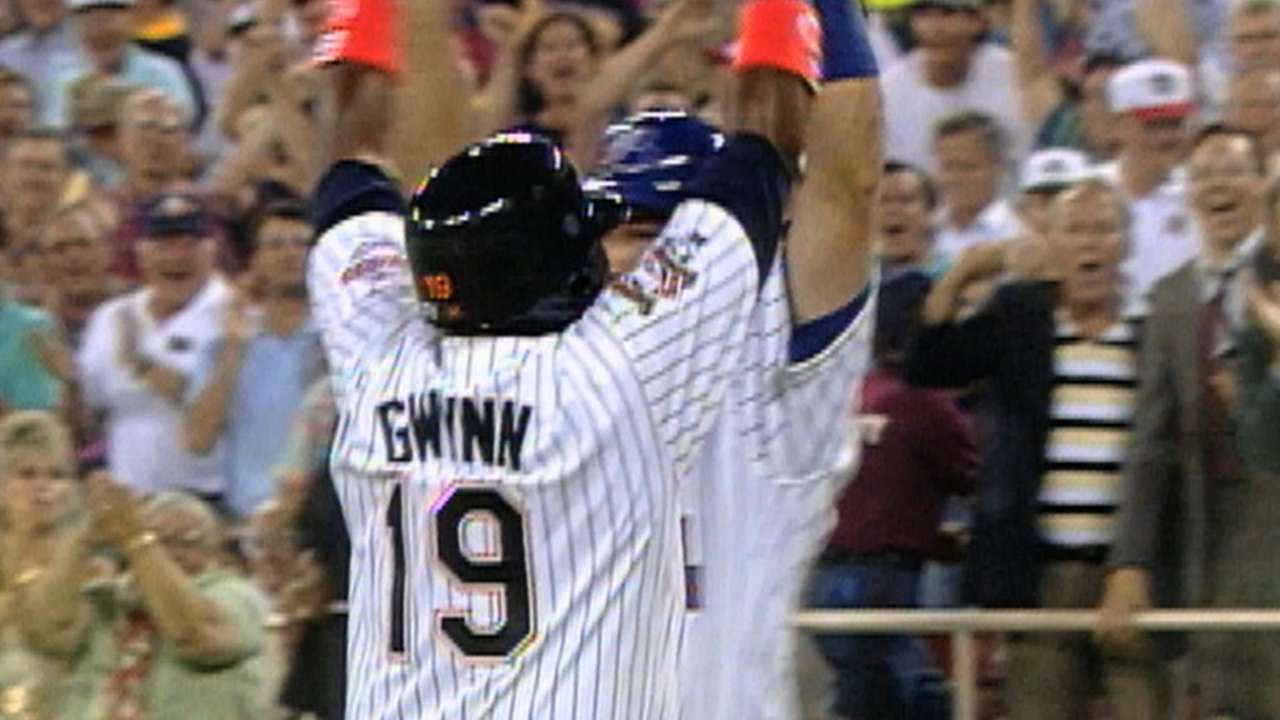 Three years before Williams' death, he suffered a stroke, but he was still the centerpiece of the pregame ceremonies on July 13. "Eighty years old, he was wheeled onto the field in a golf cart, as 35,000 stood and a nation watched," described columnist Dan Shaughnessy of The Boston Globe. "At the mound, he was surrounded by both 1999 All-Star teams and ... Baseball's All-Century Team. It remains the greatest assemblage of baseball talent in one place."
And among those stars was Gwynn, whom Williams had asked to help him throw out the ceremonial first pitch. "It was stunning and deeply moving," Gwynn recalled. "This was his deal -- his day."
Gwynn had been voted to the NL team by fans, but was nursing a calf injury and didn't play. Later that year, though, he put an exclamation point on his career by collecting his 3,000th hit. "Getting 3,000 validates everything else I've done," he said. "[I'm] not a home run hitter or RBI guy. I do the same things I've always done.
"Hitters have to make adjustments every time they go up there. Good hitters can do it on every pitch."
And Gwynn, certainly, did it best.
This article appears in the MLB Official All-Star Game Program. Click here to purchase a copy, and read more features on allstargame.com.
Barry M. Bloom is a national reporter for MLB.com. He's covered the Padres since 1976, including the first two All-Star Games in San Diego. This story was not subject to the approval of Major League Baseball or its clubs.