Rangers recall Hoying, place Holaday on DL
Catcher sidelined after aggravating thumb injury while preparing to pitch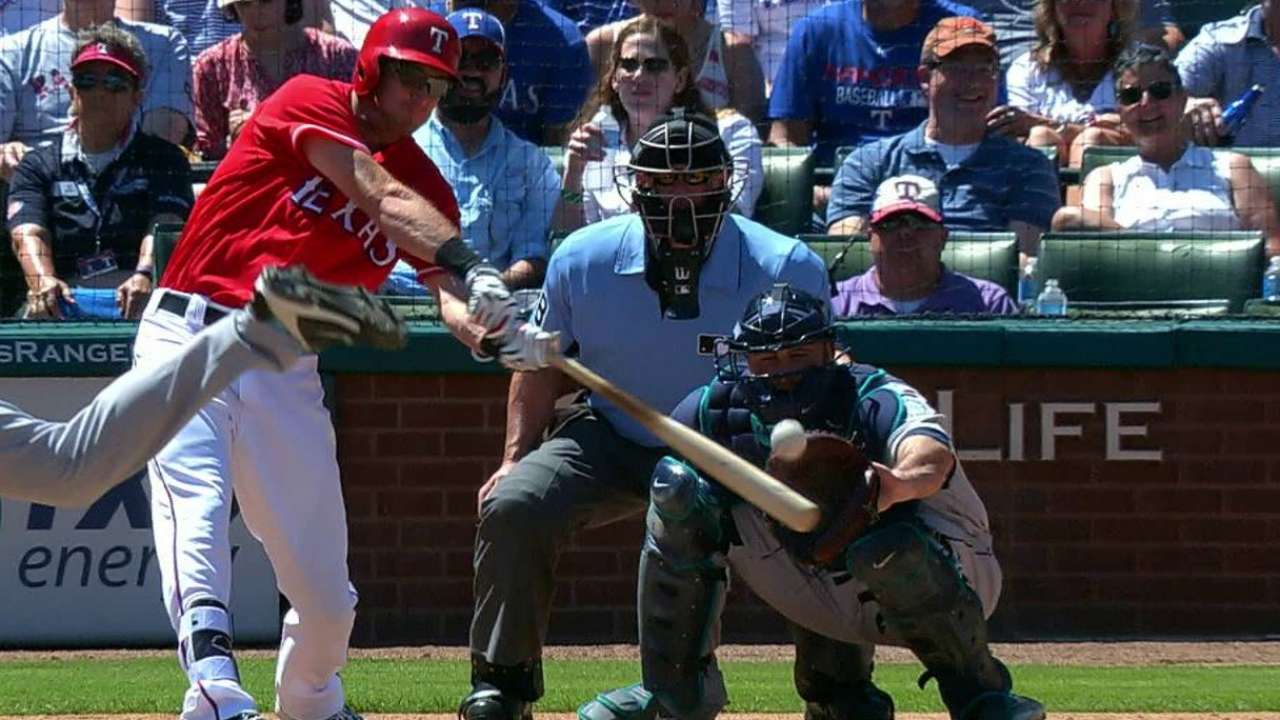 BOSTON -- The Rangers recalled outfielder Jared Hoying from Triple-A Round Rock on Wednesday to fill the roster spot of catcher Bryan Holaday, who was placed on the 15-day disabled list, retroactive to Tuesday, with a bruised left thumb. Lefty Michael Roth, who was designated for assignment on Tuesday, cleared waivers and was optioned to Round Rock.
Hoying led the Express with 68 hits and 43 RBIs and was second on the team with 37 runs and 14 stolen bases. The 27-year-old is up for his second stint in the Major Leagues, having gone 5-for-23 (.217) from May 23-June 11.
"Hoying is a guy that can play multiple spots in the outfield for us; having three catchers was a luxury," Rangers manager Jeff Banister said.
Holaday aggravated the thumb injury in the bullpen before the Rangers' 17-5 loss to Minnesota on Saturday, during which he made his first career pitching appearance. Holaday worked 1 1/3 innings, retiring all four batters he faced.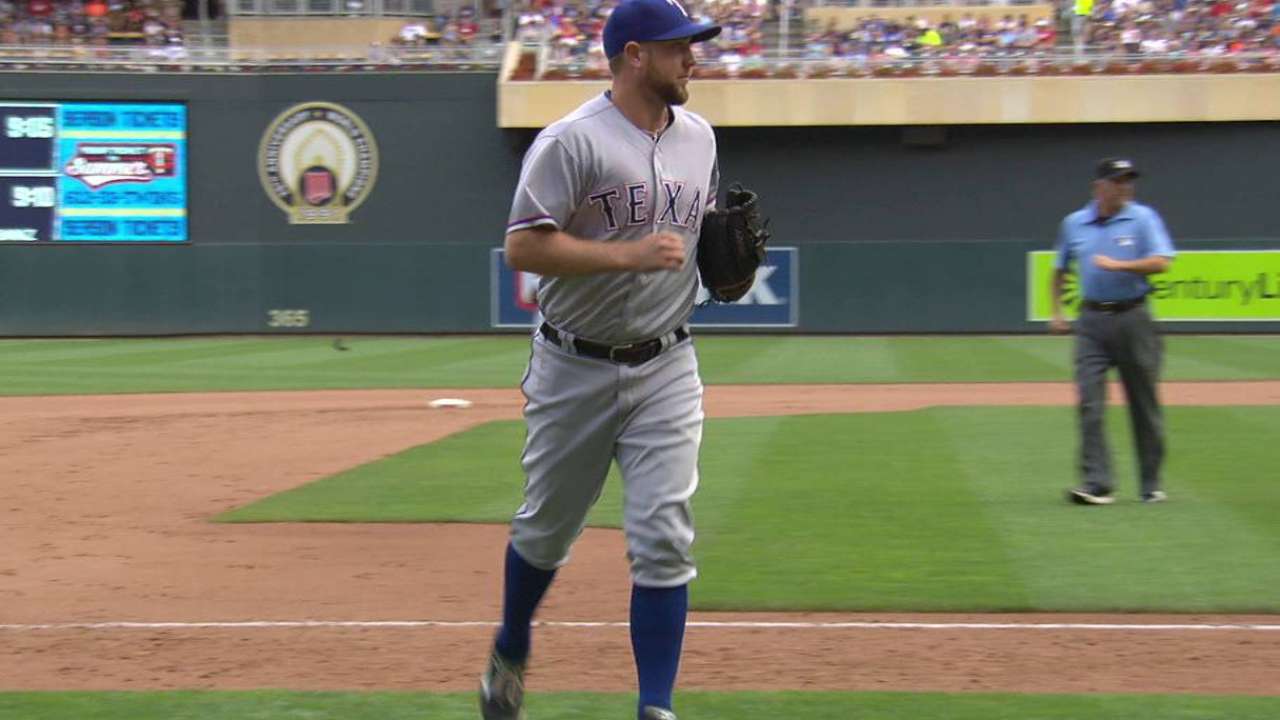 "It's been a little sore," Banister said of Holaday's thumb. "It's been quite a while since he's caught."
Roth made one appearance for Texas since joining the club on Sunday, allowing six runs on 10 hits in 3 2/3 innings in Monday's 12-5 loss to the Red Sox. Banister said Roth's line doesn't do his talent justice, as the reliever gave the taxed bullpen an opportunity to rest.
Worth noting
• Outfielder Shin-Soo Choo is day to day after exiting Tuesday night's 7-2 win with stiffness in his lower back. Choo was ready to return to the lineup on Wednesday, but the club preferred to play it safe.
"[Choo] went down and swung the bat today, seemed to feel a lot better," Banister said. "He came back and said he could go today. I just felt that it was necessary to be cautious with him because we have missed so much time with him. I don't want this to be something that could linger."
• First baseman Mitch Moreland continues to battle right calf tightness.
"Progressively, he's getting better," Banister said. "I know that his balance, his lower half, is such a key for him -- and his swing and his power. If he's sore, favors it one way or the other, gets multiple at-bats, it may put him out of that good hitting rhythm. I'd much rather be cautious with him also."
• Left-hander Cole Hamels is slated to start on Friday against Minnesota, but Saturday's starter is to be determined. Right-hander Nick Martinez is likely to get the nod.
Deesha Thosar is a reporter for MLB.com based in Boston. This story was not subject to the approval of Major League Baseball or its clubs.