Snitker pleased with Jenkins in 1st MLB start
Rookie to return to bullpen after allowing one run over 4 2/3 innings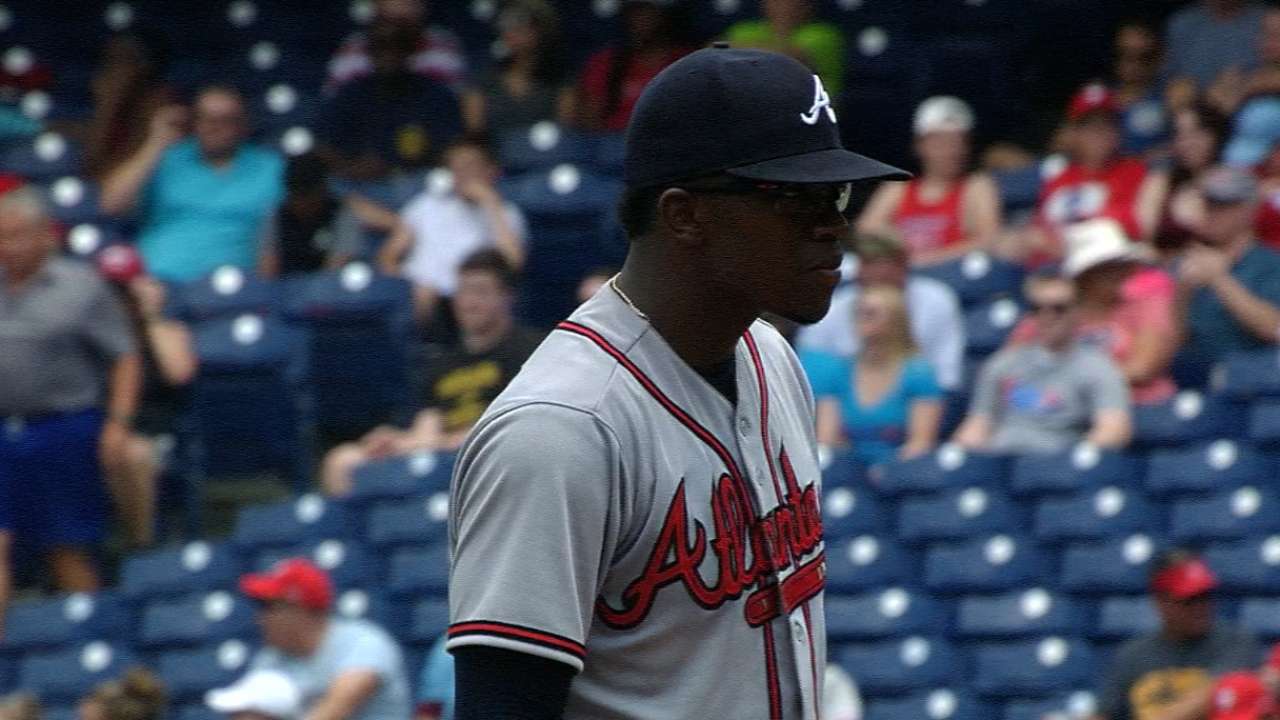 PHILADELPHIA -- Brian Snitker got exactly what he asked of Tyrell Jenkins in his first Major League start. Nothing more. Nothing less. But enough.
"I'm not looking for you to go nine innings," the manager said he told Jenkins before his start in the Braves' 4-3 loss to the Phillies on Wednesday. "Just go as hard as you can for as long as you can."
And he did. So much so that Snitker thought his starter was gassed even heading out for the fifth. So when he got into a jam with a runner on third in the fifth, Snitker opted for the 'pen.
But for 4 2/3 innings, the 23-year-old Jenkins pitched with poise, not allowing a run to score while he was on the mound. (Reliever Ian Krol let an inherited runner score for the one earned run on Jenkins' line.)
"At first I was just trying to get my mechanics in line," Jenkins said. "But once I settled in and I felt what I thought was natural, the ball came out better. In the fourth and fifth, I wasn't really tired, but I could feel my arm getting a little heavy."
Jenkins, the Braves' No. 7 prospect according to MLBPipeline.com, became the fourth Atlanta pitcher to make his first Major League start this season, joining Aaron Blair, Joel De La Cruz and John Gant. Blair gave up three runs over 5 1/3. De La Cruz did the same over six. And Gant joined Jenkins as the two not to make it out of the fifth, giving up three runs (two earned) over 4 1/3.
Blair is now in Triple-A. De La Cruz just made his second start on Monday, allowing seven runs (four earned) in six innings in a loss to the Phillies. Gant remained in the rotation but joined a pair of other Braves pitchers on the disabled list last week.
Although Snitker pulled him an out away from potentially being in line for his first career win, he believes Jenkins has plenty in front of him -- eventually as a starter.
"He's going to have a chance to get a lot of wins in his career," Snitker said. "But he did a great job stretching the game that far. I kind of felt it would be unfair to him in that last matchup when he was on his last legs."
So he pulled Jenkins after his 64th pitch, in favor of the lefty Krol to face the left-handed hitting Odubel Herrera. The newly-minted All-Star ripped a double that scored Cesar Hernandez from third.
A spot starter whose fastball "didn't have as much life on it as it did earlier in game," with a rising pitch count against an aggressive All-Star who hits from the opposite side of the plate. Yeah, Jenkins understood, he said, even if the results didn't pan out how the Braves hoped.
The plan going forward is to return Jenkins to the bullpen. The former first-round pick had hoped he'd do enough in his first start to warrant another. Even if it won't come immediately, Snitker was adamant this start won't be his last.
Evan Webeck is a reporter for MLB.com based in Philadelphia. This story was not subject to the approval of Major League Baseball or its clubs.