Franco homers in 4th straight game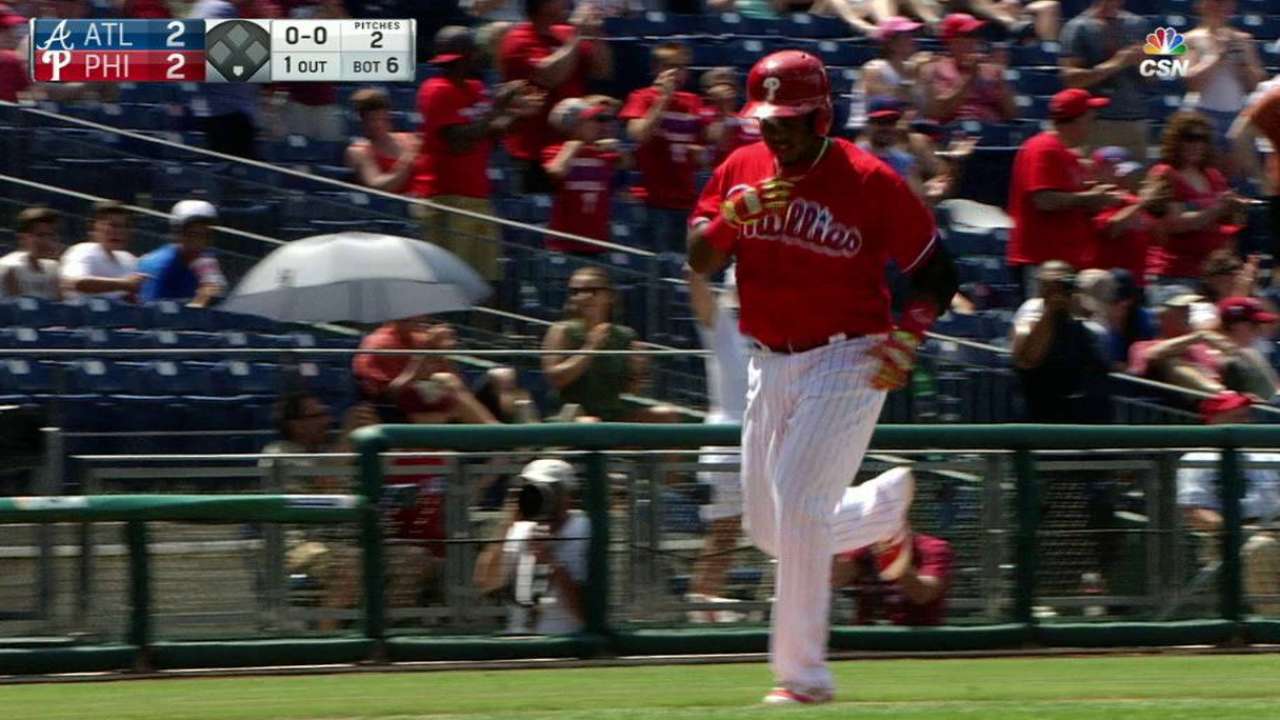 PHILADELPHIA -- Maikel Franco went the opposite way for his fourth homer in as many games on Wednesday.
The Phillies' third baseman hit a solo shot off of Braves reliever Chris Withrow in the sixth inning of the Phillies' 4-3 win. Franco has now homered in four consecutive games, becoming the first Phillie to accomplish that feat since Ryan Howard did so from Sept. 19-22, 2012.
"I'm just really comfortable at home plate," said Franco, who now has 17 home runs this season. "I see the pitches much better, and I try to see the ball and turn that into contact."'
Franco, who is in his second full Major League season, is hitting .262 with a .799 OPS heading into the Phillies' final series of the first half. Those numbers are up from .235 and .706 on June 23.
Franco's hot bat has been a big part of the Phillies' turnaround in the last two weeks. The Phillies are 9-2 in their last 11 games, and Franco is hitting .395 with 1.237 OPS, five homers and 12 RBIs in that span.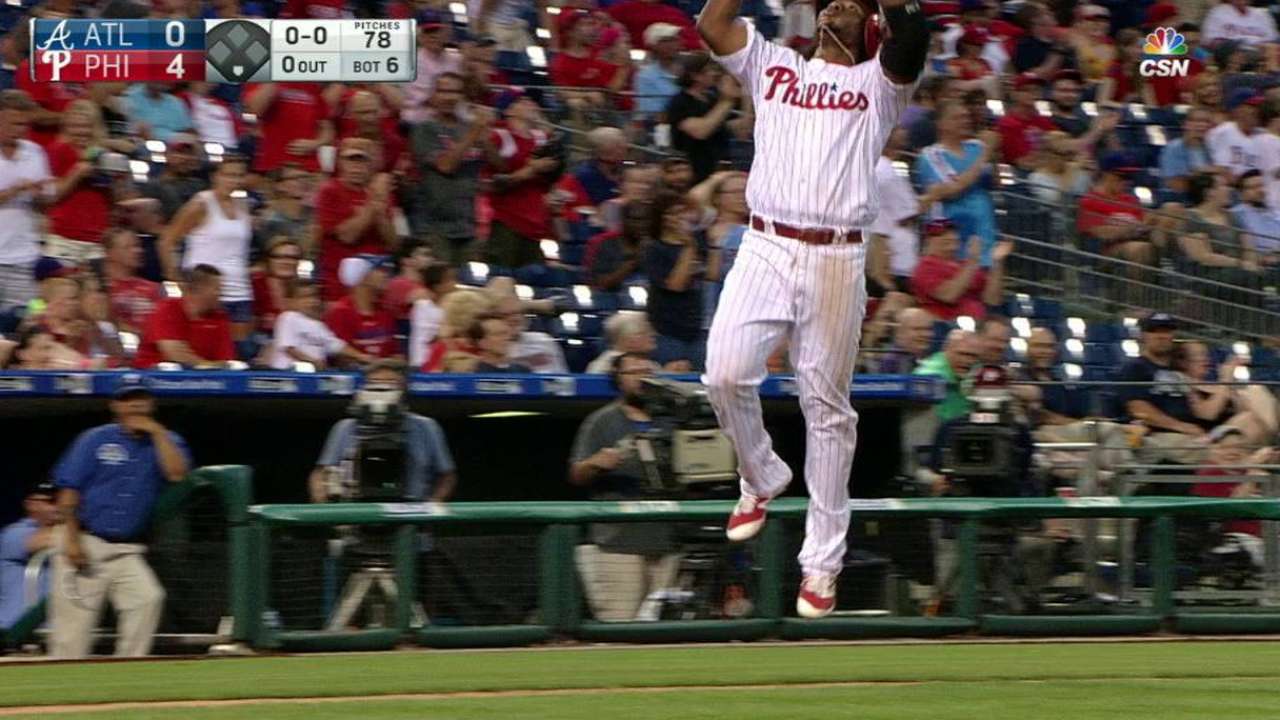 "I'm not changing my approach," he said. "I'm still doing the same thing, I haven't changed anything. But I'm seeing the ball much better, and I'll take a walk. That's what I want to see, a really good pitch to hit and then put some contact on it."
Franco saw the ball well in the eighth inning on Wednesday when he drew a leadoff walk. It led to Franco scoring on Freddy Galvis' two-out, two-run homer which proved to be the game-winner.
"I think if you were a betting man, you wouldn't have bet he took a walk, because he's trying to tie the game up," Phillies manager Pete Mackanin said. "But that's a great sign."
The Phillies' record for consecutive games with a home run is five, which has been accomplished five times, including twice by Chase Utley in the 2008 season. Bobby Abreu, Mike Schmidt and Dick Allen have also homered in five straight games for Philadelphia.
Franco will have his chance to tie that mark on Thursday in hitter-friendly Coors Field.
Worth noting
• The Phillies announced their Minor League Players of the Month for June on Wednesday. Rhys Hoskins (Double-A Reading) was the Hitter of the Month, as he hit .351 with a 1.198 OPS, 13 homers and 33 RBIs in 27 games. Triple-A Lehigh Valley was home to the other honorees. Righty Jake Thompson was the Pitcher of the Month as he went 3-0 with an 0.76 ERA in five starts. Meanwhile, shortstop and Phillies' top prospect, J.P. Crawford, was the organization's Fielder of the Month with only two errors in 26 games.
Stephen Pianovich is a contributor to MLB.com based in Philadelphia. This story was not subject to the approval of Major League Baseball or its clubs.