Reyes plays SS, sparks Mets with 2 doubles
Cabrera scratched from lineup due to family member's illness keeping him up all night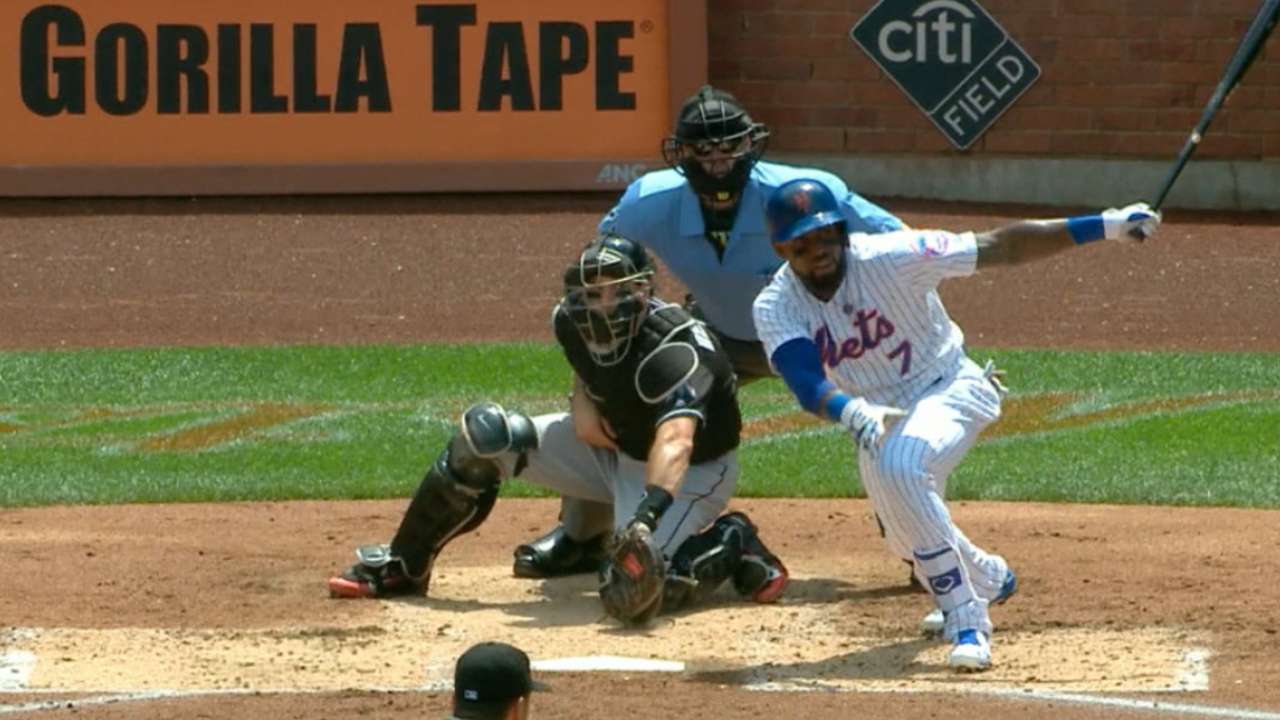 NEW YORK -- One thousand, seven hundred and 43 days had passed since the last time the 26,191 fans seated inside Citi Field had witnessed such a sight.
Jose Reyes had returned to Flushing on Tuesday, but an 0-for-4 day at the plate coupled with him manning third base did not strike up any nostalgia. In the Mets' 4-2 victory over the Marlins on Wednesday, though, Reyes put on a performance more like the ones he had during his first stint in New York, going 2-for-4 with a pair of doubles and a run scored while playing shortstop.
"I felt way better today," Reyes said. "I felt like me today -- it wasn't extra exciting today, so it was just like a normal day."
After going hitless in his first five at-bats since returning to New York, Reyes picked up his 1,301st hit as a Met in the third inning by lacing an 84-mph changeup from Marlins starter Justin Nicolino down the left-field line for a double. He then scored on a two-run single from Curtis Granderson that extended the Mets' lead to 3-0.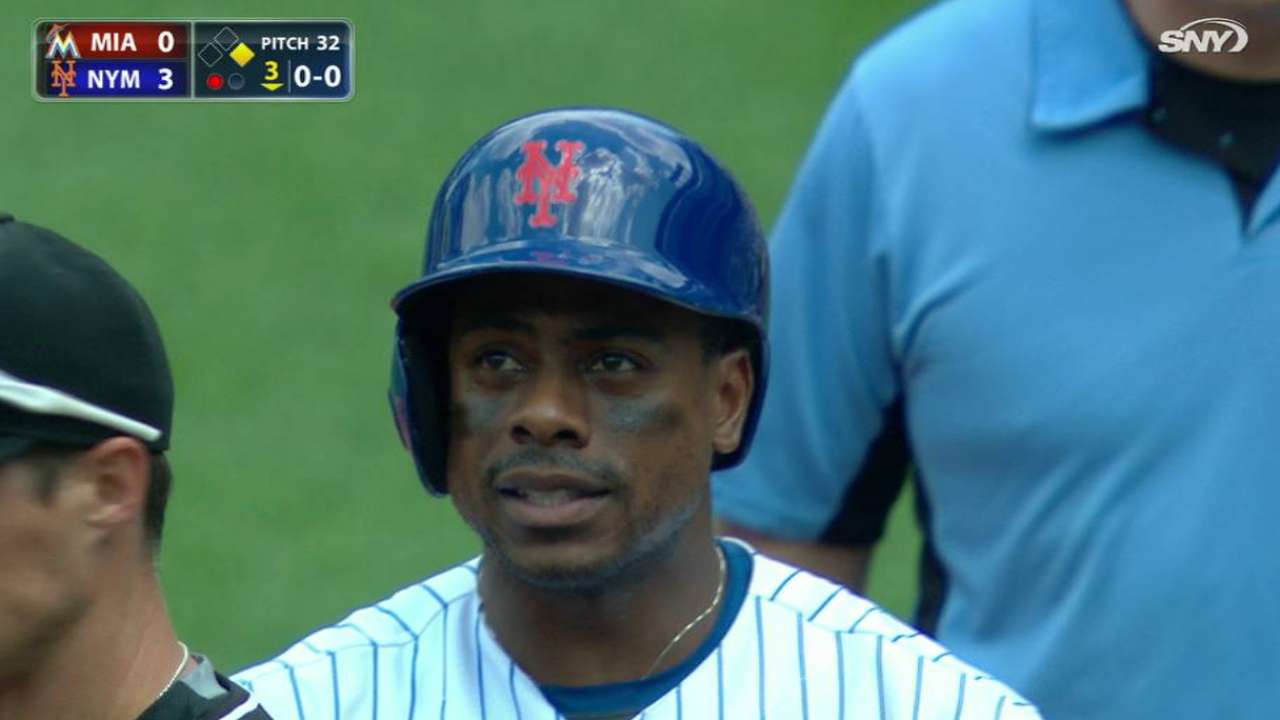 Two innings later, he produced a carbon copy of his first at-bat, ripping a 94-mph fastball from Marlins reliever Mike Dunn right past a diving Chris Johnson at third base for another double, the 224th of his Mets career.
"I'm happy I got a hit, but I'm more excited about the win," Reyes said. "We want to win and we got a big win today."
Reyes nearly added another extra-base hit to his ledger in the seventh when he drilled a 92-mph fastball from Nick Wittgren deep into the right-center-field gap that center fielder Marcell Ozuna managed to flag down.
"We know if that's in the gap, it's pretty fun to watch," Mets manager Terry Collins said.
In the Mets' original starting lineup, Reyes was slotted in to play third base. But after Asdrubal Cabrera was scratched from the lineup because of a family member's illness that kept him up all night, Reyes was moved to shortstop, where he played 1,000 games as a Met from 2003-11.
In the second inning, Reyes got his first action in the field since returning to the Mets after not being tested at third Tuesday, ranging to his left and then making a strong throw to get Adeiny Hechavarria out at first. He later started two double plays, including the one that ended the game in the ninth.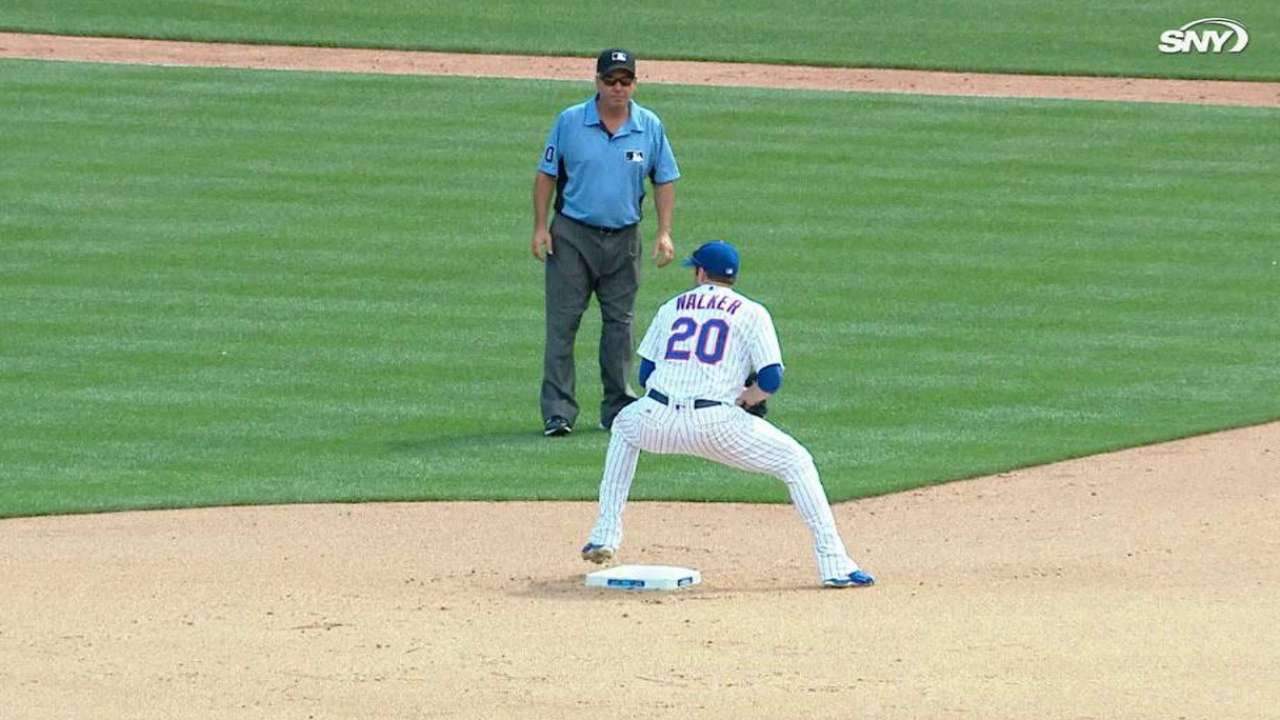 "I'm going to be prepared anywhere," Reyes said. "In the last minute when I was in the dugout, Terry told me I was going to play shortstop, so I [came inside the clubhouse], got my little glove for shortstop and was ready to go."
Reyes said that he's still "a little bit behind," having played in only two Major League games since September because of a 52-game suspension for violating the league's domestic violence policy.
During his throwback performance, though, the 33-year-old flashed signs of why the Mets opted to sign him.
"What you saw tonight, I think you are going to see more of it," Collins said. "I'm telling you, he's going to bring something to the table."
Troy Provost-Heron is a reporter for MLB.com based in New York. This story was not subject to the approval of Major League Baseball or its clubs.