Two decades ago, Makoto Suzuki made baseball history
"Mac" followed a unique path to become the AL's first Japanese player
Baseball has been very good to Makoto Suzuki. But it didn't necessarily start out that way.
When "Mac," as he's known, was just 16 years old, the sport became a lucrative pursuit. In the 20-plus years since then, it has also allowed the right-handed pitcher from Kobe, Japan, to see the United States, Canada, Mexico, Taiwan, the Dominican Republic and, of course, much of his native country.
Each stop throughout Suzuki's journey is memorable to him, but one in particular carries historical significance. When he stood atop the hill 20 years ago on July 7, 1996, in Arlington, Texas, the then-Mariners moundsman became the first Japanese player in American League history. While Masanori Murakami (San Francisco Giants, '64) and Hideo Nomo (Los Angeles Dodgers, '95) preceded him to the Majors, they both debuted in the National League.
"Really? I never thought about that before," Suzuki said after learning of his distinction. "It wasn't my goal. I became the first Japanese player in the AL by accident."
Accident or not, 2016 marks the 20th anniversary of Suzuki's debut, and the tale of how it happened is quite exceptional.
A fighter and a troublemaker, Suzuki was kicked out of high school toward the end of his freshman year. His father sent him to America, partly as a punishment and partly in search of a second chance. Suzuki was a promising pitcher, after all, and the family had a connection to a baseball man who would soon emerge as Nomo's agent: Don Nomura. A verbal agreement brought Suzuki to the Salinas Spurs, the Class-A club Nomura owned in the California League, in 1992.
The terms of the agreement were subject to interpretation, though. Suzuki, now 41 and a baseball analyst in Japan, recalled his understanding.
"I was supposed to be two things, a pitcher and a worker for the team, but after [many] games, all I had done was the work of a clubbie: wash uniforms, sweep the floor, clean the clubhouse, shag balls in practice," explained Suzuki, who in addition to his analyst duties helps run a fitness club and operates a sports bar in Japan named the Hangout.
"When was I going to pitch? Finally, in the last game, they let me pitch one inning."
All it took to change his career trajectory was the radar gun flashing 95 mph. His $300-per-month career as a clubbie quickly yielded to a gig as the full-time closer for the San Bernardino Spirit, another High-A team, the following year. With Nomura's representation, Suzuki signed with Seattle that fall, a year-and-a-half before Nomo's historic signing with the Dodgers.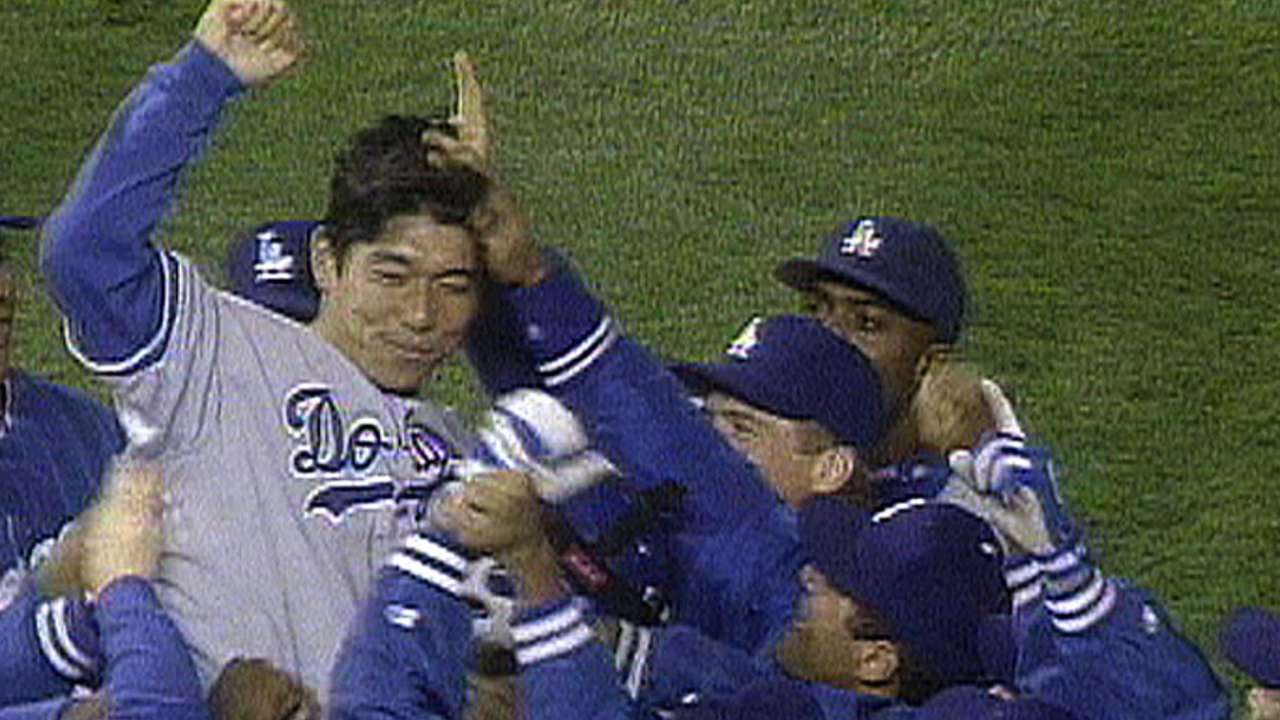 Suzuki was just 18 at the time and had limited experience, though, so not surprisingly, Nomo, a five-year Japanese veteran, made his MLB debut first. But not long after, Suzuki completed his ascent through the Mariners' system and reached the Majors. He was up and down with the club until the Mets traded for him in 1999. Mac also pitched for Kansas City, Colorado and Milwaukee during his six-year MLB tenure, compiling a career record of 16-31 with a 5.72 ERA over 117 appearances. But more importantly, he had become a part of history.
In 2002, Suzuki returned to Japan to play, becoming the first Japanese national to enter pro ball there after having debuted in America. Not knowing how to treat the unique situation, Nippon Professional Baseball required that the 27-year-old enter the draft. He was taken in the second round by the Orix Blue Wave (now Buffaloes), with whom he pitched for three seasons.
On April 6, 2016, nearly three months shy of the historic anniversary, pitcher Kenta Maeda debuted with the Dodgers, following in Suzuki's footsteps and becoming the 54th Japanese player in MLB history.
This article appears in the MLB Official All-Star Game Program. Click here to purchase a copy, and read more features on allstargame.com.
Brad Lefton is a bilingual freelance journalist based in St. Louis. He covers baseball in Japan and America. This story was not subject to the approval of Major League Baseball or its clubs.