Callaway prepping for Salazar pitching in ASG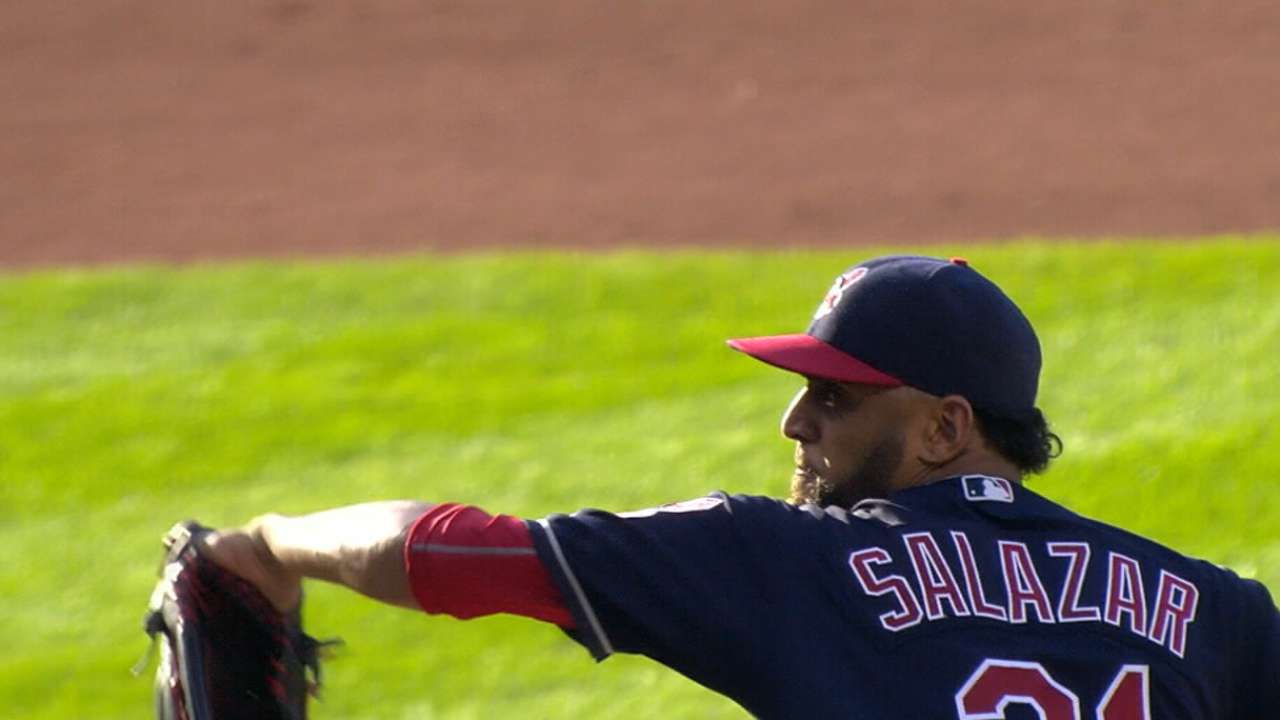 CLEVELAND -- All Danny Salazar has to concern himself with right now is preparing to soak up his first All-Star experience. Behind the scenes, Indians pitching coach Mickey Callaway is the one worrying about Salazar possibly pitching in the All-Star Game presented by MasterCard and aligning the Tribe's rotation out of the break.
Salazar has one first-half start remaining on Saturday against the Yankees, meaning the right-hander will be a candidate to work in the Midsummer Classic on Tuesday at 7:30 p.m. ET in San Diego.
"I just hope he enjoys the experience," Callaway said on Wednesday morning. "If he's feeling OK and feels like he can go and he wants to pitch, obviously he's eligible."
Asked if Salazar had a case to be named the American League starter, Callaway was quick to praise White Sox ace Chris Sale.
"Chris Sale's pretty good," Callaway said. "He's done pretty good. He probably deserves it. Danny's done a great job, too, but Chris Sale probably deserves to start."
So far this season, Salazar has gone 10-3 with an AL-low 2.36 ERA, along with 113 strikeouts, 69 hits allowed, a 3.30 FIP and a .195 opponents' average in 99 innings. Sale is currently 14-2 with a 2.93 ERA, along with 118 strikeouts, 94 hits allowed, a 3.44 FIP and a .214 opponents' average. Sale has issued fewer free passes (24) than Salazar (44), but the Tribe righty has a better strikeout percentage (28.3) than the Sox lefty (25.0).
Callaway added that he felt Cleveland pitchers Corey Kluber, Josh Tomlin and Trevor Bauer were all deserving of All-Star nods, along with Salazar. Carlos Carrasco might have had a case, too, had the big righty not been shelved for all of May with a hamstring injury.
As a group, Cleveland's rotation entered Wednesday leading the AL in fWAR (8.9), ERA (3.59), FIP (3.87), xFIP (3.79) and strikeout-minus-walk percentage (16.0), plus opponents' average (.232), on-base percentage (.289) and slugging percentage (.392). The Indians' rotation ranked second in the AL in strikeouts per nine innings (8.4), strikeout percentage (24.7) and walk percentage (6.7).
"All of our guys have pitched well," Callaway said. "I'm happy for all them, for sure."
Asked what is behind Salazar's breakout season, Callaway said it all stems from his aggressiveness.
"He goes out there and he attacks every inning," Callaway said. "That's something we've been stressing to all those guys throughout their careers, and he's done a great job of doing that this year. His walks are up a little bit, but he continues to attack. So his walks are up, but his hits are down, so it kind of evened that out.
"What I think eventually you're going to see is he's going to learn how to get the ball in the zone more at that high-intensity level. And now you're going to have low walks, low hits and probably a Cy Young guy. That's the goal, and he's done a really good job of doing that."
The pitching coach said the team is still working through the rotation's order for after the All-Star break. Part of the equation is accounting for the possibility that Salazar could pitch in the All-Star Game.
"We haven't come to any final decisions yet," Callaway said. "But I think we're going to go ahead and try to line it up so in case he pitches, he'll be good to go when he comes back."
Jordan Bastian has covered the Indians for MLB.com since 2011, and previously covered the Blue Jays from 2006-10. Read his blog, Major League Bastian, follow him on Twitter @MLBastian and listen to his podcast. This story was not subject to the approval of Major League Baseball or its clubs.