Get out and play on baseball's newest All-Star diamond
The opening of Play Ball Park in San Diego is the latest celebration of MLB's successful initiative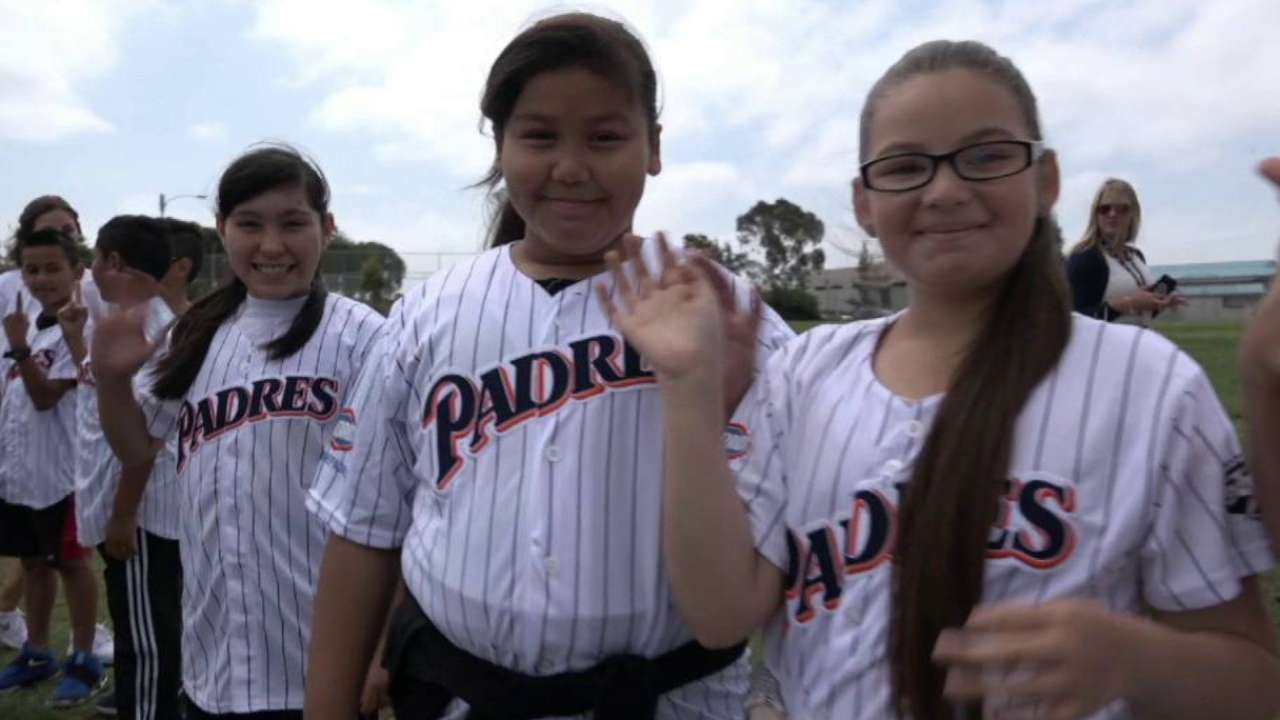 At age eight, Kris Bryant was a lot younger and smaller, and was playing baseball in Nevada instead of Chicago. He still sported the trademark smile, though, that fans see during every Cubs game. For the past two decades, the cause of that grin has been his pure love of the game -- be it taking cuts at the plate, fielding grounders at the hot corner or simply watching from the dugout during batting practice.
"My favorite [memory as a kid] was hitting my first home run," says Bryant. "It was in coach-pitch practice for my team at Peccole Little League [in Las Vegas]. I was running around the bases, and my dad was at third base waiting for me. He picked me up and gave me the biggest hug. I don't even think I made it to home. That sticks out as one of my greatest baseball memories."
MLB wants every kid across the country to discover the same passion for the sport that Chicago's star third baseman found at such a young age. This desire inspired Commissioner Rob Manfred to launch the Play Ball initiative last summer. Its goal? To get kids outside, teach them to be active, and educate them about baseball and softball. The league hopes to spread the message that our national pastime can be enjoyed anywhere -- whether it's in your backyard, in a park or on a diamond.
One year into Play Ball's existence, the league is taking another huge step. MLB, in conjunction with USA Baseball, USA Softball, The Cal Ripken Sr. Foundation and Positive Coaching Alliance, among other partners, is unveiling Play Ball Park during All-Star Week, an 80,000-square-foot outdoor arena that provides fun, engaging and educational activities for kids and their families at no cost from July 7-12. The Padres are working with MLB to offer youth baseball and softball players in San Diego a chance to join in the festivities and receive instruction and skills training. All this will take place just a hop, skip and a jump from Petco Park, with a backdrop of the Midsummer Classic.
It's the latest stride in a successful year chock full of Play Ball activities, which reached new heights during this season's inaugural Play Ball Weekend. During the second weekend in May, teams throughout the league hosted Play Ball events to encourage kids to come to the ballpark, be active and learn more about the game in unique ways. The reigning world champion Royals held a kids-only press conference, during which second baseman Christian Colon, pitcher Danny Duffy and third base coach Mike Jirschele fielded questions from a group of young reporters on topics that ranged from their favorite childhood memories of the game to the ways they continue to improve their skills. The Rays, meanwhile, treated local kids to a clubhouse tour, which included firsthand looks at the batting cages and training rooms, plus a meet-and-greet with infielder Logan Forsythe.
On the field, there were plenty of fun activities to go around, as well. The Yankees, for example, invited a middle school softball team from the Bronx to Yankee Stadium, where two lucky students threw out ceremonial first pitches. Local youth softball and baseball players also took over Wrigley Field, where they delivered a rosin bag and participated in a pregame cap exchange with players and coaches. When Rockies players and coaches lined up for the national anthem at Coors Field, they were greeted by eager kids from the Boys and Girls Clubs of Metro Denver; they participated in a cap exchange as well, autographing their headgear and swapping with the kids who stood beside them before the game. Earlier that morning, outfielders Carlos Gonzalez and Gerardo Parra hosted a clinic to teach the fundamentals of hitting, pitching, fielding and baserunning to local boys and girls.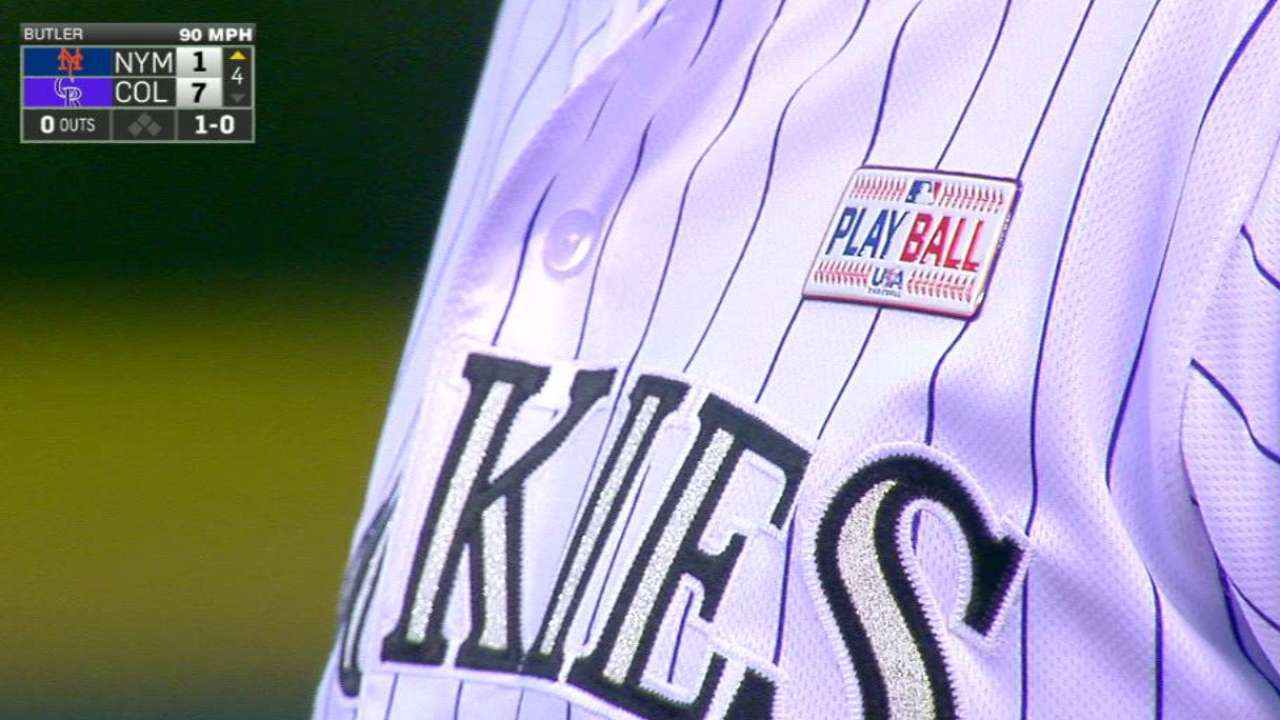 "I always have a blast being around these kids," Gonzalez told MLB.com. "It reminds me that baseball is about having fun and going to the yard and not worrying about anything else -- just playing. Even when you play professionally, you still want to have that in your mind."
Like Gonzalez, many players welcomed the chance to play with local kids, although they didn't all head for a diamond. In Milwaukee, Chris Capuano, Chris Carter and Alex Presley provided batting instruction to elementary school students at Brown Street Academy. The Brewers also donated a plastic bat and ball to every Milwaukee Public School child in grades K-2. Orioles pitchers Brad Brach, Zach Britton and Darren O'Day visited Fort Meade military base in Baltimore and taught kids how to step and throw, before getting behind the plate as youngsters took turns firing fastballs.
"My childhood was spent playing games in the park, even if I wasn't playing in the game," O'Day told MLB.com. "There are a lot of hours spent as a child that shape who you are, your love of sports, the competition. It keeps you out of trouble, too. If you're running around the park getting dirty, you're not getting into trouble."
To prove that you truly can play ball anywhere, Dodgers sluggers Justin Turner and Yasiel Puig surprised 60 kids from the Boys & Girls Club of Venice (Calif.) for some fun in the sand, during which they took selfies, signed autographs and, of course, played baseball, all on sunny Venice Beach.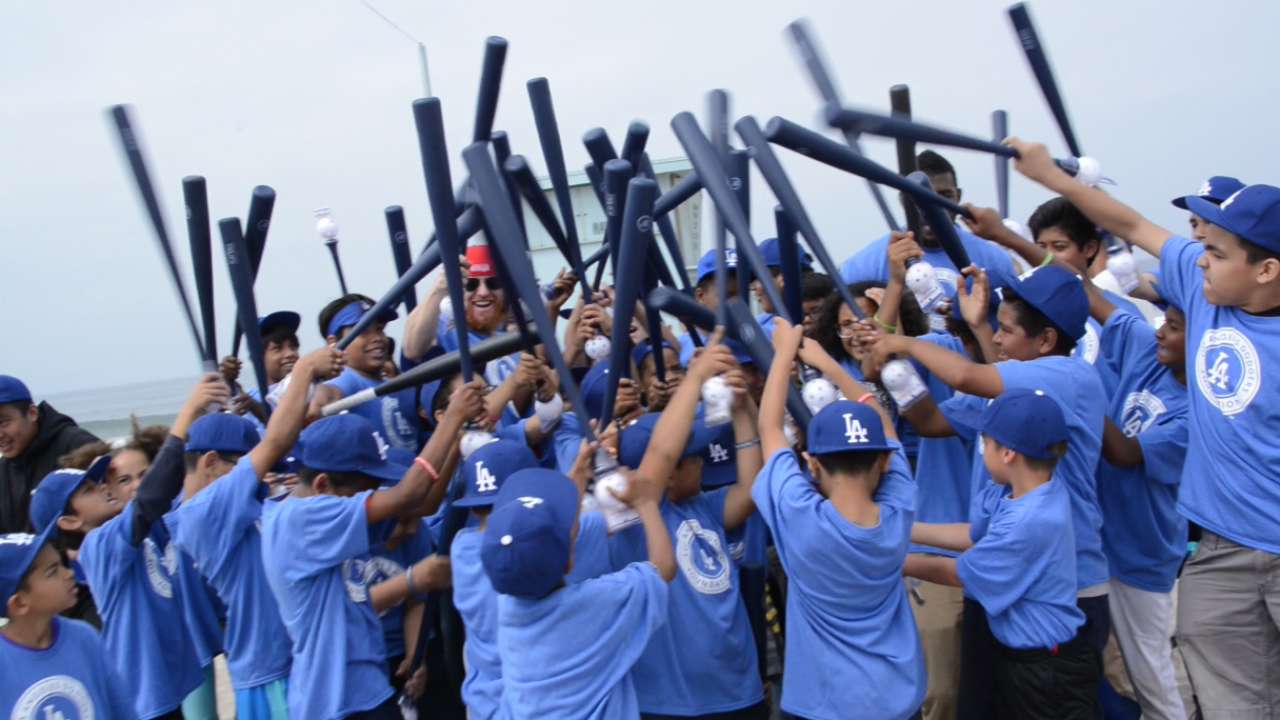 Throughout Play Ball Weekend, players and coaches wore special uniform patches and sported Play Ball T-shirts during BP. MLB also distributed free tickets and more than 320,000 plastic bat and ball sets. And in return, kids from all walks of life flashed the same megawatt smile that Bryant did more than a decade ago.
This article appears in the MLB Official All-Star Game Program. Click here to purchase a copy, and read more features on allstargame.com.
Joe Sparacio is a project assistant editor for Major League Baseball. This story was not subject to the approval of Major League Baseball or its clubs.