The all-time Padres lineup
A position-by-position breakdown of San Diego's top All-Stars through the years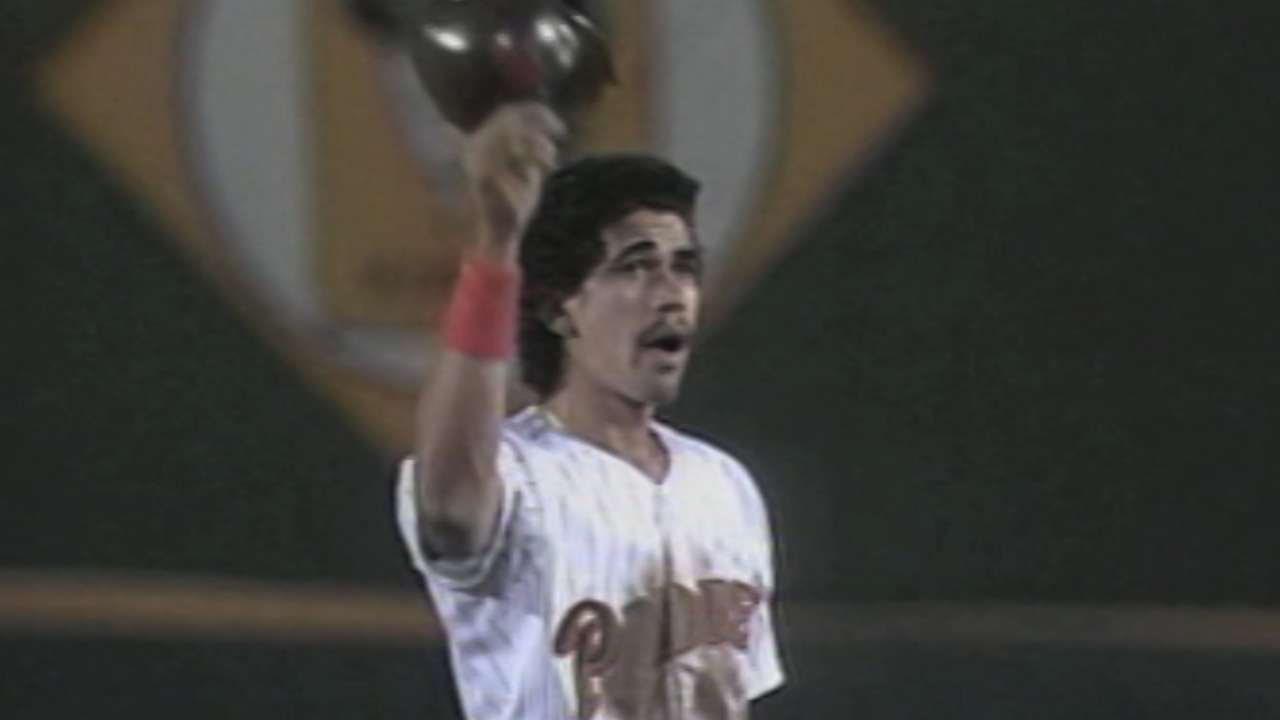 Since the Padres' inception in 1969, countless players have forged stellar careers in San Diego. The franchise has retired the jersey numbers of five former players, two of whom -- Tony Gwynn and Dave Winfield -- are also immortalized in Cooperstown, with a third likely to soon join them. The athletes on this list represent the finest players at each position that have spent time in America's Finest City, setting records, making All-Star teams and earning numerous accolades among them.
C Benito Santiago
Santiago was the 1987 NL Rookie of the Year and went on to make four consecutive All-Star appearances from 1989-92. He also won four Silver Slugger Awards, the first in '87 as a member of the Padres.
A San Diego native, Gonzalez joined his hometown team via trade in 2006. Over five seasons, he hit 161 home runs, was named to three All-Star teams (2008-10) and won two Gold Gloves.
2B Roberto Alomar
Robbie gets a slight nod over Mark Loretta here. He began his Hall-of-Fame career in San Diego and averaged 80-plus runs and 30 steals in three years with the team, including his first ever All-Star appearance in 1990.
3B Ken Caminiti
Caminiti remains the only Padres player to win an NL MVP Award (1996), as he hit .326 with 40 home runs and 130 RBI that year. He was a key cog on the team that won the 1998 NL pennant.
Caminiti's All-Star Game Highlight: At Philadelphia's Veterans Stadium in 1996, he drilled a home run to deep right-center field to help the NL roll to a 6-0 victory. Caminiti remains the only Padres player to go yard in an All-Star Game.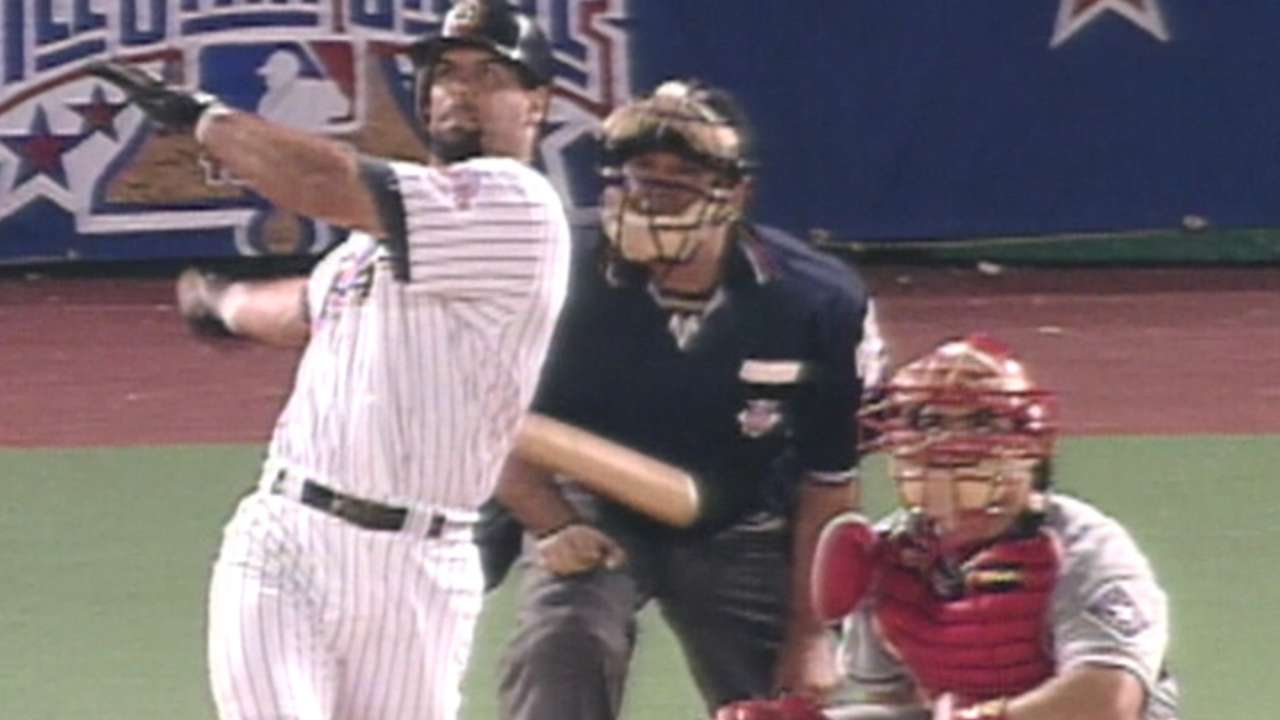 SS Garry Templeton
In the midst of anchoring the infield defense for 10 seasons, Templeton hit .324 in the 1984 playoffs. The next year, he was named an All-Star for his impressive efforts.
OF Tony Gwynn
Mr. Padre was a 15-time All-Star who accumulated a 68.8 career WAR. A fan favorite, the Hall of Famer notched 220 hits at age 37. What more is there to say?
Gwynn's All-Star Game Highlights: In 1994, he singled to start the 10th inning and scored the game-winning run on a Moises Alou double, just evading the tag by AL catcher Pudge Rodriguez. Gwynn also knocked in two runs during the game to help the NL break a six-year losing skid. And who can forget Gwynn standing beside San Diego native Ted Williams during the pregame ceremony for the 1999 Midsummer Classic at Fenway Park? The two formed a unique bond in the last game that Gwynn was voted into by fans.
OF Dave Winfield
Winfield played the first eight seasons of his Hall-of-Fame career in San Diego and went to four All-Star Games (1977-80). He led the NL with 118 RBI in 1979.
OF Steve Finley
In four years with the Padres, Finley won a pair of Gold Glove Awards and was named to one All-Star team. He averaged 20-plus homers and 20-plus steals, and scored more than 400 runs.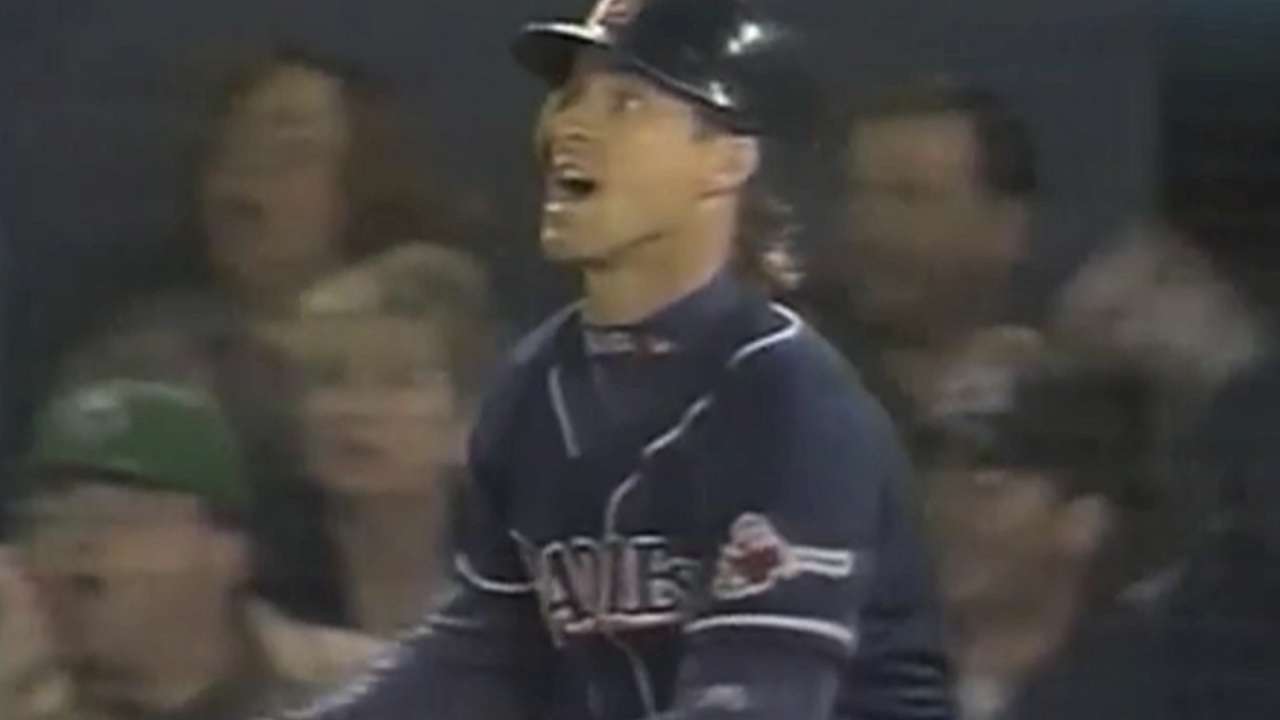 SP Jake Peavy
Peavy was a two-time NL ERA champ with his first MLB franchise and won 19 games during his 2007 Cy Young campaign; he just edges out Randy Jones, the first Padres pitcher to take home the award and the first to start an All-Star Game.
RP Trevor Hoffman
A good bet for the Hall of Fame in 2017, Hoffman notched 552 of his 601 career saves with the Padres (1993-08). He currently ranks second on the all-time saves list.
This article appears in the MLB Official All-Star Game Program. Click here to purchase a copy, and read more features on allstargame.com.
Corey Brock works for MLB Advanced Media and covered the Padres for MLB.com for nearly a decade. This story was not subject to the approval of Major League Baseball or its clubs.