Bucs promote top prospect Glasnow
Right-hander, ranked No. 1 in organization, to make MLB debut Thursday
ST. LOUIS -- Tyler Glasnow walked into the visitor's clubhouse at Busch Stadium on Wednesday afternoon, shaking hands and hugging teammates. He found his locker, with his No. 51 jersey hanging in front of it, and walked into manager Clint Hurdle's office, where he was welcomed by a booming, "Hey, Glasnow! How ya been?"
After three months of dominating Minor League hitters and patiently waiting for his turn, Glasnow finally had arrived.
Glasnow, one of the game's top pitching prospects, will make his Major League debut on Thursday afternoon against the Cardinals. Pittsburgh's No. 1 prospect was officially been recalled from Triple-A Indianapolis on Thursday to start the Bucs' series finale at Busch Stadium.
"It's a pretty awesome time," Glasnow said.
• Cast your Esurance Final Vote for Marte
The Pirates considered calling up Glasnow last September to bolster their pitching staff, but instead they waited. The waiting continued this spring, when Glasnow was sent to Triple-A to refine his command, then as the Bucs called up Jameson Taillon, Chad Kuhl, Steven Brault and even Wilfredo Boscan to fill holes in their rotation.
"Everyone on our team was so supportive that you get caught up in the excitement," he said. "I think I was confident to know that if I stayed down and did well, I was going to go up eventually. I just kind of stayed down, did my thing and I was happy for everyone to go."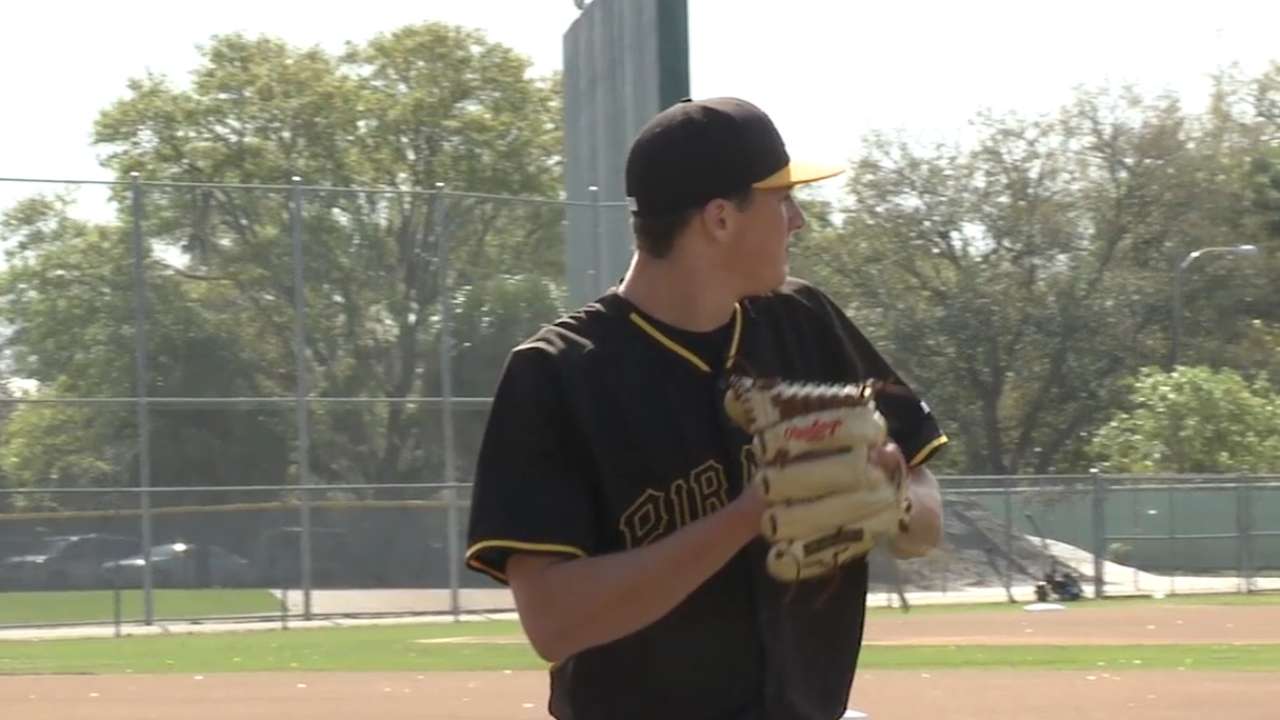 Glasnow's turn came about as a result of Taillon's placement on the disabled list. The Pirates had to cover two of his starts during the final week of the first half; the first of the two went to Brault on Tuesday night, and they tweaked their rotation so that Glasnow could take the second. He was listed to start Thursday in Triple-A, so he will remain on schedule in his big league debut.
With Gerrit Cole and Taillon expected to return immediately after the All-Star break, it's uncertain if Glasnow, the 22-year-old right-hander selected in the fifth round of the 2011 Draft, will remain in the rotation after Thursday's start.
But all offseason, the Pirates said they expected Glasnow, the No. 8 overall prospect in baseball according to MLBPipeline.com, to crack their rotation this season, bringing his unhittable stuff from the Minors to Pittsburgh when the time was right.
"I think these last couple weeks, it's probably the most confident I've been," Glasnow said. "I think it was a good time. If it wasn't before, it was a good time to call me up."
Glasnow got the call from Triple-A manager Dean Treanor around midnight. He was in bed, sleeping, then quickly called his parents, brother and girlfriend to share the news.
"Everyone was really emotional. I woke up and did it all in a matter of a couple minutes," Glasnow said. "I was asleep-slash-way-too-excited. It was a good time, though."
In 17 starts for Indianapolis, Glasnow is 7-2 with a 1.78 ERA and 113 strikeouts in 96 innings. He's walked 52 batters, 4.9 per nine innings, but he only walked one batter while striking out eight Saturday.
"He's continued to grow and get better. It's all about mindset and focus," Hurdle said. "When he's out there pitching to get outs, it seems the command plays better. When he's trying to throw strikes or not walk guys, the command gets a little spray-ish."
Fantasy spin | Fred Zinkie (@FredZinkieMLB)
The No. 3 pitching prospect per MLB Pipeline, Glasnow leads all Triple-A hurlers in strikeouts (113) and ranks third in ERA (1.78) behind two arms -- Chad Green and Wade LeBlanc -- with previous big league experience. Even though the Pirates are expected to activate injured starters Cole and Taillon shortly after the All-Star break, the club could see Glasnow as an upgrade over Francisco Liriano (5.34 ERA), Jeff Locke (5.13 ERA) or Kuhl (4.09 ERA) if the 22-year-old spins a gem in his big league debut. In all leagues, owners should add Glasnow (career 2.01 ERA, 11.5 K/9 rate in the Minors) and assess his long-term role after the Midsummer Classic.
Adam Berry has covered the Pirates for MLB.com since 2015. Follow him on Twitter at @adamdberry. This story was not subject to the approval of Major League Baseball or its clubs.