All-Star Arenado's homer topples Giants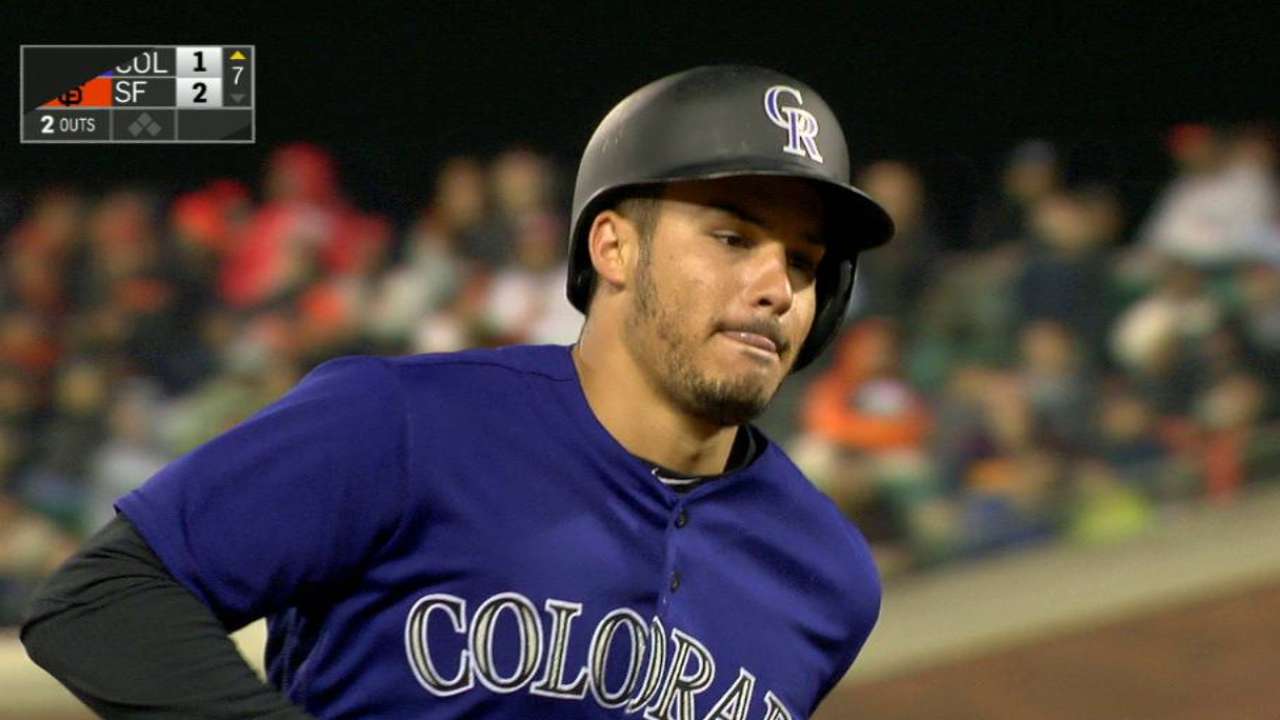 SAN FRANCISCO -- Nolan Arenado continued his thorough dominance of Giants pitchers Tuesday night, smashing a two-out, three-run home run in the seventh inning as the Rockies overcame a two-run deficit to defeat San Francisco, 7-3, at AT&T Park.
Arenado entered Tuesday with three home runs and 18 RBIs against San Francisco this season and added to both totals as part of a four-run seventh that helped the Rockies end their six-game losing streak.
"We haven't been playing really good baseball lately, so it was nice to give ourselves the lead there," said Arenado, who improved his 2016 homer total to 22. "And, obviously, we started adding on."
Arenado, a recently named All-Star, has recorded 14 home runs and 45 RBIs against the Giants since the start of the 2015 season.
"You're looking at a good hitter," said Giants manager Bruce Bochy. "Some things aren't explained. He hits well against a lot of clubs, but he's really hit us well. "
The Rockies had scored just three runs in the previous four games of the road trip.
"I've never lost confidence in our offense," said Rockies manager Walt Weiss. "I've been through many seasons in this league and understand that offense comes and goes at times, no matter how good you are. I'm leaning more on the track record that we have than three or four games."
Arenado's shot into the left-field bleachers wasted six shutout innings from Giants ace Madison Bumgarner. The combination of George Kontos and Cory Gearrin surrendered four hits in the seventh and was responsible for the Giants bullpen's 17th blown save this season and its third in four games.
MOMENTS THAT MATTERED
Nice re-entry: Tyler Chatwood, who entered with a 1.25 road ERA but was starting for the first time since suffering a back injury June 18, held the Giants to two runs (one earned) in five innings while throwing 88 pitches. He threw 67 in his one Minor League rehab game. He escaped two on and one out in a scoreless third. Angel Pagan tripled and Jarrett Parker walked to open the fifth, but Chatwood limited the damage to one run.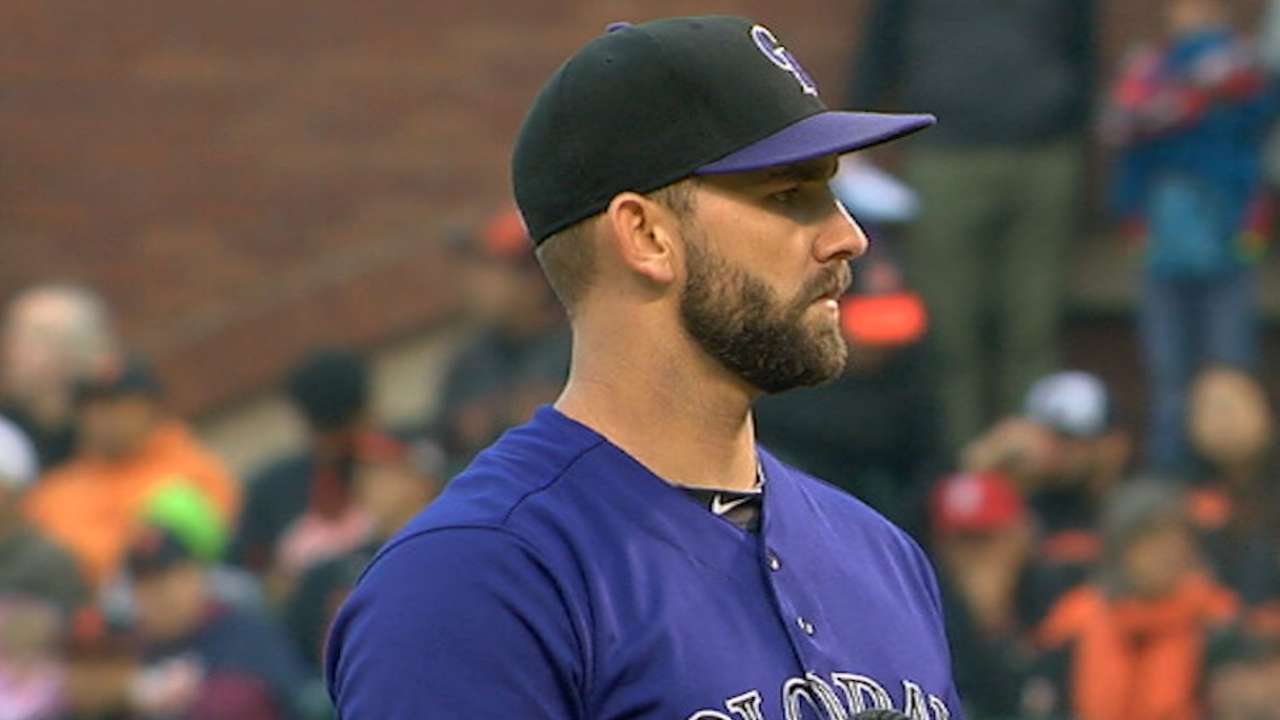 "After the third [inning], I settled in a little better, but the first two or three [innings] ran my pitch count up," said Chatwood, who gave way to Jordan Lyles, who threw one spotless relief inning to earn the win.
Run-saving catch: The Rockies put pressure on Bumgarner in the top of third, using a DJ LeMahieu double, an Arenado walk and a Carlos Gonzalez infield single to load the bases with two outs. A plate appearance later, Trevor Story ripped a liner down the right-field line. However, Mac Williamson, just a day after making a diving grab to deny Mark Reynolds a hit, got a bead on it and robbed the rookie shortstop of an extra-base hit with a sliding grab near the right-field foul pole. The catch kept the Giants' one-run lead intact while also prompting a thankful hug from Bumgarner in the dugout.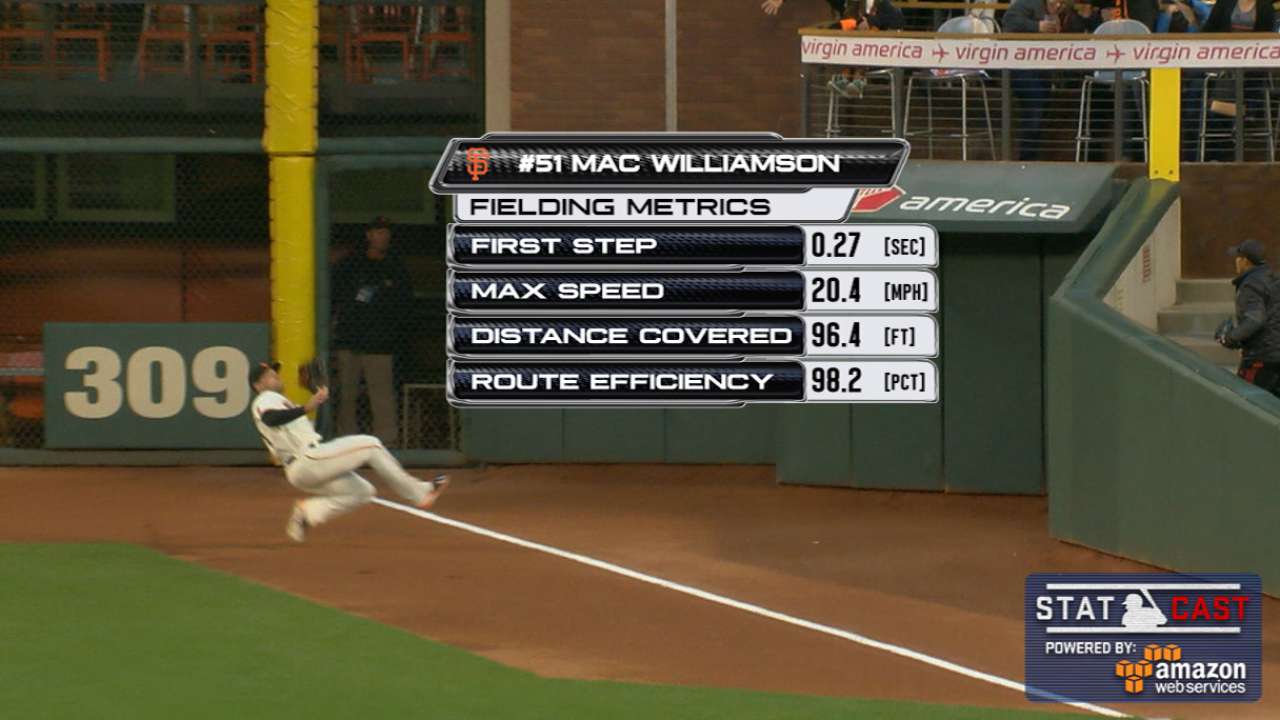 "That was a big spot in the game for us," Bumgarner said. "Off the bat I was hoping it would go foul, then I saw it wasn't and that's just a tough catch. He made it look relatively easy, difference in three runs early."
Back on the hill: Rockies right-handed reliever Adam Ottavino, in his first outing since last April 25, made a successful return from Tommy John surgery by forcing a Buster Posey groundout to open the eighth. Weiss planned to work Ottavino back into form gradually, and a right-on-right matchup with a five-run lead worked perfectly. The entire infield gathered on the mound to welcome Ottavino back.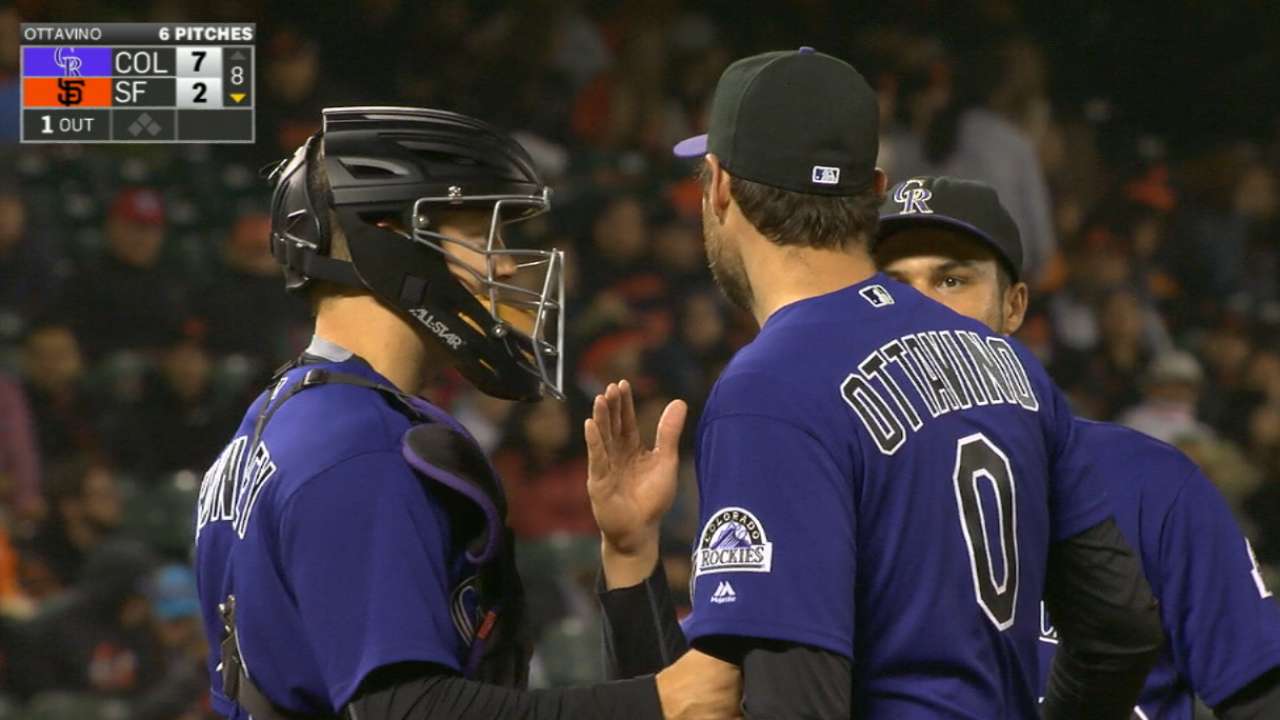 "I love my teammates, and every single guy on this team knows what it's like to be injured," Ottavino said. "It was nice that they gave me that little moment there, and we got the win."
Bullpen struggles continue: A day after pitching 2 1/3 shutout innings, the Giants relievers blew their 17th save of the season, tied for the Major League lead, and surrendered seven runs on nine hits. Gearrin gave up the game-altering blast to Arenado, which came just two days after he gave up a game-tying home run to the D-backs' Jake Lamb. Kontos opened the seventh by giving up back-to-back singles and was charged with two runs. Hunter Strickland surrendered three hits as well as a bases-loaded walk.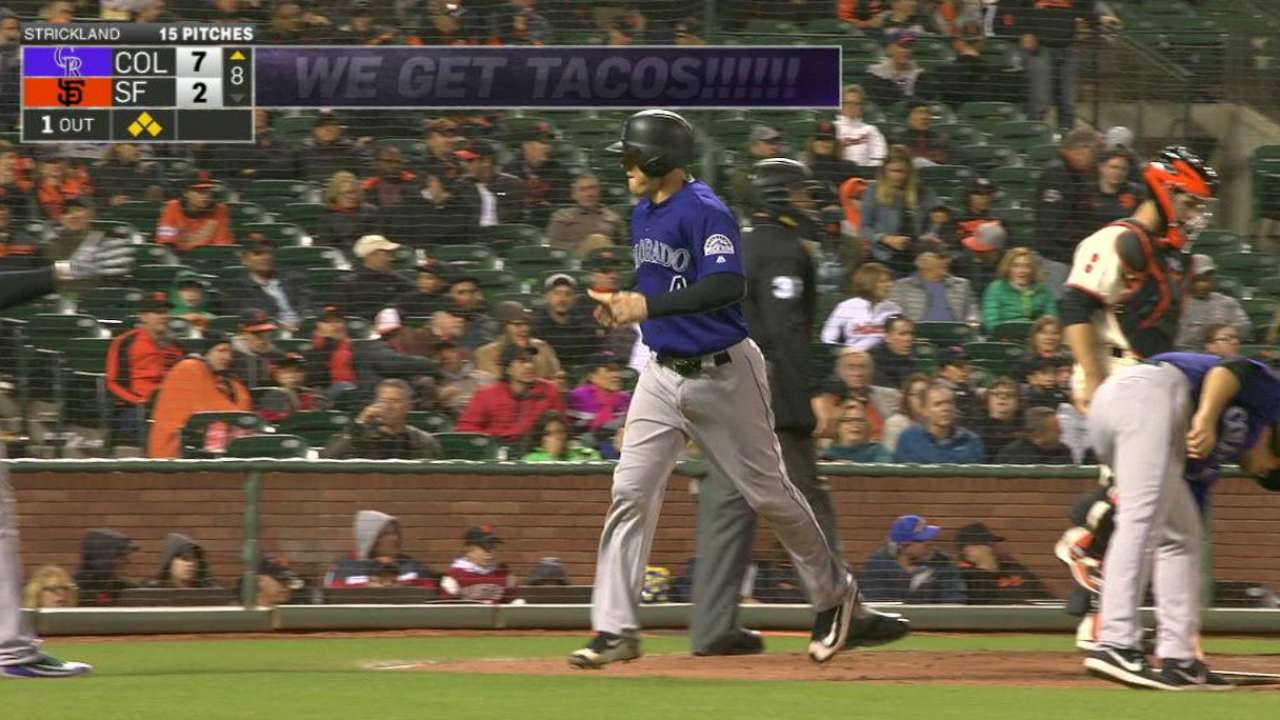 "You're throwing guys out there with experience, and that's why it's frustrating," Bochy said. "We had it set up pretty good. We're going to see if we can get this thing right. It didn't play out well tonight."
A LITTLE DISAGREEMENT
Rockies catcher Nick Hundley disagreed with a ball call with Jake McGee on the mound and Angel Pagan batting during the seventh and had a quiet, barely noticeable conversation with plate ump Carlos Torres. Pagan said something, and suddenly he and Hundley were at odds. Both dugouts were issued warnings.
"We [Torres and Hundley} were having a discussion, which happens every inning of every big league game -- the catcher and the umpire talk," Hundley said. "And he [Pagan] decided he was involved in that discussion. Which he wasn't. And that's what I told him. So it went from there."
WHAT'S NEXT
Rockies: Lefty Jorge De La Rosa, who has posted a 1.97 ERA in his last seven appearances (four starts), will start the series finale at AT&T Park on Wednesday at 8:15 p.m. MT.
Giants: Johnny Cueto, who was selected to his second All-Star Game on Tuesday, will be on the mound Wednesday night at 7:15 PT. Cueto, who is 12-1 with a 2.57 ERA this season, hasn't performed at that standard recently. He's allowed a combined 10 runs on 15 hits in his last two outings.
Watch every out-of-market regular-season game live on MLB.TV.
Thomas Harding has covered the Rockies since 2000, and for MLB.com since 2002. Follow him on Twitter @harding_at_mlb, listen to podcasts and like his Facebook page.

Justin Wise is a reporter for MLB.com based in the Bay Area.

This story was not subject to the approval of Major League Baseball or its clubs.