Arenado, CarGo headed to All-Star Game
Story up for roster spot via Esurance MLB All-Star Game Final Vote
SAN FRANCISCO -- Rockies third baseman Nolan Arenado has been invited to represent the National League in the All-Star Game presented by MasterCard for the second straight year, and right fielder Carlos Gonzalez has earned his third career trip and first since 2013.
Additionally, rookie shortstop Trevor Story is a candidate for the Esurance MLB All-Star Game Final Vote. He will be up against four veterans -- the Giants' Brandon Belt, the Brewers' Ryan Braun, the D-backs' Jake Lamb and the Pirates' Starling Marte.
• Cast your Esurance Final Vote for Story
• Interactive All-Star Game rosters
Squads for both teams for the All-Star Game next Tuesday at Petco Park (coverage begins at 5:30 p.m. MT) were announced Tuesday afternoon. Arenado and Gonzalez made late pushes for the starting lineup, which was determined by fan voting, but were added to the team via player voting.
However, the Cubs' Kris Bryant held on to his advantage at third, and Gonzalez fell shy of the top three vote-getters -- the Mets' Yoenis Cespedes, the Cubs' Dexter Fowler and the Nationals' Bryce Harper -- who will be the starters.
"Fan voting is a very cool thing, too, but to be voted in by the guys you play against, the respect they have for you and I have for them, it means a lot to me," Arenado said.
Gonzalez said, "We spend a lot of hours on the field and we play against so many good players. Knowing that they like the way you play and they like the way you enjoy the game, and them voting you in for a great game, it never gets old."
Story also gathered a strong late vote for a starting position, but the Cubs' Addison Russell held his lead.
"I don't know what else I can say to push for him -- the numbers speak for themselves," Arenado said. "He's playing great on both sides of the ball. I don't see why he should not be an All-Star."
Arenado, 25, carried a .290 batting average and .938 OPS -- with 22 home runs and an NL-leading 66 RBIs -- into Tuesday night's second game of a three-game set with the Giants. Additionally, Arenado, who has won Rawlings Gold Glove Awards each of his three full years in the Majors, leads the NL with an 8.4 Ultimate Zone Rating, according to Fangraphs.
It was a welcome pickup at a time when Arenado and the Rockies have struggled to six straight losses entering Tuesday.
"It feels good, with all the teammates congratulating me, all my boys showing me love," Arenado said. "It's really cool. Individually, it's awesome but at the end of the day we want to win some games."
It'll be a homecoming for Arenado, a Southern California native who attended El Toro High in Lake Forest. That, of course, may mean fielding a large number of ticket requests.
"I'm focused on [Giants All-Star pitcher Madison] Bumgarner tonight," said Arenado, who was preparing to face the Giants on Tuesday night. "I'm worried about him, then I'll figure it out as we go on. I'll let my parents try to get all that together."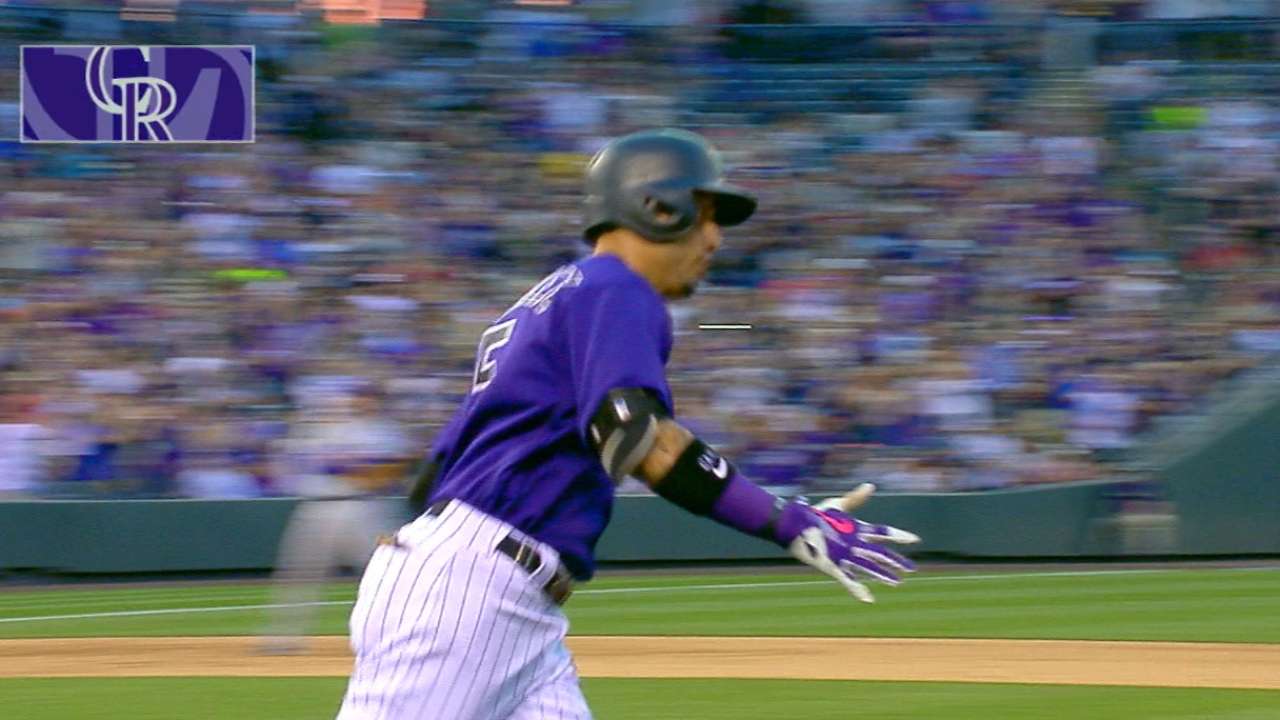 Gonzalez, 30, has been on a tear since late April of last season -- after he put a period of hand and knee injuries behind him. This season, he is hitting .317 with 18 homers and 51 RBIs, along with a .927 OPS.
Last year, he finished with 40 home runs -- two behind Arenado, who tied the Nationals' Bryce Harper for the NL lead. His slow start was due to recovery from left knee surgery late in the 2014 season, but he removed any doubt he could return to All-Star form.
"That was a crazy ride since I had surgery on my left knee -- a major surgery and something serious that I never went through before," Gonzalez said. "It took me long months to even get back on the field. It was not just that; I was not the same player I was before the surgery and it took me a couple months to get back my normal ways.
"It felt great to finish the year strong and continue to do it this year."
Story, 23, is hitting .264 and leading Major League rookies in home runs with 19, along with 50 RBIs.
Fans can vote for the 2016 Esurance MLB All-Star Game Final Vote until 2 p.m. MT on Friday. The winners, as chosen exclusively by online fan voting totals, will be announced during a Final Vote-themed telecast of "MLB Now" featuring commentary from political analyst Jeff Greenfield, live on MLB Network and MLB.com from 2-3 p.m. MT. MLB Network will provide extensive coverage across all of its studio programming during the Final Vote, including interviews with the candidates, frequent updates, heat maps indicating the cities where votes are being cast for each candidate, news on player and club campaigns and a running countdown clock leading up to the announcement.
Baseball fans have cast nearly 600 million online votes for Final Vote candidates since the program's inception in 2002. In addition to MLB.com and the official club websites, fans can use their mobile devices to cast votes at MLB.com/vote or via text message. To receive the ballot, text the word "VOTE" to 89269. To vote for a specific player, fans can text their choice to 89269. EXAMPLE: Text "A3" to vote for AL Player 3 or "N3" to vote for NL Player 3. Message and data rates may apply. Text "STOP" to end and "HELP" for information. Mobile voting in Canada also is available and fans should text their choices to 101010.
For the fifth consecutive year, the Final Vote will include social balloting, as Twitter support for the 10 candidates over the last six hours of balloting will count toward their vote totals. From 8 a.m.-2 p.m. MT on Friday, any tweet that includes a designated player hashtag will be tabulated as part of the official vote total used to determine the winners.
On Tuesday, July 12, watch the 2016 All-Star Game presented by MasterCard live on FOX, and during the game visit MLB.com to submit your choice for the Ted Williams Most Valuable Player Award presented by Chevrolet via the 2016 MLB All-Star Game MVP Vote. The 87th All-Star Game, in San Diego, will be televised nationally by FOX, in Canada by Rogers Sportsnet and RDS, and worldwide by partners in more than 160 countries via MLB International's independent feed. ESPN Radio and ESPN Radio Deportes will provide national radio coverage of the All-Star Game. MLB.com, MLB Network and SiriusXM will also provide comprehensive All-Star Week coverage. For more information, please visit allstargame.com.
Thomas Harding has covered the Rockies since 2000, and for MLB.com since 2002. Follow him on Twitter @harding_at_mlb, listen to podcasts and like his Facebook page. This story was not subject to the approval of Major League Baseball or its clubs.