Melancon selected to NL All-Star team
Pirates closer to be joined in San Diego by outfielder Marte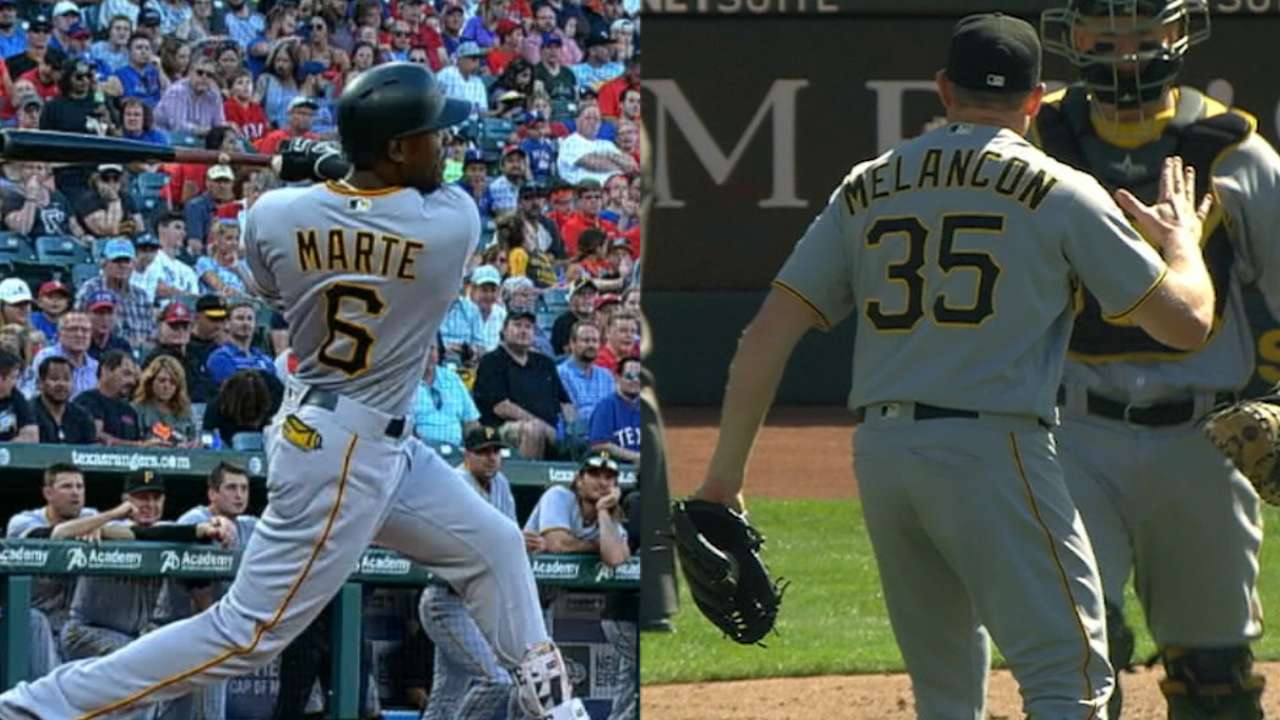 ST. LOUIS -- Pirates closer Mark Melancon has been the model of stability at an unstable position during his time in Pittsburgh. He's been reliable on the mound, stubborn in both his routine and his refusal to allow runs. Now, for the third time in four years, he's an All-Star.
Melancon was named to the National League All-Star team during the selection show Tuesday night as a selection of Mets and NL manager Terry Collins. During a team meeting hours earlier inside the visitor's clubhouse at Busch Stadium, manager Clint Hurdle told the Pirates their rock-steady closer was headed to San Diego for the 2016 All-Star Game presented by MasterCard, with coverage beginning at 7:30 p.m. ET on FOX.
"Really special," Melancon said. "It's pretty cool."
Though Melancon was the only Pirates player named to the NL squad on Tuesday, left fielder Starling Marte was added to the team by Collins on Saturday after starters Yoenis Cespedes and Dexter Fowler pulled out for injury reasons. For the first time since 2010, Andrew McCutchen was not named to the NL All-Star team, which will take the field July 12.
Melancon is in the middle of another spectacular season at the back end of Pittsburgh's bullpen, entering Tuesday night with 25 saves in 26 changes and a minuscule 1.31 ERA in 37 appearances.
That level of success is nothing new for Melancon, as least not since he came to the Pirates in a December 2012 trade with the Red Sox. Over the last four seasons, he's logged 125 saves while posting a 1.78 ERA in 259 games.
Melancon doesn't throw a high-90s fastball or overpower hitters like some closers, but he's been as effective as any -- and more reliable than most -- when it comes to getting his job done.
"I take a lot of pride in that. Part of my routine is instilled in it being a routine," he said. "I'm not superstitious by any means, but I do take that serious and I think that's a part of being consistent is going through the routine and trying to be the same guy every day."
Melancon has converted each of his last 21 save opportunities. His 109 saves since the start of the 2014 season are the most in the Majors, and his 94 percent save rate over that time is the best mark in baseball.
The 31-year-old right-hander is already looking forward to his favorite part of the Midsummer Classic experience: sitting on the field with his wife, Mary Catherine, and kids -- Brooklyn, Ella Grace and Jack David -- during the Home Run Derby.
"The last two times I've done this, that has been the standout moment each time -- something where my kids will be able to look back and go, 'We were there for that. We don't really remember it, but it was fun,'" Melancon said. "Something special that you can't really pay to do that. It's not a vacation. It's not an experience that you can just go out and do at any time."
On Tuesday, watch the 2016 All-Star Game presented by MasterCard live on FOX, and during the game visit MLB.com to submit your choice for the Ted Williams Most Valuable Player Award presented by Chevrolet via the 2016 MLB All-Star Game MVP Vote. The 87th All-Star Game, in San Diego, will be televised nationally by FOX, in Canada by Rogers Sportsnet and RDS, and worldwide by partners in more than 160 countries via MLB International's independent feed. ESPN Radio and ESPN Radio Deportes will provide national radio coverage of the All-Star Game. MLB.com, MLB Network and SiriusXM will also provide comprehensive All-Star Week coverage. For more information, please visit allstargame.com.
Adam Berry has covered the Pirates for MLB.com since 2015. Follow him on Twitter at @adamdberry. This story was not subject to the approval of Major League Baseball or its clubs.