GM Klentak: 'Long time' until Trade Deadline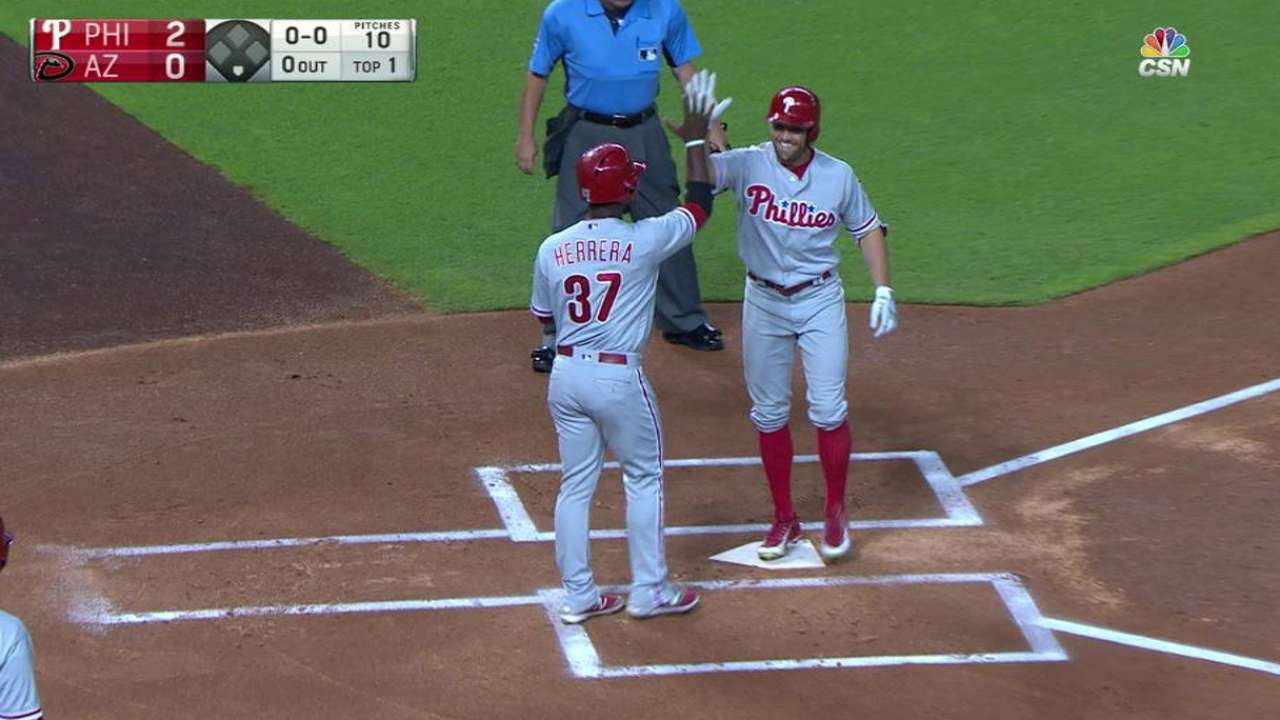 "Nothing hot right now," Klentak said before Tuesday night's 5-1 win over the Braves at Citizens Bank Park. "I don't know if we'll be super active. We certainly have players that other teams like, but I also like the fact that they're helping contribute to this team. We're in a good stretch right now, and we don't really want to pull the rug out. We'll just have to wait and see. We have almost 30 days. It's a long time.
"I would say looking at this a month ago, if I was projecting forward, I would have guessed we'd be roughly in the spot we are in now. And a lot of trades don't take place until hours leading up to the Deadline. And I don't know why 2016 would be different than that."
Klentak discussed others topics before the game:
Altherr update: Phillies outfielder Aaron Altherr entered Spring Training as the projected Opening Day right fielder, but he tore a tendon in his left wrist in March. He is taking live batting practice in Clearwater, Fla., and he should be ready for a rehab assignment sometime within the next week or two.
Altherr likely will need at least another month before he rejoins the team.
Stumpf, Bailey near return: Left-hander Daniel Stumpf is expected to rejoin the team on Sunday in Colorado. He is nearing the end of an 80-game suspension for testing positive for dehydrochlormethyltestosterone, which is an anabolic steroid also known as Oral-Turinabol.
The Phillies will need to make a move on their 40-man roster to accommodate Stumpf, who allowed three runs on one hit (a homer) with two walks in just two-thirds of an inning spanning three appearances for a 40.50 ERA. The Rule 5 Draft pick is on a rehab assignment with Triple-A Lehigh Valley.
Right-hander Andrew Bailey, who is on the DL with a strained left hamstring, will begin a rehab assignment on Thursday with Lehigh Valley. He is eligible to be activated on Friday.
International signings: The Phillies have agreed to terms with at least six players: right-hander Francisco Morales ($720,000 signing bonus), shortstop Brayan Gonzalez ($900,000), shortstop Nicolas Torres ($665,000), outfielder Simon Muzziotti ($750,000), catcher Juan Aparicio ($475,000) and shortstop Jose Tortolero ($450,000).
The Phillies issued one big bonus last summer to Dominican Republic outfielder Jhailyn Ortiz, who received $4 million. This summer, the Phillies spread around their money, being careful not to exceed their $5,610,800 bonus pool.
"There are going to be times when we believe that's the right strategy," Klentak said about issuing a large signing bonus to one player. "In this particular class, we were best suited to spread it out among a number of players. What is important is that we get as many good players as we can in our system. You prefer good players that are athletic, athletic players that play up the middle, and let player development help that and see which one is developing into legitimate prospects."
The Draft update: The Phillies have signed 29 of 40 players selected in the 2016 Draft. They will exceed the allotted $13,405,200 in their bonus pool but by no more than five percent. That is significant because teams that exceed the pool by no more than five percent are taxed at a 75 percent rate on the overage, while a team that overspends by 5-10 percent pays a 75 percent tax, plus loses a first-round pick in next year's Draft.
"That's a credit to our ownership that recognized the opportunity that we had with our Draft pool that allowed us the flexibility to maximize the value of it," Klentak said.
Todd Zolecki has covered the Phillies since 2003, and for MLB.com since 2009. Read his Phillies blog The Zo Zone, follow him on Twitter and listen to his podcast. This story was not subject to the approval of Major League Baseball or its clubs.