Myers, Pomeranz named to 1st All-Star team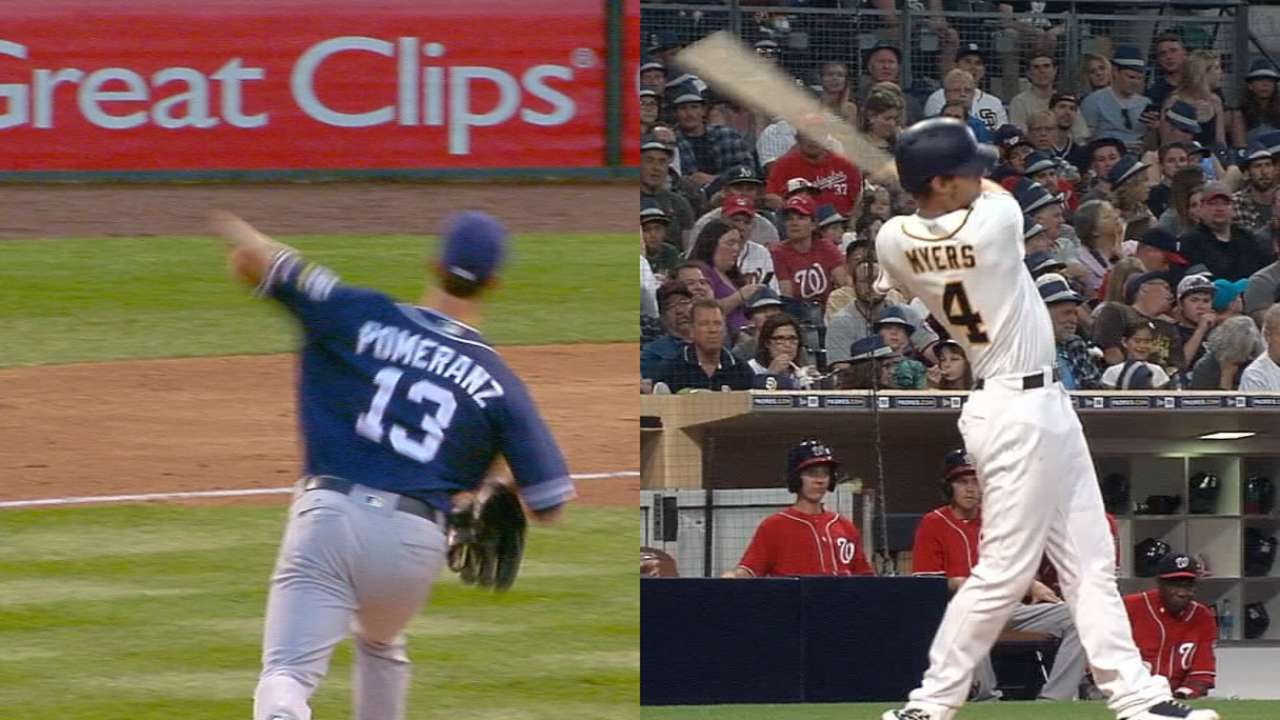 PHOENIX -- Padres first baseman Wil Myers was justly rewarded for his monster performance during the first half of the season, as the 25-year-old slugger was named to his first All-Star team Tuesday night.
Myers and Drew Pomeranz will become the eighth and ninth players to represent the Padres in a hometown All-Star Game, joining Rollie Fingers and Dave Winfield in 1978 and five others -- including Tony Gwynn and Benito Santiago -- who did so in '92. Left-hander Pomeranz, who was initially left off the National League roster, was added on Saturday as an injury replacement for the Mets' Noah Syndergaard.
The All-Star Game presented by MasterCard will take place July 12 at Petco Park -- the first in the stadium's 13 seasons. Coverage begins at 4:30 p.m. PT.
• Interactive All-Star Game rosters
"It's a huge honor," Myers said before Tuesday's game against the D-backs. "I'm very excited about it, very excited to represent San Diego."
Hours after being named to the All-Star team, Myers got four hits in a 7-5 loss to the D-backs.
Myers leads all first basemen with a 3.2 WAR this year, according to Fangraphs. He's batting .290/.357/.539, and he set a Padres record with 11 June home runs, en route to being named NL Player of the Month.
For Myers, who was a coaches' selection, his addition to the All-Star team is validation for the work he's put in this season, coming back from a pair of injury-riddled campaigns. But he insistst there's still room to grow.
"I've only put together one half season; I know I've got a lot of work to do," Myers said. "But I do know what I'm capable of doing. This half of a season I've put up is something I know I'm very capable of doing when I'm healthy."
Despite Myers' gaudy numbers, first base in the NL remains one of the sport's deepest positions, and the Cubs' Anthony Rizzo will get the start there after he was voted in by fans. But there remains a possibility Myers could crack the NL lineup, if manager Terry Collins decides to use him as the team's designated hitter -- a prospect Myers said he'd favor.
It's a distinct possibility, too, given that fellow first baseman Paul Goldschmidt was also selected to the squad. Myers could potentially serve as DH, and Goldschmidt would be able to replace Rizzo in the later innings.
"As far as comparing myself to other guys, I don't want to do any of that," Myers said of being mentioned alongside the two other NL All-Stars at first base. "Those guys are great players. Goldschmidt's an incredible player, year in and year out, same with Rizzo. I'm just happy to be considered with those guys right now.
"But I do know that if I stay healthy I can put up these types of numbers."
Myers also said he's been informed that he's one of a handful of players under consideration for the T-Mobile Home Run Derby, which takes place Monday. He said he'd be thrilled to participate, and that if selected, his brother, Beau, would serve as his pitcher.
"It's been a dream of mine to be in [the Home Run Derby]," Myers said. "I definitely wouldn't let that opportunity pass. If I am selected, I'm going to pick my brother to throw for me. I think it'll be a cool story, win or lose. If I lose, I'll go down with my brother, and I'm OK with that."
On Tuesday, watch the 2016 All-Star Game presented by MasterCard live on FOX, and during the game visit MLB.com to submit your choice for the Ted Williams Most Valuable Player Award presented by Chevrolet via the 2016 MLB All-Star Game MVP Vote. The 87th All-Star Game, in San Diego, will be televised nationally by FOX, in Canada by Rogers Sportsnet and RDS, and worldwide by partners in more than 160 countries via MLB International's independent feed. ESPN Radio and ESPN Radio Deportes will provide national radio coverage of the All-Star Game. MLB.com, MLB Network and SiriusXM will also provide comprehensive All-Star Week coverage. For more information, please visit allstargame.com.
AJ Cassavell is a reporter for MLB.com. Follow him on Twitter @ajcassavell. This story was not subject to the approval of Major League Baseball or its clubs.