Goldschmidt tabbed for 4th All-Star Game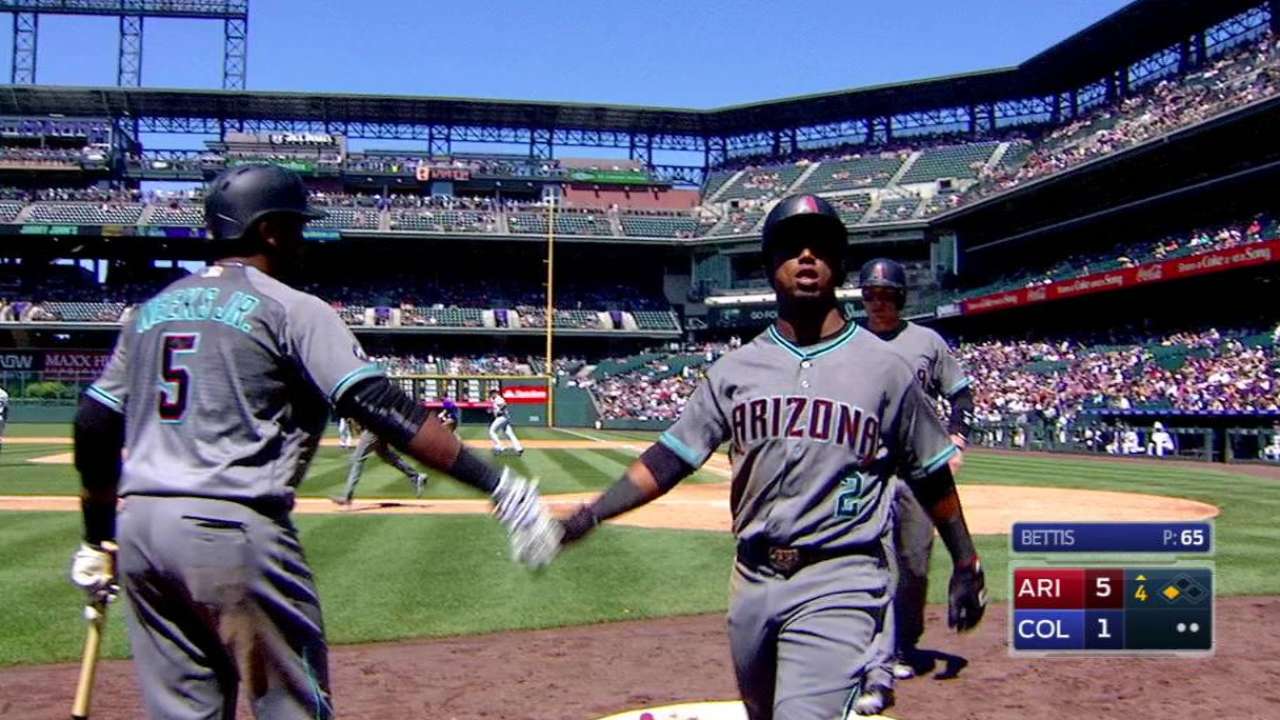 PHOENIX -- For the fourth consecutive year, first baseman Paul Goldschmidt will represent the Arizona Diamondbacks in the All-Star Game presented by MasterCard, which will be held at San Diego's Petco Park next Tuesday night.
Goldschmidt was elected on the player's ballot. The previous two seasons he was elected to start by the fans and in 2013 he finished second in the fan balloting, but was elected by the players.
The Cubs' Anthony Rizzo won the fan's vote this year.
"It means a lot," Goldschmidt said of being elected by the players. "Those are the guys you compete against and you want to go out there and play the game the right way and try to do a good job. To have them think you're worthy of the All-Star Game means a lot."
Goldschmidt got plenty of votes in his own clubhouse.
"Extremely well deserving," D-backs shortstop Nick Ahmed said. "I obviously voted for him and I think probably every guy in here did as well. What he does every single day is very impressive. You see the offensive numbers, but a defensive perspective, on the bases, leader in the clubhouse and in the dugout, even past the numbers he's very well deserving."
Goldschmidt could possibly have a teammate in the National League dugout with him, as third baseman Jake Lamb is an Esurance MLB All-Star Game Final Vote candidate.
• Cast your Esurance Final Vote for Lamb
Goldschmidt, 28, got off to an uncharacteristic slow start this season, batting .223 on May 16 before hitting more like the Goldschmidt fans have come to expect.
From May 17 through Monday's game, Goldschmidt hit .349 with an on-base plus slugging of 1.001 and has raised his average to .292 after he went 1-for-2 with two RBIs in a 7-5 victory over the Padres.
Goldschmidt ranks second in the National League in on-base percentage (.416) and walks (63).
This will be Goldschmidt's first All-Star Game as a father. His wife, Amy, gave birth to the couple's first child, Jake, last September and getting to have his family with him at previous games has made it especially fun for him.
"I definitely have enjoyed playing in the game and stuff like that, but I think just getting to celebrate with family and friends, they root for you or me or whoever's in it so hard, probably more than I do," Goldschmidt said. "They're watching games every night. Just seeing how much they enjoy it and getting to be there at the game, it adds to the experience probably more than just going and playing the game."
Fans can vote for the 2016 Esurance MLB All-Star Game Final Vote until 1 p.m. MST on Friday. The winners, as chosen exclusively by online fan voting totals, will be announced during a Final Vote-themed telecast of "MLB Now" featuring commentary from political analyst Jeff Greenfield, live on MLB Network and MLB.com from 1-2 p.m. MST. MLB Network will provide extensive coverage across all of its studio programming during the Final Vote, including interviews with the candidates, frequent updates, heat maps indicating the cities where votes are being cast for each candidate, news on player and club campaigns and a running countdown clock leading up to the announcement.
Baseball fans have cast nearly 600 million online votes for Final Vote candidates since the program's inception in 2002. In addition to MLB.com and the official club websites, fans can use their mobile devices to cast votes at MLB.com/vote or via text message. To receive the ballot, text the word "VOTE" to 89269. To vote for a specific player, fans can text their choice to 89269. EXAMPLE: Text "A3" to vote for AL Player 3 or "N3" to vote for NL Player 3. Message and data rates may apply. Text "STOP" to end and "HELP" for information. Mobile voting in Canada also is available and fans should text their choices to 101010.
For the fifth consecutive year, the Final Vote will include social balloting, as Twitter support for the 10 candidates over the last six hours of balloting will count toward their vote totals. From 7 a.m.-1 p.m. MST on Friday, any tweet that includes a designated player hashtag will be tabulated as part of the official vote total used to determine the winners.
On Tuesday, July 12, watch the 2016 All-Star Game presented by MasterCard live on FOX, and during the game visit MLB.com to submit your choice for the Ted Williams Most Valuable Player Award presented by Chevrolet via the 2016 MLB All-Star Game MVP Vote. The 87th All-Star Game, in San Diego, will be televised nationally by FOX, in Canada by Rogers Sportsnet and RDS, and worldwide by partners in more than 160 countries via MLB International's independent feed. ESPN Radio and ESPN Radio Deportes will provide national radio coverage of the All-Star Game. MLB.com, MLB Network and SiriusXM will also provide comprehensive All-Star Week coverage. For more information, please visit allstargame.com.
Steve Gilbert has covered the D-backs for MLB.com since 2001. Follow him on Twitter @SteveGilbertMLB. This story was not subject to the approval of Major League Baseball or its clubs.