Fans can make Kinsler an All-Star in Final Vote
Tigers teaming up with Pirates, Marte for AL-NL ticket; voting ends Friday at 4 p.m. ET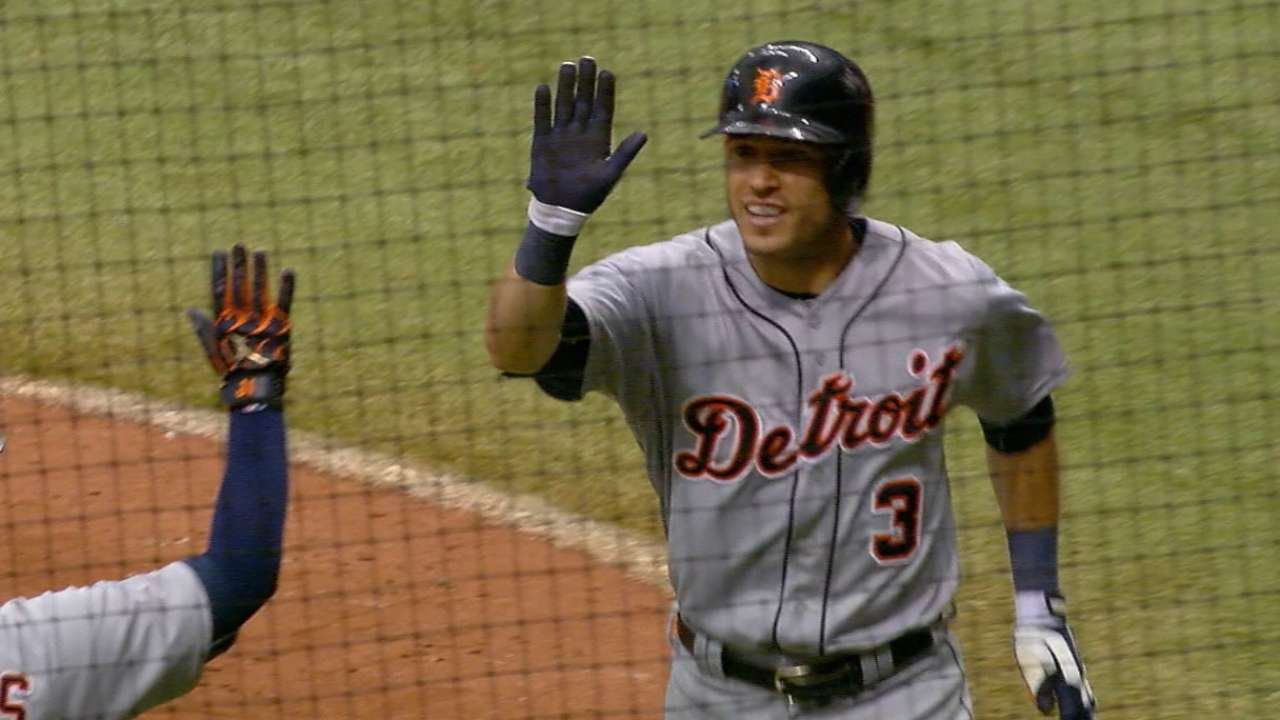 CLEVELAND -- Ian Kinsler has earned a reputation as a player opponents love to hate, but home fans love him unconditionally. If he's going to get his second All-Star selection as a Tiger, he's going to need some love from fans all over the place. He's also going to need Tigers fans to help flip some voting tallies from the last several weeks.
After losing out in a crowded field of American League second basemen, Kinsler was one of five AL players selected for the Esurance MLB All-Star Game Final Vote, giving fans a chance to vote online for the final spot on the All-Star rosters.
Fans can vote for the 2016 Esurance MLB All-Star Game Final Vote until 4 p.m. ET on Friday. The winners, as chosen exclusively by online fan voting totals, will be announced during a Final Vote-themed telecast of "MLB Now" featuring commentary from political analyst Jeff Greenfield, live on MLB Network and MLB.com from 4-5 p.m. ET. MLB Network will provide extensive coverage across all of its studio programming during the Final Vote, including interviews with the candidates, frequent updates, heat maps indicating the cities where votes are being cast for each candidate, news on player and club campaigns and a running countdown clock leading up to the announcement.
"Vote for him," Tigers manager Brad Ausmus said. "He deserves it."
It's a second chance for Kinsler, who fell woefully short in the fan balloting process at second base. Though Kinsler entered Tuesday ranked third among AL second basemen in OPS, second in home runs and RBIs, and third among all AL players in runs scored, he didn't even crack the top five in fan balloting for the starting nod.
Among those who garnered more votes was Omar Infante, just released by the Royals after losing his starting job a month ago.
"Extremely surprising," teammate Mike Aviles said of the initial snub. "I've been watching it since Spring Training. He had an awesome spring, and then he took it right into the season, and he's been banging the entire time."
Aviles played against Kinsler for years before signing with the Tigers last December. He wasn't a guy Aviles loved to hate.
"For me, I've always appreciated gamers," Aviles said, "and from the other side, you could tell that Ian was a gamer. You notice the guys on the other team that do the little things, take the extra base, always looking to steal a base, always trying to play defense, trying to move the runner, trying to get that big hit. He does a lot of things well, but I feel he doesn't get notoriety because he's not a loud person. He's a very quiet, humble person who goes out and does his job every day."
That's something Kinsler takes pride in.
"I try to do whatever it takes and not be one-dimensional," Kinsler said on Sunday, when he hit his 200th career home run. "That's my goal when I play this game, is to be able to run the bases well, be able to play defense well, and try to do every aspect of the game offensively, whether it's steal a base or score from first or advance on a ball in the dirt, whatever it may be."
To help the vote drive, the Tigers and Pirates have teamed up to encourage an AL-NL ticket of Kinsler and Starling Marte. Fans who use the Twitter hashtag #VoteKinsler and follow @tigers on Twitter or Instagram will be entered to win prizes, including game tickets, autographed items and unique game experiences.
Baseball fans have cast nearly 600 million online votes for Final Vote candidates since the program's inception in 2002. In addition to MLB.com and the official club websites, fans can use their mobile devices to cast votes at MLB.com/vote or via text message. To receive the ballot, text the word "VOTE" to 89269. To vote for a specific player, fans can text their choice to 89269. Fans can text "A1" to vote for Kinsler, and "N4" to vote for Marte. Message and data rates may apply. Text "STOP" to end and "HELP" for information. Mobile voting in Canada also is available and fans should text their choices to 101010.
• Miggy headed to 11th All-Star Game as reserve
For the fifth consecutive year, the Final Vote will include social balloting, as Twitter support for the 10 candidates over the last six hours of balloting will count toward their vote totals. From 10 a.m.-4 p.m. ET on Friday, any tweet that includes a designated player hashtag will be tabulated as part of the official vote total used to determine the winners.
On Tuesday, July 12, watch the 2016 All-Star Game presented by MasterCard live on FOX, and during the game visit MLB.com to submit your choice for the Ted Williams Most Valuable Player Award presented by Chevrolet via the 2016 MLB All-Star Game MVP Vote. The 87th All-Star Game, in San Diego, will be televised nationally by FOX, in Canada by Rogers Sportsnet and RDS, and worldwide by partners in more than 160 countries via MLB International's independent feed. ESPN Radio and ESPN Radio Deportes will provide national radio coverage of the All-Star Game. MLB.com, MLB Network and SiriusXM will also provide comprehensive All-Star Week coverage. For more information, please visit allstargame.com.
Jason Beck has covered the Tigers for MLB.com since 2002. Read Beck's Blog, follow him on Twitter @beckjason and listen to his podcast. This story was not subject to the approval of Major League Baseball or its clubs.