Souza: Lack of hustle on triple 'embarrassing'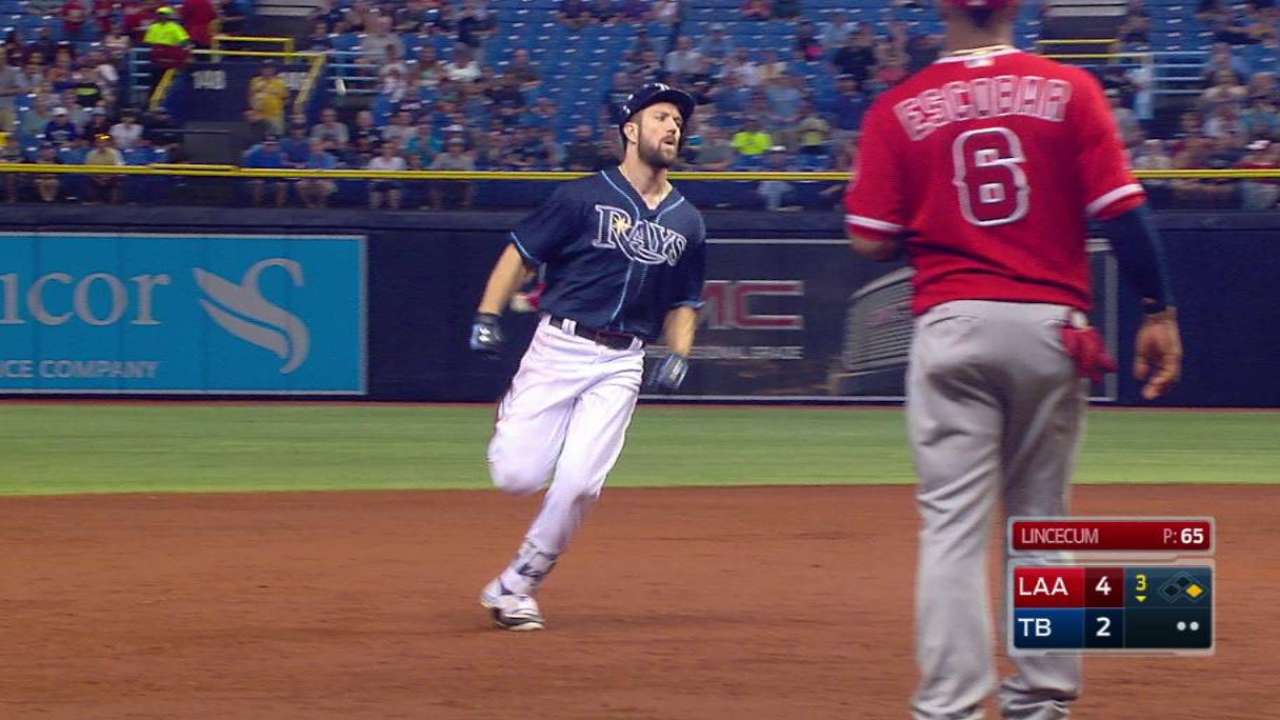 ST. PETERSBURG -- Steven Souza Jr.'s popup in into right-center field fell in between Angels outfielders Shane Robinson and Kole Calhoun. And when it did, a slowly jogging Souza Jr. had yet to reach first base.
The ball trickled to the wall, and Souza Jr. sprinted to third for a triple. Had he been running all the way, it would have likely been a home run. Souza Jr. got back to the dugout, and with little conversation, was told he was getting pulled from the game -- an eventual 13-5 Tampa Bay loss to the Angels on Tuesday.
"The bottom line is that I play hard, but right there, I didn't play very hard," Souza Jr. said. "I got caught slipping, and took for granted a routine play. I wore a triple for it, and yeah I got to third. But I could have easily scored if I was running hard. It's a bit embarrassing. … I'm not proud of it."
Rays manager Kevin Cash declined to disclose why Souza Jr. left the game after the third inning, only acknowledging that Souza Jr. didn't leave with an injury.
"There are issues that happen in a team that we address in-house," Cash said. "We'll keep that in-house and move on from there."
Souza Jr. wouldn't say whether he was made an example of. "I don't think it matters," was his response, followed by a reiteration that his lack of hustle wasn't in his DNA. When asked if other players have had other non-hustle issues, Souza said, "Sure, but it's not about that."
Souza Jr. had been playing his first MLB game in center field. He recorded an RBI single in the first inning when running out an infield single on a grounder to the shortstop.
"I took one play off," Souza Jr. said, "and I got exposed."
Sam Blum is a reporter for MLB.com based in St. Petersburg. This story was not subject to the approval of Major League Baseball or its clubs.