Indians continue blistering streaks vs. Tigers
CLEVELAND -- Indians shortstop Francisco Lindor had plenty of reasons to flash his prominent smile Tuesday. On the same night the Tribe shortstop was named a first-time All-Star, he played a key role in his team's 12-1 win over the Tigers at Progressive Field.
"It means pretty much everything," Lindor said of his selection. "I thank the Indians. I thank them because of the opportunity they gave me in 2011, when I wasn't even expecting them to call my name. It's huge. The Wahoo I wear on my hat, he smiles a lot. I smile a lot, too."
In the series-clinching victory, Lindor flashed his wizardry on the defensive end and delivered a cushioning RBI double in the fifth. Cleveland is now undefeated in 11 meetings with Detroit this season and has won 13 straight home games. The Tigers have been outscored 77-24 by the Indians.
"Other than the fact that they've beaten us 11 straight games, there's nothing baffling. They've outplayed us," Tigers manager Brad Ausmus said. "There's nothing baffling about that. It's not like we haven't played good baseball. They've just played better. Tonight, they pitched better, they hit better. It's simple."
Tribe starter Carlos Carrasco did his part in silencing the Tigers' offensive attack, tossing six innings of one-run ball. After allowing a pair of second-inning singles, Carrasco buckled down and did not surrender another hit until the sixth.
Tigers right-hander Anibal Sanchez was thrust back into a starting role after an injury to Jordan Zimmermann. Sanchez was chased after 4 1/3 innings, during which he allowed seven runs on five hits. He is now 0-4 in four starts against Cleveland, having allowed 21 runs (19 earned) on 23 hits across 18 2/3 innings.
MOMENTS THAT MATTERED
Chisenhall charging: Chisenhall snapped an 0-for-8 skid with a single in the second inning. He would not stop there, roping a pair of RBI doubles in each of his next two at-bats and hitting an RBI single in the eighth to complete a four-hit game. Even with his brief dry spell, Chisenhall is hitting a remarkable .426 (23-for-54) in his previous 13 games.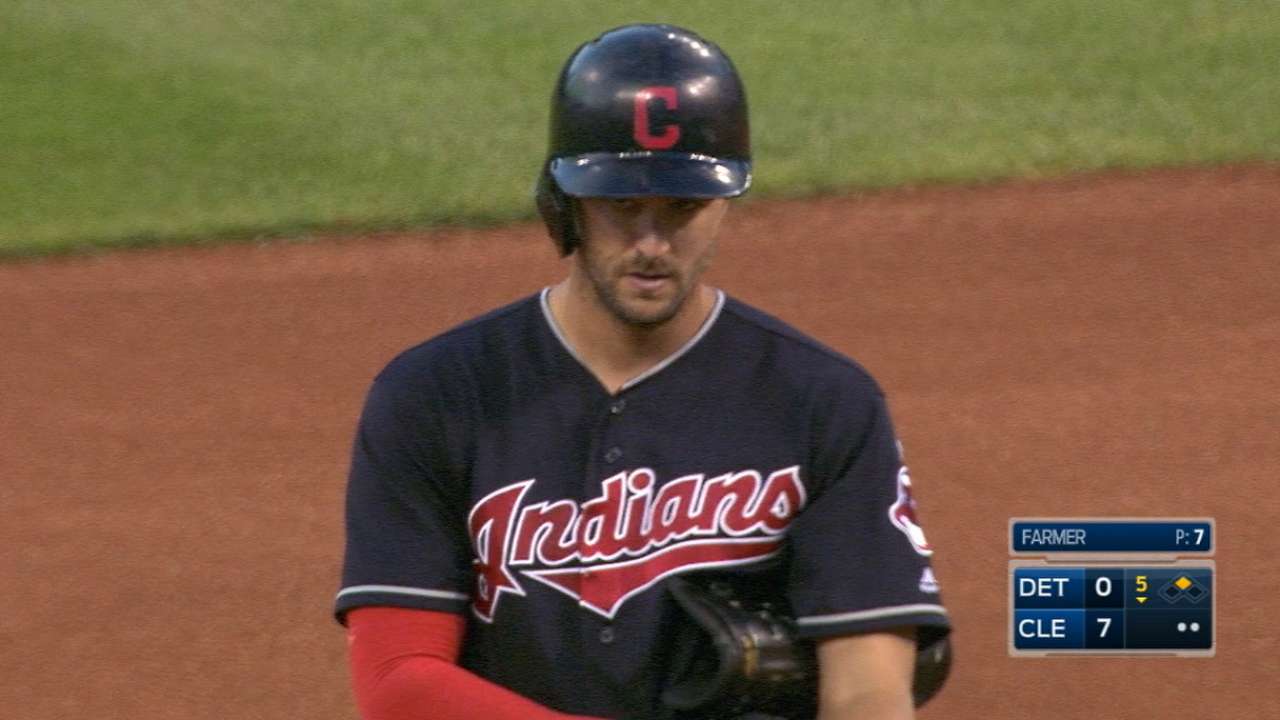 "He's not just getting hits, he's driving the ball," Indians manager Terry Francona said. "When you got him and [Tyler] Naquin sitting down towards the bottom not just getting hits but being productive, it really makes a difference for us."
Middle of the order blues: Though Sanchez avoided some of the early trouble that doomed him against the Indians a couple of weeks ago at Comerica Park, retiring the top of the Tribe lineup in order in the first and third innings, he had no answer for the middle of the order. Cleveland's fourth through seventh hitters went 4-for-5 against him with three walks, three runs and a sacrifice fly, including RBI doubles from Rajai Davis in the second inning and Chisenhall in the fourth.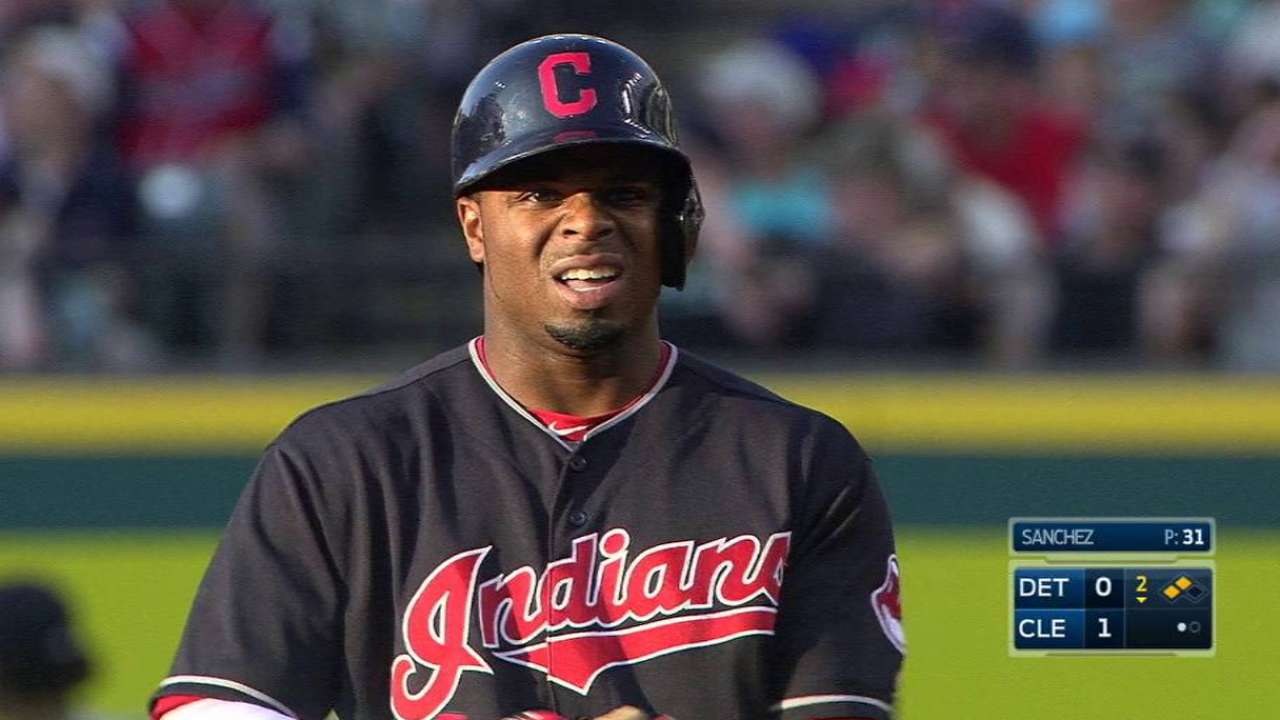 "At times, his slider and changeup were good. That's what you're seeing swings and misses on," Ausmus said. "And some of the stuff, the signs are still there that he has it. It's just on a consistent basis over the course of five or six innings, there always seems to be a bump in the road."
Frankie magic: Lindor's All-Star defensive prowess was on full display. In the sixth, with one on and two outs, Lindor made a spectacular diving stop on a hard chopper from Justin Upton and quickly got up and fired the ball to first to get out of the inning.
It was not his first sparkling play to end a threat. In the fifth, he made a heads-up decision to throw to third instead of first to complete a 4-6-5 inning ending double play.
"That was a big play," Francona said. "At the time, it was first and second and nobody out, then all of a sudden you look up and the inning is over. That was a really heads-up play. It shows you how he sees the field."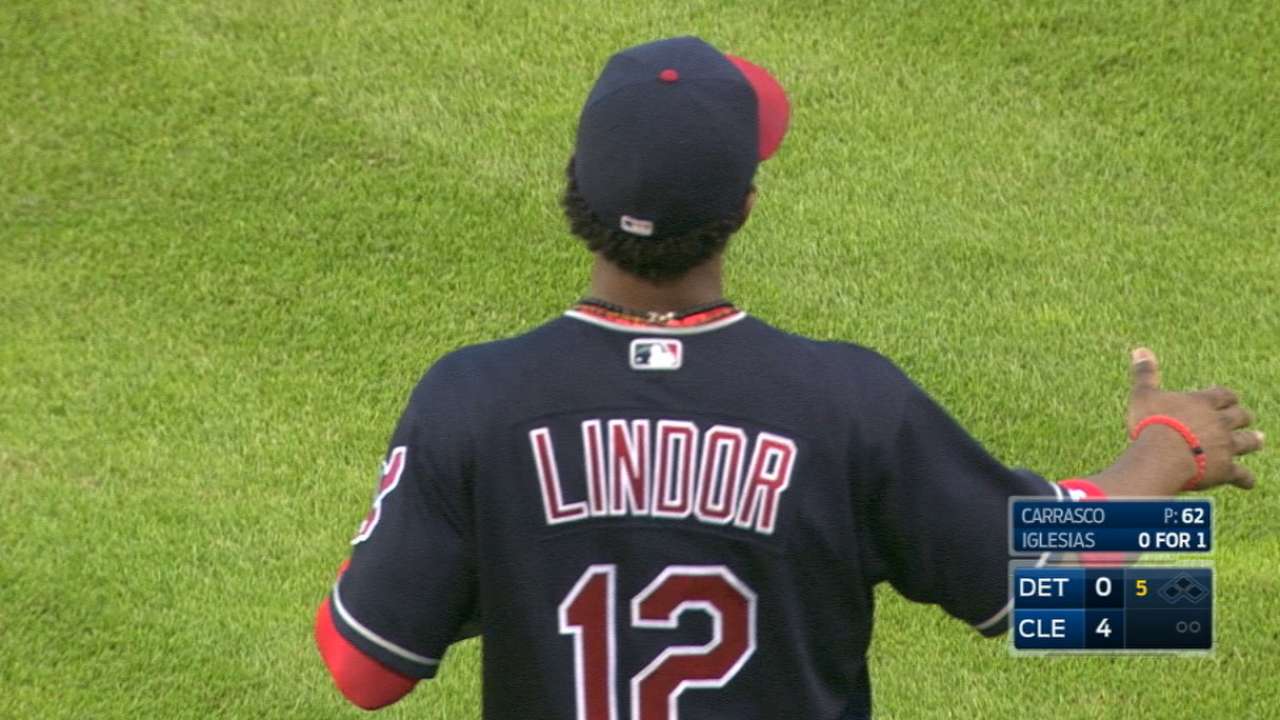 Cabrera ejected: Hours after Miguel Cabrera was named an All-Star for the 11th time, as a reserve, he was handed his eighth career ejection on a bizarre play in the sixth. What looked on replay like a foul ball off his front leg was ruled by plate-umpire Jordan Baker to be in play, resulting in a 5-4-3 putout. First-base umpire Tim Timmons eventually ejected Cabrera for arguing after an umpires conference didn't change the ruling.
"They said they didn't see it as hitting his leg, and it's not a reviewable play," Ausmus said. "Based on the video, I'm sure they'll look at it and say they just missed it, but that happens." More >
QUOTABLE
"Once we processed yesterday, we move on -- let alone a month ago. It doesn't really matter. You play the next game and try to win. If you do it good enough, guys like you start asking those kind of questions. But I don't spend much energy on it. -- Francona, on the Tribe's success vs. the Tigers
"It does stink. I'm not going to lie. I don't know anybody in here that wants to lose. It's not fun. But at the same time, it's baseball. They've outplayed us. There's no better way to put it. They've outpitched us. They've outdefensed us. They've basically outplayed us every way you look at it." -- Former Indian and current Tiger Mike Aviles
SOUND SMART WITH YOUR FRIENDS
Cleveland's 11-0 showing against the Tigers this season marks the Tribe's longest in-season winning streak against an opponent since going 12-0 against Detroit in 1996. The ongoing 11-game run is the longest active streak in the Majors for any team against a single opponent.
WHAT'S NEXT
Tigers: Michael Fulmer (8-2, 2.17 ERA) will get a second chance against the Indians as the Tigers try to end their Cleveland woes Wednesday afternoon in a 12:10 p.m. ET series finale. The Tribe handed Fulmer his worst start of the season here May 5, scoring five runs on 10 hits in five innings.
Indians: Right-hander Josh Tomlin (9-1, 3.21 ERA) will get the nod in the series finale. Tomlin has gone at least six innings in each of his last six starts. During that span, he has not had an outing in which he has given up more than three earned runs. He is 3-0 with a 2.61 ERA in three starts against Detroit this season.
Watch every out-of-market regular-season game live on MLB.TV.
Shane Jackson is a reporter for MLB.com based in Cleveland.

Jason Beck has covered the Tigers for MLB.com since 2002. Read Beck's Blog, follow him on Twitter @beckjason and listen to his podcast.

This story was not subject to the approval of Major League Baseball or its clubs.